11 Hidden Tricks about the vivo V11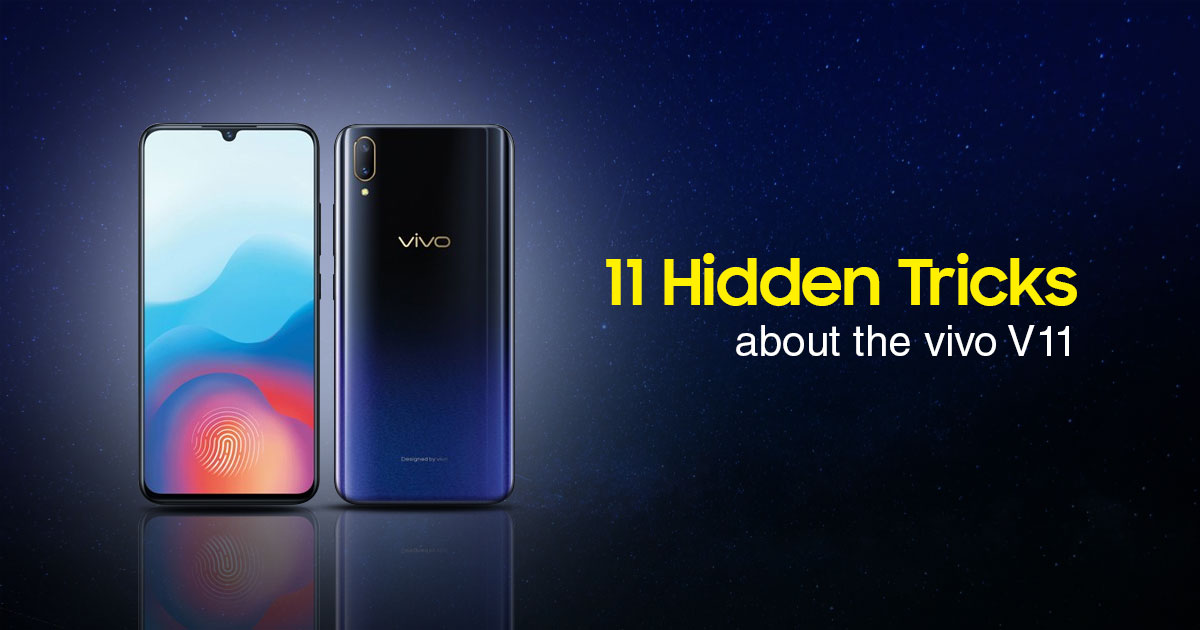 If you have been following our news, vivo Malaysia has been teasing its vivo V11 smartphone with a couple of commercial videos online, which led us to discover some hidden features that we didn't know about such as the AI Face Shaping, AI Portrait Framing and others. We decided to check the device out by ourselves and found plenty of them. So without further ado, below are 11 Hidden Tricks about the vivo V11.
Who needs plastic surgery when you have AI Face Shaping
AI Face Shaping is what the name suggests, it can literally change some of your facial features on the spot so in other words, it's like a virtual plastic surgery on your face (lol). Anyway, there are many tools you can utilize that can be found in the AI Face Beauty mode. These consist of Buffing, Skin Tone, Whitening, Thin Face, Face Reshaping, Jaw, Enlargeing, Eye Span, Thin Nose, Nose and Mouth Shape.
AI Face Shaping works in both front and back camera, so have fun with it creating weird yet beautiful faces.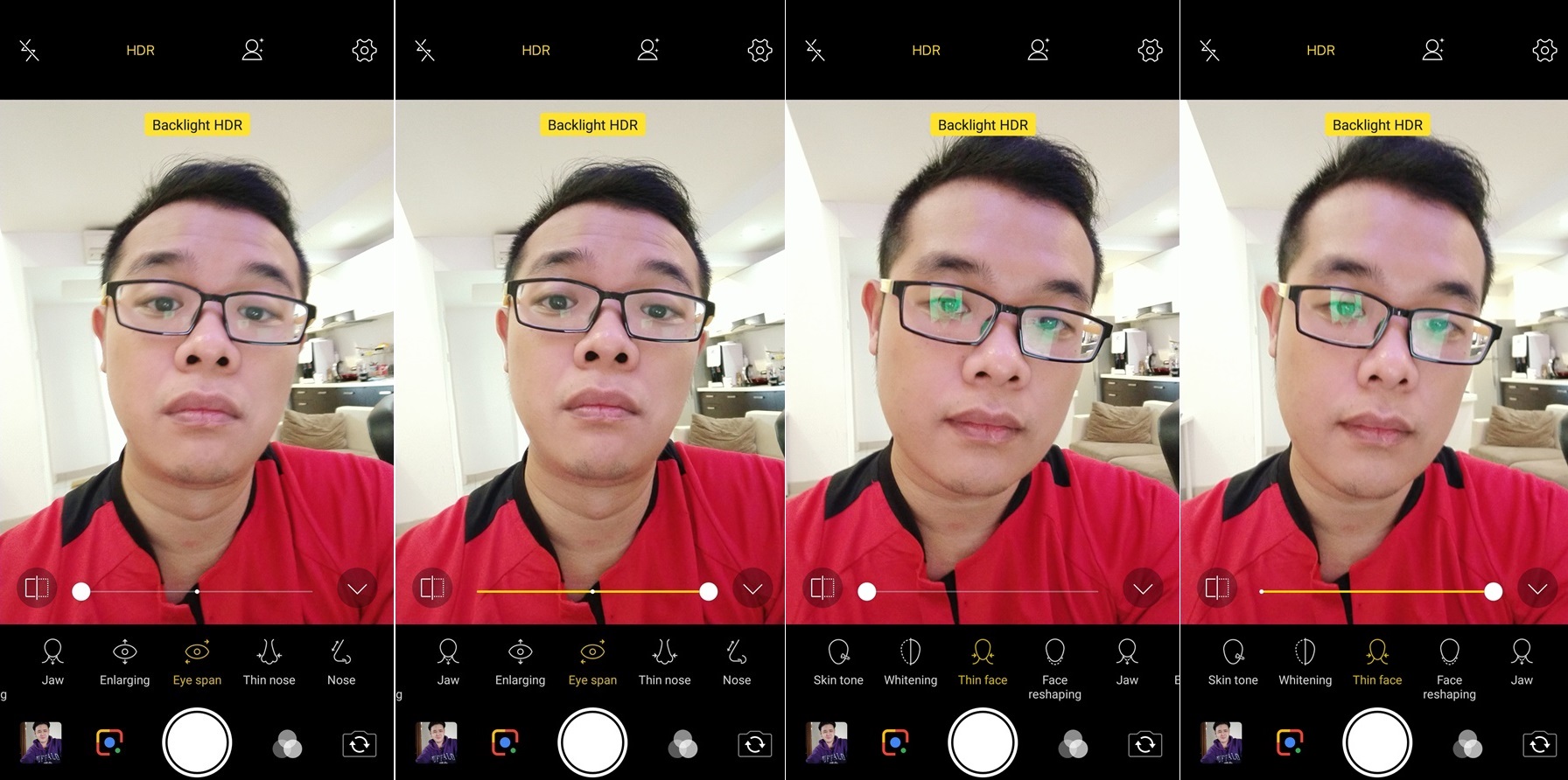 Vivo is taking this to a whole other level lol
AI Portrait Framing for the newbies
Next up, AI Portrait Framing is a new feature for people who want to learn how to take portrait shots. For some reason, this will only work on the rear camera with portrait mode on instead of the front camera but anyway, this feature will detect the subject's distance, orentation and position of the face. You will also see two floating circles within the camera frame (screenshot below) and this is supposed to guide you to bring them together.
Before you start using that, you have to switch on the AI Portrait Framing mode in the camera settings, it's also good to switch on the Framing Lines too, for better accuracy and position while you're at it.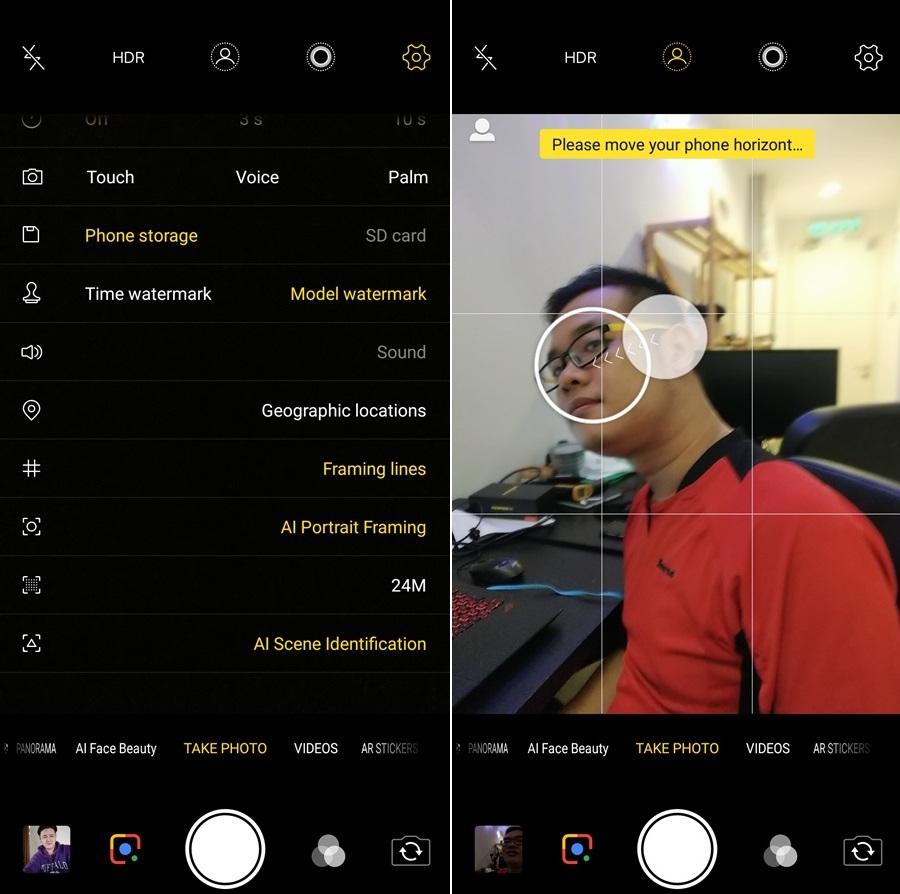 Activate the AI Portrait Framing and Framing Lines in settings then start using it!
Say hello to AI Low Light Mode
AI Low Light Mode is also another new feature by vivo but this is quite difficult to use because you can't manually switch it off and on, so it's automatic. This mode doesn't come out in low-light environments indoors, but only for outdoors and it seems that it will only activate at night. You will know this when the camera tells you so within the frame.
Is there any difference with or without AI Low Light Mode? From our experiment, yes there is. The only thing that we can see changing is the colour contrast along the darkness, turning out to be more refined than the photo that's not using it (photo below). We also think this works best when the sun sets but that's just a theory, since the main camera already has a Dual Pixel technology, so making the AI Low Light Mode come out isn't as easy as it sounds.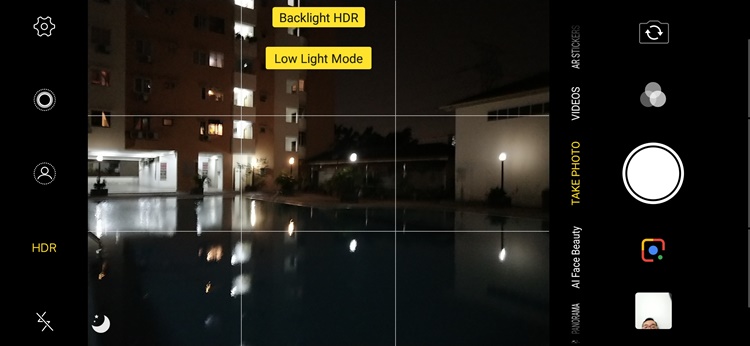 Low Light Mode sign will appear if it's dark enough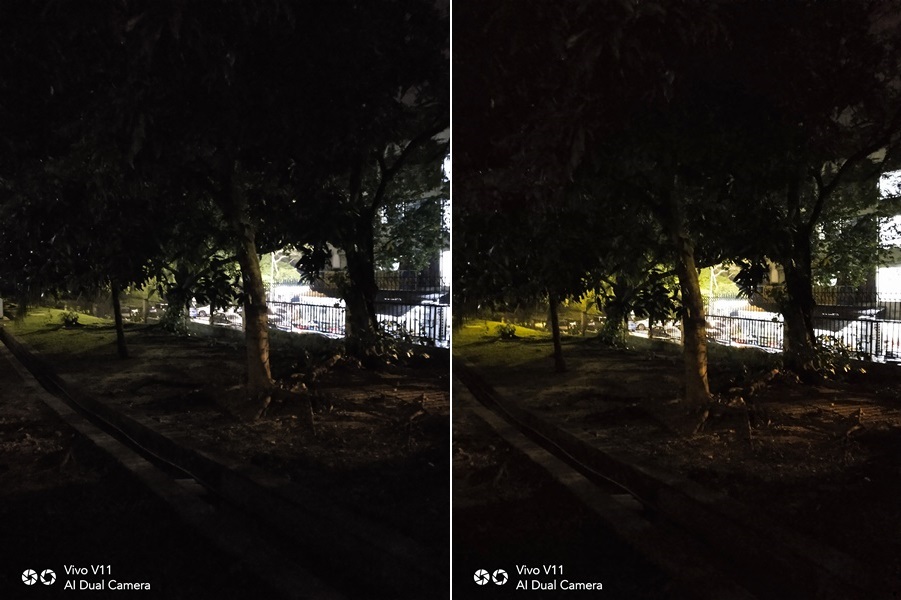 Before and after using AI Low Light Mode
17 category AI Scene Recognition
The previous V9 didn't have an AI Scene Recognition so this is a great addition. For the V11, it has 17 categories that includes people, flowers, food, animals and many more. You will know that it works once you see an icon appearing on the top left (portrait position) or bottom left (landscape position). This feature comes out automatically too and it helps to identify the scene you're trying to take and produce the best effect on the image.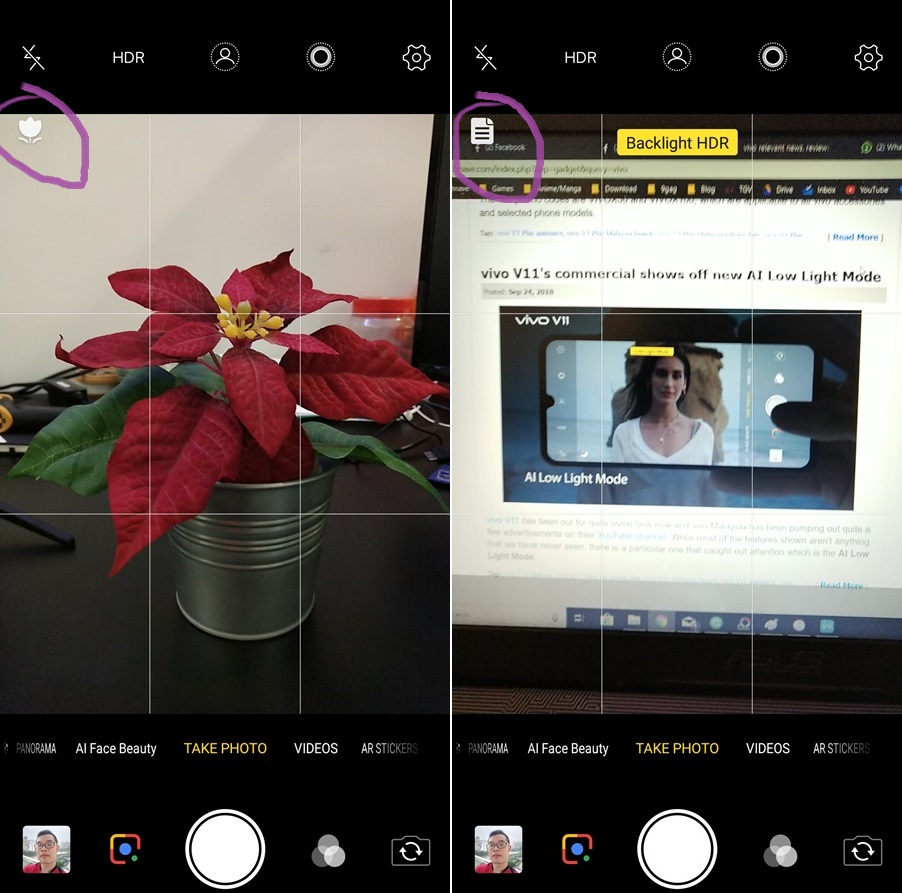 The AI Scene Recognition icon should appear at that spot
AI Backlight HDR returns
AI Backlight HDR also makes a return and it's a relatively new feature as it has appeared on the vivo X21. If you think this works exactly the same as a standard HDR, you're right but this one is better. Not only does it eliminate the brightness behind a subject, but it also maintains the subject's clarity at the same time. It's good to have this feature back and you have the option to turn it off or not manually as usual.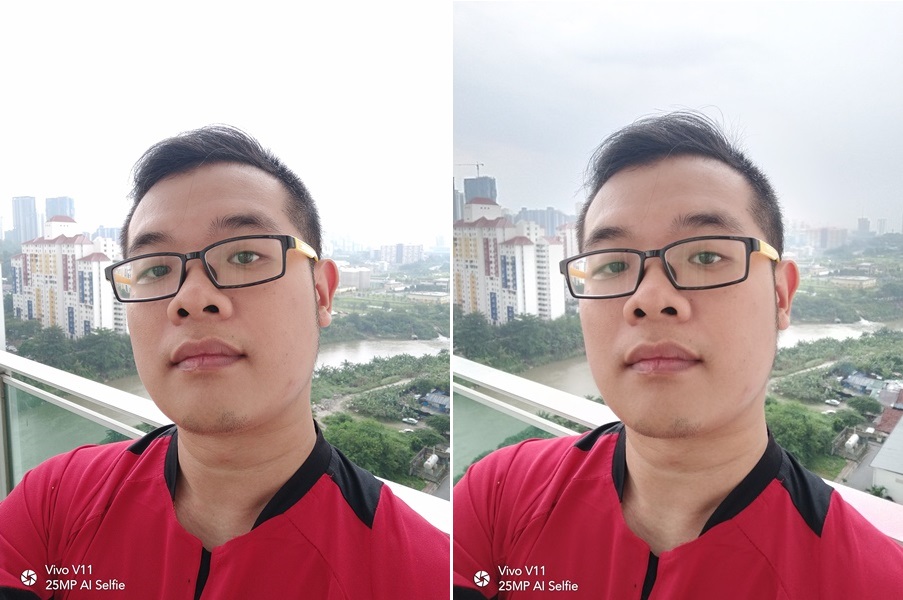 Before and after using AI Backlight HDR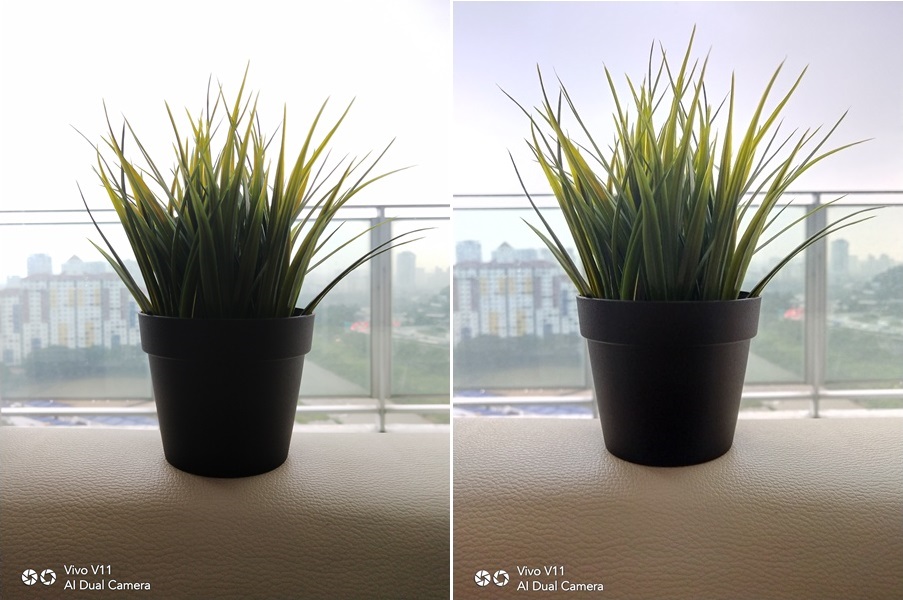 Here's another one
New Auto Gaming Mode tool in AI Gaming
vivo Game Assistant also made a comeback, not only does it block incoming calls and notifications, but it also optimizes the game app's requirements for CPU and RAM to achieve the best performance. As usual, you can bring it out by simply sliding from the left and in addition there's also a new Auto Gaming Mode tool.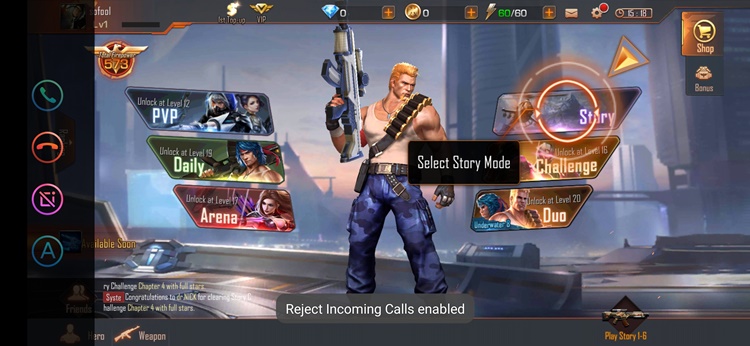 The Auto Gaming Mode (A) sort of helps to "pause" the game without having to switch off your phone, the game will still run in the background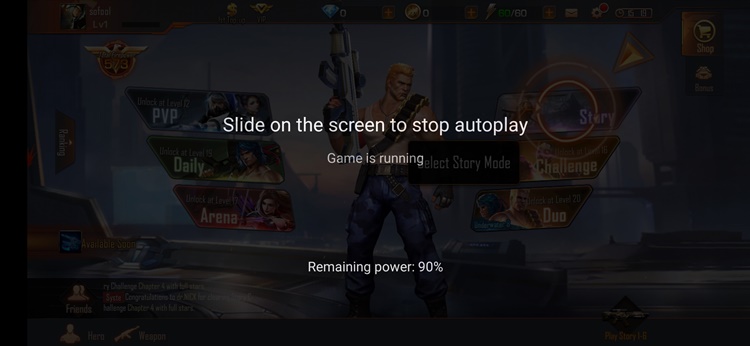 You can disable it by sliding the screen
Dual-Engine Fast Charging is fast indeed
Fast Charging is nothing new but it seems that most mid-range smartphones are starting to accquire this technology. The V11 is one of them and it sure charges pretty fast, so in just within an hour, it was able to charge around 70% and that's really nice if you forgot to charge up and are in a hurry. By the way, it carries a 3400mAh battery inside.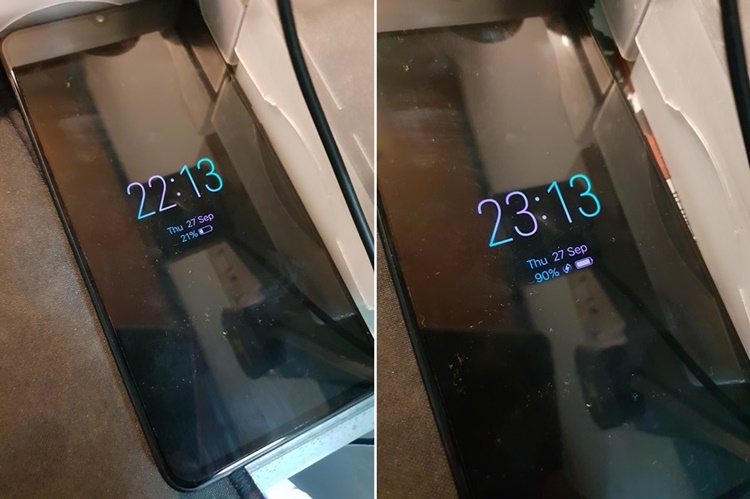 Here's proof of the fast charge technology
You can choose a different in-display fingerprint animation style
Here's a fun fact, the V11 is currently the only mid-range smartphone to possess an in-display fingerprint sensor and that's pretty cool. It's even cooler that you can actually use different animation styles for it! It would be nice if we could customize our own or allow other developers to create one too, but that's a potential feature for the future.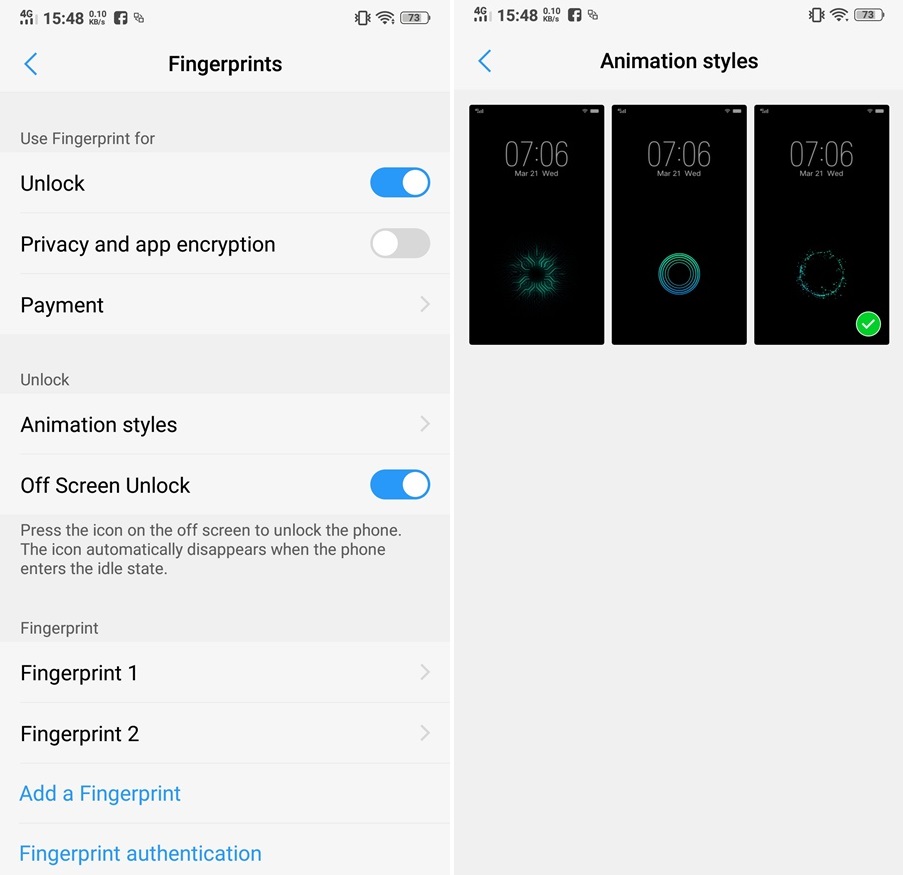 You can find this in the settings and tap Animation Styles, currently there are only three styles available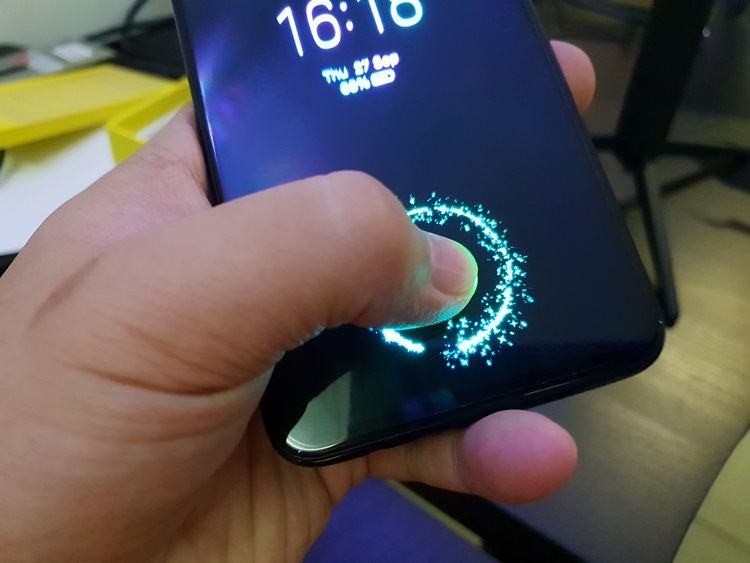 Wooooo, so pretty
A triple SIM slot tray!
Having two SIM cards is a pretty popular choice for Malaysians nowadays to help keep their personal and working lives separated, so with that, most Android smartphones offer a hybrid dual SIM tray but with the second SIM slot sharing the space with a microSD slot. So what did vivo do? Put a triple SIM slot for the V11 so there is a dedicated space for 2 SIM cards and the microSD. This can be a deal breaker for consumers who are looking to utilize all three slots.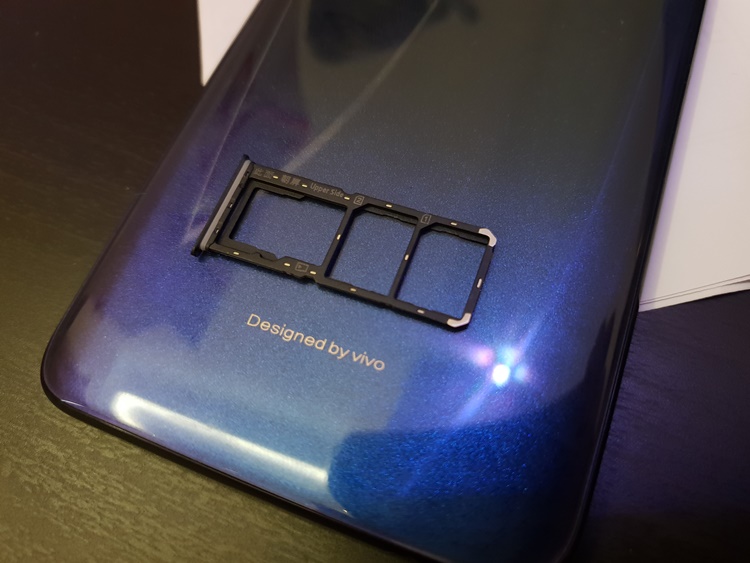 It almost look like it could fit three SIMs but not really
You can also send Funmoji
To access Funmoji, you will have to use vivo's TouchPad keyboard to get access (sorry Gboard users lol). To start using it, you will have to tap on the smiley face icon on the right, then it should bring you to the page. From there, it seems that there are only four animals available at the moment which are the tiger, deer, frog and a koala. It's not known if vivo plans to add in more animals but it'd be cool if they do.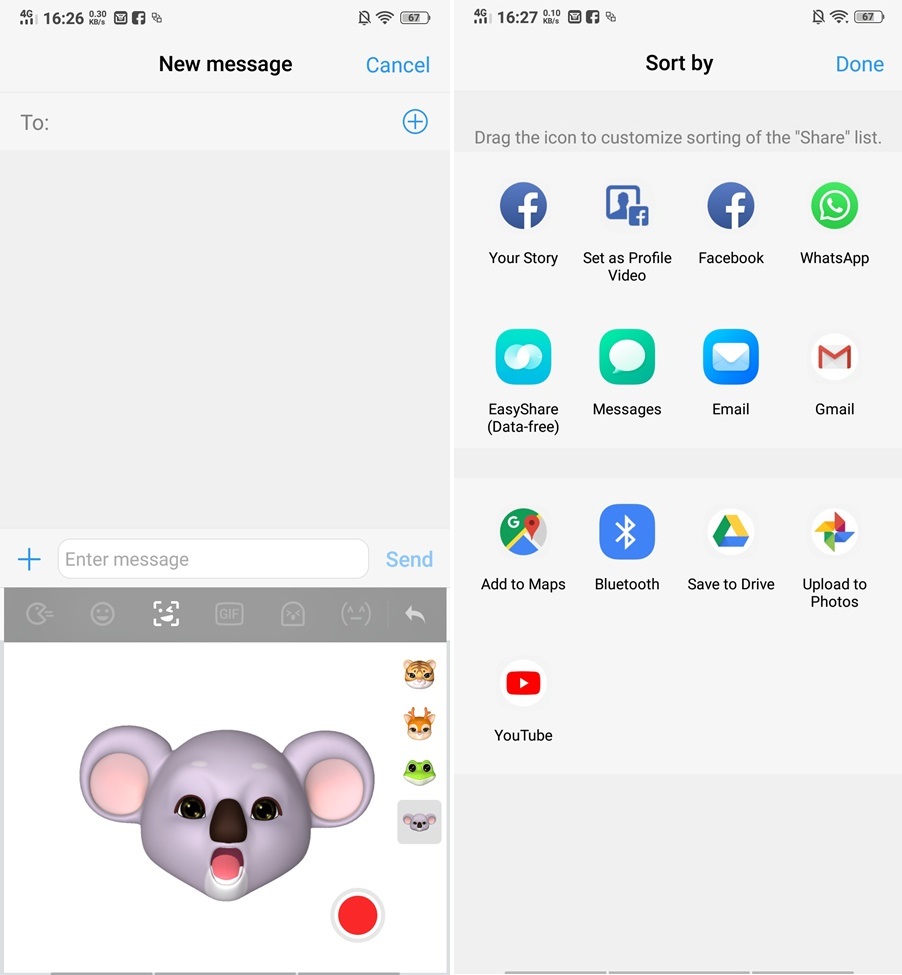 Funmoji demo (left) and the number of apps that are compatible with it
V11 has a personal AI Assistant on board
Finally, vivo's own personal AI Assistant, Jovi is hidden inside the V11 but it's not anything quite like Siri or Bixby since it is integrated with Google. With that, you can Google Assistant to do voice commands and if you go find Jovi in the settings, you can customize if you want to have your upcoming events, walking steps, weather forecase and even have your favourite teams displaying the results automatically.
vivo has also integrated Google Lens on the V11 camera and it's a pretty useful feature to have. What can you do with it? As what the screenshot says, it can help you to search for whatever data you've input, from texts to similar products, even to identifying objects and subjects, as well as scanning codes. So next time you're out and curious to find out something, but don't know what it is called, Google Lens is here to help!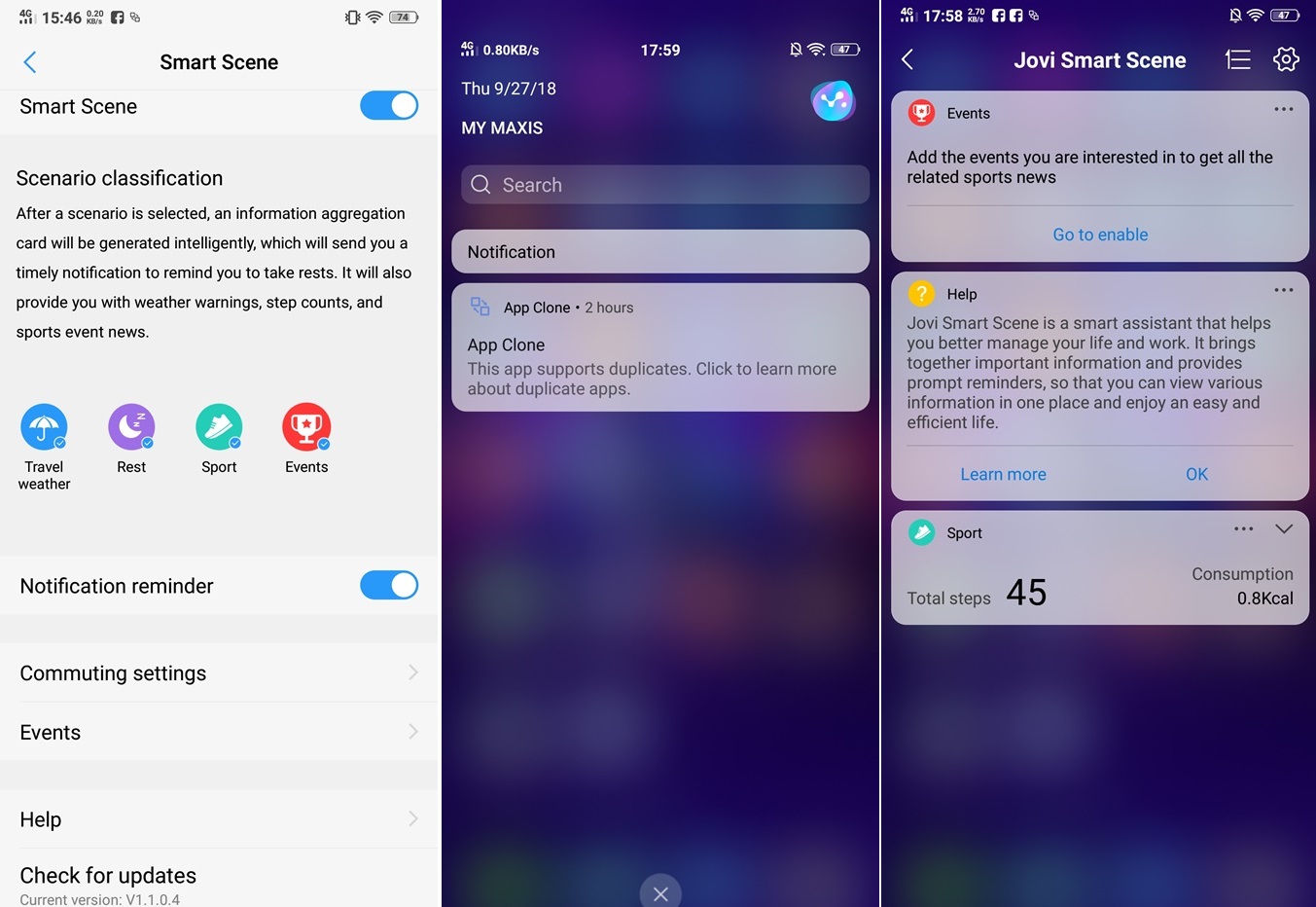 In the middle screenshot, you can see that colourful Y-ish logo which is Jovi, tap on that to enter Smart Scene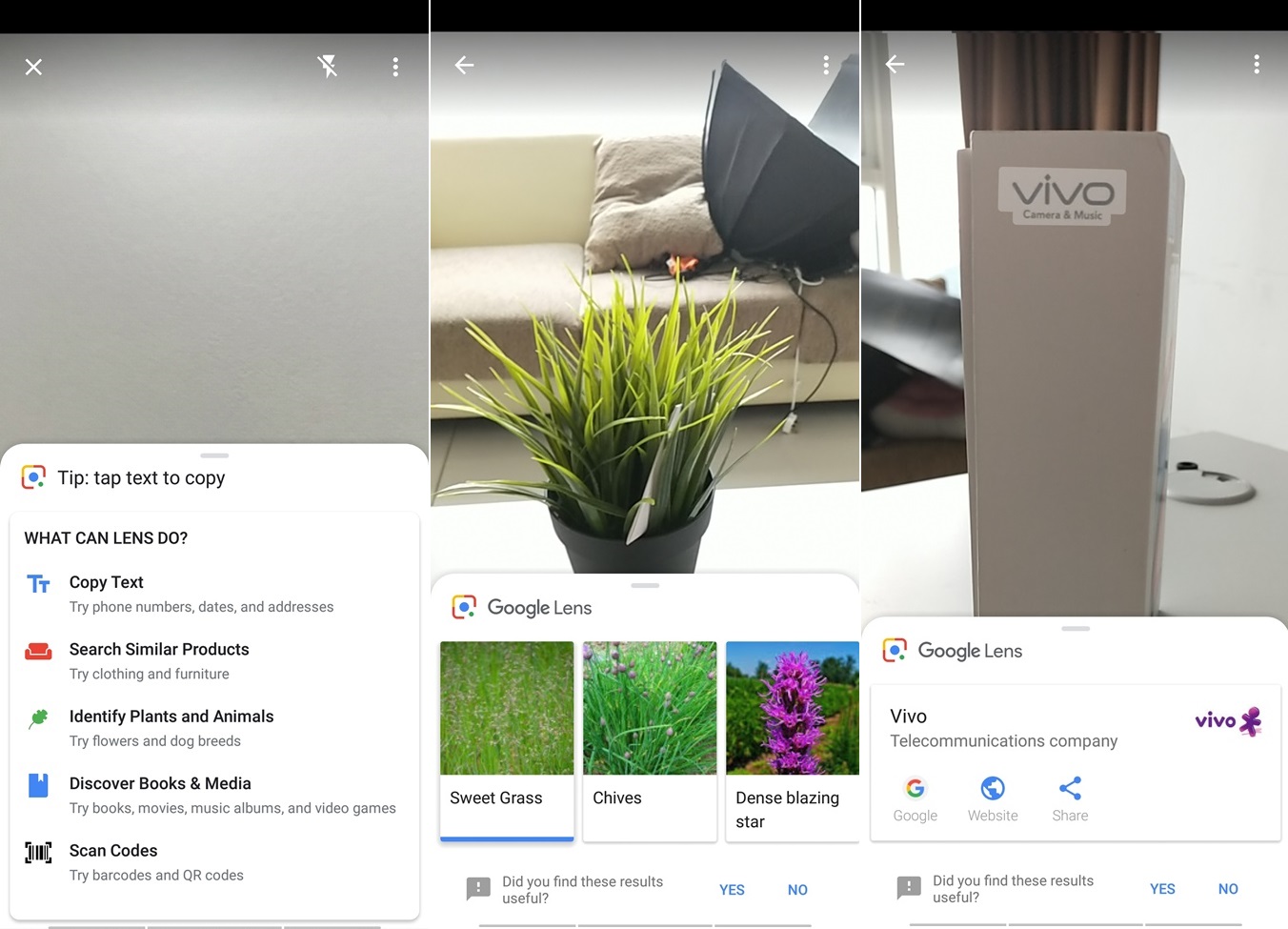 Here's a demo of using Google Lens
So those are the 11 hidden features that we found out about the V11. Did you find out any extras that we missed? Let us know in the comments below and stay tuned for more tech articles at TechNave.com.
vivo V11 Specs & Price >