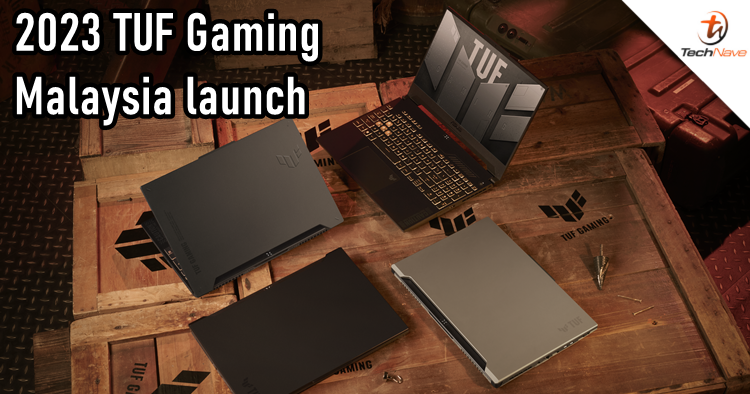 After a long wait, ASUS Malaysia has finally announced its all-new 2023 TUF Gaming laptop lineup. In addition to the TUF Gaming A16 Advantage Edition, the TUF Gaming A15, A17, F15 and F17 laptops are also returning with the latest AMD, Intel and NVIDIA processors for Malaysian gamers. Below are the details of the features, pricing and availability.
Starting with the TUF Gaming A16 Advantage Edition, it's powered by AMD Ryzen 9 7940HS processor and AMD Radeon RX 7600S mobile graphics. Utilising AMD's latest Zen 4 and RDNA 3 technologies, ASUS integrated exclusive features like AMD SmartShift and AMD Smart Access Memory for system performance enhancement and efficiency. The screen panel is 16 inches with narrow bezels and a 90% screen-to-body ratio, supporting up to QHD 240Hz refresh rate and is AMD FreeSync Premium compatible.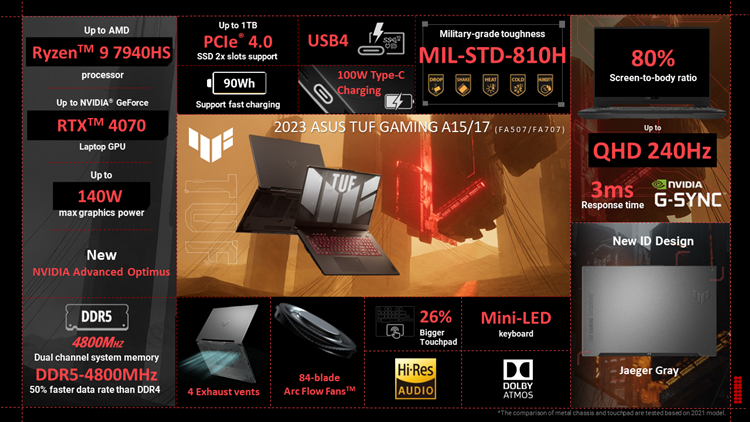 To complement the tech specs further, the TUF Gaming A16 features 4800MHz DDR5 RAM and up to 1TB of PCIe Gen 4 storage, as well as a 90Wh battery and USB C power delivery to keep it going. On the exterior, the gaming laptop has a subtle military-inspired look with a brand-new Sandstorm colourway in a customised anodized aluminium finish. It also has MIL-STD-810H certification for protection and durability.
As for the other lineups like the TUF Gaming F15 and F17, they are powered with the 13th Gen Intel Core i7-13700H processors, whereas the TUF Gaming A15 and A17 are using the AMD Ryzen 9 7940H processors. All four models sport up to the latest NVIDIA GeForce RTX 40 Series GPUs with G-Sync support and feature a max TGP of 140W with Dynamic Boost. MUX Switch with NVIDIA Advanced Optimus is also available.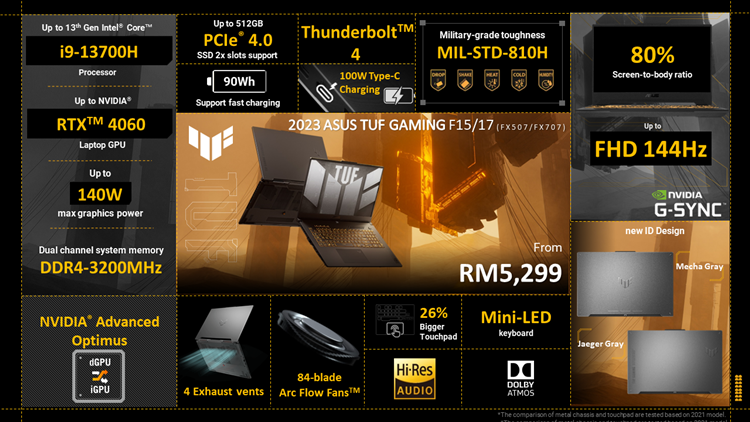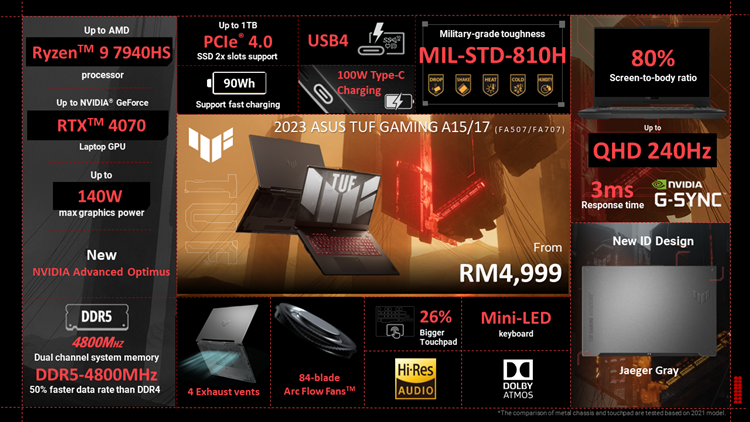 For the pricing and availability, you can check out the table below for your reference:
TUF Gaming models
Tech Specs
RRP

ASUS TUF Gaming F15

FX507V-V4LP028W

CPU: 13th Gen Intel Core i7-13700H Processor
GPU: NVIDIA GeForce RTX 4060 8GB GDDR6 (140W)

Display: 15.6" IPS FHD (1920 x 1080) 16:9 144Hz
RAM: 16GB DDR4-3200 (Dual-channel)
Storage: 512GB PCIe 4.0 NVMe M.2 SSD
Webcam: 720P HD camera
Power Supply: 90WHrs Battery / 240W AC Adapter
Bundle: TUF backpack

RM6,499

Availability - March

ASUS TUF Gaming F15

FX507V-U4LP030W

CPU: 13th Gen Intel Core i7-13700H Processor
GPU: NVIDIA GeForce RTX 4050 6GB GDDR6 (140W)

Display: 15.6" IPS FHD (1920 x 1080) 16:9 144Hz
RAM: 16GB DDR4-3200 (Dual-channel)
Storage: 512GB PCIe 4.0 NVMe M.2 SSD
Webcam: 720P HD camera
Power Supply: 90WHrs Battery / 240W AC Adapter
Bundle: TUF backpack

RM5,999

Availability - March

ASUS TUF Gaming F15

FX507Z-U4LP052W

CPU: 12th Gen Intel Core i7-12700H
GPU: NVIDIA GeForce RTX 4050 6GB GDDR6 (140W)

Display: 15.6" IPS FHD (1920 x 1080) 16:9 144Hz
RAM: 8GB DDR4-3200 (Single)
Storage: 512GB PCIe 4.0 NVMe M.2 SSD
Webcam: 720P HD camera
Power Supply: 90WHrs Battery / 240W AC Adapter
Bundle: TUF backpack

RM5,299

Availability - March

ASUS TUF Gaming A15

FA507X-IHQ057W

CPU: AMD Ryzen 9 7940HS
GPU: NVIDIA GeForce RTX 4070 8GB GDDR6 (140W)

Display: 15.6" IPS FHD (1920 x 1080) 16:9 165Hz
RAM: 16GB DDR5-4800 (Dual-channel)
Storage: 1TB PCIe 4.0 NVMe M.2 SSD
Webcam: 720P HD camera
Power Supply: 90WHrs Battery / 240W AC Adapter
Bundle: TUF backpack

RM6,999

Availability - March

ASUS TUF Gaming A15

FA507X-VLP029W

CPU: AMD Ryzen 9 7940HS
GPU: NVIDIA GeForce RTX 4060 8GB GDDR6 (140W)

Display: 15.6" IPS FHD (1920 x 1080) 16:9 144Hz
RAM: 16GB DDR5-4800 (Dual-channel)
Storage: 512GB PCIe 4.0 NVMe M.2 SSD
Webcam: 720P HD camera
Power Supply: 90WHrs Battery / 240W AC Adapter
Bundle: TUF backpack

RM5,999

Availability - March

ASUS TUF Gaming A15

FA507N-ULP027W

CPU: AMD Ryzen 7 7735HS
GPU: NVIDIA® GeForce RTX 4050 6GB GDDR6 (140W)

Display: 15.6" IPS FHD (1920 x 1080) 16:9 144Hz
RAM: 8GB DDR5-4800 (Single)
Storage: 512GB PCIe 4.0 NVMe M.2 SSD
Webcam: 720P HD camera
Power Supply: 90WHrs Battery / 240W AC Adapter
Bundle: TUF backpack

RM4,999

Availability - March

ASUS TUF Gaming A16 AE

FA617X-SN4028W

CPU: AMD Ryzen 9 7940HS
GPU: AMD Radeon RX 7600S 8GB GDDR6 (95W)

Display: 16" IPS QHD+ (2560 x 1600) 16:10 240Hz
RAM: 16GB DDR5-4800 (Dual-channel)
Storage: 1TB PCIe 4.0 NVMe M.2 SSD
Webcam: 720P HD camera
Power Supply: 90WHrs Battery / 240W AC Adapter
Bundle: TUF backpack, 100W TYPE-C AC Adapter

Price to be updated.

Availability - April onwards




ASUS TUF Gaming A16 AE

FA617N-SN3099W

CPU: AMD Ryzen 7 7735HS
GPU: AMD Radeon RX 7600S 8GB GDDR6 (95W)

Display: 16" IPS FHD+ (2560 x 1600) 16:10 165Hz
RAM: 8GB DDR5-4800 (Single)
Storage: 512GB PCIe 4.0 NVMe M.2 SSD
Webcam: 720P HD camera
Power Supply: 90WHrs Battery / 240W AC Adapter
Bundle: TUF backpack, 100W TYPE-C AC Adapter

Price to be updated.

Availability - April onwards