3 Features the Huawei P40 Pro+ has that other phones don't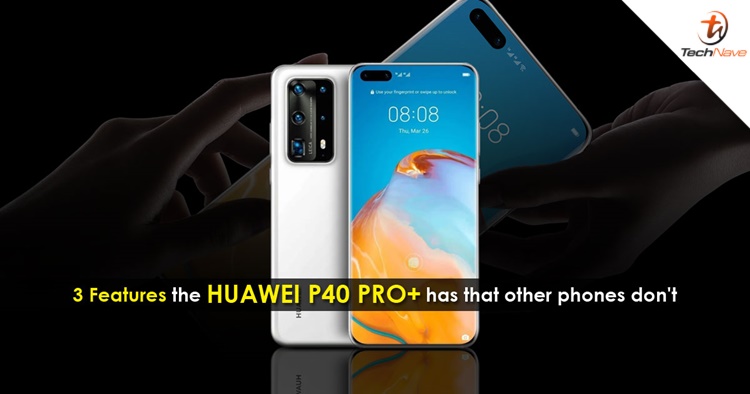 Pretty soon, the Huawei Mate 40 series will be unveiled globally but before we get there, we are going to take a look back at the Huawei P40 series. Launched in Malaysia a few months ago, the Huawei P40 and P40 Pro were met with some enthusiasm but it was the P40 Pro+ that stands above them with the highest tech specs and features.
Granted, there are a few flagships out there but the P40 Pro+ is quite a competitive device as well. So what are the 3 Features the HUAWEI P40 PRO+ has that other phones don't? Well, read on below to find out.
#1 Ultra Vision Leica Penta Camera system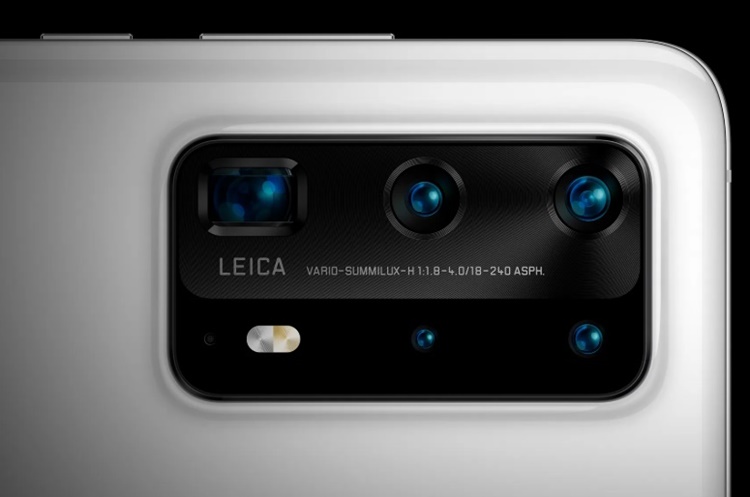 The Ultra Vision Leica Penta Camera module
To refresh your memory, the P40 Pro+ packs a 50MP Ultra Vision camera and the rest are slightly different for each model. For the P40 Pro+, you get a 50MP (main) and a 40MP ultrawide lens, followed by an 8MP telephoto lens with 3x optical zoom and the other 8MP camera with a whopping 100x max zoom thanks to the periscopic lens. The fifth sensor is a ToF sensor to help autofocus, portrait mode, and some of the advanced video modes.
Speaking of video modes, there's 4K video recording mode with up to 60FPS, and good low-light camera software for the best low-light performance possible. Moreover, there's also the "Golden Snap" which has AI Best Moment, AI Remove Passerby, and AI Remove Reflection. These AI photography features offer users an easier way to post-edit their photos by removing passers-by, remove reflections and take the best moment shot. With this, the Penta-camera is indeed the P40 Pro+'s key selling feature.
#2 Go One-Tap with all your Huawei devices
With Huawei Share, you can do a simple tap with the P40 Pro+ on various Huawei devices such as the MateBook and the MatePad Pro 5G. With the Multi-Screen Collaboration, you can drag files from one device's user interface to the other to transfer files as well as viewing the contents saved in the smartphone directly on the tablet without switching.
The company also integrated a Multi-Device Control Centre where it lets you see every connected device, as well as intelligently recommends nearby devices that can be used to improve the current user experience. For example, when a user is listening to music on Huawei Music player with the Huawei Sound X nearby, the Multi-Device Control Panel will suggest switching the audio output to the smart speaker to get better sound quality. You can also connect your smartphone with the speaker using the One-Tap feature!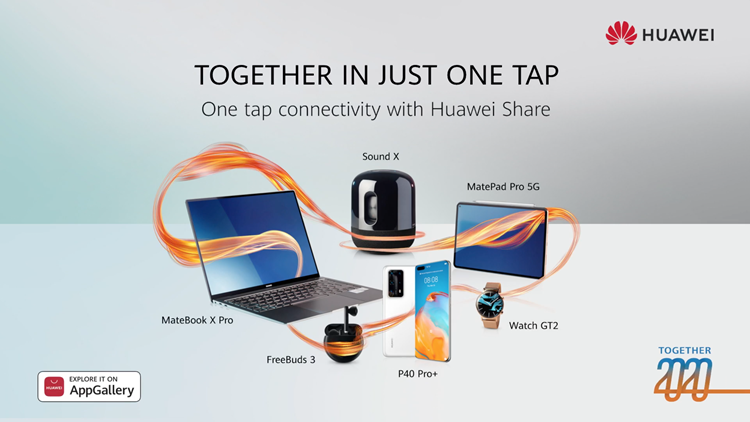 Go One-Tap with all the devices
It's also worth mentioning about MeeTime which is a video-calling tool by Huawei that can be used on either a Huawei phone or tablet. On top of that, it supports 1080p resolution during video calls and Screen Sharing. As the name suggests, Screen Sharing is an option within MeeTime that lets you share a screenshot to your friend or family member during a call.
#3 Petal Search Widget - Your Gateway to a Million Apps
Finally, Petal Search is a new search engine released in June and its role is to help you search content, news as well as apps that have yet to be added to the AppGallery. With this, Petal Search will direct you to third-party app stores to download the app you are looking for.
Petal Search tutorial
To start using Petal Search, all you have to do is add the Petal Search widget on the phone's homepage and you can start searching for your favourite apps, then download and install them. The feature will display the most relevant results according to your search, highlighting what you can download from the Huawei AppGallery, install via an official link, utilize the web version, or install from a third-party store.
So what do you think of these features from the Huawei P40 Pro+? As Huawei continues to build up its 1+8+N Together 2020 campaign, they will continue to offer consumers the chance to experience smarter lifestyle with their Huawei ecosystem. If you want to learn more about the company's Together with Just One Tap campaign, you can visit the link here to check it out. Stay tuned for more tech articles at TechNave.com.