3 reasons why you would want Samsung's The Frame in your living room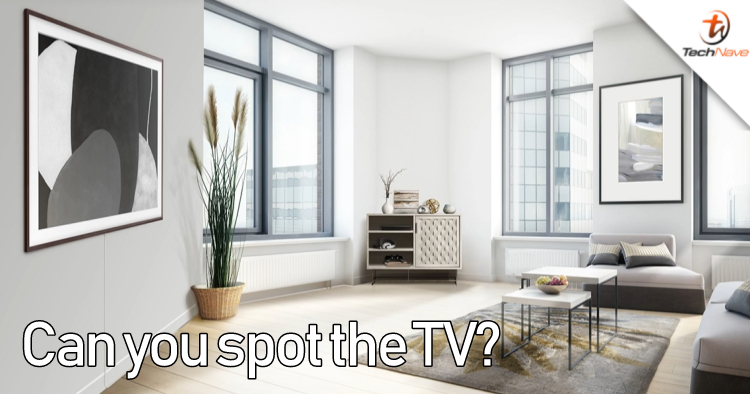 When it comes to TVs, many think of them as plain black boxes to watch movies or TV shows. Quite often, they don't fit in with artful decor, prompting many people to hide their TVs completely in such situations. But what if your TV could also blend in with all your art pieces?
Say hi to Samsung's The Frame, an out-of-the-box smart TV that not only displays stunning visuals but also looks as good as any other masterpiece. It comes with many features that make it rather unique, compared to other TVs. In no particular order, here are 3 reasons why you may want to make The Frame a part of your living room.
#1 An art piece on its own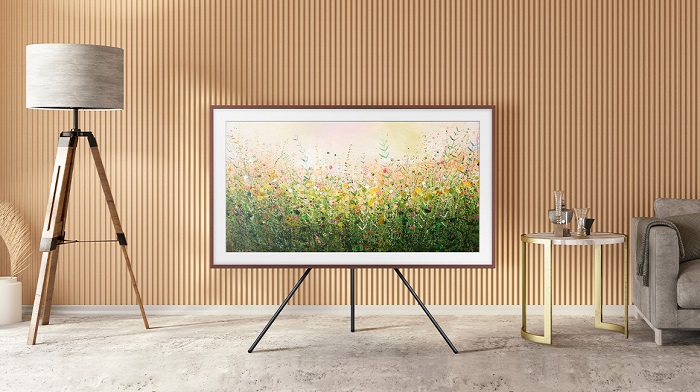 At first glance, Samsung's The Frame doesn't look like a TV. You could lift it out of the box and go "when did I order a picture frame?" Yup, this smart TV looks like a frame for photos or art pieces. It's probably why Samsung gave it that particular moniker, but what's special about this?
Well, it's a beautiful looking product and an art piece on its own. You can get it to match your living room or personal space with customisable modern or beveled bezels, so you can pick the one you like best. For the modern bezels, you have white, brown and teak, while the beveled ones come in brick red and white. On top of that, the new model has a body that's 46% slimmer than the 2020 model at only 24.9mm in thickness. You could mount it on your wall and it wouldn't look out of place.
#2 Bringing digital art to life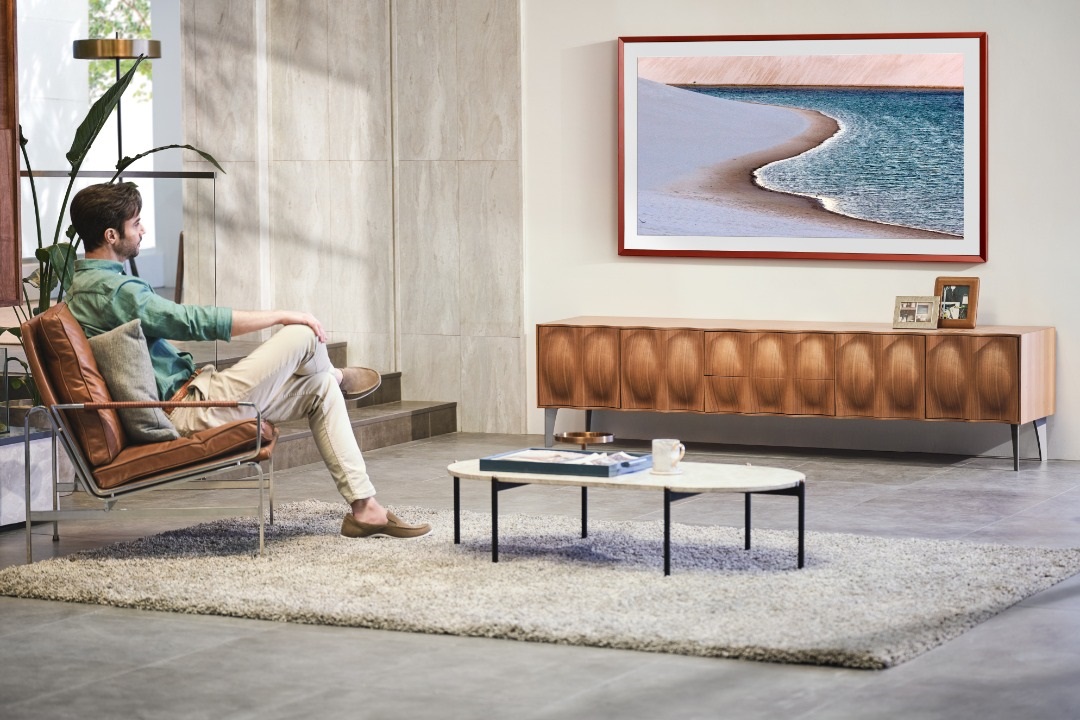 You don't get a smart TV like this just to mount it on a wall, right? As the name suggests, The Frame can be turned into a digital photo frame. Specifically, you can use it to display your choice of digital photo or art piece collection.
This is done with Art Mode, a home screen mode for The Frame where your collection of photos or artwork can be displayed with the help of the My Collection feature on the Smart View app. When switched off, The Frame will enable Art Mode and transform into an art gallery. With this mode, you could place The Frame among your physical collection of artwork and it would blend right in.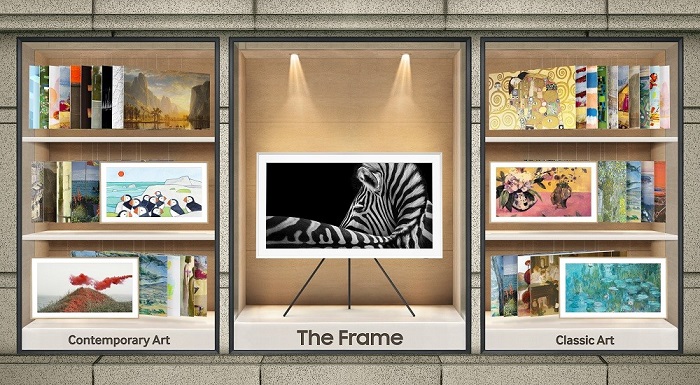 But what if you don't have any fancy artwork like that? No worries, you can subscribe to the Art Store and download one from an expanded library of 1400+ pieces of artwork from the world's leading art galleries. You could also send personal photos from your phone or transfer them via a USB drive!
#3 New premium tech for a greater viewing experience
Of course, what's a TV if not for watching TV shows or movies? The Frame is definitely excellent in this regard, as it is a 4K smart TV that uses Samsung's in-house QLED technology. It also comes with a bunch of accompanying tech that improves your viewing experience.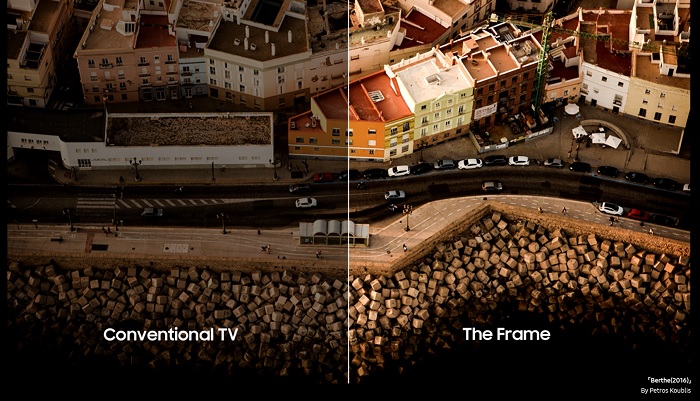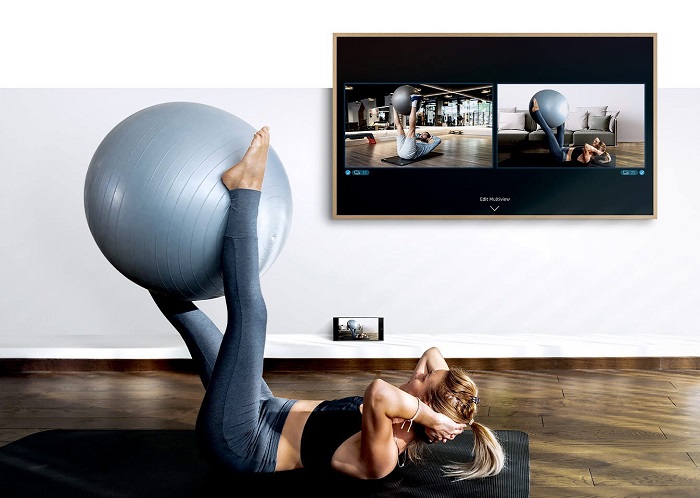 With QLED technology, The Frame covers 100% of the DCI-P3 colour gamut. It also has dual LED backlighting for improved colour contrast and authentic black tones. In addition to that, the TV has the built-in Quantum Processor 4K that enables AI upscaling to significantly improve the video quality of low-resolution content to 4K resolution.
For audio, there's also SpaceFit Sound that analyses your room environment, then auto-optimises the sound profile to one that is optimised for it. Moreover, this smart TV has features like Multi View, Mobile Mirroring, and Tap View. Multi View is particularly useful, as it lets you watch content from up to four different sources (i.e smartphone, tablet, laptop) on The Frame.
These three main aspects are just some of the various reasons to get The Frame for your living space. In terms of features, the TV also has the Samsung Bixby voice assistant. There's also a variety of accessories including the Slim Fit Wall-Mount (already included) and Studio Stand for displaying The Frame in the hallway. Moreover, The Frame's stand is height-adjustable, which is useful when you just want to treat it like a TV with a soundbar. There's also the One Connect Box that's great for easier cable management, and you can even hide it to maintain a clean, minimalistic look for your room.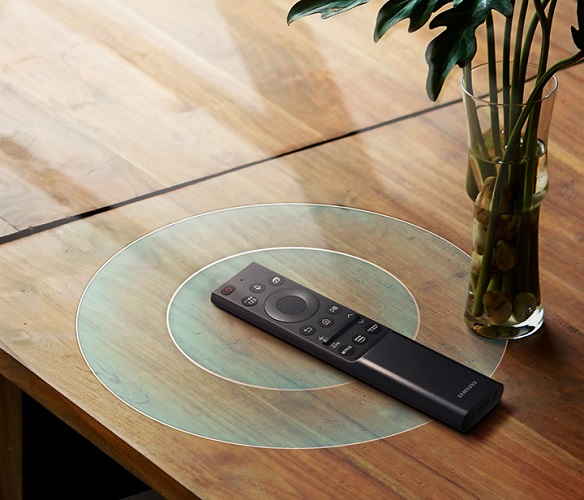 The Frame 2021 supports Samsung Bixby too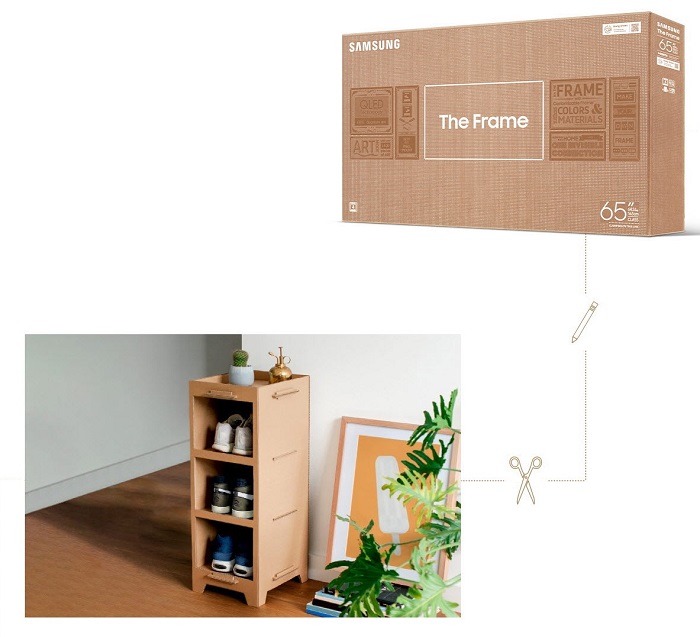 The new Eco-packaging can be repurposed and used as shoe shelves
Samsung is also planning to go Green with some of its new products. This includes new Eco-packaging and oil-based ink for its TV's boxes, which helps reduce waste as it can be repurposed. On top of that, the remote control is made out of 24% recycled material, another move by the company to become more eco-friendly. It's even powered by Solar Cells, which eliminates the need to buy disposable batteries.
If you want to find out more about Samsung The Frame, you can visit the official product page here. Having said that, what are your thoughts on the improved version for 2021? Let us know in the comments below! Also, stay tuned to TechNave for more articles like this.