3 things you didn't know about Samsung's WindFree Technology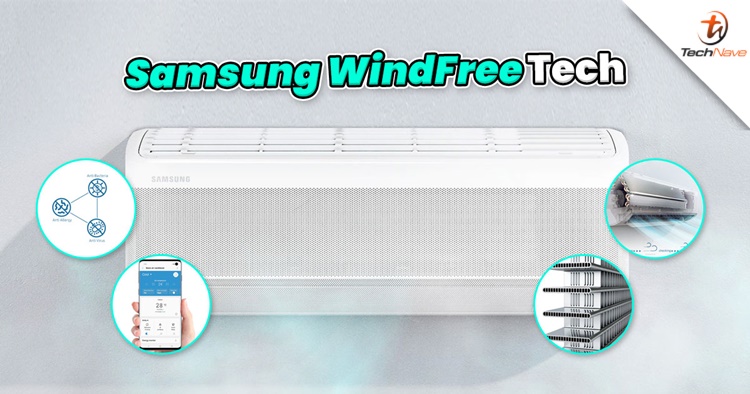 Have you ever thought that the aircon is too cold? Or how about how annoying it can be when it's blasting right at your hair? If you have ever been in that situation and can't seem to find the right balance, well, have you heard of Samsung's WindFree Premium Plus aircon?
With its WindFree technology, this aircon might be the one you have been looking for to stay comfortably cool without feeling cold. In fact, it is the only system that utilises "still air". This means that it can create an evenly cool temperature across a zone. Although it's not something new, you may not have heard of it before, so allow us to break it down to you. Here are 3 things you didn't know about Samsung's WindFree Technology.
#1 WindFree Cooling through micro holes
If you look at the WindFree Premium Plus, you would notice that it has many micro holes. While you can choose to open the front panel for cool air, you can just keep it shut as the air will disperse through 23000 micro holes. Thanks to this design, the WindFree Premium Plus can blow out "Still Air" with low airspeed and is much quieter than a traditional aircon.
No wind, no problem
This method also means you can save a lot on electricity bills. According to Samsung, the WindFree mode consumes 77% less energy than the fast cooling mode, helping you save up to 58% in electricity. It's perfectly fine if you need to use the Fast Cooling mode to cool down a room quickly. After all, you can just switch back to WindFree mode afterwards!
#2 AI Auto Cooling & SmartThings
Next, the WindFree Premium Plus can automatically optimise the cooling by analysing your aircon usage behaviour and living conditions! This works by using an AI Auto Cooling system developed by Samsung. After analysing your aircon usage, the aircon can switch to the most suitable mode to make you feel more at home. With this, you won't have to hunt for the remote to adjust the aircon all the time.
Do the smart thing
Of course, if you like to do it on your own - by all means, you can use Samsung's SmartThings app to control the temperature. Speaking of the app, it also lets you control the aircon even if you're not at home, anytime and anywhere! This can really make your life convenient and efficient.
#3 Air Care & Health Care
Finally, the Samsung WindFree technology can provide health benefits too! How? Simple, inside the aircon is a Tri-Care Filter that traps all dust, viruses, bacteria and allergens in the air. With this, it can keep the air hygiene in a room as clean as possible.
Auto Clean demo
It can't filter things endlessly, but luckily there is also an Auto Clean function in the Samsung WindFree Premium Plus. The Auto Clean function can help prevent bacteria and odour from building up inside. As long as you turn it off, the aircon can clean itself easily without much effort. It's super easy, barely an inconvenience.
So, does it sound cool to you? If so, you can head over to the Samsung Online Store here to check out the WindFree Premium Plus. Depending on the capacity, you can purchase the WindFree Premium Plus for just RM2499 (1.0HP) or get a more powerful one for up to RM4549 (2.5HP)!
As a recap, the WindFree Premium Plus helps to:
Keep the space cool quietly
Automatically optimise various modes by analysing your patterns
Takes care of your health by filtering nasty things in the air
That's all, folks. Stay cool and stay tuned for more tech articles at TechNave.com.