4 reasons why the MSI GE66 Raider is the RGB gaming laptop you need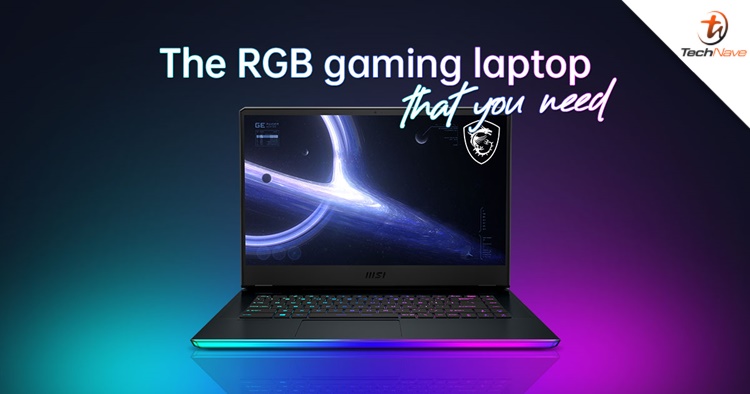 In recent years, the MSI GE Raider series has been getting more recognition as one of the top gaming laptops for hardcore gamers to have. Previously, we talked about how the MSI GE76 Raider may be one of your best companions for gaming & working from home. This time, we are introducing you to another variant - the GE66 Raider.
You must be thinking right now - "There are so many RGB gaming laptops, so why should I consider this one?" Well, we listed a few reasons below, so stay a while and listen. Here are 4 reasons why the MSI GE66 Raider is the RGB gaming laptop you need.
#1 Display on steroids
First and foremost, one of the first things you will notice is the display. Like most modern gaming laptops nowadays, you can't have 4K resolution alone without a high refresh rate. MSI designed the GE66 Raider specifically for this reason with up to 240Hz refresh rates in QHD mode. Alternatively, gamers can switch the display setting to FHD and enjoy a refresh rate of up to 300Hz.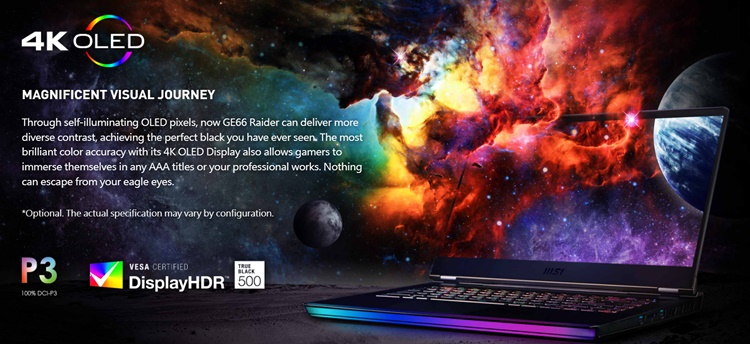 Besides the high refresh rates, there are other display features available. The display is a standard 15.6-inch 4K OLED panel, which delivers a brightness of 500 nits, 100% DCI-P3 colour gamut, and is VESA certified. These features mean that the GE66 Raider is also perfect for content creators who need the best and most accurate colours.
#2 Light 'em up
OK, most modern gaming laptops already have RGB lighting. So what's so special about the MSI GE66 Raider? As you can see, this laptop not only has an RGB keyboard. It also comes with a panoramic aurora lighting design across the front chassis. That's something you don't usually see, and as a sucker for RGB, I love it.

As expected, you can customise the RGB lighting on the GE66 Raider. With 16.8 million colours at your disposal, you can create any colour pattern to your liking and light 'em up!
#3 Latest Gen Performance
Recently, the 12th Gen Intel Core CPUs were unveiled at CES 2022, but the latest 11th Gen CPUs are still quite good. This laptop is equipped with an 11th Gen Intel Core i9 CPU and NVIDIA GeForce RTX 30 series graphics, resulting in a performance boost of up to 30% compared with the previous generation.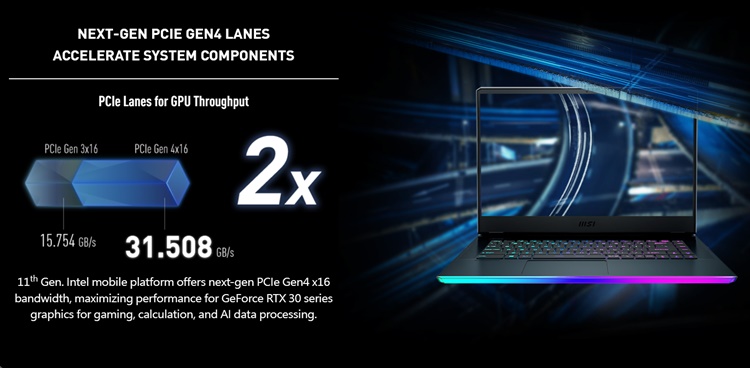 On top of that, the GE66 Raider offers a next-gen PCIe Gen4 SSD with x16 bandwidth. Compared with its predecessor, the SSD is twice as fast at 31.508 GB/s to 15.754 GB/s. This can surely maximise the GeForce RTX 30 series graphics performance for gaming and storage processing. If you plan to go all the way, you can also max out the RAM capacity at 64GB.
Speaking of GeForce RTX 30 series, most hardcore gamers like yourself should know by now that this GPU bad boy is currently one of the best graphics cards in the market. So as long as you have this inside the GE66 Raider, you will have lots of glorious gaming in rich 4K resolution.
#4 Keep it cool with Cooler Boost 5
High-end tech specs tend to overheat devices, especially when the performance setting is almost maxed. MSI obviously didn't forget about that and has integrated the Cooler Boost 5 technology into the GE66 Raider. This version features a new design with dedicated thermal dissipation functions for the CPU and GPU. It also has larger cooling fans and wider heat pipes, ensuring that the GE66 Raider doesn't overheat when pushed to its max performance.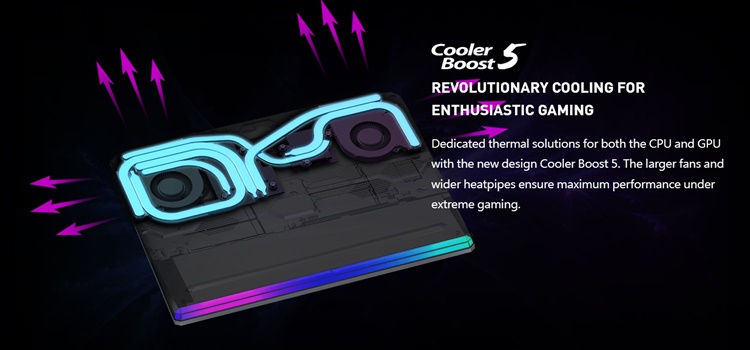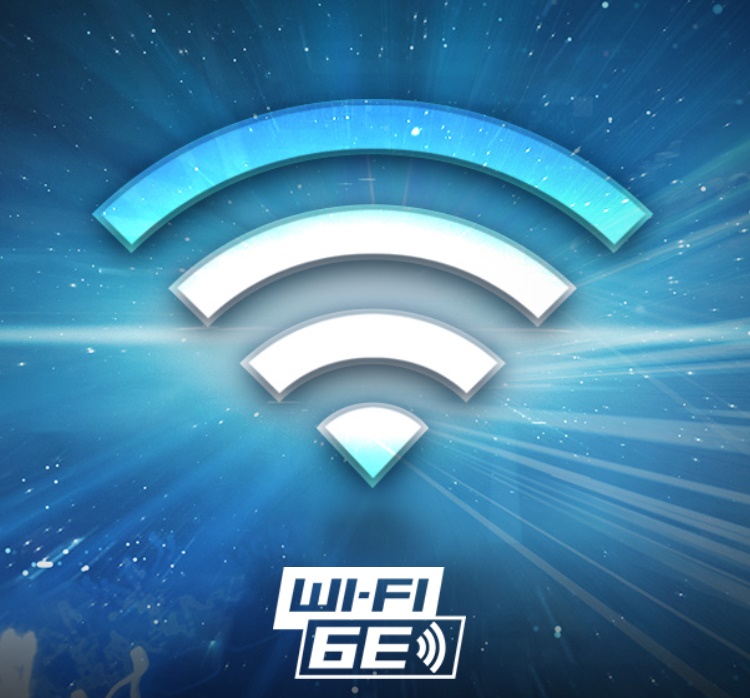 Before we end, it's worth noting that the GE66 Raider has WiFi 6E. This technology isn't new, but it does deliver the fastest Internet connection possible. It's also backward compatible with the current 2.4GHz, 5GHz, and WiFi 6 devices.
If this is the kind of RGB gaming laptop you have been looking for, head over to the list of online stores here to get yourself started. Also, MSI Malaysia is having a Chinese New Year Promotion from now until the 13th of February 2022. Depending on the selected model, you can get discounts of up to RM2700 off alongside bundled gifts.

As for the GE66 Raider, it is currently on promotion for RM7999 (RRP RM9399). If you buy this gaming laptop, you also get to bring home an MSI Urban Raider Backpack, MSI Gaming Mouse, MSI Gaming Headset, and MSI Dragonshield Spaceship figure. How cool is that? To find out more about the CNY Promo, you can visit the official link.
MSI GE66 Raider Specs & Price >