4K resolution option spotted on YouTube app discovered by iOS 14 beta users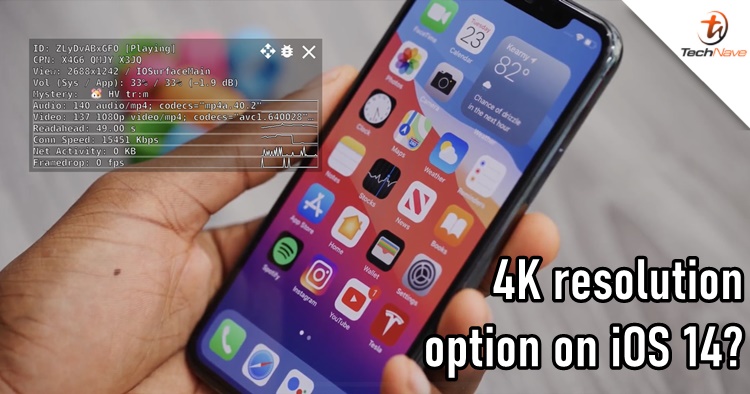 While many beta testers are still exploring iOS 14, one of the features they found is really exciting. According to multiple sources, their YouTube video resolution can be toggled up to 4K. Sweet, but it's still in beta testing.
Just so you know, your YouTube app on iOS isn't able to support 4K resolutions because it's not compatible with Google's codec (VP9). With this in mind, the highest you can go is just [email protected] thanks to Apple's AVC1 (h.264) codec but looks like that's gonna change with iOS 14. A few beta testers have been sharing the screenshots of their videos being pumped up to [email protected] with HDR setting. The screenshot also showed that VP9 is integrated within iOS 14 but it's unclear if the codec is being decoded on a GPU or CPU.
First: MKBHD video, maxed out at 1080p, AVC1

Second: 4K60 HDR video, maxed out at 2160p60 HDR, VP9

Third: 8K60 HDR video, maxed out at 2160p60 HDR, VP9
-
Seems like iOS Youtube finally supports high res playback for VP9 codec pic.twitter.com/bfQr76WMGn

— Cube (@CubeCDM) June 24, 2020
Either way, Apple haven't said anything about it yet and since it's still on beta, there's also a chance that it might not make it to the final release when iOS 14 becomes publicly available. It should be noted that selected iPhone models with OLED displays can bump up to 4K resolutions and there's no news from iPadOS 14 beta testers yet.
Even though Android phones have Google's VP9 codec integrated within, the majority of them also can't really go up to 4K resolutions. Anyway, if you wanna know more about iOS 14, you can read our news coverage right here. Stay tuned for more trending tech news at TechNave.com.