When the Samsung Galaxy Note20 Ultra was unveiled in Malaysia, it came equipped with the Dynamic AMOLED 2X screen, which not only makes content consumption a lot more satisfying but also much more immersive. This is because Samsung poured numerous resources into research and development to supply its smartphones with the best displays possible.
I'm sure there are many out there who wonder what makes the display of the Samsung Galaxy Note20 Ultra stand out, compared to the displays from other smartphones on the market. Fret not, this article will reveal the 5 ways the phone's display can improve your content consumption experience.
Experience high refresh rate while prolonging the phone's battery life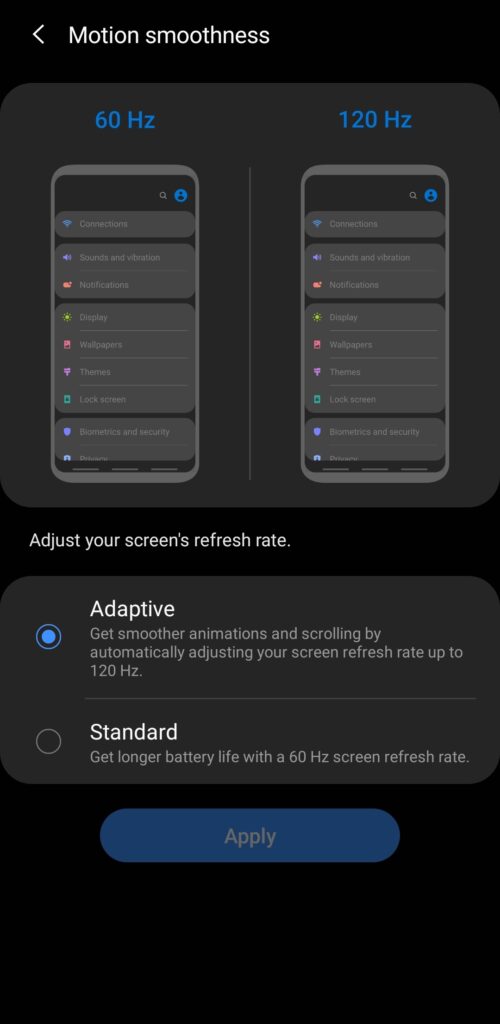 You can choose between Adaptive and Standard motion smoothness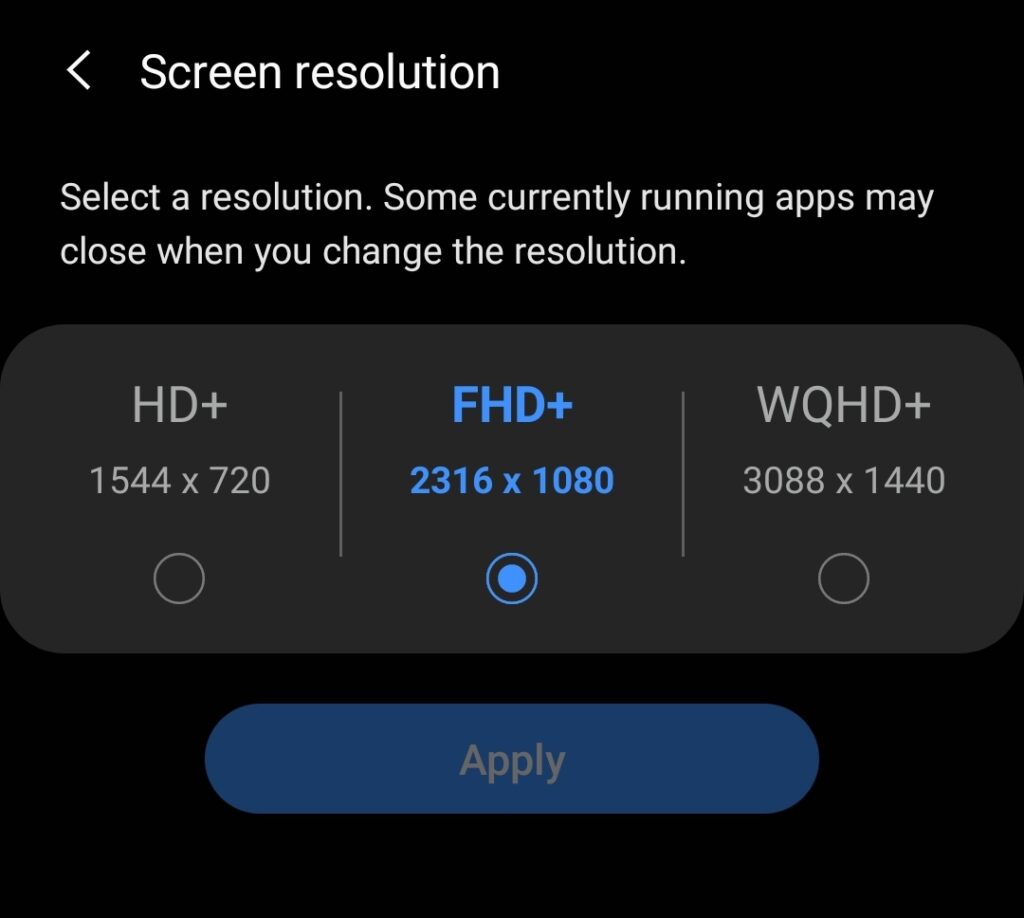 3 resolutions to choose from

120Hz vs 60Hz vs 30Hz
The Samsung Galaxy Note20 Ultra's display can achieve a refresh rate of 120Hz, which provides a more immersive and smoother experience to the user at the cost of higher battery consumption. With that said, Samsung introduced an option in the Motion smoothness setting called "Adaptive" that allows the phone to intelligently switch between 120Hz and 60Hz. This should help improve the battery life of the phone while giving a smoother experience to the user.
It should be noted that the 120Hz refresh rate mode will only work up to FHD+ resolution (2316x1080), while the WQHD+ resolution (3088x1440) is limited to 60Hz. Personally, I'd prefer having it on FHD+ with Adaptive turned on because it strikes the perfect balance between clarity, smoothness and battery longevity.
Accurate and vivid colour reproduction
Vivid and crisp even when zoomed in
You can pick between Vivid and Natural screen mode
Other than the refresh rate, the Dynamic AMOLED 2X Display is also able to reproduce images that are sharp and have vibrant colours. Not only that, you're able to tweak the white balance of the display to a colour tone that is warmer, cooler, or more Natural via the Screen mode option in the settings.
Furthermore, when we took a picture using the 108MP rear camera and zoomed all the way in, there was no pixelisation and the colour from the image remained vibrant. The Galaxy Note20 Ultra can also preview 8K recordings shot on the phone without a hitch, thanks to its high-resolution display.
Simply a better experience with its larger display
The UI doesn't feel cramped thanks to the large display

The Samsung Galaxy Note20 Ultra comes equipped with a 6.9-inch display that has narrow bezels, giving the device a screen-to-body ratio of 91.6%. That, paired with the 120Hz refresh rate display, gives the user a much smoother and responsive experience when playing fast-paced mobile games such as PUBG Mobile, Call of Duty Mobile, Mobile Legends: Bang Bang, and more.
But that's not all, the larger screen also means that the user can comfortably fit all the UI elements on the display and it won't feel cramped. Also, the 19.3:9 aspect ratio display provides a wider field of view, which means that gamers would be able to see more and react sooner.
Watch video and movies with minimal bezels
Almost no bezels in sight!

Big fan of documentaries?
It looks so real it's making me hungry!
As mentioned, the Samsung Galaxy Note20 Ultra has an aspect ratio of 19.3:9. This is similar to that of most movies out there on the market. When you combine this with the extremely thin bezels, you get a device that's also very immersive when it comes to watching movies on Netflix, Youtube, and more.
Larger display for you to doodle using the S Pen
Last but not least, drawing on the S Pen can feel extremely responsive thanks to the 120Hz refresh rate, as it provides feedback to the user at around 9ms. With such a low input delay, users can quickly and smoothly take notes while in a meeting or do a quick sketch when they feel inspired.
New and improved S Pen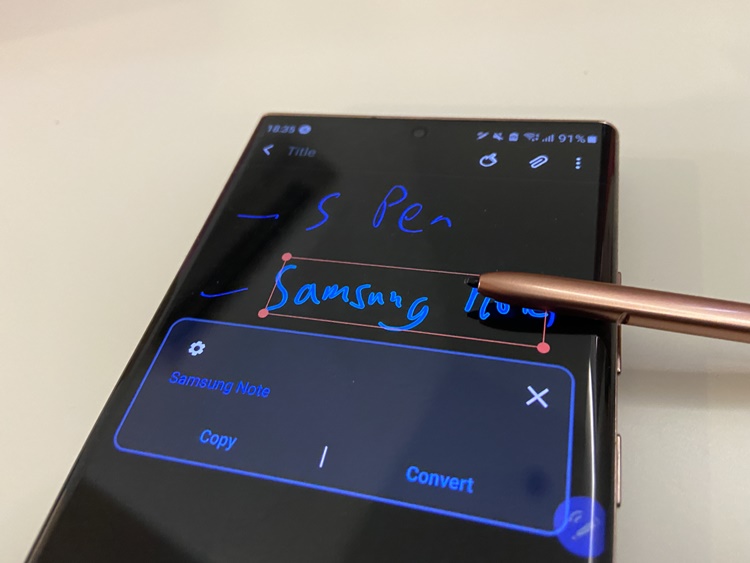 9ms input delay makes writing extremely responsive
With all that said, those who are interested in purchasing the Samsung Galaxy Note20 Ultra can get it at any Samsung Experience Stores in Malaysia for the price of RM5199. But that's not all, those who purchase the phone will also get a Samsung UV Sterilizer with Wireless Charging and Wireless Charger Convertible worth RM508, a free Protection Plus worth up to RM387, and 20% off accessories.
Samsung also mentioned that until 31 October 2020, it would be possible to trade in your older smartphone to get cash rebates on your Note20 Ultra purchase. In addition to that, those who purchase the Galaxy Note20 Ultra or a Galaxy Tab S7 series tablet from 1 September 2020 until 31 October 2020, will be eligible for a 1-day pass to Colony for free!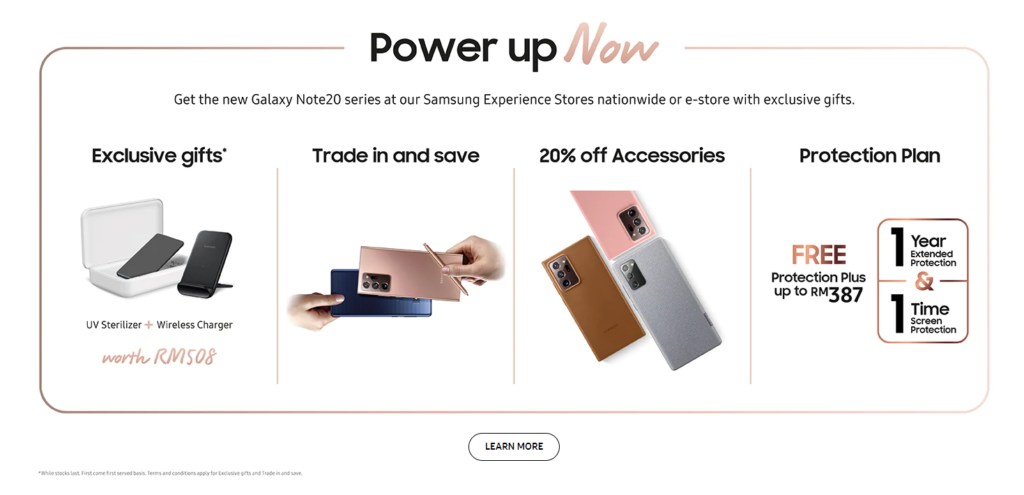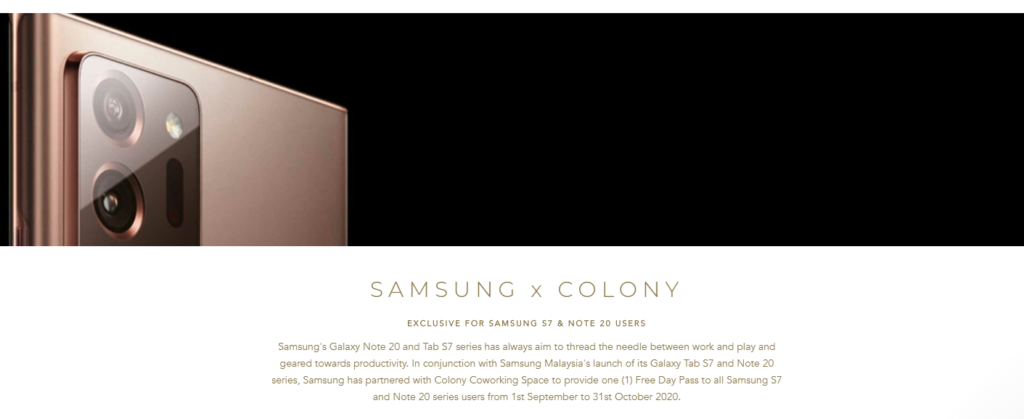 With all that said, would you be interested in getting the Samsung Galaxy Note20 Ultra? Let us know on our Facebook page and for more updates like this, stay tuned to TechNave.com.
[Sponsor]