A Lazada Express truck got caught on fire with 11.11 parcels inside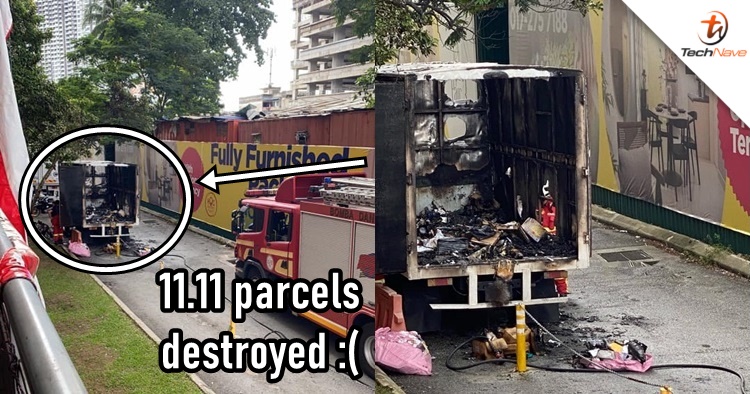 Update - Lazada Malaysia has reached out to us regarding the damaged goods lost from the incident, you can read their full statement below
Tons of Malaysians have spent a lot of money during the 11.11 Sales, you did it, I did it, and we hope that you all have received the goods by now. As the title said, a truck got caught on fire just two days ago and it may belong to Lazada Malaysia.
The incident happened in Cheras, Kuala Lumpur at 2.45 PM and was spotted by local named Kitty Goh. She took some pictures and posted them on her Facebook page and it's said that the truck was located nearby the Parti Gerakan Rakyat Malaysia (PGRM) building. Not many people saw the burning because it happened in the unloading bay. From the pictures, nothing survived inside the cargo and thankfully, the driver wasn't hurt.
"On 17 November at around 2.30PM, a third-party delivery service vehicle carrying Lazada orders caught on fire in Cheras, Kuala Lumpur. The fire was promptly put out and there were no casualties or injuries from the incident.

At Lazada, safety is of utmost importance and we are working closely with the authorities to provide full support for the investigation to ascertain the cause of the fire, and evaluating the affected parcels. For customers whose orders were damaged in the incident, Lazada will provide a full refund of the purchased item that will be credited via their respective payment method, together with an apology rebate for them to repurchase the same item with ease.

Additionally, as a token of appreciation for their understanding and patience, Lazada will also provide a complimentary Free Shipping voucher. Our Customer Care team is working rapidly towards getting in touch with affected customers to update them on the situation and begin processing their reimbursement." - Lazada Malaysia
Meanwhile, Lazada Malaysia made a statement that those whose parcels were damaged will be able to get a full refund and a free shipping voucher as a token appreciation. Nobody knows how the fire started so that will remain as a mystery for now, but one thing for sure is that everyone's 11.11 products are gone forever. Press F for respect, stay safe and stay tuned for more trending tech news at TechNave.com.