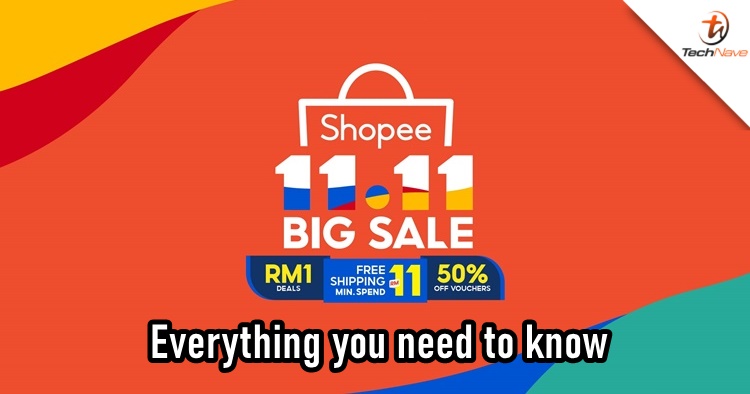 With 11.11 sales coming upon us once again, Shopee is preparing another Big Sale. There are a bunch of stuff and discounts at your convenience so without further ado, we are breaking down for you the highlights of Shopee 11.11.
First and foremost, most of you should already know about the brand new Proton X50. It's currently on 'One or Not' and only one lucky buyer can win this four-wheel vehicle at just RM1. Besides that, participants can also try out their luck on winning an RM1 Samsung Galaxy Note20, soundbars, watches, jewellery sets and more. RM1 will be fully refunded if you're not chosen, good luck!
Moreover, Shopee users stand a chance to win a Nintendo Switch and up to 11 million Shopee Coins from Shopee Shake, Shopee Farm, Shopee Bubble, Shopee Poly, Shopee Claw, Shopee Candy, and Shopee Lucky Prize. Free shipping will be applied as long as it's a minimum spending of RM11, but only for selected e-commerce stores such as Acer, Carlo Rino, Enfagrow, Nestlé, OPPO, P&G, Philips, realme, Sa Sa, Skechers, Tefal, Unilever, Watsons and more. Below is the complete list of other 11.11 features
Shopee Live: Phua Chu Kang will be in a special live stream show on 10 November from 8PM-9PM. Malaysians will get a chance to interact and co-stream with him while also being treated to 11.11 deals, vouchers and Shopee Coins when they watch the stream.
Besides him, there are other local celebrities such as Zoey Rahman (10 November at 5PM), Fynn Jamal and Tyra Kamaruzzaman (both on 11 November at 12PM) on their own Shopee Live streams showcasing their products, offering limited-time deals and vouchers.
Shopee 11.11 Big Show: A two hours entertainment show which will be aired on 11 November from 9PM-11PM on Shopee Live, TV3, Tonton and Youtube. Hosted by Awal Ashaari and Sherry Alhadad, viewers will be entertained with performances by local celebrities including Anuar Zain, Ella, Shila Amzah, Floor 88, Wany Hasrita, Dolla and Azzam Sham.
Viewers will also have the opportunity to participate in Shopee Catch and Shopee Shake and win up to 11,111,111 Shopee Coins and attractive prizes like the Honda Vario motorbikes, gold bars, Samsung 65" televisions and Dyson vacuum cleaners. Personalities Dato' Seri Vida, Datin Diana Danielle, Farahanim, Fahrin Ahmad, Mark Adam and Siti Saleha will be joining in the fun too. The 11.11 Big Show is sponsored by Nestle, L'Oréal, Adidas, Kimberly-Clark, P&G and Y.O.U.

On top of all that, Shopee is committed in uplifting local communities through its 11.11 Big Charity, its first regional charity drive. In Malaysia, it will partner charity organisations like the Malaysian AIDS Foundation (MAF) in raising awareness and donations for people living with HIV including underprivileged children. MAF and its hotel partners are also looking to send 2 lucky donors on an unforgettable 3D2N stay in Langkawi. For a chance to win exclusive hotel vouchers, users can simply donate any amount to the 'MAF fund' during 11.11.
Last but not least, not really an 11.11 highlight here but to quickly grab your items, remember to:
Put the items into the shopping cart to avoid sellouts at 12 AM

Remember to claim and save those free shipping vouchers and other discount vouchers ahead of time

Ensure there is a sufficient amount in your ShopeePay wallet to avoid last-minute top-ups. If that is not enough of a reminder, this should do the trick - users stand to win up to 11,111 Shopee Coins when they top up RM100 in their ShopeePay account from now to 9 November, and RM50 on 10 November.
Additionally, first-time ShopeePay users will receive an RM8 voucher when they complete their first transaction with a minimum spend of RM25. For more information, you may head over to Shopee 11.11 page here to check it out. Good luck and have fun Shopee-ing!