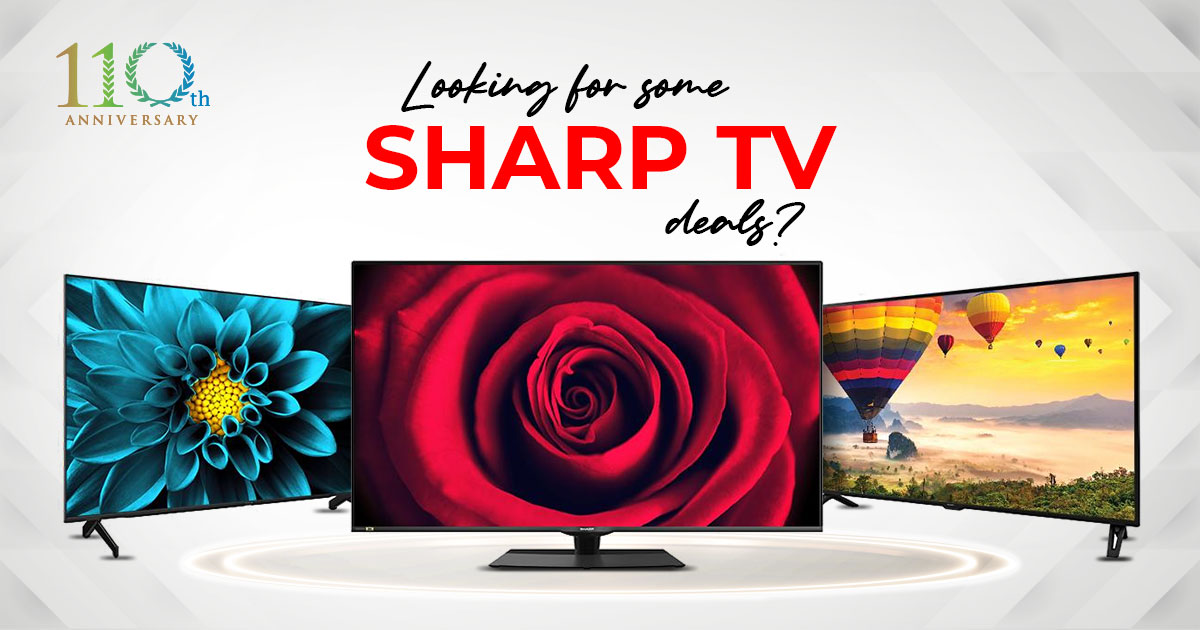 Sharp has been around for 110 years and is a top electronics brand today. Be it air-conditioners, washing machines or TVs, this brand has enough to meet a variety of needs.
If you're looking to get a high-quality TV for your living room, check out the AQUOS 8K and 4K TVs. To celebrate its 11th decade in existence, Sharp is offering the TVs at massive price cuts. You could also receive exclusive gifts, and stand a chance to win a Japanese vacation! More details can be found below.
Top-tier image and audio quality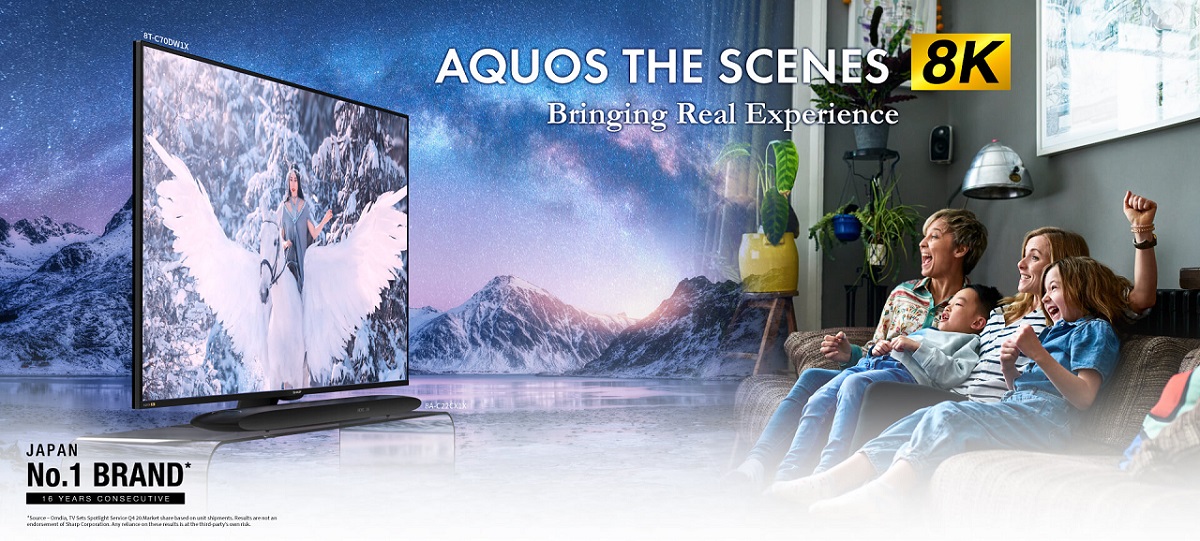 Before we go on, let's take a look at what the Sharp AQUOS 8K and 4K TVs have to offer. According to Omdia, Sharp is Japan's number one TV brand and its TVs have the feature to back that claim. The company's TVs provide improved visual and audio experiences.
The Sharp AQUOS 8K TVs use a unique UV2A panel with a new backlight system and low-reflection surface. It features the Deep Chroma Display Pro technology, which delivers a colour gamut that exceeds 100% of the digital cinema colour gamut standard. It also has 167% more screen brightness than most TVs.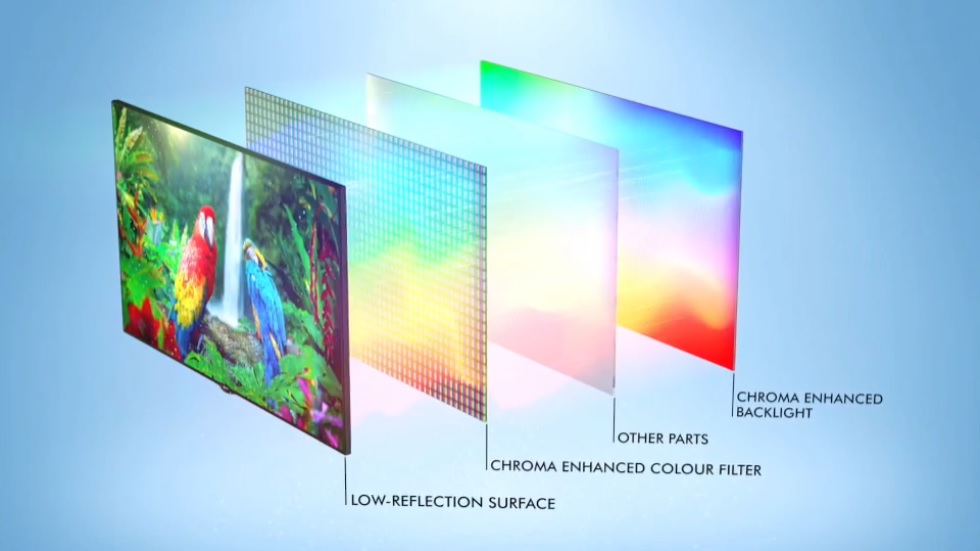 On top of that, the Sharp AQUOS 8K TVs are powered by the Z2 Revelation Processor that promises to deliver superior image quality and performance. Thanks to all these features, you can be sure that the TVs will deliver the most stunning visuals. Sure, there isn't much native 8K content at the moment. But that's not a problem thanks to the 8K AI Upconvert feature.
These TVs also promise high-quality audio via powerful speakers from the AQUOS The Scenes Sound Bar. It comes with independent speakers for highs, mids, and lows to deliver that thumping bass. It also has a 360-degree Immersive Sound feature for excellent surround sound quality.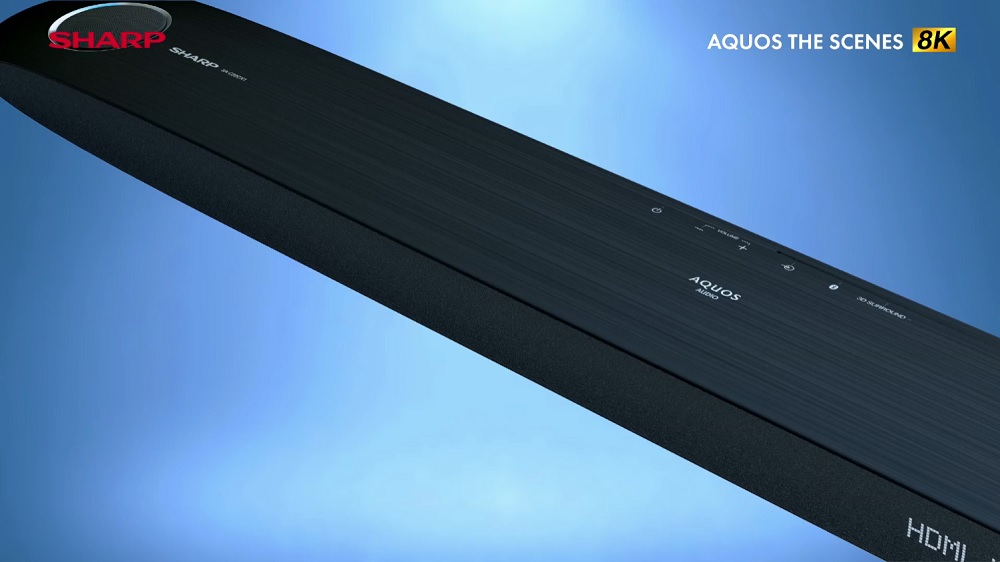 Want something more mainstream? Check out the Sharp AQUOS 4K TVs instead. There are 4K variants of AQUOS The Scene TVs that use the same UV2A panels for enhanced colour purity and have features like Deep Chroma Display, Auto Low Latency Mode (ALLM), Variable Refresh Rate (VRR), and more. Tying them all together is the X4 Revelation Processor, which is a more modest chipset that's not less capable.
The AQUOS lineup
Now that we have an overview of the AQUOS TVs, let's look at what's on offer. Below are some options you might want to consider.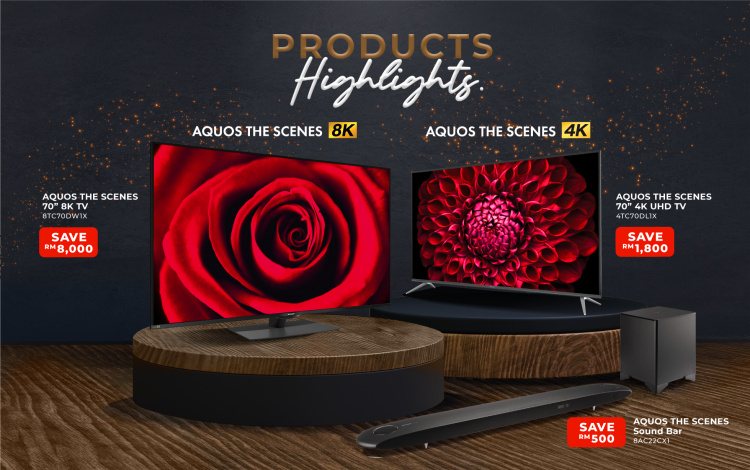 The AQUOS THE SCENES 60" 8K TV is probably the best-for-buck 8K TV on the list. It's not only priced at just RM6999 (RRP RM11999) but also comes with a free Sharp AQUOS 42" 4K TV (worth RM2499). Pretty nice gift for those who live in a larger house and need the extra TV. You could also top up RM3000 for the 70" version.
If you absolutely must have a 70" TV but don't have that big of a budget, check out the AQUOS THE SCENES 70" 4K TV. It's not an 8K TV but is more affordable at RM4999 (RRP RM6799). Purchasing one gets you an AQUOS 42" Full HD Android TV (worth RM1499), making it two TVs for the price of one!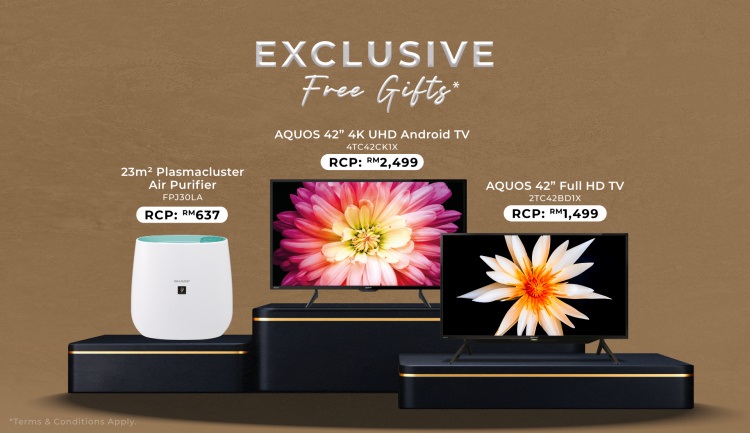 For those who are on a strict budget, the Sharp AQUOS 60" 4K UHD Android TV might be the choice for you. Its discounted price is just RM2999 (RRP RM3799) and purchasing it nets you a Plasmacluster Air Purifier, which might be more useful for you than another TV.
The promotional prices alone make these AQUOS TVs fantastic deals, but the free gifts are the cherry on top. Depending on your purchase, Sharp is giving away an AQUOS 42" Full HD TV, 23m2 Plasmacluster Air Purifier, and AQUOS 42" 4K UHD Android TV. If you need an extra screen for a laptop PC or your game console, we recommend picking an offer with the 4K TV.
Win a trip to Japan!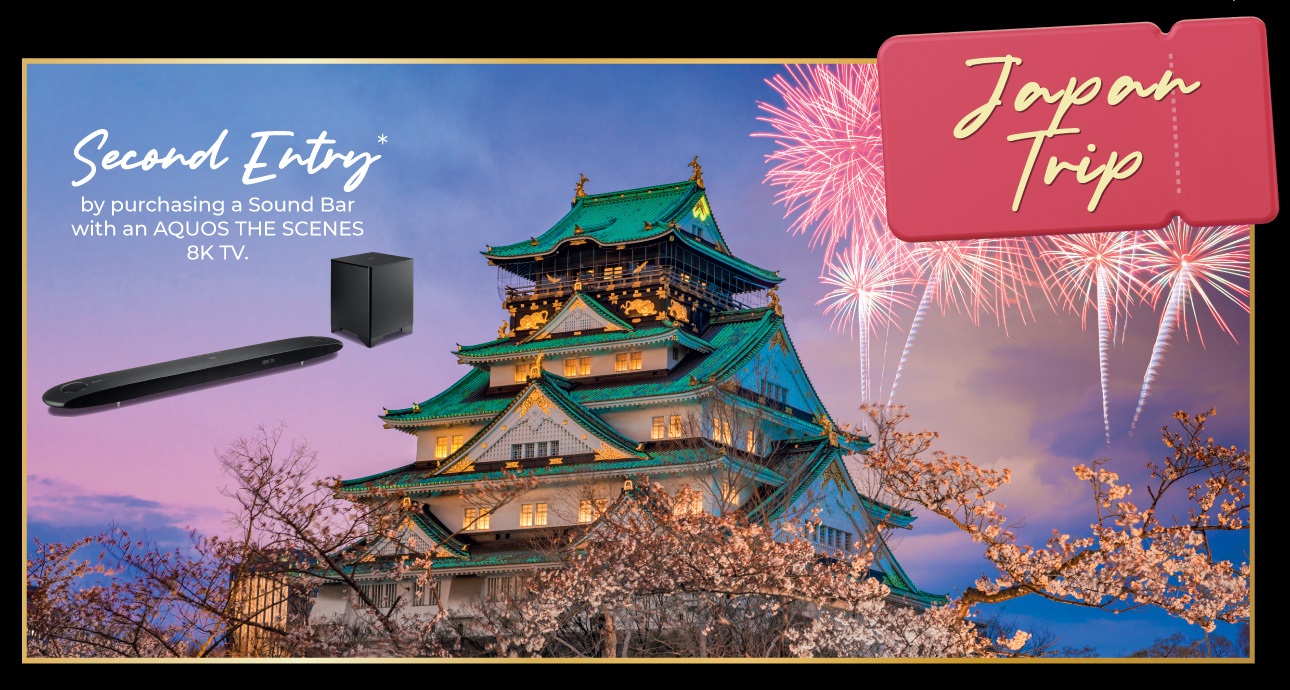 Do you like lucky draws? Of course you do. There's just something exciting about that small chance to win something big! In conjunction with its grand celebration, Sharp is offering you the chance to win a free holiday to Osaka, Japan.
All you need to do is buy an AQUOS The Scene 8K TV (or selected 4K TVs) and you'll stand a chance to win the lucky draw! Sharp is also collaborating with Cuti-Cuti Malaysia to provide 10x local staycations.
How to Join
Purchase any selected SHARP products
Scan the QR Code to download the CocoroLife App
Fill in relevant details and register E-Warranty
Entitled to win a Lucky Draw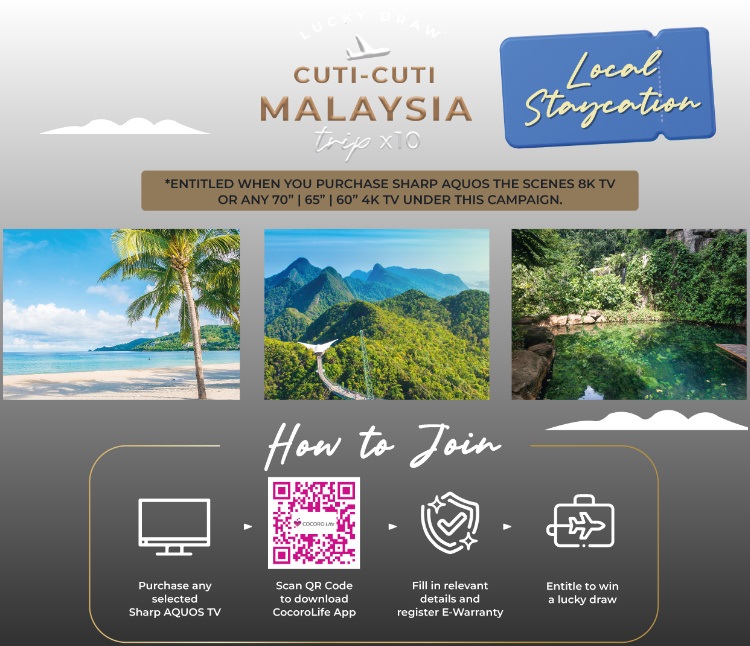 So there you have it, some very sharply priced SHARP AQUOS TV deals. Thankfully, it's valid from 16 September 2022 till 31 October 2022 so there's plenty of time to think (but don't think too long!)
There are also plenty of choices to fit any of your size or budget needs below. Go check out their site for more details and stay tuned to TechNave.com for more tech deals like this.
SHARP AQUOS TV (model)
Price
Free Gift
SHARP AQUOS THE SCENES 70" 8K TV (8TC70DW1X)
RM9999

RCP RM17999

AQUOS 42" 4K UHD TV (4TC42CK1X)
SHARP AQUOS THE SCENES 60" 8K TV (8TC60DW1X)
RM6999

RCP RM11999

AQUOS 42" 4K UHD TV (4TC42CK1X)
SHARP AQUOS THE SCENES 70" 4K TV (4TC70DL1X)
RM4999

RCP RM6799

AQUOS 42" Full HD TV (2TC42BD1X)
SHARP AQUOS THE SCENES 65" 4K TV (4TC65DL1X)
RM4199

RCP RM4799

23m2 Plasmacluster Air Purifier (FPJ30LA)
SHARP AQUOS THE SCENES 60" 4K TV (4TC60DL1X)
RM3399

RCP RM4099

23m2 Plasmacluster Air Purifier (FPJ30LA)
SHARP AQUOS THE SCENES 50" 4K TV (4TC50DL1X)
RM2699

RCP RM3199

-
SHARP AQUOS 70" 4K UHD Android TV (4TC70DK1X)
RM4499

RCP RM6499

AQUOS 42" Full HD TV (2TC42BD1X)
SHARP AQUOS 65" 4K UHD Android TV (4TC65DK1X)
RM3699

RCP RM4399

23m2 Plasmacluster Air Purifier (FPJ30LA)
SHARP AQUOS 60" 4K UHD Android TV (4TC60DK1X)
RM2999

RCP RM3799

23m2 Plasmacluster Air Purifier (FPJ30LA)
SHARP AQUOS 50" 4K UHD Android TV (4TC50DK1X)
RM2299

RCP RM2899

-
SHARP AQUOS 65" 4K UHD Android TV (4TC65CK1X)
RM3399

RCP RM4399

23m2 Plasmacluster Air Purifier (FPJ30LA)
SHARP AQUOS THE SCENES Sound Bar (8AC22CX1)
RM2499

RCP RM2999

-