AMD will launch Zen 3 CPUs and RDNA 2 GPUs in October 2020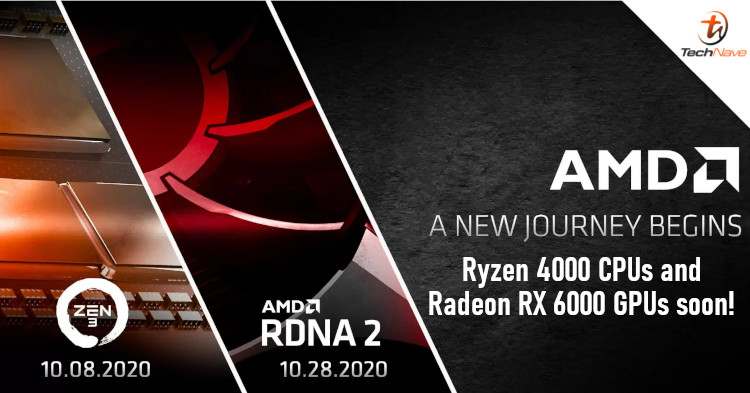 Have you been waiting for new PC components before deciding on what to buy? Well, it looks like the wait is over for AMD fans as the company has confirmed that new products will be coming soon. The Zen 3 CPUs will be unveiled on 8 October 2020, while the RDNA2-based GPUs will be announced on 28 October 2020.
In the first announced by AMD CEO Lisu Su, we can see that the AMD Ryzen 4000 series desktop CPUs will feature a three-chiplet die. It consists off two CCDs (Core Complex Die), which can fit up to eight CPU cores and 16 threads, and one I/O chiplet. This would mean that at least one of AMD's top-end Zen 3 CPU will be a 16-core and 32-thread part. Of course, we can expect faster clock speeds with the new Ryzen 4000 series.
It's going to be an exciting fall for gamers... time to start a new journey with @AMDRyzen Zen3 and @Radeon RDNA2 pic.twitter.com/O9SXvLo4y0

— Lisa Su (@LisaSu) September 9, 2020
AMD #RDNA2 architecture and Radeon RX 6000 Series graphics cards will bring the best of Radeon to gamers worldwide. Learn more October 28. pic.twitter.com/CZJRxTBe6m

— Radeon RX (@Radeon) September 9, 2020
As for the second announcement, it confirms that the RDNA2-based GPUs will be marketed as Radeon RX 6000 series graphics cards. An early sample of the card was allegedly leaked online too. According to the source, this Big Navi GPU has 16GB of GDDR6 VRAM from Samsung and a 256-bit bus interface. That would mean it has more VRAM than the recently announced Nvidia GeForce RTX 3080.
So, anyone excited for the new AMD parts? Or would you settle for a next-gen console for your future gaming needs? Let us know in the comments below and stay tuned to TechNave.com for more AMD updates.