ASUS Malaysia announced TUF Gaming GeForce RTX 3080 model for RM3360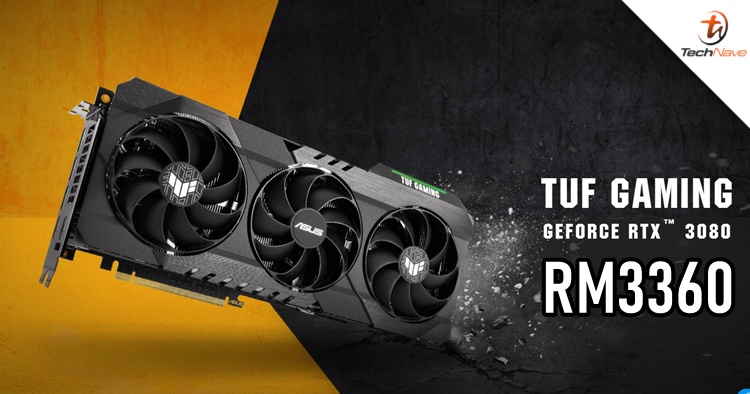 As reported in early September, the NVIDIA GeForce RTX 30 series GPUs has finally made its way to the Malaysian market. If you have been eyeing this bad boy, look no further than ASUS Malaysia as they have officially announced their own version called the ASUS TUF Gaming GeForce RTX 3080 model lineup. Under the model name TUF-RTX3080-10G-GAMING, this one cost RM3360.
To recap the tech specs, the ASUS TUF-RTX3080-10G-GAMING features an NVIDIA GeForce RTX CUDA cores (8704), 10GB GDDR6X memory, PCIe interface 4.0, 2x Native HDMI 2.1 output and 3 x Native DisplayPort 1.4a. Built with three new powerful axial-tech fans, its design has been optimized for intense graphics at low temperatures. There's also an independent heatsink for the GPU and memory keep thermals under tight control.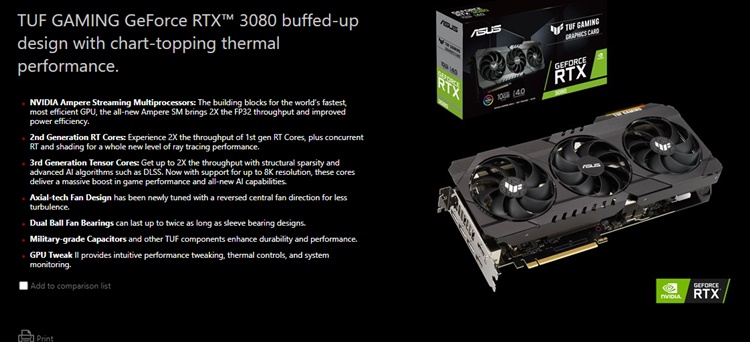 Most of the rear is swathed in a protective metal backplate that prominently features a wide vent. The vent allows the hot air to escape towards chassis exhaust fans instead of being recycled back into the GPU cooler. Beneath the GPU, a bracket provides consistent mounting pressure between the die and heat spreader. Stainless steel is used for the I/O bracket to protect ports and provide a more secure mount. A conveniently placed Dual Bios switch allows customization of the card's default performance profile without software.
Lastly, the cards can stand up to 144-hours via validation trial and if you want to learn more, you may visit their official link right here. This should be a treat for the hardcore PC Master Race. If you're one of them, give us a holla at the comments below and stay tuned for more trending gadget news at TechNave.com.