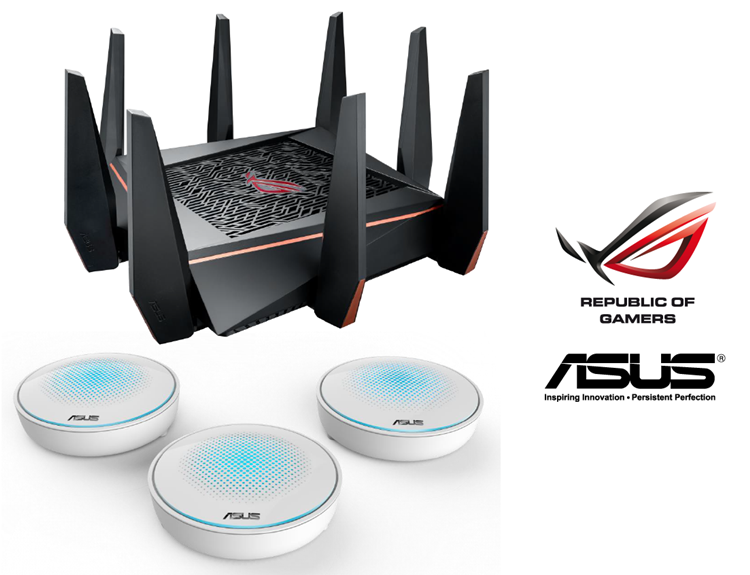 This week, ASUS Malaysia has released two new routers called the Lyra, a whole-home WiFi system that enhances the signal, and the Rapture GT-AC5300, the first ROG router designed specifically for gamers. Sounds like what you're looking for? Read below to find out more.
Lyra comes in three hub sets and each of them supports one another by strengthening the WiFi signal. The system consists of up to five intelligent hubs employing smart antennas and powerful tri-band via 5GHz frequency band 802.11ac WiFi to create a single, self-organizing Wi-Fi network that delivers smooth WiFi to every device, throughout the home (including the toilet). With this, you can literally walk around the house and still have a good signal, eliminating "dead spots".
All Lyra hubs are identical and any hub can be used as the primary hub, making installation even easier
The tri-band Wi-Fi has two 5GHz frequency bands and one 2.4GHz band, and one of the 5GHz bands is reserved exclusively for data communication between the hubs.
Each Lyra hub contains six Wi-Fi antennas: four smart antennas and two standard antennas. There is also one Bluetooth antenna that is used during initial setup via the Lyra app.
Meanwhile, the ROG Rapture GT-AC5300 features super-fast tri-band 802.11ac Wi-Fi, as well as eight gigabit-LAN ports for wired devices and two USB 3.0 ports for high-speed access to files on USB storage. Network-attached storage (NAS) enthusiasts will appreciate the Link Aggregation (802.3ad) feature that allows two LAN ports to be teamed together into a single blisteringly fast 2Gbps connection.
In addition, a ROG Gaming Center program is ready to give gamers control over their gaming network to monitor connections, traffic statistics and game-server status. As well as three levels of game acceleration: two dedicated gaming LAN ports, Game Boost and Gamers Private Network.
Both the Lyra and Rapture GT-AC5300 will be available in Malaysia on 1 September 2017 for the price of RM1999 and RM2599. Stay tuned for more ASUS Malaysia news at TechNave.com.