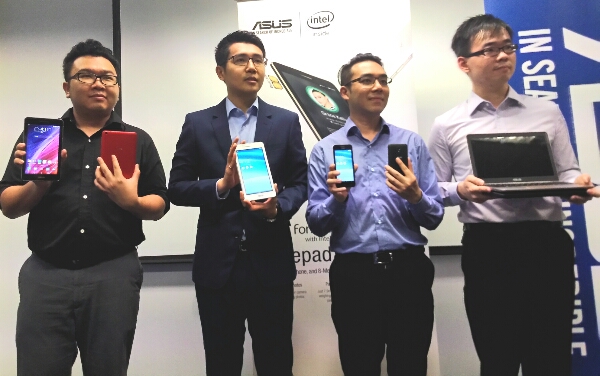 ASUS Malaysia recently launched a trifecta of affordable yet feature-filled devices with the ASUS Fonepad 7 FE171CG, ASUS ZenFone C and ASUS EeeBook X205. The Fonepad 7 FE171CG doubles tech specs and features by offering a slimmer 7.9mm thin body, 8MP rear camera, 16GB storage and 2GB RAM for just RM529. While it doesn't replace the Fonepad 7 FE170CG, the ASUS ZenFone C replaces the ZenFone 4 smartphones for RM349. Notable tech specs for the ZenFone C includes a 4.5-inch display, larger 2100 mAh battery, 5MP PixelMaster camera with Low-Light function and SonicMaster audio with external amplifier. The third device is the ASUS EeeBook X205 which is a stylish and thin Windows 8.1 notebook computer with an 11.6-inch display for just RM699 for the 32GB storage version and RM799 for the 64GB storage version. Check out our hands-on photos of the three ASUS devices below: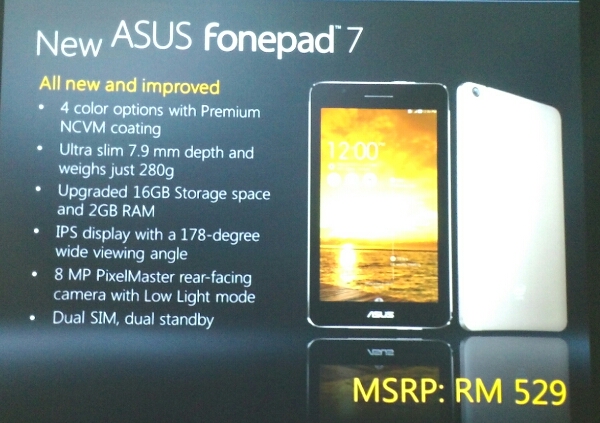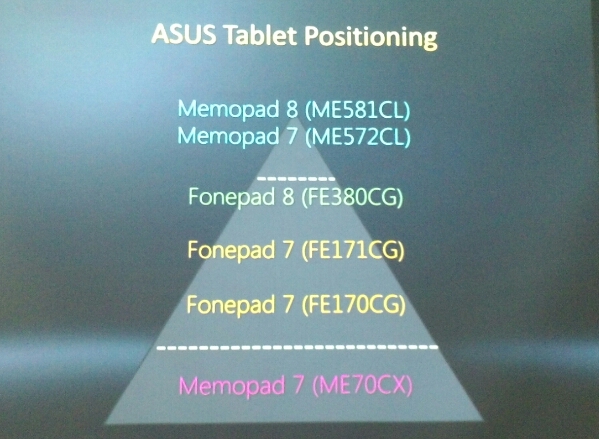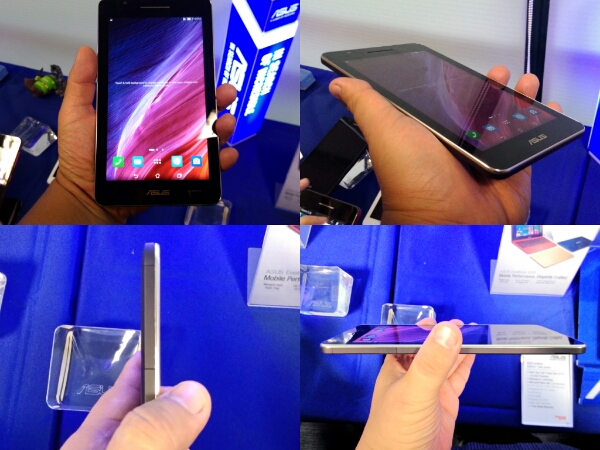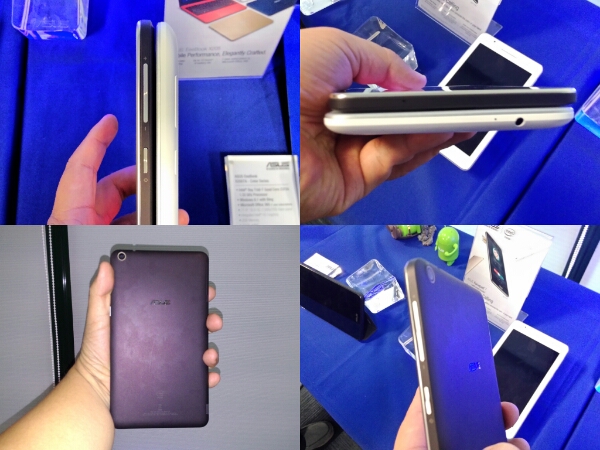 Compared against a previous Fonepad 7, the new Fonepad 7 FE171CG is sleeker, thinner and slimmer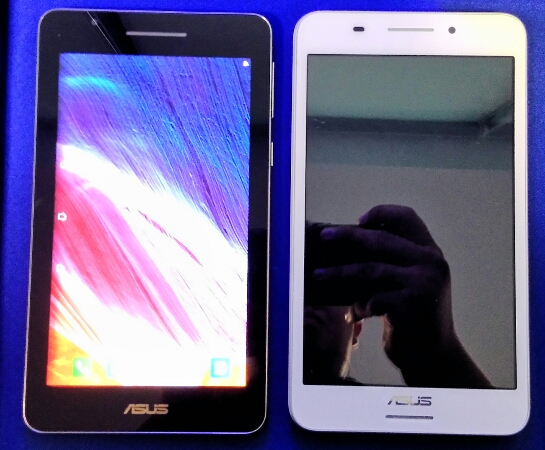 The ASUS Fonepad 7 FE171CG on the left compared to the ASUS Fonepad 7 FE375
The ASUS Fonepad 7 FE171CG is slimmer and thinner than the previous Fonepad 7 tablets. It is also 10g lighter, weighing in at 280g. The most notable new feature remains the 8MP rear camera which now has autofocus and can offer the PixelMaster Low-Light function. ASUS have also included a new TruVivid technology for the Fonepad 7's IPS display. It should be available from February 2015 at a retail price of RM529.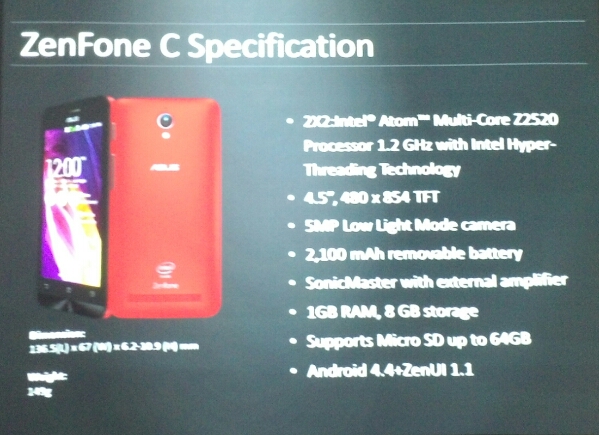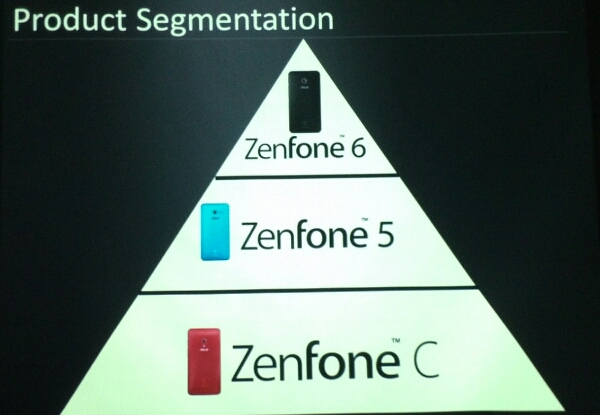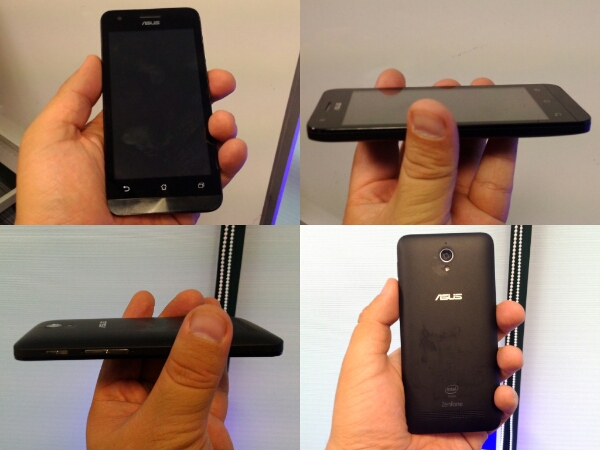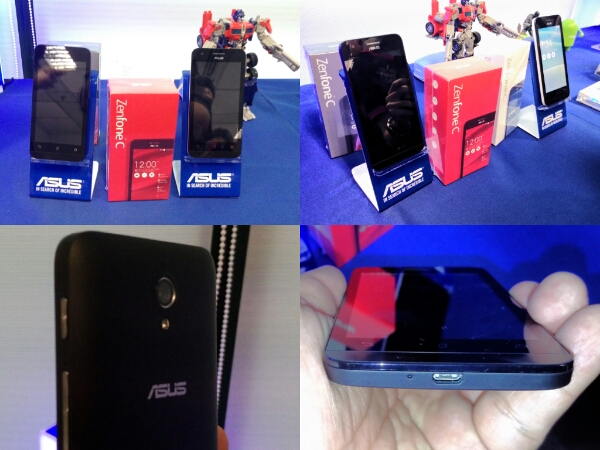 Replacing the lower-end ASUS ZenFone 4 is the ASUS ZenFone C with it's 4.5-inch display. The general ZenFone look remains the same but it is definitely less chunky looking than the ZenFone 4. ASUS have said that the ZenFone 5 and 6 will remain with the same names though. The new ZenFone C will also be available from early February 2015 from RM349.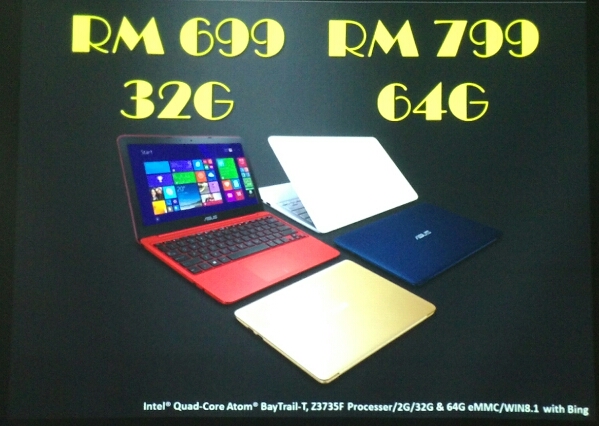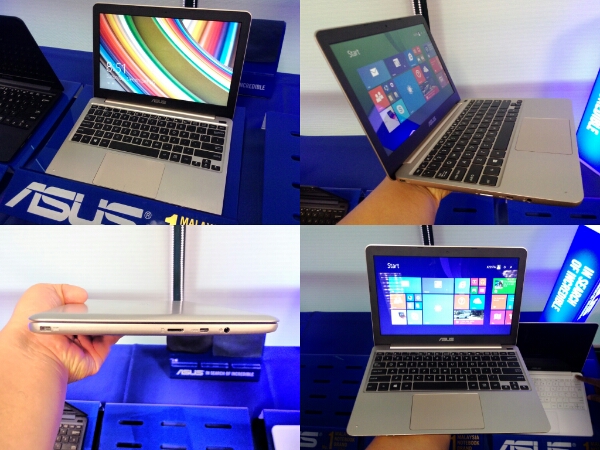 The ASUS EeeBook X205 on the other hand offers a nice 11.6-inch display with anti-glare panel and 1366 x 768 pixel resolution. It is powered by a 1.33GHz quad-core Intel Z3735 processor, 2GB of RAM, 32GB / 64GB storage and comes in dark blue, gold and white colours. It is very thin and slim at 286 x 193.3 x 17.5mm and weighs a fairly light 0.98kg. The large touchpad will support gestures while dual-front speakers with Sonic Master audio tech will offer better sound. The 32GB version will be available for RM699 while the 64GB version is going for RM799 with a Malaysia release date expected in March 2015.