ASUS Malaysia releases 18.4 -inch Transformer AIO - All-in-One PC Cum Tablet
The recent CES 2013 showed off a number of large scale tablets and the ASUS Transformer AIO (All-in-One) is one of them. Launched officially today (27-3-2013) in Malaysia, the ASUS Transformer AIO (P1801) offers the best of both worlds by offering both a desktop AIO form factor along with a portable 18.4 inch touchscreen tablet. Like other ASUS Transformer machines this hybrid AIO can be detached from it's stand and used as a tablet.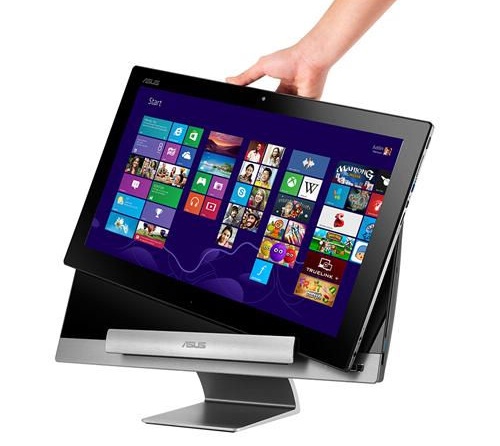 Alternatively, it can be propped up on it's stand, hooked up to a wireless keyboard and mouse and then used like any other traditional Desktop AIO PC. What sets it apart is the fact that once you detach it, and lay it flat, you can transform it into a Microsoft Surface like machine. At CES 2013 these giant tablets were shown off as those that you could play interactive board games with your family and the ASUS Transformer AIO is no different.
The tablet has its own NVIDIA Tegra 3 processor and tech specs but when it is plugged into the PC Station stand, the processor and hardware located inside the stand take over for a more powerful experience. In terms of tech specs, the Asus Transformer AIO includes the following:

ASUS Transformer AIO Tablet Mode: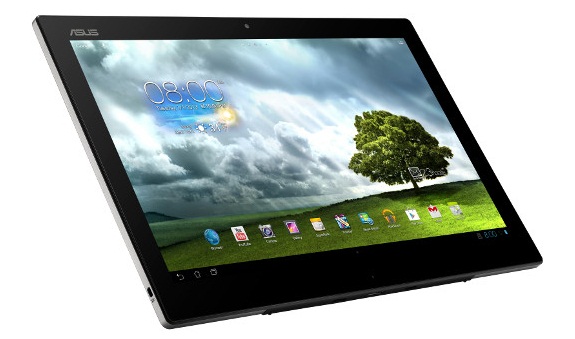 NVIDIA Tegra 3 Quad-core processor
18.4"(46.7cm, 16:9, Wide Screen, Full HD 1920x1080, LED-backlight, IPS, 178° wide viewing angle, 10 point multi touch)
Dual Operating system (Windows 8 + Android)
1GB RAM
32GB Flash media storage
802.11 a/b/g/n Bluetooth V3.0 EDR
ASUS SonicMaster 2 x 1.5W speakers
1MP Camera
Built-in Mic
Ports (1x 3.5mm 2-in-1 audio / mic, 1x Docking port, 1x MicroSD, 1x Mini USB 2.0, 1x 33W DC-in, 1x Kensington Lock)
466 x 18 x 294 mm (WxDxH)
2.4kg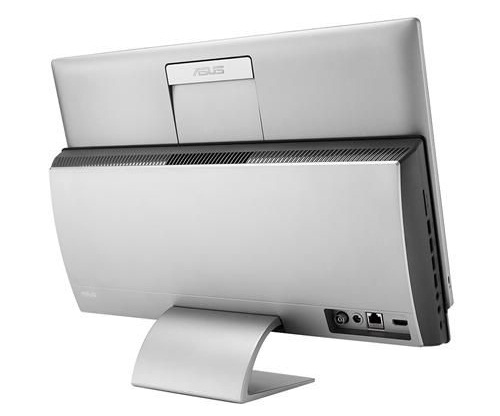 ASUS Transformer AIO PC Station (Stand) Mode:
Intel Core i3 3770, i5 3350P, i7 3770 processor
NVIDIA GeForce GT730M 2GB graphics
4GB to 8GB DDR3 RAM
1TB to 2TB Hard disk drive
Built-in TV-tuner (HDMI output)
ASUS SonicMaster 2 x 3W speakers
Slot-in Supermulti DVD RW
802.11 a/b/g/n Bluetooth V4.0
Supports dual band frequency 2.4/5 GHz in selected areas
Ports (4x USB 3.0, 1x USB 2.0, 1x 3-in-1 card reader, 1x Headphone, 1x Microphone, 1x HDMI-out, 1x RJ45 LAN, 1x TV Jack, 1x Kensington Lock, 1x DC-in)
PC Station Only: 466 x 162 x 267 mm (WxDxH) / Tablet + PC Station: 466 x 162 x 376 mm (WxDxH)
4.1Kg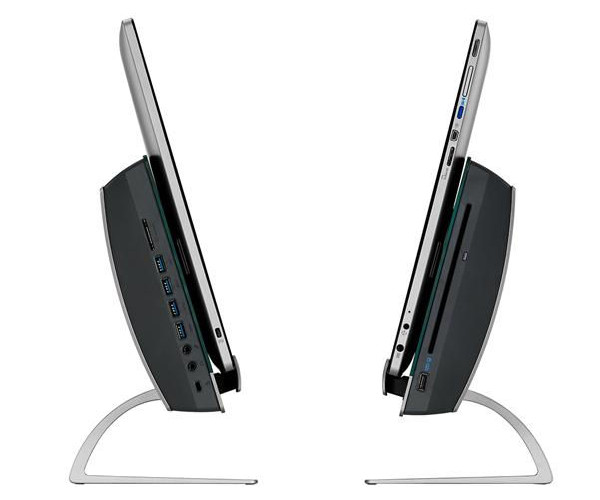 As a tablet, the ASUS Transformer AIO isn't really the most portable of tablets we've tried using, but when laid flat the IPS screen's wide viewing angles come into play, making it a very fun family Surface-like machine to play with. In this way, one can also envision small team meeting or brainstorming applications where you could discuss, flick and highlight things with your team on a single large touchscreen device. When the ASUS Transformer AIO is docked with its PC Station stand it will automatically use Windows 8 and when it is detached (and used as a tablet) it will use the Android 4.1 operating system. When attached to a separate monitor the PC Station stand can function like any other desktop PC system. However, another unique features is that as long as the PC Station stand is plugged in or connected to the same WiFi router, the tablet can stream Windows 8 anytime you press the blue Switch button on the side of the tablet. Likewise you can also switch to the Android 4.1 operating system when it is connected to the stand. Check out the video below: