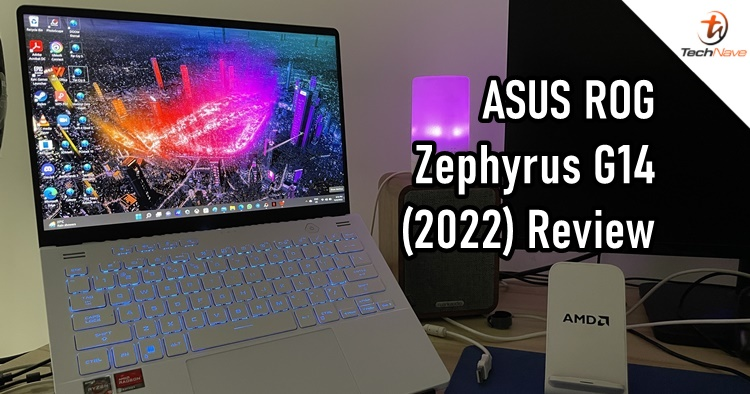 Two years ago, the first ASUS ROG Zephyrus G14 was revealed during the pandemic, and I loved it to death. At that time, it had AMD CPU options of up to Ryzen 9 4900HS CPU and an NVIDIA GeForce RTX 2060 Max-Q 6GB GPU, making it a little laptop monster. Due to its popularity, ASUS finally made a successor with the same name. But is it better?
The ASUS ROG Zephyrus G14 (2022) made its debut in Malaysia not too long ago, and I spent two weeks with it. Before I begin, here's a disclaimer - the model I reviewed is not the same as the Malaysian sets (GA402R-KL8201W and GA402R-JL8173W) because they are using an AMD Ryzen 7 6800HS processor, whereas the model I had uses the AMD Ryzen 9 6900HS processor. Nonetheless, all ROG Zephyrus G14 models have the same Radeon RX 6700S 8GB GDDR6 GPU.
To begin, the ROG Zephyrus G14 (2022) actually has a much better build quality compared to its predecessor. While it maintains the same 14-inch display, it's somewhat bigger thanks to the 16:10 aspect ratio. The display performance got bumped up spectacularly too, but we will talk more on the display performance later.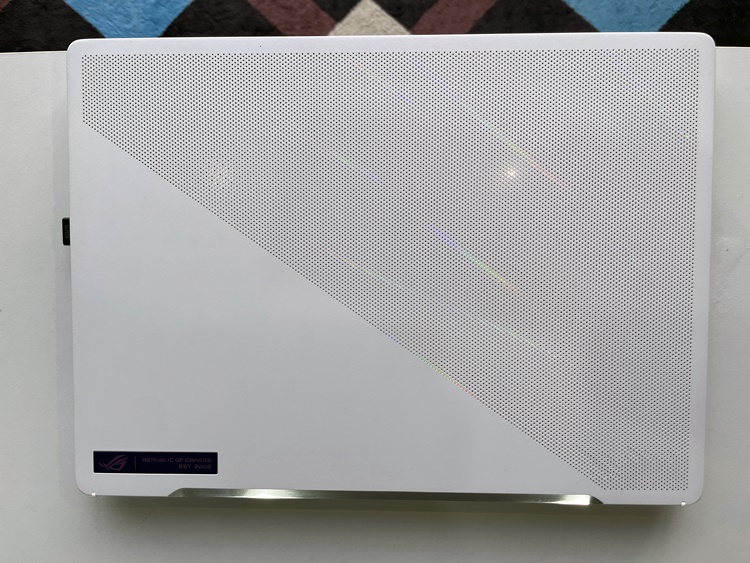 Now with more microholes than before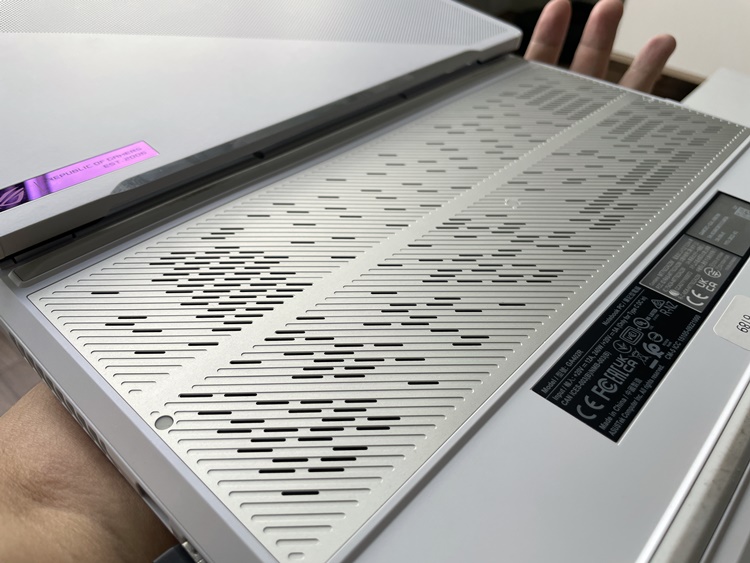 Lots of ventilation at the bottom, but keep in mind that the heat from the metal can leave some visible marks on your lap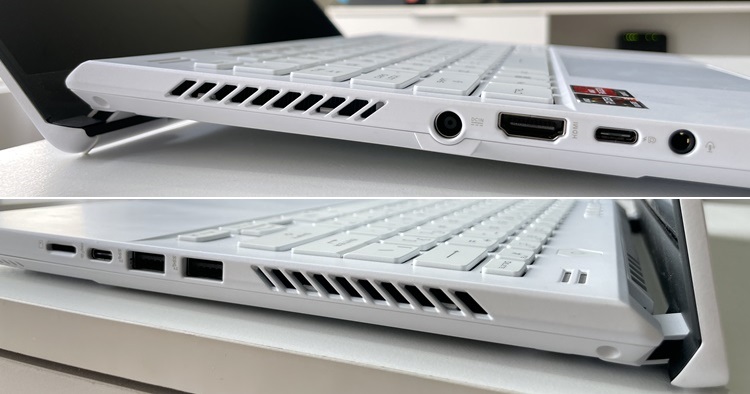 The I/O ports, side vents and the ergonomic hinge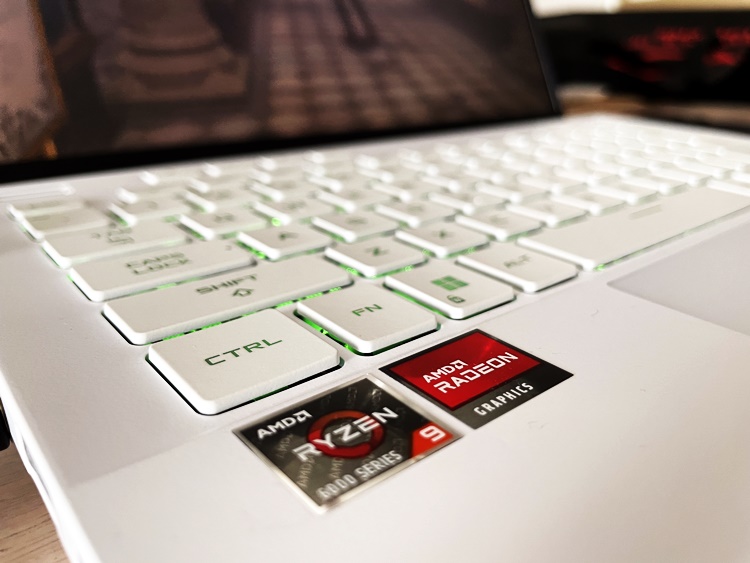 Typing experience was quite nice, much better than the predecessor because it doesn't feel flicky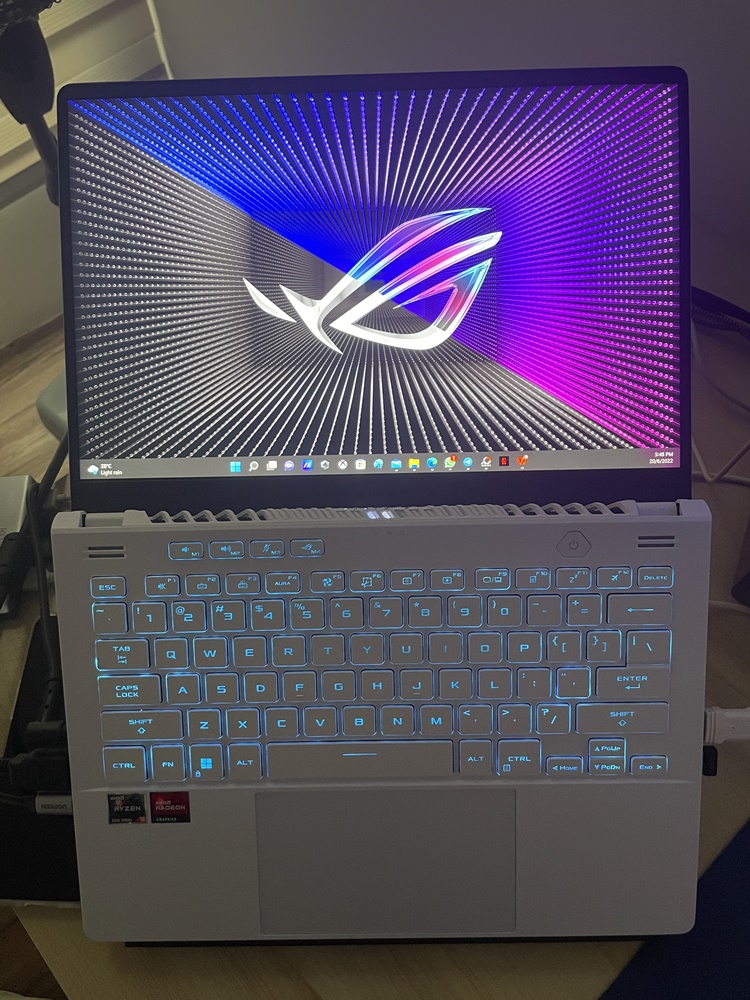 RGBAE KEYBOARD
At first glance, the current ROG Zephyrus G14 doesn't seem that different from its predecessor but rest assured, ASUS did make some improvements. The keyboard now has more RGB lighting options instead of white backlighting. Also, the AniMe Matrix on the laptop cover has 19% more mini LEDs (1449, to be exact) and twice as many microholes as before (14969 in total).
The I/O ports are much better than before too, albeit more or less the same. For example, the USB 3.2 Gen 2 Type C now supports DisplayPort (dGPU and iGPU) and 100W power delivery. Also, the microSD (UHS-II) slot makes an appearance. The speakers surrounding the bottom are more balanced as well, as they support Dolby Atmos (which sounds excellent without plugged-in or Bluetooth speakers). Additionally, the Two-Way AI Noise Cancellation function is great for video conferencing and the webcam face unlock can even detect your face in a low-light environment.
Back then, the Zephyrus G14 didn't have many features going for it but ASUS really pimped up the new model. I'm not talking about the beefed-up AniMe Matrix, but the new Aura Wallpaper, which is just an animated wallpaper. As most hardcore gamers know, animated wallpapers are not new. But for the first time, ASUS has made it accessible in the ROG Armoury Crate for every user, which I appreciate a lot. While it looks cool AF (pardon my language), do note that turning it on will sip your GPU memory.
Aura Wallpaper in action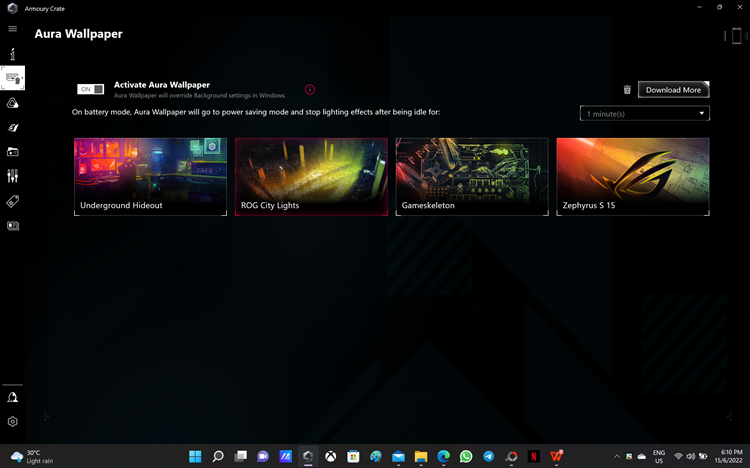 You can set your Aura Wallpaper and AniMe Matrix in the Armoury Crate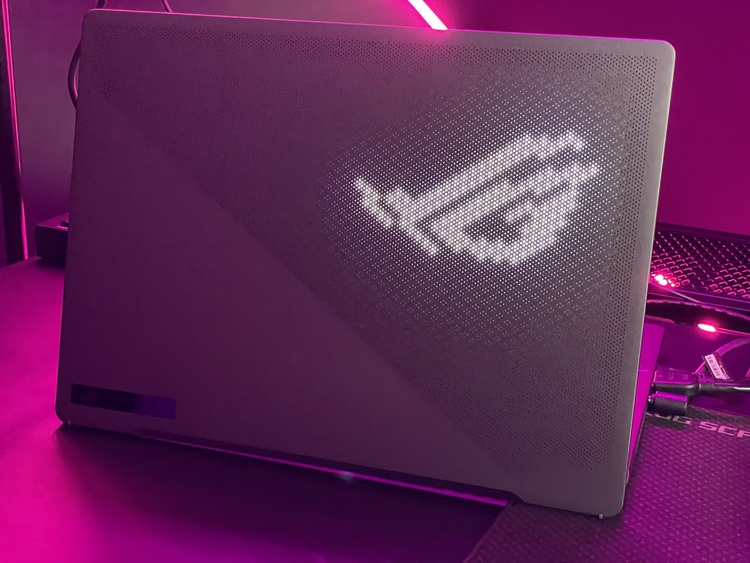 AniMe Matrix is brighter than the previous model too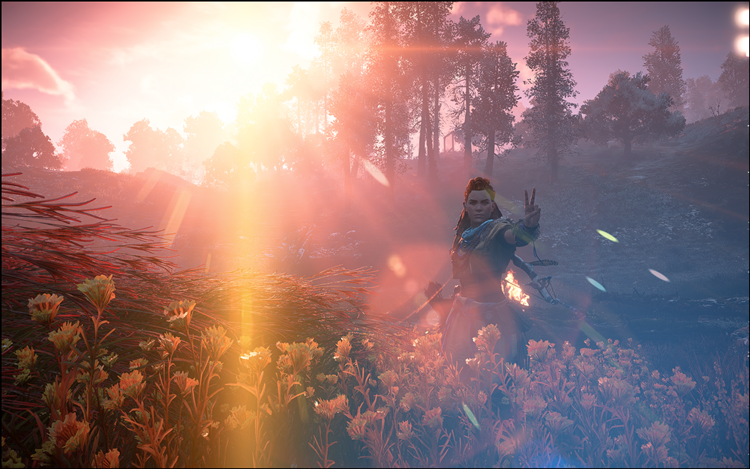 Not a lot of games like Horizon: Zero Dawn supports FSR, but if you have the opportunity - the graphics are out of this world and visually eye-pleasing <3
There is also another feature called the AMD SmartShift Max technology. Its purpose is to shift power between the CPU and GPU to help boost performance for gaming, video editing, 3D rendering, content creation and others. Moreover, the AMD FidelityFX Super Resolution (FSR) helps boost framerates in select titles and delivers high-quality, high-resolution gaming experiences. Oh, and there's a MUX Switch that directly routes the GPU to the display instead of going through the CPU, though it only works on selected eSports titles.
For those who don't know, the AMD Ryzen 6000 series processors can deliver some of the best gaming performance you can obtain on a laptop. Built on a 6nm manufacturing node + "Zen3+" architecture, the Ryzen 6000 Series processors can run a large L3 Cache and more bandwidth to the graphics card thanks to an updated platform with PCIe 4.0. On paper, this delivers a high single and multi-threaded performance in a power-efficient way to drive high performance and high framerates.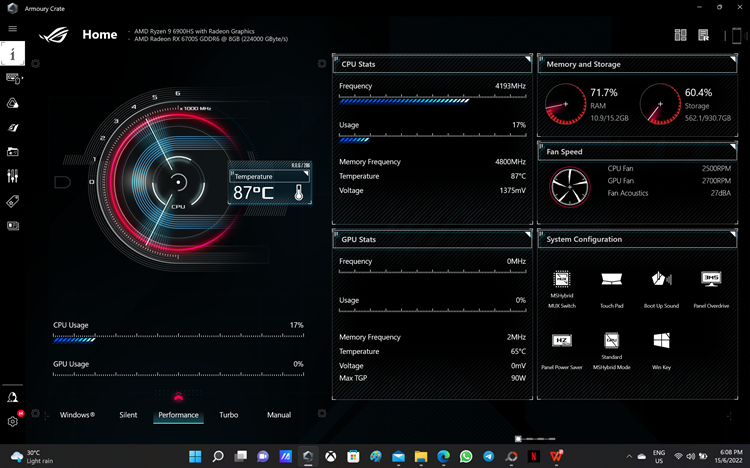 The specs of the ROG Zephyrus G14 (global variant)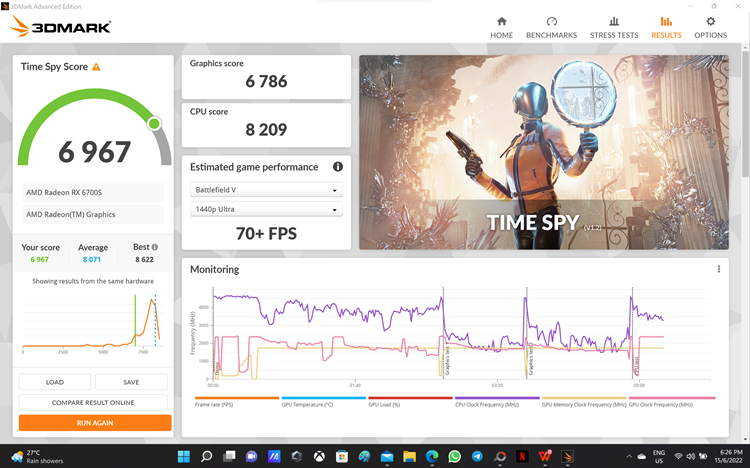 3DMark score with Time Spy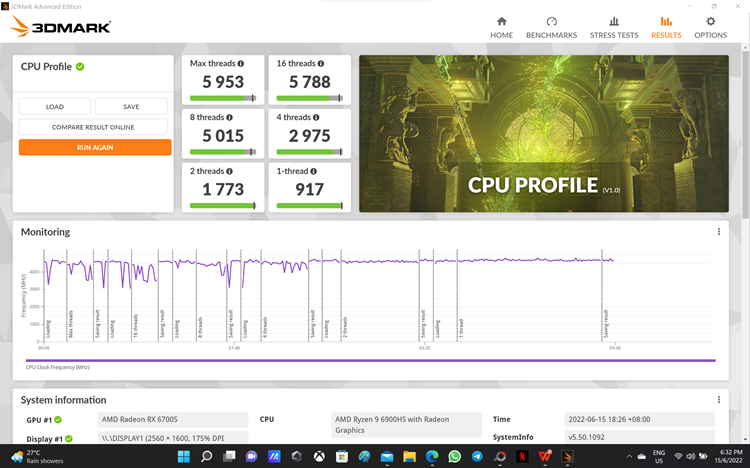 CPU score from the same 3DMark benchmark program
Impressive score from PCMark 10
This ROG Zephyrus G14 model is equipped with a Ryzen 9 6900HS processor (8-core, 16 processing threads and up to 4.9GHz clocking). AMD also mentioned that the Ryzen HS series processors are more energy efficient. This proved true, as the battery's duration could last the whole afternoon while going outdoors when working with it. The laptop also handles heat much better than before, thanks to the improved vapour chamber and smaller arc flow fans that allow higher airflow by 5% (according to ROG).
Obviously, the ROG Zephyrus G14 (2022) has no trouble playing graphics intense triple-A video game titles seamlessly. However, I have to say that the Radeon RX 6700S 8GB GDDR6 is not very consistent? For example, playing Far Cry 6 was a rather mini-stuttering experience for some reason. It actually struggled a bit to keep up with the motion movement. On the other hand, it handled Doom Eternal perfectly, so I'm not really sure what's up with that. That being said, I believe only some games have the mini-stuttering issue but it's tough to say which one can be affected by it.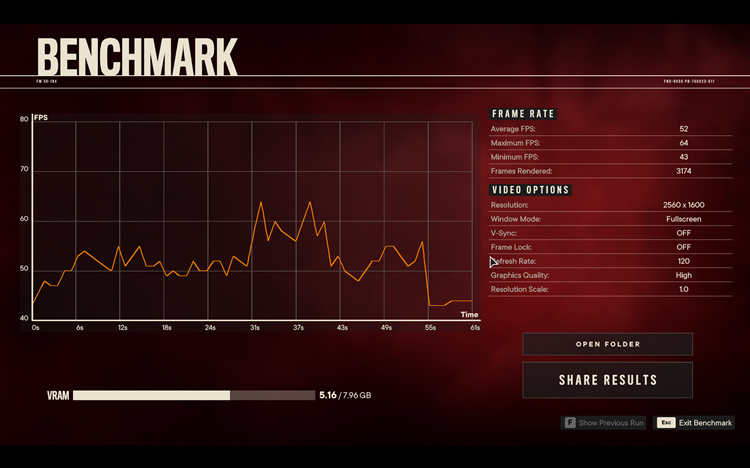 Benchmark score from Far Cry 6 with HD Texture pack in a high-quality setting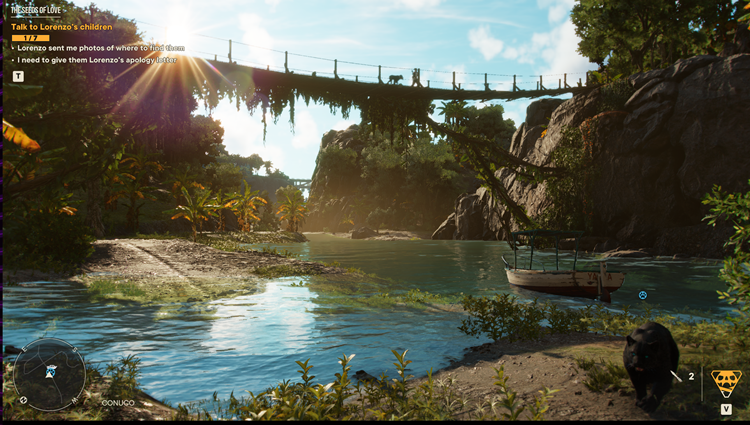 Woah...look at that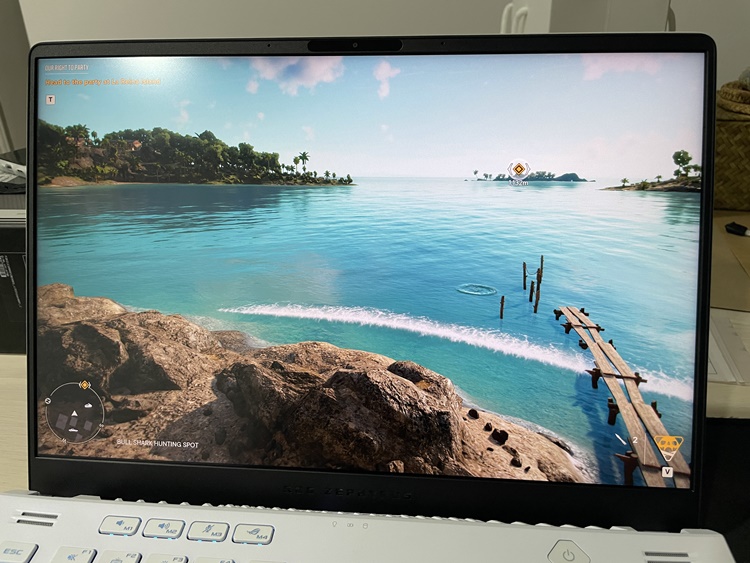 This scenery from Far Cry 6 almost looks like a wallpaper option from Windows 11
To be fair, I didn't really have the time to test it with more games. Still, I recommend plugging the ROG Zephyrus G14 into a high refresh rate monitor. You will have a blast with that and it solves the mini stuttering motion issue. But the laptop is more than just about offering high-performance. It also has top-notch display performance because it uses a ROG Nebula Display.
For the local set, the ROG Nebula Display sports a 120Hz QHD resolution but that's not the only thing that gives a viewing pleasure. On top of that, the ROG Zephyrus G14 also offers 3ms response times, 100% sRGB coverage, 500nits of QHD brightness, Pantone Validation and even Dolby Vision HDR. This simply brings out certain games with surreal real-life photography (as seen in the image above), which made me rather walk on foot most of the time instead of fast travelling in Far Cry 6. I'm sure there are a couple of video games that can benefit from this too.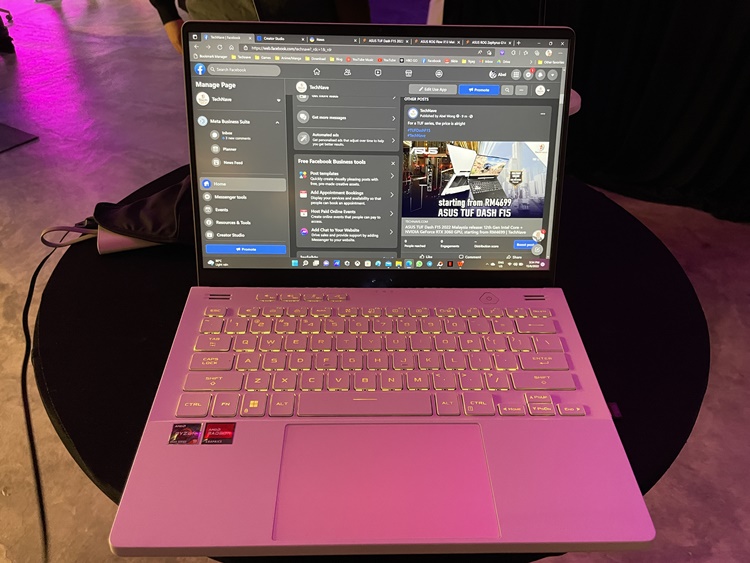 Would you fork out at least RM8499 for this?
Needless to say, everything on this laptop is awesome except for selected games that may have a mini stuttering motion issue. There aren't many gaming laptops like it due to the gaming aesthetic design especially the AniMe Matrix on the cover lid. But would I recommend the ROG Zephyrus G14 (2022)? Well, I think that entirely depends on your budget. In Malaysia, the starting price is a staggering RM8499 which is even higher than the predecessor's highest variant by RM800. If you want the best variant, it's RM9999! You can blame our weak Ringgit currency and the global chip shortage for that.
ASUS ROG Zephyrus G14 tech specs and features:
AMD Ryzen 9 6900HS processors (global) or AMD Ryzen 7 6800HS Mobile Processor (for Malaysia) with the same 8-core/16-thread, 20MB cache, up to 4.7 GHz max boost

AMD Radeon RX 6700S 8GB GDDR6 GPU (ROG Boost up to 105W with SmartShift)

16GB of DDR5-4800Hz RAM (upgradeable up to 32GB)

1TB M.2 NVMe PCIe 4.0 SSD

14-inch ROG Nebula Display with QHD+ 16:10, 100% DCI-P3, 120Hz (local) or 144Hz (global) refresh rate and 3ms response time

Measures 31.2 x 22.7 x 1.95 ~ 1.95 cm, weighs 1.72 kg

Ports - 1x 3.5mm Combo Audio Jack, 1x HDMI 2.0b, 2x USB 3.2 Gen 2 Type-A, 1x USB 3.2 Gen 2 Type-C support DisplayPort/ power delivery, 1x USB 3.2 Gen 2 Type-C support DisplayPort, 1x card reader (microSD) (UHS-II)

Features - 720P HD IR Camera for Windows Hello, Armoury Crate, Aura Wallpaper, Aura Sync, AniMe Matrix, Dolby Vision HDR, Dolby Atmos sound system, AI noise-cancelling technology, Pantone Validated and MUX Switch

Supports Wi-Fi 6E(802.11ax) (Dual band) 2*2 + Bluetooth 5.2

Battery Power - 76WHrs, 4S1P, 4-cell Li-ion

Windows 11 Home
Pros: The most pimped and powerful gaming laptop ever made
Cons: Some games may encounter mini-stuttering motion movements, and the price is over the roof
Summary: If you are rich, this is the fanciest gaming laptop of 2022 that you can show off to your friends and family