ASUS ROG Zephyrus M Review - An almost perfect mix of beauty and functionality
The ASUS Zephyrus M, is the successor of the previous ASUS Zephyrus GX501 and also considered one of the slimmest and most sleek looking laptops to come equipped with specifications that are more than capable of tackling any Triple-A titles, as well as heavy productivity on the side. In this review, we check out the ASUS Zephyrus M variant using the NVIDIA GTX1060 Max-P and the 8th generation Intel Core i7-8750H processor to determine whether it justifies its price point of RM7545.
Design - A sleek and premium feeling laptop
The laptop has a top premium feel with an all-metal exterior along with a diagonally stroked brush texture at the top. There is also the Republic of Gamers logo with RGB lighting capabilities which is able to display up to 16.8 million colours. Around the edges of the laptop, you'll be pleased to see a 3D Drawbench Double Hairline Finish which has a slightly bronze accent on the side. On the left side, there are various I/O options such as the HDMI port, 3 USB3.1 Type-A, and a single 3.5mm COMBO audio jack while on the right there is a USB3.1 Type-C port, USB3.1 Type-A and lastly, a Kensington Lock.
Left of the laptop which houses the 3 USB Type-A ports, HDMI port, Combo audio jack as well as charging port

Right side which showcases a single USB Type-A as well as USB Type-C port
Top left of the keyboard where the volume keys, as well as the dedicated ROG Key are located. The speakers are also clearly visible as well
Top right of the keyboard where you'll find the power button
Unfolding the laptop, you'll be pleased to find a huge speaker grill towards the top of the laptop, with the power button and additional controls such as speaker volume, microphone and the ROG Key on either side. As for the QWERTY keyboard, do not be alarmed that the layout looks different. While in Malaysia we typically use the US Keyboard Layout, our review unit was using the UK Keyboard Layout instead.
The chiclet keyboard feels satisfying and silent to type on, albeit slightly mushy for my liking. Each key is also individually backlit with RGB lights making it easier to use especially in the dark. The laptop itself weighs at about 2.45kg which isn't too heavy, but coupled up with a power adapter, this makes the entire set quite hefty to lug around. Lastly, the touchpad feels smooth to the touch, tactile and clicky albeit. The trackpad does tend to attract oil from my finger, but that could be cleaned by wiping it with a slightly damp cloth.
Tech Specs and features - Fit for heavy productivity and gaming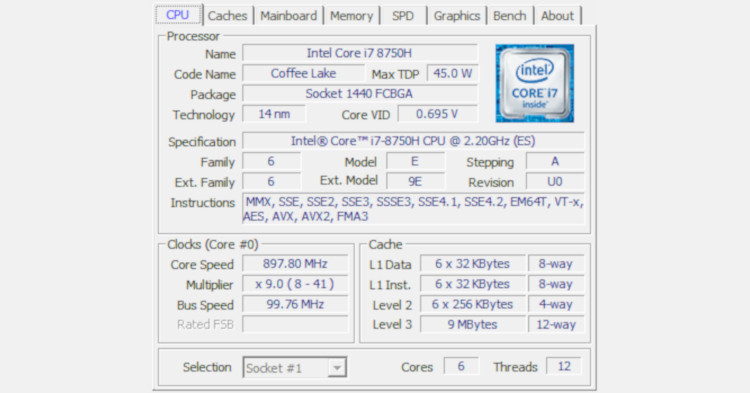 CPU information as shown on CPU-Z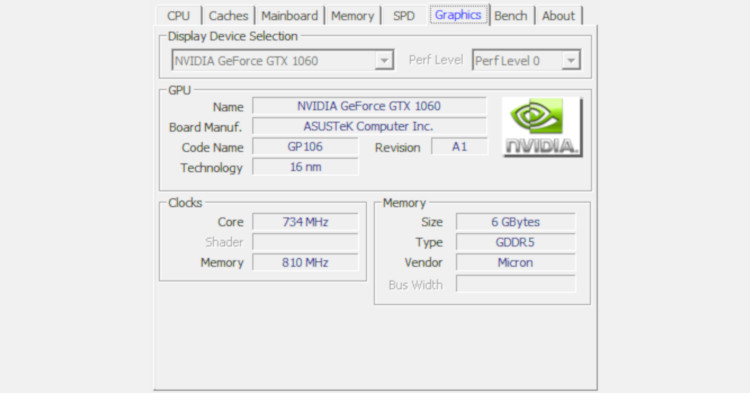 Graphics Card information showcasing the GTX 1060 in the laptop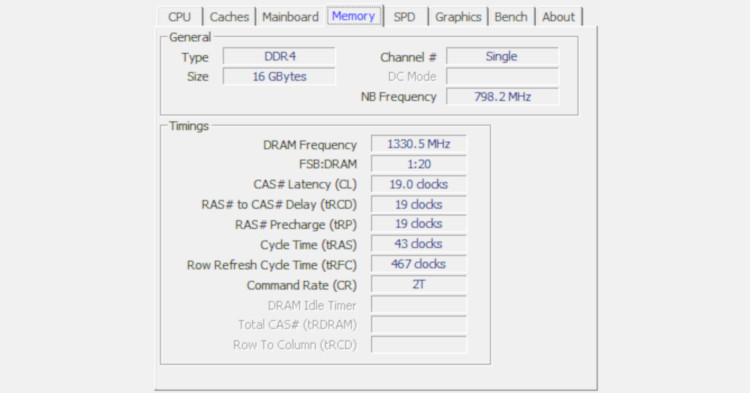 RAM information showcasing 16GB of usable RAM
Intel Core i7-8750H

Intel HM370

NVIDIA GeForce GTX1060 Max-P with 6GB GDDR5

16GB DDR4 RAM

15.6-inch IPS 1920x1080 display with 144hz refresh rate

PCIEG3x4 NVME 256G M.2 SSD + SATA 1TB Hybrid HDD

Built-in 720p front-facing camera

1 x COMBO audio jack, 1 x USB3.1 Type-C, 4 x USB3.1 Gen2 Type-A, 1 x HDMI

802.11 AC WiFi as well as Bluetooth Connectivity

Windows 10 Home Edition pre-installed

Active Aerodynamic System, Aura RGB 4-Zone Backlit Keyboard,

4-Cell 55Wh Battery

8.4 x 26.2 x 1.75cm, 2.45kg
The variant we got was fitted with an Intel Core i7-8750H, 16GB of DDR4 RAM, and most importantly, which is what defines the gaming aspect of this laptop, an NVIDIA GTX1060 Max-P graphics card that is equipped with up to 6GB of GDDR5 memory. The more expensive variant of the Zephyrus M will come equipped with an NVIDIA GTX1070 Max-P with 8GB of GDDR5 memory.
For those who prefer gaming on their own peripherals, you're in luck as there are 4 USB Type-A ports to connect your keyboard, gaming mouse, USB audio interface and more for a more desktop gaming-like experience.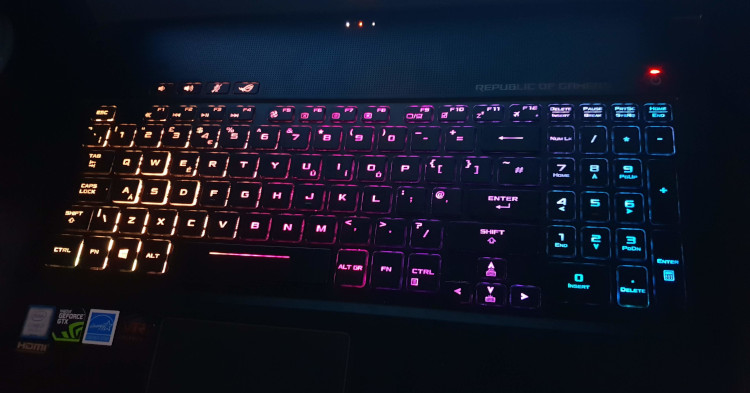 Self-illuminated keyboard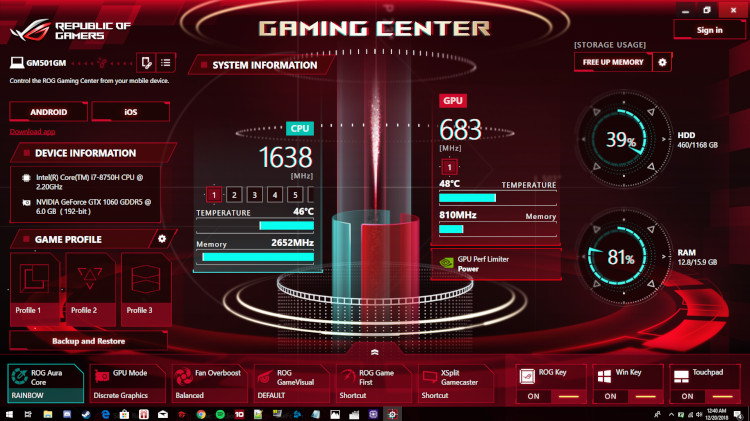 ROG Gaming Center which came pre-installed

The ASUS Zephyrus M comes pre-installed with a few utilities from ASUS such as Battery Health Charging, ASUS GIFTBOX, ASUS Keyboard Hotkeys, WPS Office Suite and more. Not only that, but it also comes equipped with the ROG Gaming Center which can be accessed through the ROG Key located right above the keyboard next to the mute button. The ROG Gaming Center can be used to monitor various aspects of the laptop such as temperature, clock speed, storage space and also perform minor tweaks to customize the experience such as the keyboard backlight as well as the performance of the laptop.
Speaking of the backlit keyboard, you can customize the look of the keyboard through seven different distinct lightings that are available through the ROG Gaming Center software itself. You can also determine the colours of any individual keys to your liking as well.
Performance - Easily handles hot games, if you can handle the heat from the laptop
During my extended use of the ASUS Zephyrus M, the laptop performs extremely well in most situations I threw at it such as word processing, editing pictures, browsing the internet as well as watching videos. Thanks to the 16GB DDR4 RAM and the NVIDIA GTX 1060 Max-P, I could also do some heavy video editing on the laptop using Magix Vegas Pro 16 as well as multitasking through productivity applications like GIMP, Audacity and more. Not only that, I still had enough RAM set aside for others such as Google Chrome, VLC Media Player and an animated wallpaper software called Wallpaper Engine. The customizable back illuminated keyboard makes typing a pleasure in the dark as each individual keys are able to display up to 16.8 million colours and the distance between each key is to my liking.
The 15.6-inch display is the perfect size in my opinion as it is small enough to fit in most bags, yet at the same time, big enough to watch movies and play video games comfortably. As for the speakers, I must say I am thoroughly impressed at how loud and defined the sounds are. However, at the loudest settings possible, there is a slight audio distortion around the mids and the low end of the sound spectrum.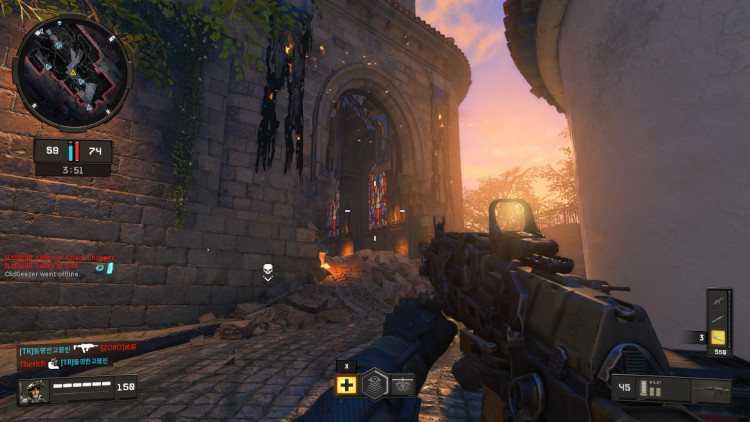 Call Of Duty: Black Ops 4
Monster Hunter World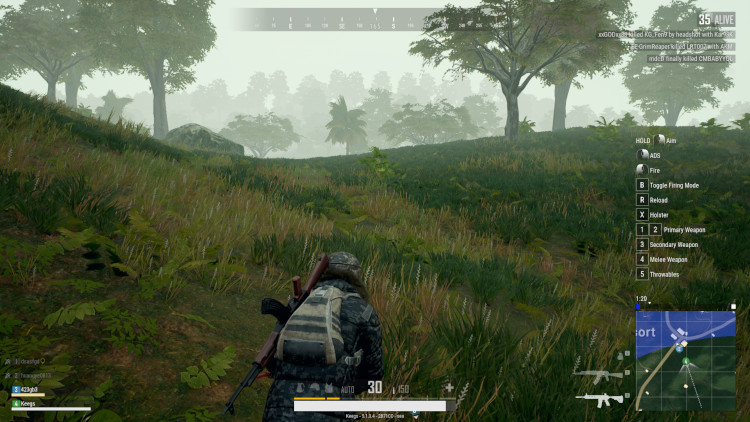 Playerunknown's Battlegrounds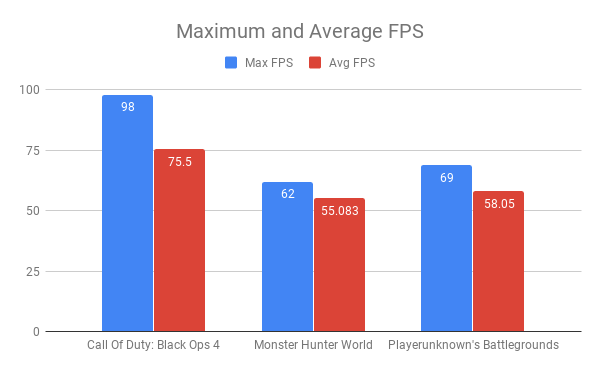 Bar chart for the average and max FPS achieved on the laptop
As for the gaming performance of the laptop, the Intel Core i7-8750H makes gaming a breeze especially when it is paired up with the NVIDIA GTX 1060 Max-P graphics card averaging at 75 FPS on Call Of Duty: Black Ops 4 at maximum settings, 55FPS average while playing Monster Hunter World on high settings and lastly, 58FPS average on Playerunknown's Battlegrounds at maximum settings possible. The 144hz refresh rate display is able to display motion that is more fluid compared to conventional monitors as well.
Temperature-wise, my palms did feel uncomfortably hot while touching the surface where the speakers are located. Also, due to the fact that it does not have an Ethernet port, the laptop is not able to physically connect to the router and instead has to rely solely on the WiFi connection to connect to the internet. Although there were no connection issues during my testing, it is best to note that the stability of the connection heavily relies on the router you are connected to. Personally, I would prefer having an Ethernet port due to the fact that an ethernet cable connection is usually faster and more stable compared to WiFi.
PCMark 10 benchmark
3DMark TimeSpy Benchmark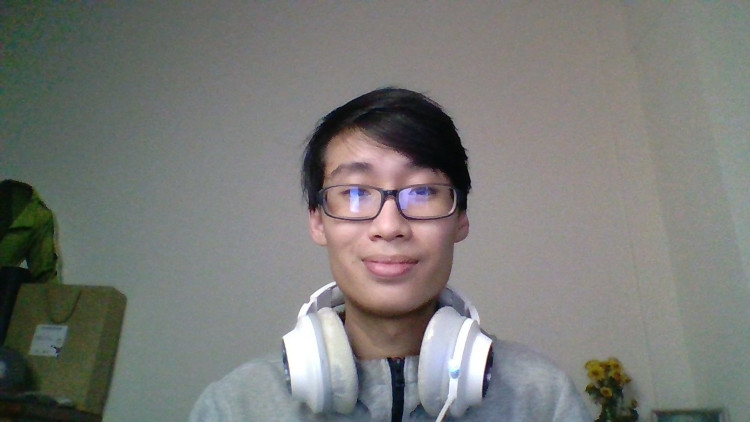 Front-facing selfie camera test
Putting the laptop through its paces through synthetic benchmarks, the laptop scored 3716 points on 3DMark TimeSpy and 4746 on PCMark 10. Based on the result it is capable enough to support VR Gaming. Lastly, the quality of the webcam is usable albeit not perfect. Not only that, the image and video quality tends to suffer in lowlight situations.
Conclusion - A beauty and a beast in a sleek package
The ASUS ROG Zephyrus M, priced at RM7545, is a sleek looking gaming laptop paired with eSports-ready tech specs such as the 8th generation Intel Core i7-8750H, NVIDIA GTX 1060 Max-P graphics card as well as 16GB of RAM. Effectively, this makes it a great gaming laptop for serious hardcore gamers as well as triple-A titles out there in the market.
Personally, after using and testing this laptop for an extended period of time, the only drawback I could find is the lack of an ethernet cable port and how warm the laptop gets after a certain period of time. If you don't mind paying a premium price on it, the ROG Zephyrus M is worth considering if you are keen on owning a slim yet more than capable and sleek looking laptop.
However, if you are keen on a slightly cheaper laptop, the Acer Helios 300 equipped with the Intel Core i7 chipset which is priced at RM5199 is definitely worth considering since it comes equipped with almost the same specs. But other than that, I could not find anything that is a concern to me. For more information regarding the ASUS Zephyrus M, check out their official website and for more reviews, tech news and updates like these, stay tuned to TechNave.com.
ASUS ROG Zephyrus M15 Specs & Price >