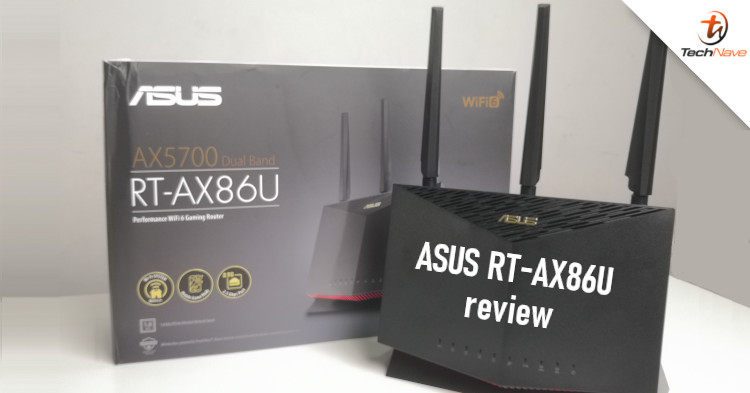 Just signed up to a high-speed broadband internet service and want to take advantage of the speed? Chances are you'll want to consider getting a fast wireless router, especially if the broadband connection is for your office. If that's the case, you'll want to consider something high-end that can be future-proof.
A good option would be a router that has WiFi 6 (wireless-AX) so that newer devices can be supported. Since we needed to get a new one for the office, we decided to look around for one with features that provide better device management. Our friends at ASUS Malaysia hooked us up with an ASUS RT-AX86U router, which comes with features catered to gamers and won't look out of place at a cyber cafe. In this review, we'll be taking a look at what this router looks like, what it has to offer, and how it performs!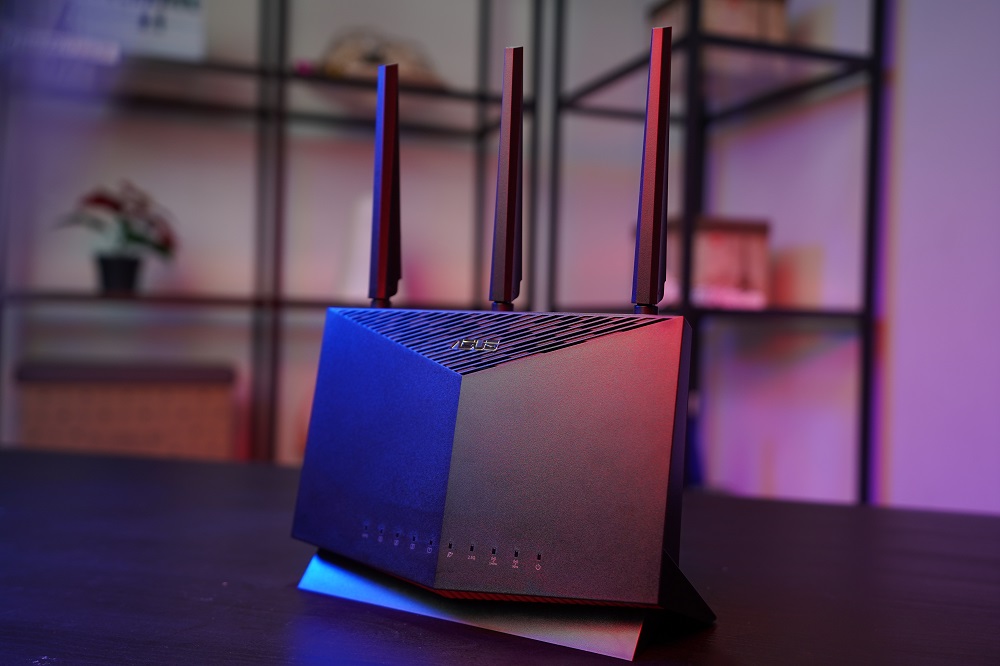 Practical layout with edgy looks, without going overboard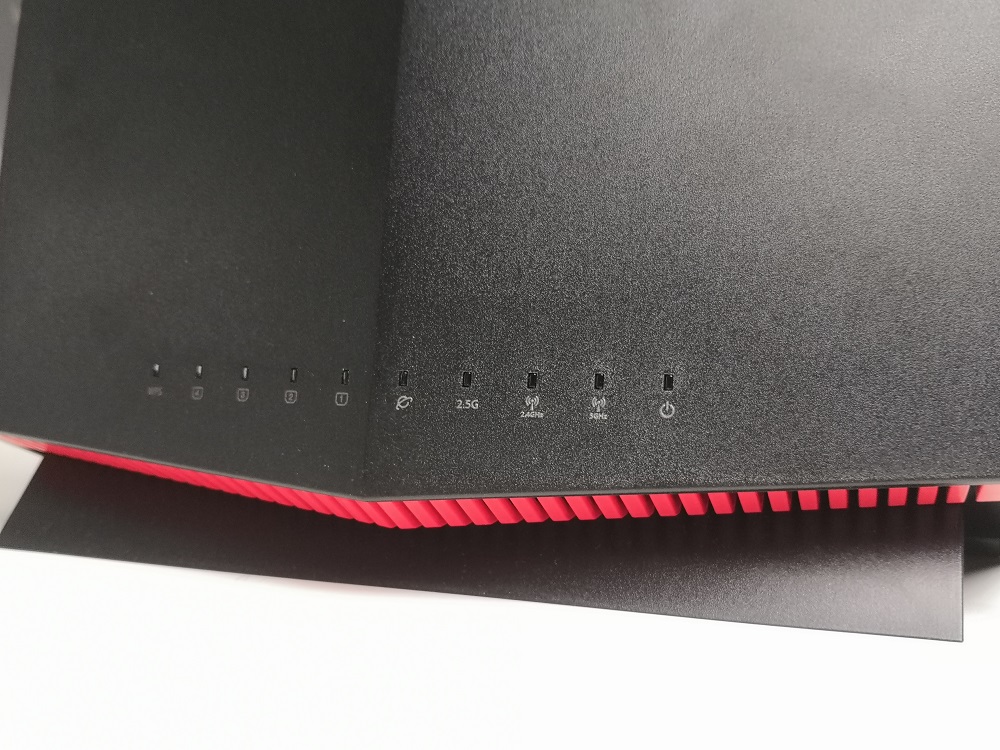 The red highlights give it a bit of flair
Now, the design is probably not the most important thing about a router. However, that doesn't mean there's nothing to talk about. The ASUS RT-AX86U has all the hallmarks of a wireless gaming router - pointy corners, angular antennas, and a sleek black body with some red trim. You can consider this the direct successor to the RT-AC86U from last year.
Onto the details, the RT-AX86U is a router that's placed standing rather than laid flat, as you'd normally see with most routers. It's got three external antennas that you need to screw on to the main body, while a fourth antenna is mounted on the motherboard inside the chassis. On the front, you'll also see the router's indicators spread out for easy viewing. To provide enough air to cool the components inside the router, there are a number of grilles on the bottom (where the red trim is) and the top to enable airflow.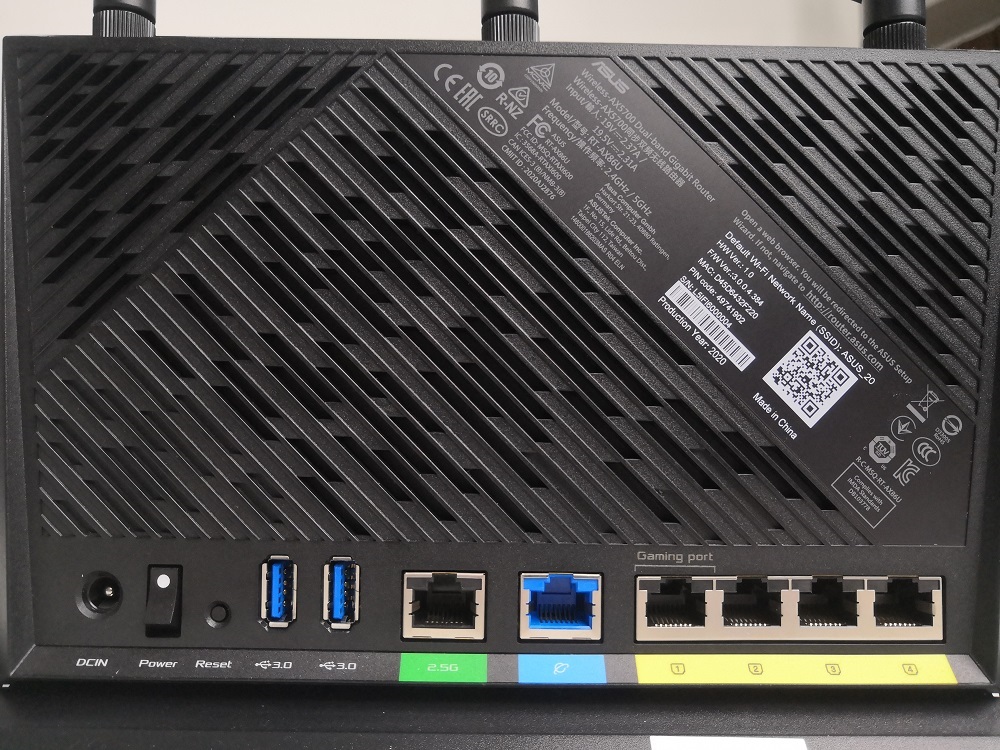 Aside from the 2.5Gigabit port, the layout here is quite standard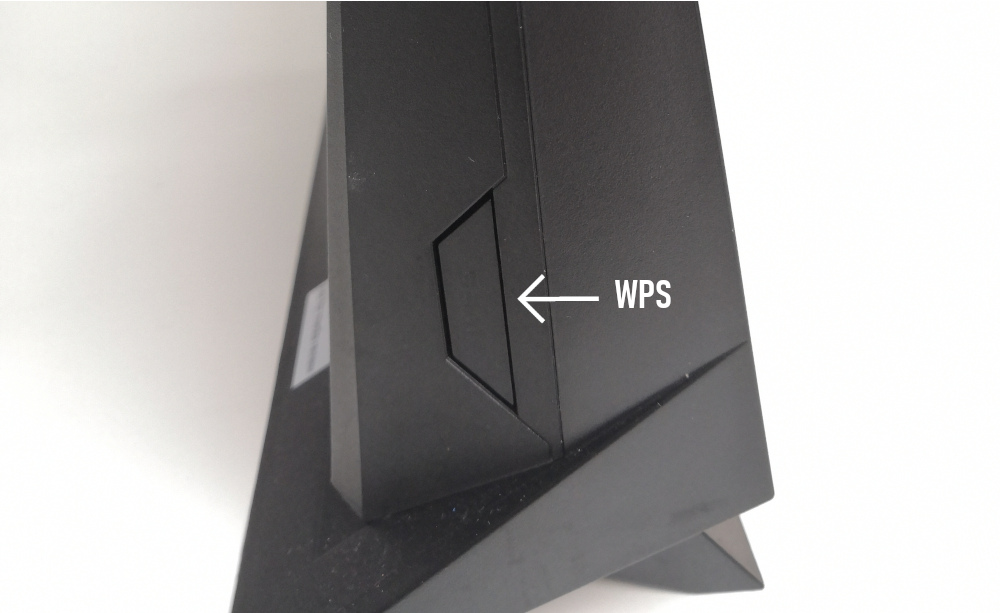 The WPS button is on the left side
Moving on to the back, you have the standard AC input, power switch, reset button, and a fair number of ports here available for use. There are also additional vents to help the router maintain good airflow. Unfortunately, there aren't any cut-outs for wall mounting. Considering the vertical design, it would have made a lot of sense to have that option but then again the design of the stand will make it hard to mount. Ah well...
Speaking of the back and ports, you get two USB 3.0 ports that you can plug Network Attached Storage devices to, a super-fast 2.5Gbps Ethernet port, the WAN port that goes to your modem, and four 1Gbps Ethernet ports. There's also a WPS button on the left side, which you can use to pair your devices to the laptop without having to key in the password. It's not necessarily easier, but it's safer if you'd rather not give away your WiFi SSID's password. We wish that it would come with a 10Gigabit port as well, but that may be a bit too greedy.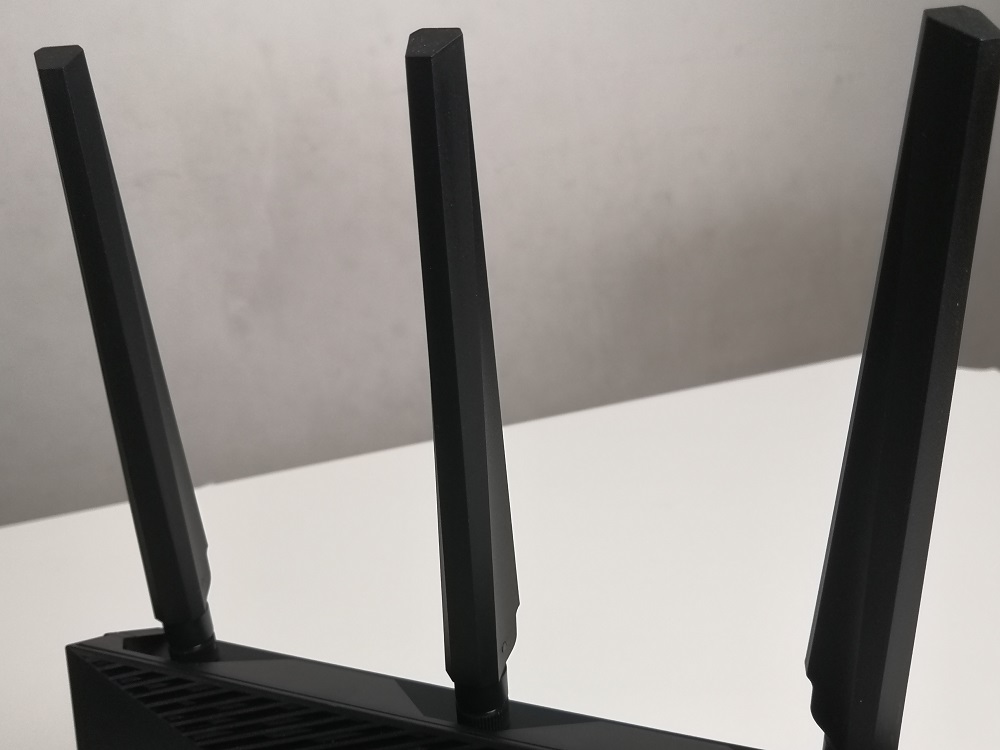 The three antennas are detachable, but you'll need all of them to maximise the WiFi coverage
As mentioned above, the RT-AX86U is a wireless router that supports WiFi 6. That's the latest WiFi standard that supports very high data speeds. Rated at AX5700, this router has a theoretical maximum data transfer speed of about 5662Mbps, which is split between 861Mbps (2.4GHz) and 4804Mbps (5GHz). Also, it comes with a Broadcom BCM4908 CPU to enable features like VPN, NAT pass-through, and more.
Setting up the router is a quick process. You can just key in "router.asus.com" into a web browser on your PC or use the mobile app to do this. Input your broadband connection's username and password, then setup the SSIDs for the WiFi networks and voila! It's very straightforward, so there's not much to talk about here.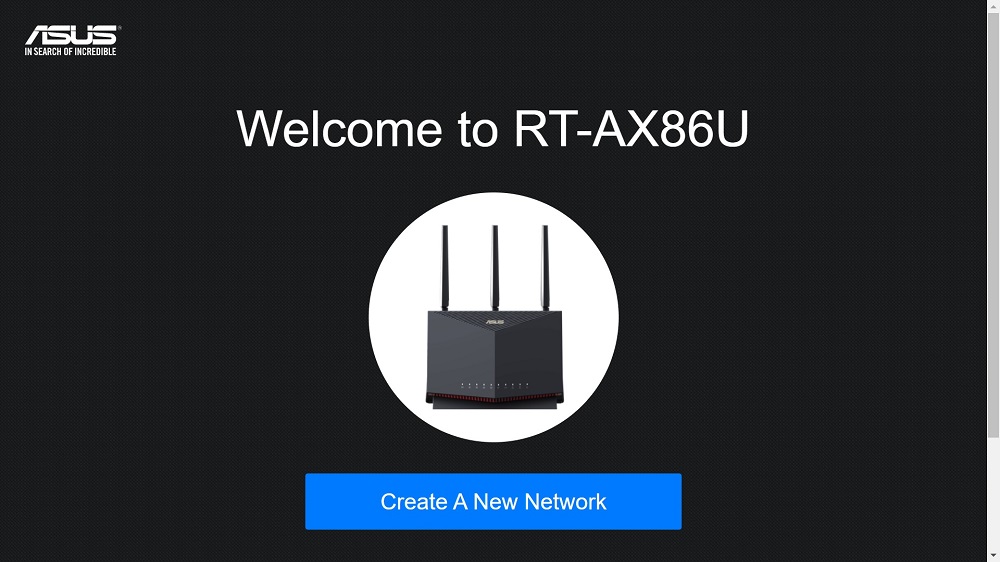 Easy setup and a variety of ways to control connected devices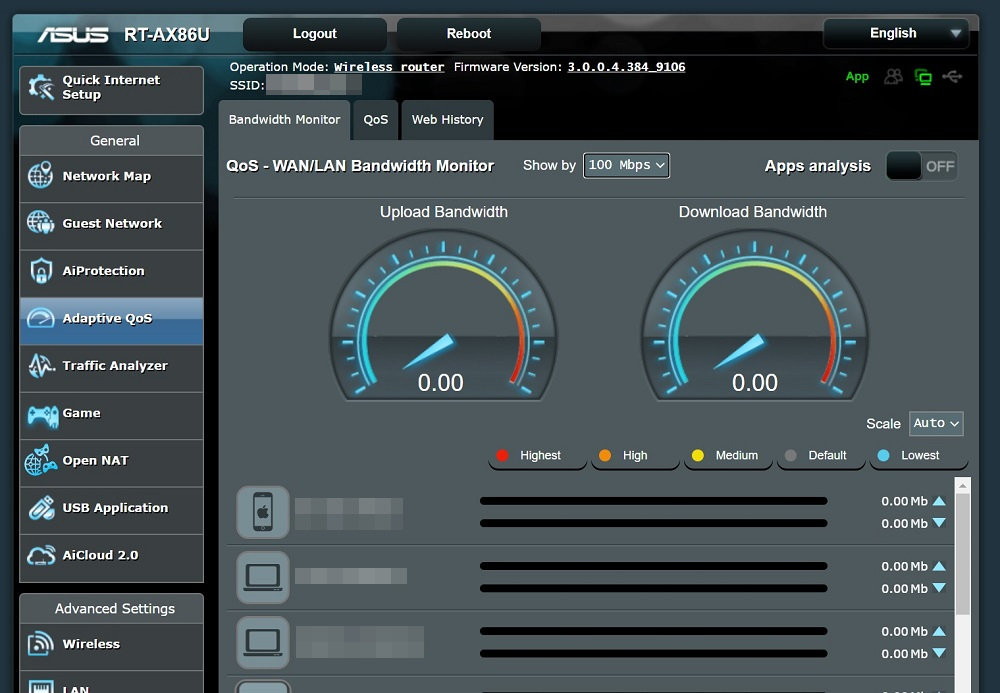 The Adaptive QoS lets you monitor how much bandwidth is used and make adjustments if necessary
Once you're connected to the router, you'll get an interface packed with features like for AI Mesh support, VPN, Adaptive QoS, and more. AI mesh support is simple enough, any ASUS router (even older ones) that have a mesh mode can be turned into a repeater. Adaptive QoS is basically a bandwidth allocation feature, so that's nothing complicated either. But there are a few features that we found particularly useful, so we'll talk about those.
First is Ai Protection, which provides you with Network Protection and Parental Controls. In the former, you have the Trend Micro software built into the router to help restrict devices on your network from accessing malicious websites. As for Parental Control, it lets you set filters for unwanted sites or apps and schedule the hours that a client on the network can access the Internet.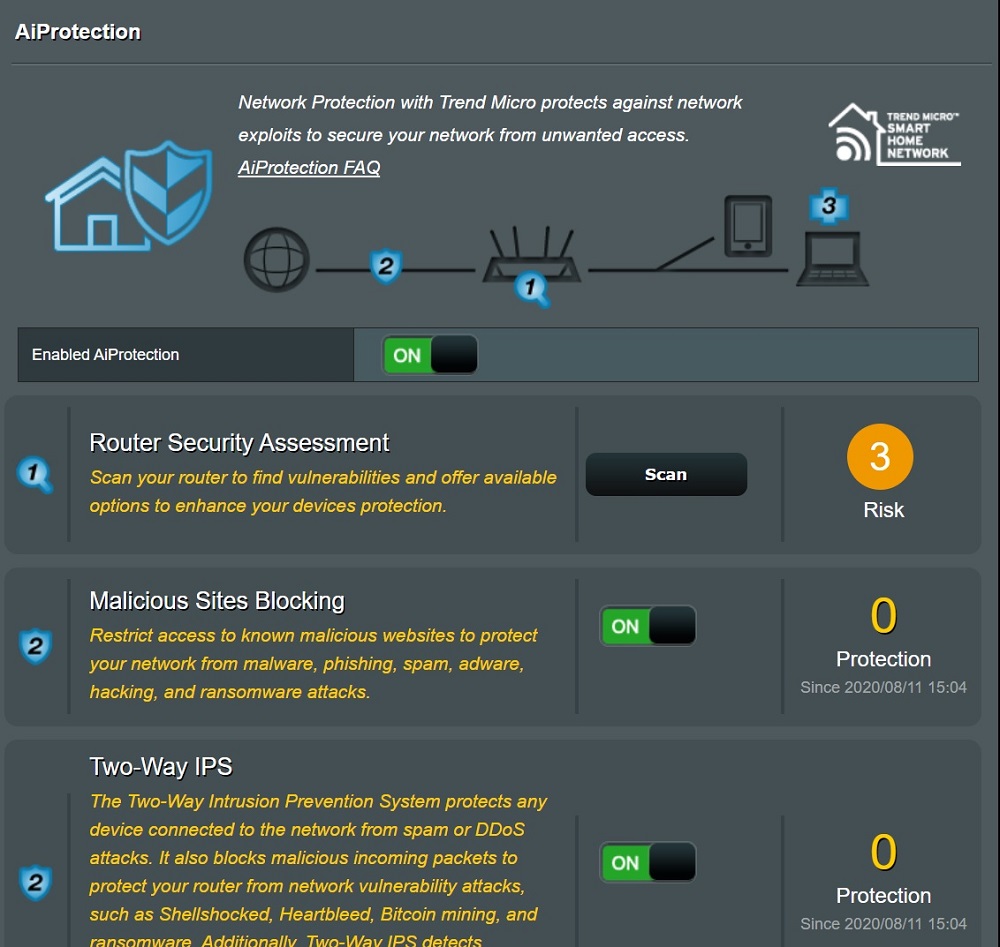 AiProtection lets you scan the router and your network for vulnerabilities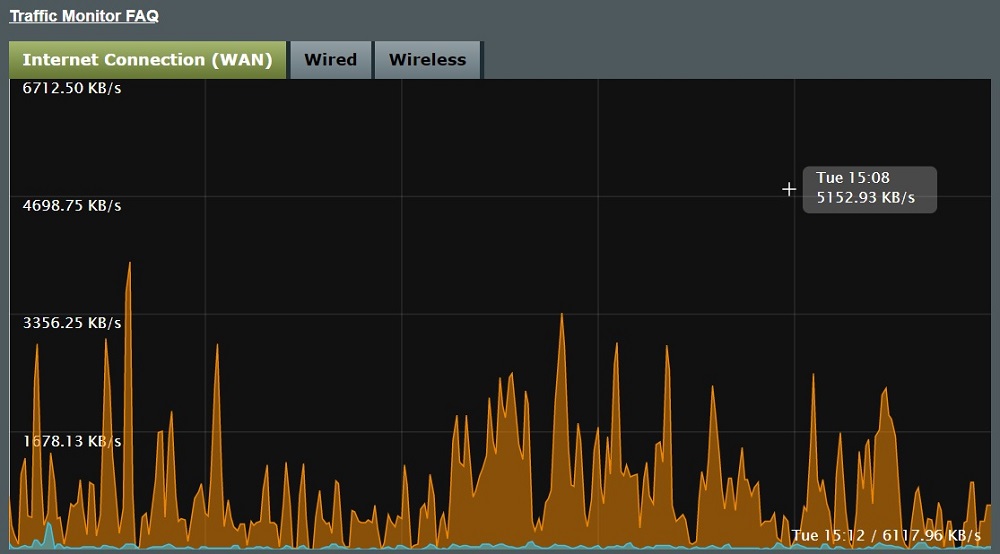 The Traffic Monitor lets you track your overall Internet bandwidth and wireless network speeds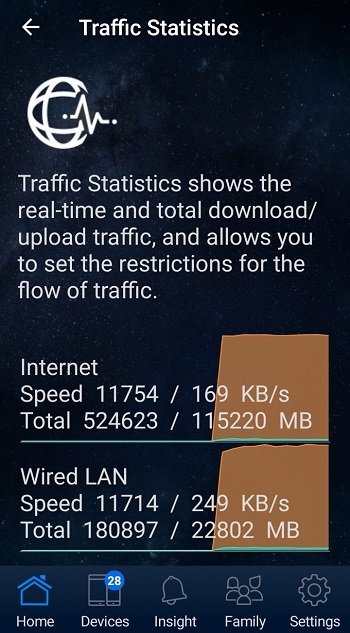 You can check your network status through the mobile app too
Traffic Analyzer is pretty nifty too. Once enabled, it will analyse the network traffic to see how much bandwidth is being used by clients and apps connected to the network. Based on that, you could go back to the Adaptive QoS to adjust how much bandwidth each person gets to use, should you find a need to do so.
For gamers, the Gear Accelerator is a useful way to set network priority for selected devices. The Mobile Game mode functions the same way, except for mobile games and you'll need the ASUS Router mobile app to enable the settings. It's a bit hard to feel the effects of this feature in an office environment, but for home setups, it's a useful way to ensure that you don't get sudden lag spikes in Dota 2 because your siblings decide to stream 4K YouTube videos.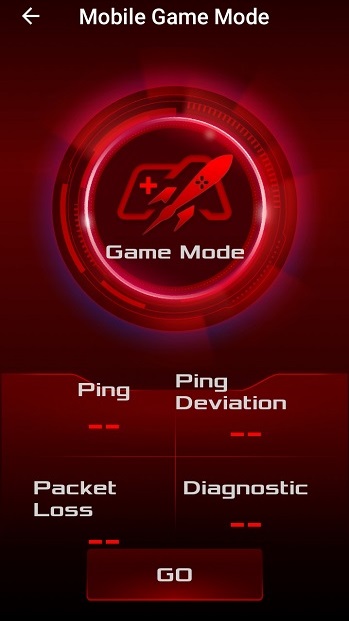 The mobile game mode can only be accessed through the app and only applies to mobile games
Let's move on to the performance part. To give you a laymen's idea of how the router could perform, we had three rounds of tests at different distances from the router: next to the router, upstairs room in a corner, and over 10 metres from the router behind a closed door.
As for the tests, the first one is a file transfer speed test where we transfer a file from a USB hard drive connected to the router to a laptop to simulate network streaming. The next is to stream some 4K 60fps videos on YouTube, then take the average connection speed and see whether the video stutters or not.
Below are the results of our test runs:
Near router
Upstairs room in a corner
(within 10 metres)
Over 10 metres from the router,
behind a closed door
1GB file transfer
30 seconds
36 seconds
1 minute 33 seconds
10GB file transfer
4 minutes 6 seconds
5 minutes 42 seconds
18 minutes 45 seconds
4K 60fps YouTube video stream
Average 82.1Mbps,
buffer of at least 12 seconds
Average 76.1Mbps,
buffer of at least 10 seconds
Average 47.3Mbps,
buffer of at least 16 seconds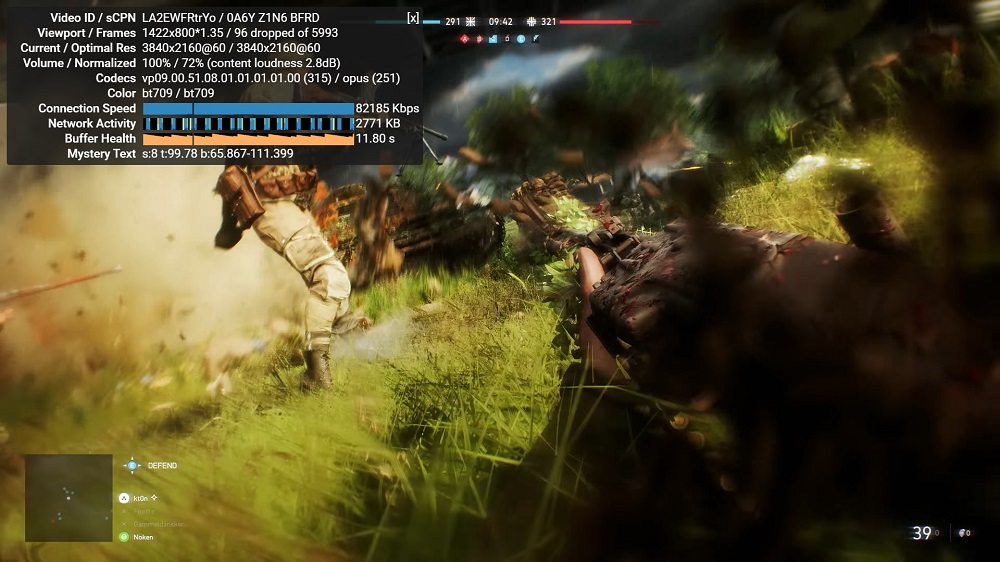 The average speed is enough for general 4K 60fps content on YouTube
As you can see, the speeds were quite good as long as you remain within a reasonable distance from the router. In that case, even some walls and doors in the way wouldn't affect the speed by much. It's possible that the drop will be more noticeable with thicker walls or doors, but we don't have those in the office so we can't tell you for sure.
Once you're far enough from the router that the signal strength drops, that's when you'll see a significant drop in transfer speeds. We were quite surprised that we could still stream the 4K 60fps YouTube video without buffering issues, but the time needed to transfer files increased by a wide margin (more than double in our 3rd run of the test).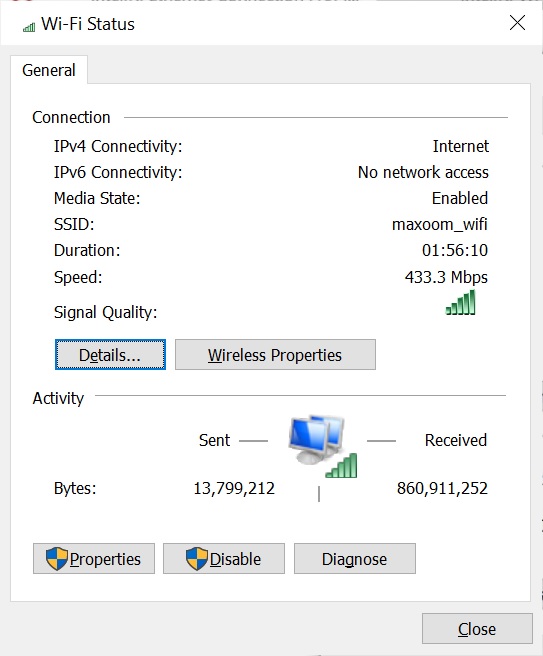 A laptop without WiFi 6 support
Another one that supports WiFi 6
In general, the router had no issues delivering sufficient bandwidth to the entire office. Unless you're using it in a large corporate office or something like a 3-storey house, you're unlikely to need a repeater to go with this router. If you're looking for a wireless router with that has excellent WiFi signal strength and data rates, as well as a little future-proofing with the WiFi 6 support, the ASUS RT-AX86U could be an option for you to consider. It might be a bit expensive for the average home user at RM1399, but it has a 3-year warranty to go with it so it's not a bad deal for companies.
Tech specs and features
Wi-Fi standard: Dual-band WiFi 6 (802.11ax)
Antennas: 3 (external), 1 (internal)
Ports: 2x USB 3.0, 1x 2.5Gbps Ethernet, 4x Gigabit Ethernet, 1x WAN port
CPU: 1.8GHz quad-core
RAM: 1GB
Storage: 256MB
Wi-Fi chip: Broadcom BCM4908
Peak 802.11ax performance: 4804Mbps
Size: 242 x 100 x 325 mm (with antenna)
Features: ASUS Router app, Link Aggregation (802.3ad), MU-MIMO, Traffic Analyzer, Adaptive QoS, AiProtection Pro, Parental Control, VPN (PPTP/OpenVPN/IPSec), NAT Pass-Through, Mac OS Backup, Enhanced media server (AiPlayer app compatible), AiCloud, 3G/4G data sharing, Download Master, AiDisk file server, Dual WAN, IPTV support, Roaming Assist, OFDMA, Beamforming, Nvidia Geforce Now Cloud Gaming Optimization, WAN Aggregation
Pros and Cons
Pros - Excellent WiFi performance, WiFi 6 supports, and lots of other software features
Cons - No option to wall mount, no 10Gigabit port, and a bit pricey for many people
Conclusion - A great router that delivers on wireless performance and comes with WiFi 6 support for newer devices, but probably isn't what an average Joe would need or can afford