ASUS ZenBook 13 OLED (UM325) Review - The company's best productivity laptop yet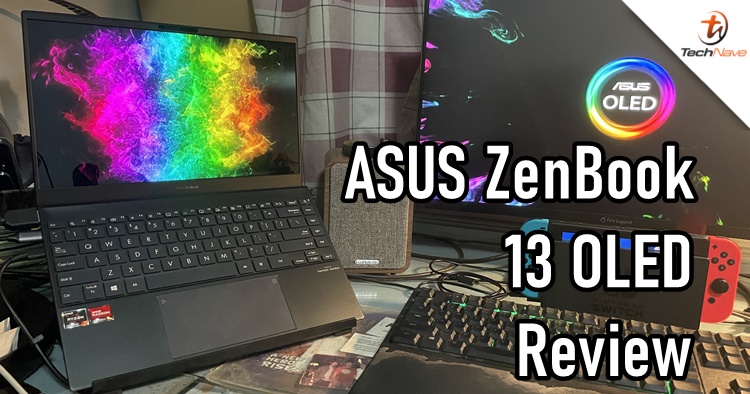 When it comes to ASUS laptops, there is a wide array of models for customers to choose from. Even for the ASUS ZenBook 13 OLED, there are actually two variants - the UX325 and UM325. For this review, we tested the latter and can say that it's more powerful than we expected.
Since 2018, ASUS has been promoting the ZenBook 13 as a thin and compact laptop for professionals. The 2020 model doesn't stray far from that but does come with the latest AMD Ryzen 5000 mobile series CPU, making it a well-rounded laptop. There's no official local price for it yet, but if you're still curious about this laptop, read on to find out what we thought about it.
As usual, we will be starting with the design. We already mentioned that this version doesn't differ much from its predecessor. But one thing is for sure - this new ZenBook 13 has a more refined design than ever. Comparing it with the ZenBook 13 (UX333), the trackpad is much larger for some reason, and the keyboard's length is maximised - stretching from one end to the other.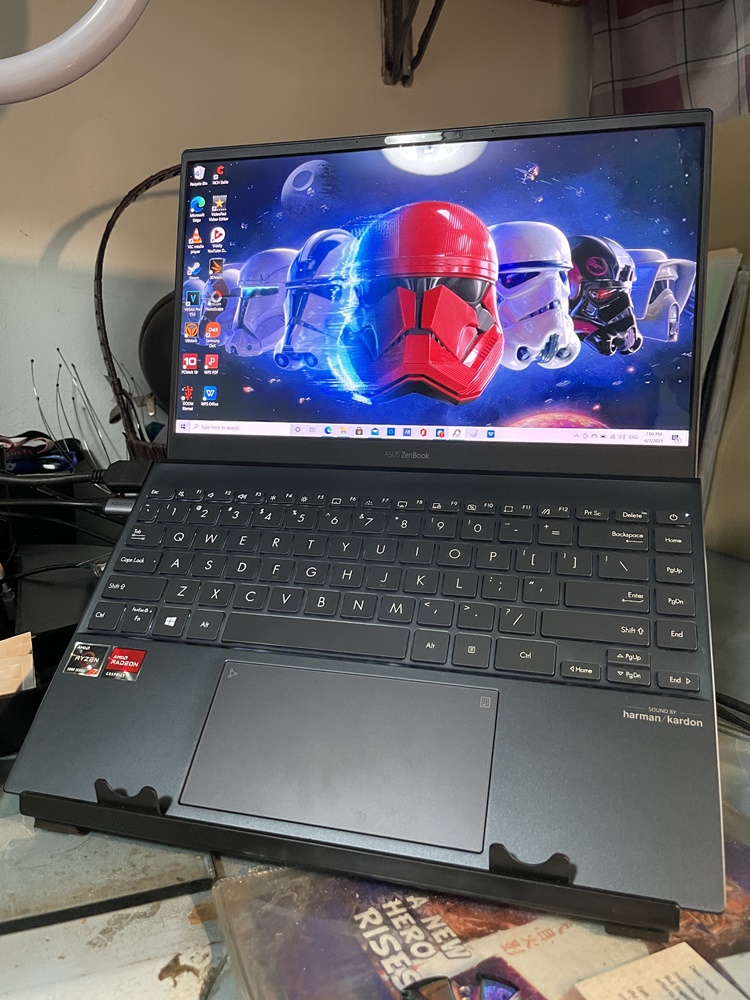 The ZenBook 13 OLED in the flesh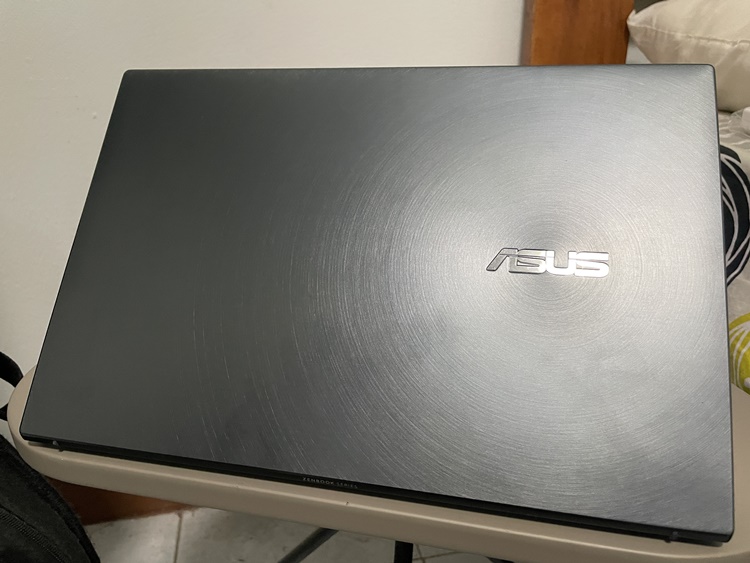 Smooth cover lid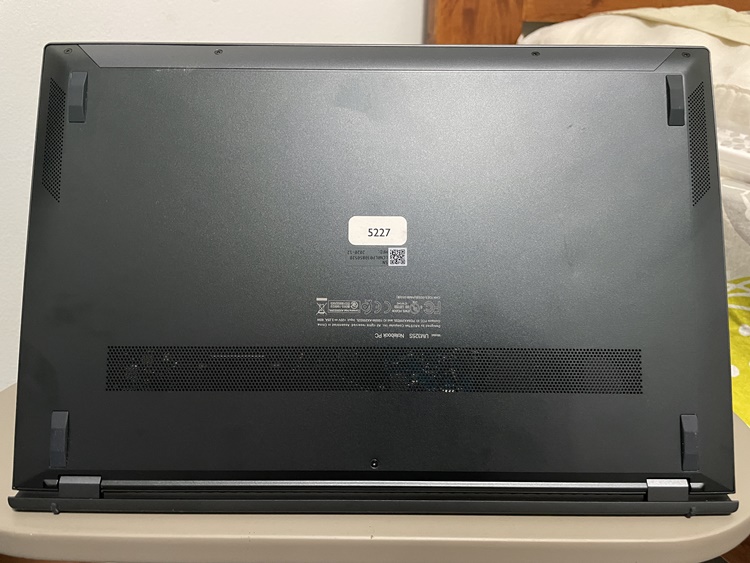 You can see the Harman/Kardon speakers on both sides and the vent grilles at the bottom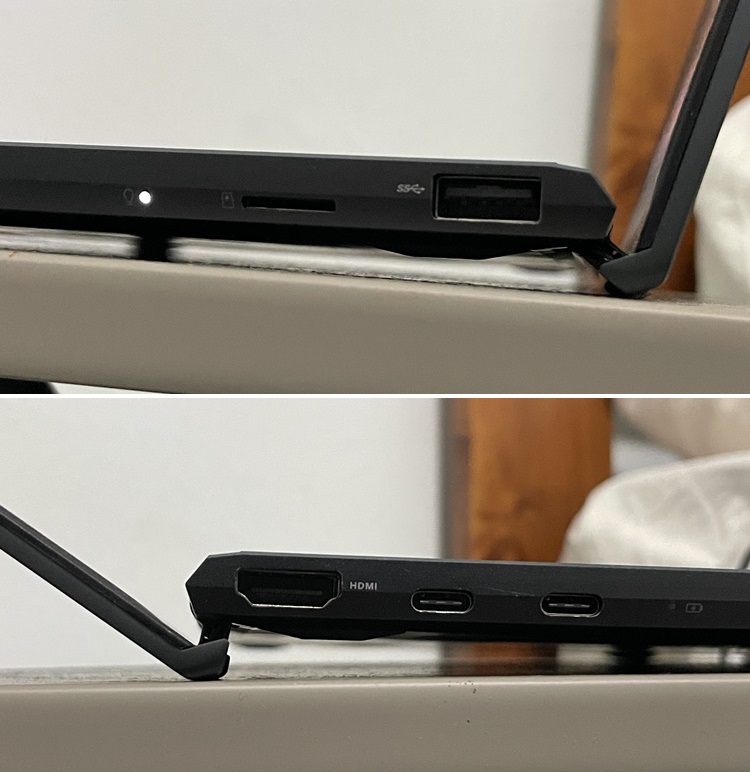 These are the only ports available
The Ergolift Hinge is still there, but there are notable differences this time. This new model has more USB Type-C ports, so it's great if you want faster data transfer speeds. Not so great for users who are still relying on USB Type-A (only one onboard) devices, especially if they also want to use an external mouse and keyboard. The audio jack is gone too, but you still get a microSD card reader and HDMI port.
Speaking of designs, another thing that we should also talk about is the OLED display. The ZenBook 13 still features a 13.3-inch OLED NanoEdge display. This FHD display comes with HDR support, is PANTONE Validated, and covers 100% of the DCI-P3 colour gamut. Since it's an OLED screen, it can display deep blacks and has an increased dynamic range. In other words, this laptop is perfect for content creators or video editors who want the most accurate colour presentation when working on their video productions.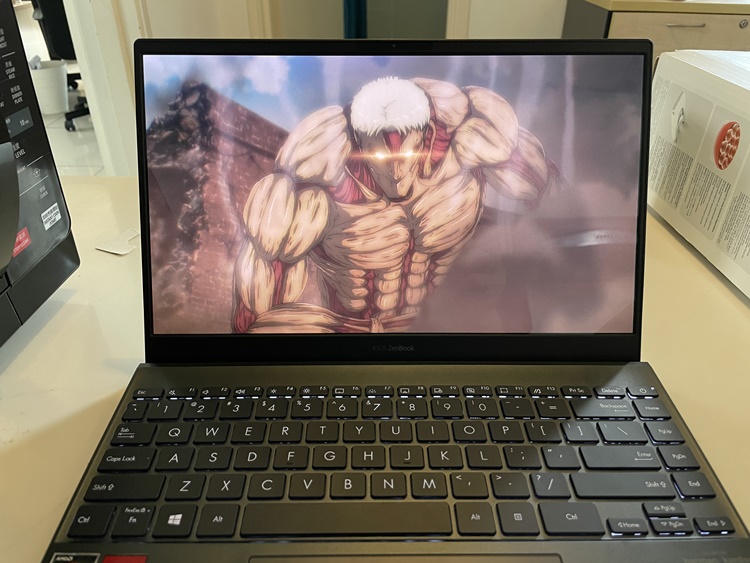 Great visual details on the laptop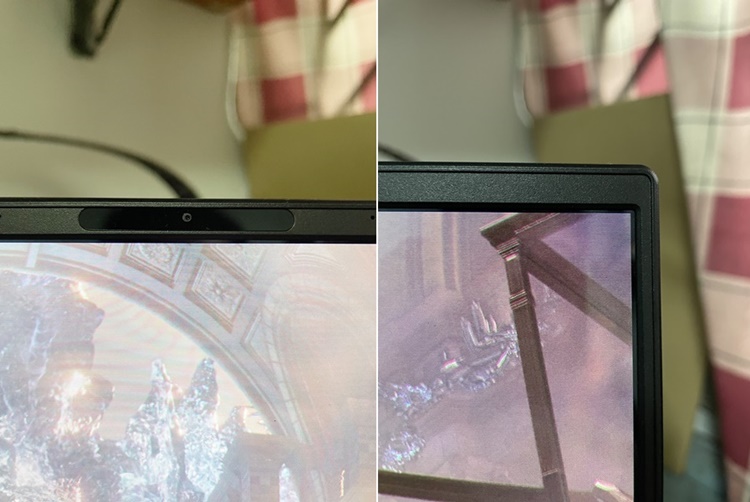 The front camera has a good facial unlock system (left), whereas the bezels are quite narrow (right)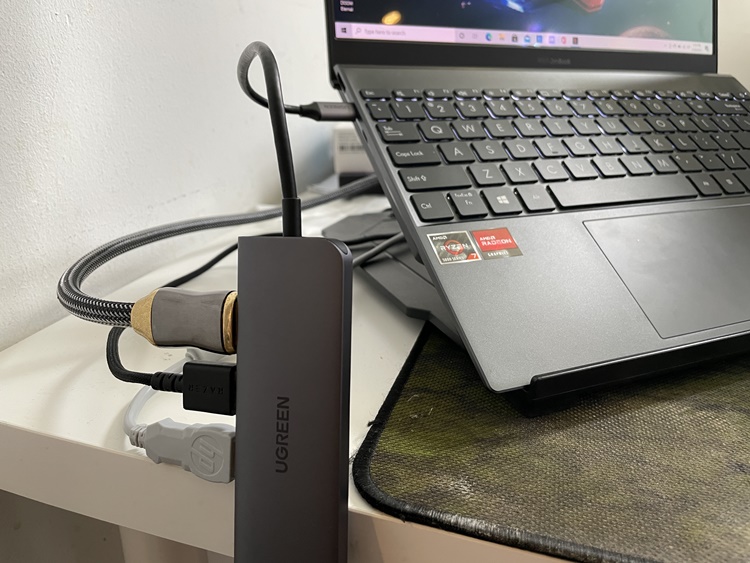 The lack of USB A ports may force you to get an extra USB Hub like this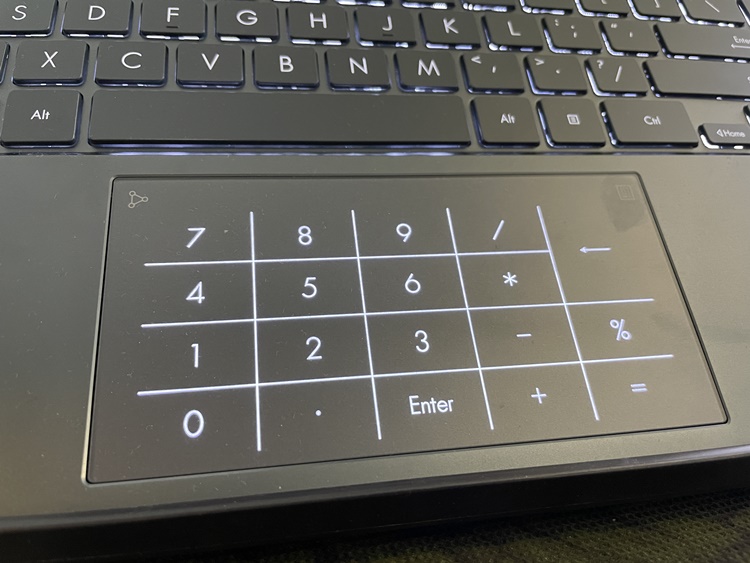 The trackpad is bigger than its predecessor's
Like most recent ASUS laptops, the NumberPad 2.0 is available via the trackpad, which feels much larger than necessary. I mean, sure, it can be turned off when not needed, but you could still accidentally enable it with your palm. The keyboard area is also widened, so that's a welcome change. It's comfortable enough to type, but sometimes I could feel some static electricity, especially when it's on high performance or heating up.
Speaking of performance, this laptop review unit model features an AMD Ryzen 7 5800U CPU with Radeon Graphics, 16GB of RAM, and plenty of SSD storage at 1TB. As you might have guessed, the ZenBook 3 performed superbly without question. It showed decent results in benchmark programs. But what's more impressive is that it can even run graphics intense video games like Doom Eternal (albeit not on ultra-high settings).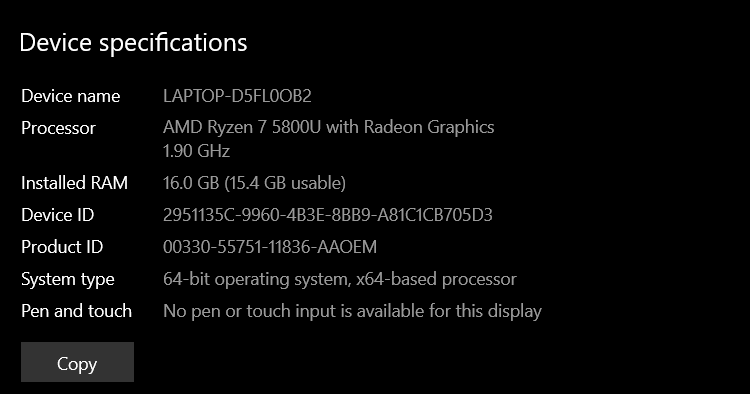 You can check out the full specs at the bottom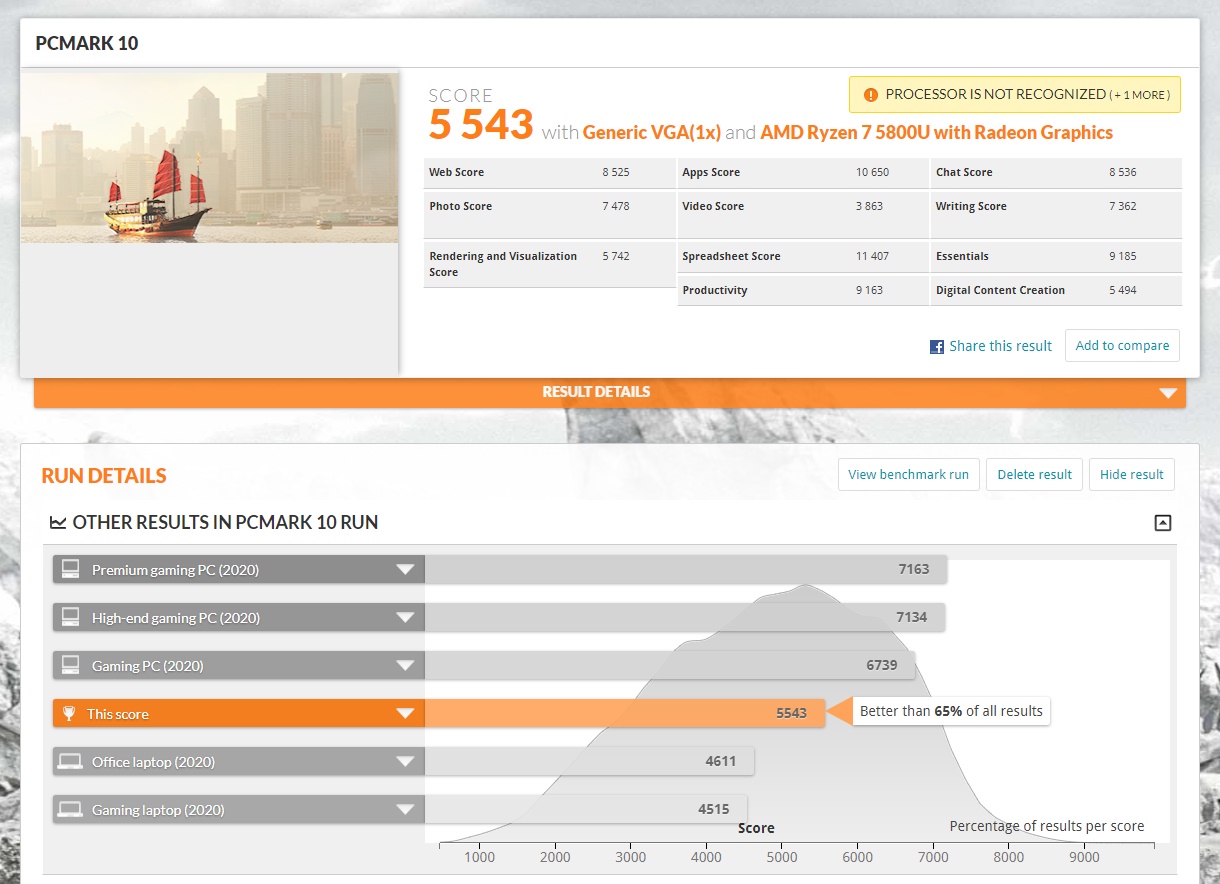 PCMark 10 benchmark score, I didn't run 3DMark because this laptop is not focused on gaming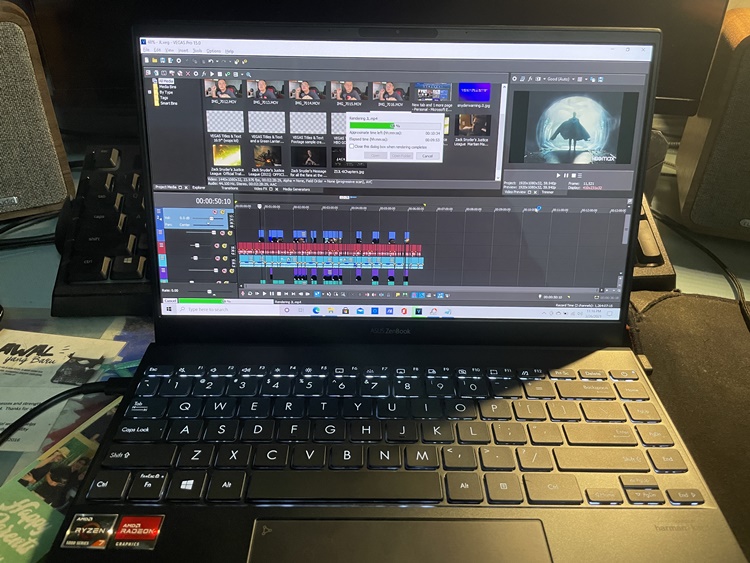 Rendering video is quite a smooth sailing
So yes, you can actually play some games on this laptop. But I would still recommend not doing so. Obviously, the laptop's design means that it isn't meant for gaming. In fact, it makes a lot of fan noises if you push its performance. Since the laptop is quite thin, you can feel the heat on the keyboard's surface, and your fingers won't feel that comfortable when using the WASD keys. However, you can still do some light gaming.
Besides that, the ZenBook 13 is great for content creation tasks such as video editing. I haven't experienced any programs crashing during my two weeks of usage, and multitasking was a piece of cake. Of course, you will definitely enjoy watching some movies or TV shows (like Netflix) on it. That's thanks to not only the OLED NanoEdge display that I mentioned earlier but also the surprisingly loud and clear Harman/Kardon. Furthermore, the display's colour accuracy should allow image editors or digital artists to get the most out of it.
If you tend to go out with your laptop, then the ZenBook 13's battery durability will impress you. It can certainly last you several hours without charging, so don't worry about that. Based on my usual news writing and light image editing, the laptop can typically last for 5-6 hours. In terms of recharging, the charging speed is quite fast. I usually only have to wait for an hour for the laptop to be fully charged.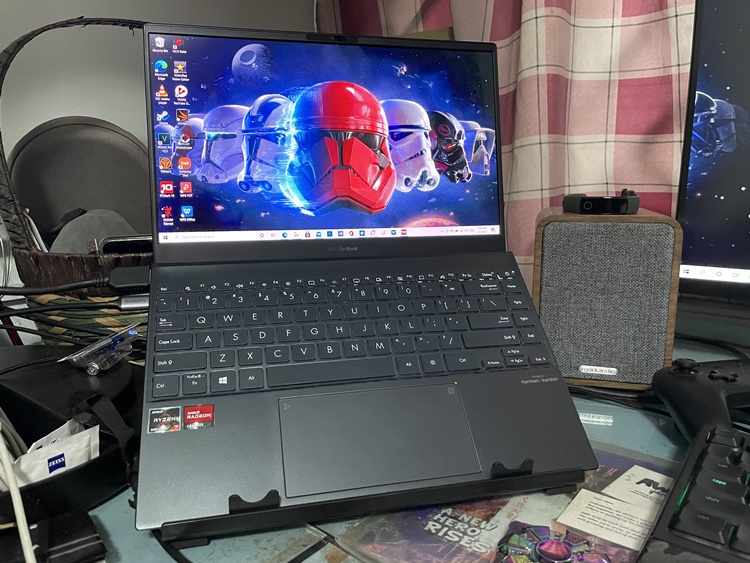 Worth it?
So far, the ASUS ZenBook 13 OLED (UM325) feels like a pretty good laptop to have for productivity. It has an improved OLED NanoEdge display that delivers the most accurate colours yet, a great AMD CPU for multitasking (plus some light gaming), and is incredibly compact. However, the 13.3-inch display is too small for me, so it's not of my preference. Also, I believe most Malaysian users don't really use USB C cables, so they will have to get a USB hub for extra USB A ports.
There's no official local price tag yet, but if we have to guess - it could easily cost at least RM4000 or more, based on its predecessors' price range (and we were told that the 5600U processor variant will be the first batch coming soon as well). Overall, I think this is a solid laptop. But if you like to play video games from time to time, perhaps it would be better to invest in an actual gaming laptop. It will be able to do the same thing at the cost of being heavier. Just my two cents.
Tech Specs and Features of the ASUS ZenBook 13 OLED (UM325)
AMD Ryzen 7 5800U CPU @ 1.9GHz (16M Cache, up to 4.4GHz, 8 cores)
AMD Radeon Graphics
16GB LPDDR4X RAM
1TB M.2 NVMe PCIe 3.0 SSD
Measures 30.40 x 20.30 x 1.39 ~ 1.39 cm, weighs 1.14kg
13.3-inch OLED display in FHD (1920 x 1080) 16:9, Glossy display, 400nits, DCI-P3: 100%, Pantone Validated, Screen-to-body ratio: 88 %
Ports - 1x USB 3.2 Gen 1 Type-A, 2x USB 3.2 Gen 2 Type-C support display / power delivery, 1x HDMI 2.0b, Micro SD card reader
Features NumberPad 2.0, HD camera with IR function to support Windows Hello, Harman/Kardon speakers
Supports up to Wi-Fi 6(802.11ax), Bluetooth 5.0 (Dual band) 2*2,
Battery - 67WHrs, 4S1P, 4-cell Li-ion type, Power supply - TYPE-C, 65W AC Adapter, Output: 20V DC, 3.25A, 65W, Input: 100-240V AC 50/60GHz universal
Windows 10 Pro
Pros - A compact and high-performance laptop for content creators and professionals who are on the go, with great battery and display performance
Cons - Some may find the display too small, while the keyboard can be uncomfortable when the laptop heats up. You may also be forced to get an extra USB hub for USB-A ports
Conclusion - Overall, it's a great productivity laptop, but the price is unannounced yet. Stay tuned for that!
ASUS ZenBook 13 OLED UX325 Specs & Price >