ASUS ZenBook Duo - Double the screen, double the productivity... kind of...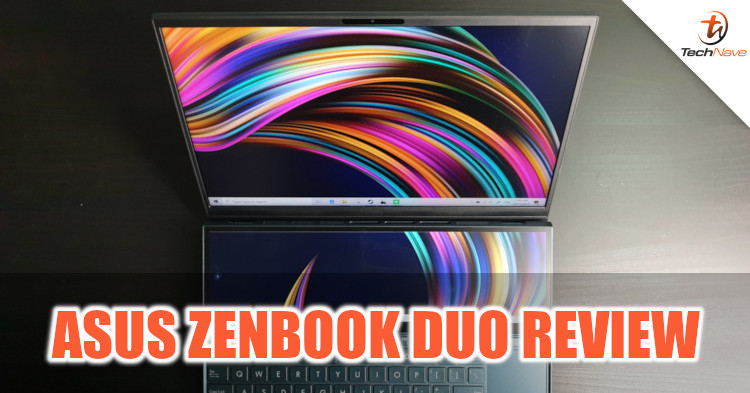 Usually, when you're working in a content production company, you're required to work on multiple softwares at the same time. Furthermore, having only one screen is sometimes not enough due to the fact that some applications take up quite a large portion of the display space compared to others. In order to remedy that, the only way to get more screen space would be to hook up a secondary monitor to your laptop or computer. Unfortunately, that would require you to fork out more money just to get yourself an additional display.
With all that said, ASUS has recently unveiled their brand new ASUS ZenBook Duo from the price of RM4699 and it comes equipped with an additional 12.6-inch touchscreen display called the ScreenPad Plus mounted just above the keyboard. The function of the additional screen is to act as a secondary display that the user can also interact with by either using a mouse or by touch input. We managed to get some time with it, so here's our review of the ASUS ZenBook Duo.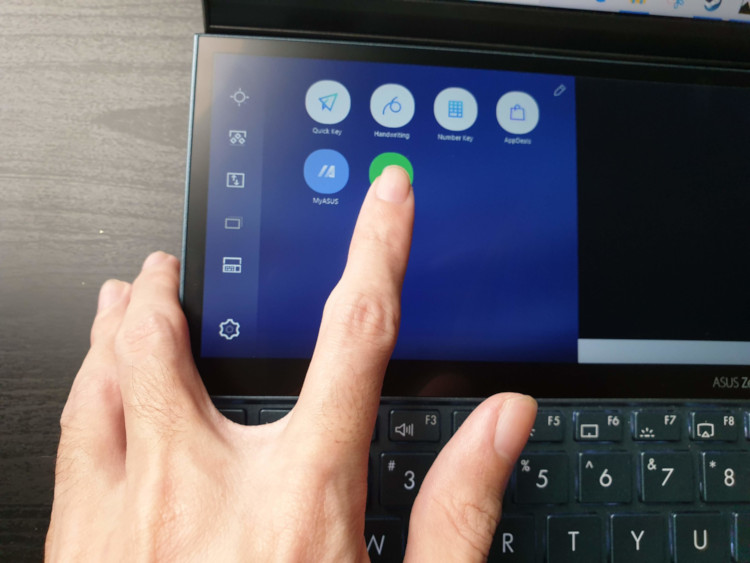 You can interact with the ScreenPad Plus via touch!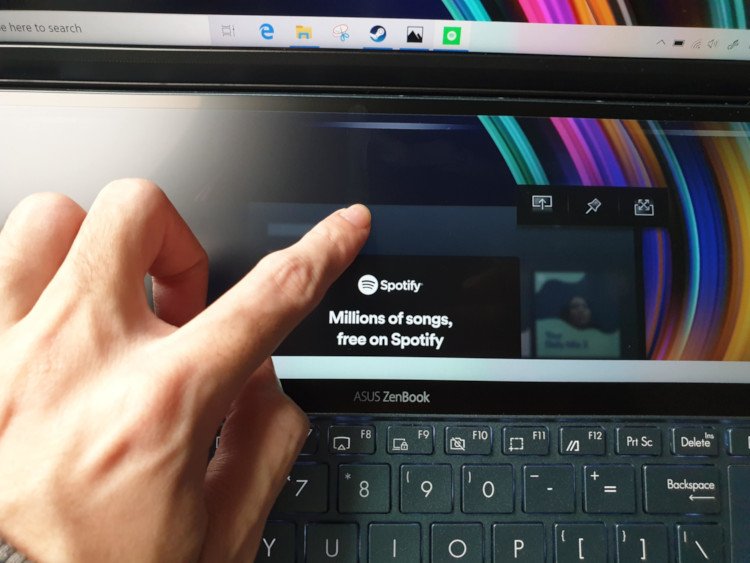 You can move around and resize windows easily with your fingers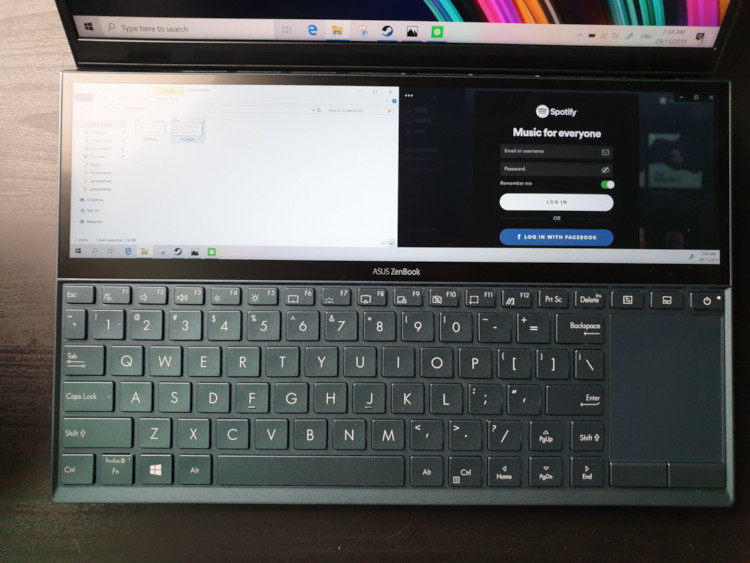 You have just enough space for two windows
The ScreenPad Plus also features a specialised software that helps the user multitask and switch between apps with ease. Not only that, but you can also organise a bunch of application shortcuts on it and quickly tap on it when you need to use it. Also, it is best to note that the surface of the ScreenPad Plus has a matte texture to ensure that your fingers glide on the display.
Moving onto the design, you can see the ASUS logo accompanied by what looks to be a brushed metal finish on the lid. If you look closely towards the rear of the lid, you'll notice two small rubber padding at the edge where the lid will come in contact with the surface it is on, this function is called the Ergolift, which will elevate the laptop when the laptop is fully open.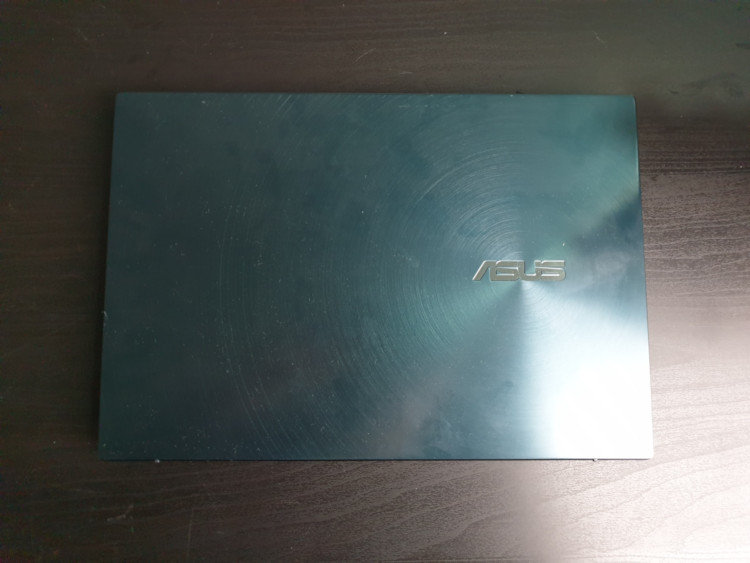 Look at that brush aluminium finish with the grain circular grain around the ASUS logo!
As for the primary display for the ZenBook Duo, it is Pantone Validated and 100% sRGB compliant which makes it pretty good for handling content that involves colours such as video editing, illustration, and graphic design. In terms of the display size and resolution, the laptop comes equipped with a 14-inch LED-Backlit NanoEdge display with a screen resolution of 1920 x 1080 and it also has a screen-to-body ratio of 90%. There is also an infrared camera that is compatible with Windows Hello, which can be used even while in the dark.
Moving forward onto the keyboard section, the first thing that would most likely catch your attention would be the trackpad which is placed towards the right of the keyboard. However, unlike the ZenBook Pro Duo, the non-Pro variant's touchpad does not come with the ASUS NumberPad that allows you to change the functionality of the touchpad to a capacitive NumberPad. The lack of a number pad might be a turn-off, especially for those who deal with numbers on a daily basis.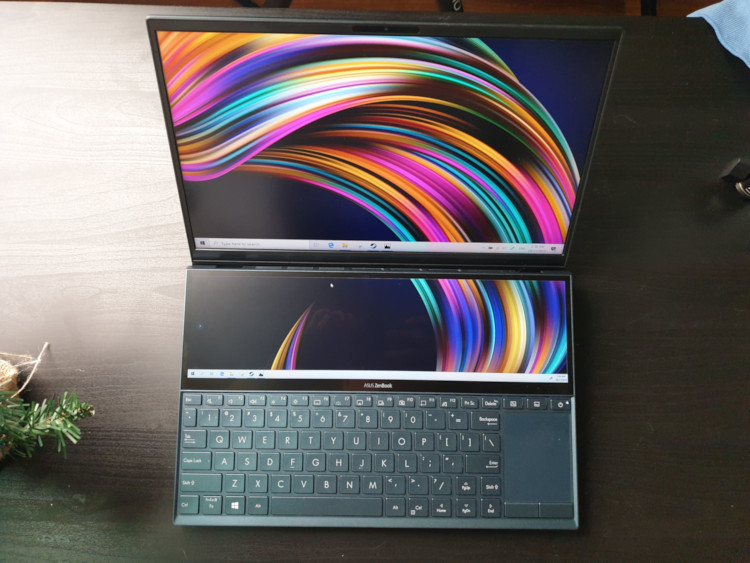 As for the keyboard itself, you might need to take a moment to get used to the layout due to the extra buttons like the function key being on the left side and the arrow keys which was moved directly under the enter key. Other than that, the keys on the keyboard are also individually backlit, making them easier to be used while in a dark room. Also, you might want to consider getting a wrist rest to place right below as you can't rest your palm on the laptop due to the placement of the keyboard (the hidden price to pay for the ScreenPad Plus?).
The ASUS ZenBook Duo also comes with two USB 3.1 Type-A ports, a single USB 3.1 Type-C port, a single HDMI port, 3.5mm combo jack slot as well as a MicroSD card reader. Furthermore, it also features Bluetooth 5.0 and the new Intel Wi-Fi 6 which offers a much higher download and upload speeds than the previous Wi-Fi standards.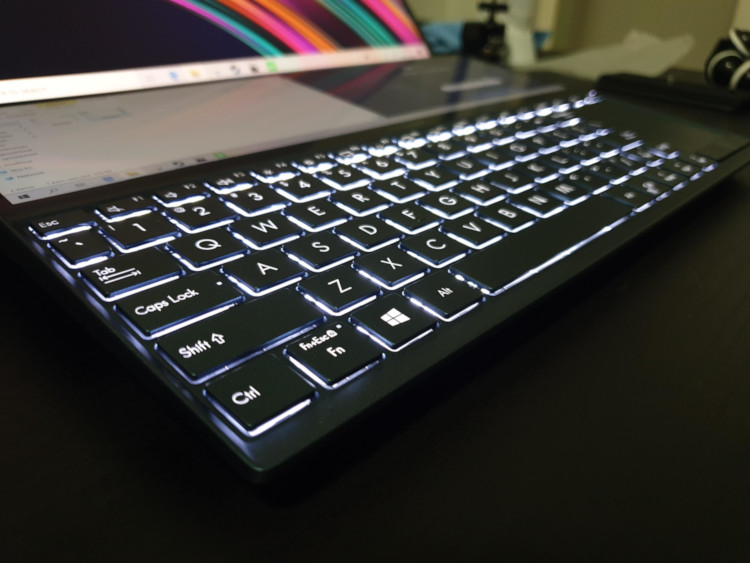 The keys are individually backlit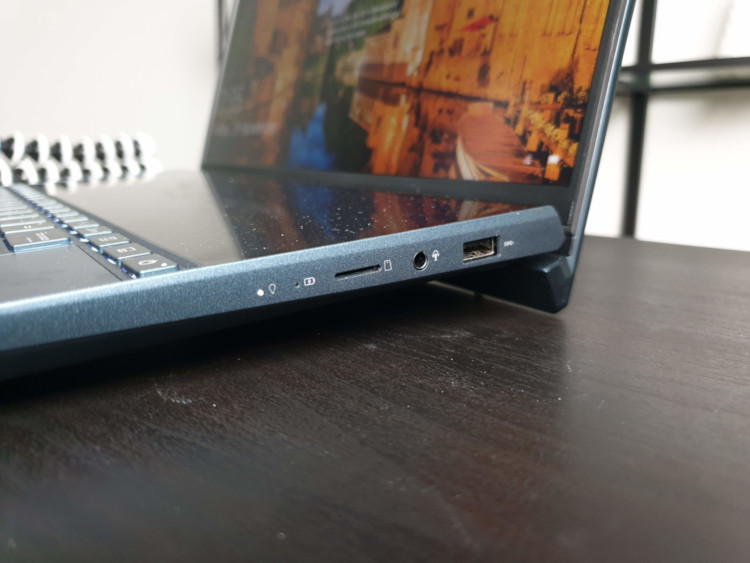 USB Type-A port towards the right along with a combo audio jack slot and a MicroSD card slot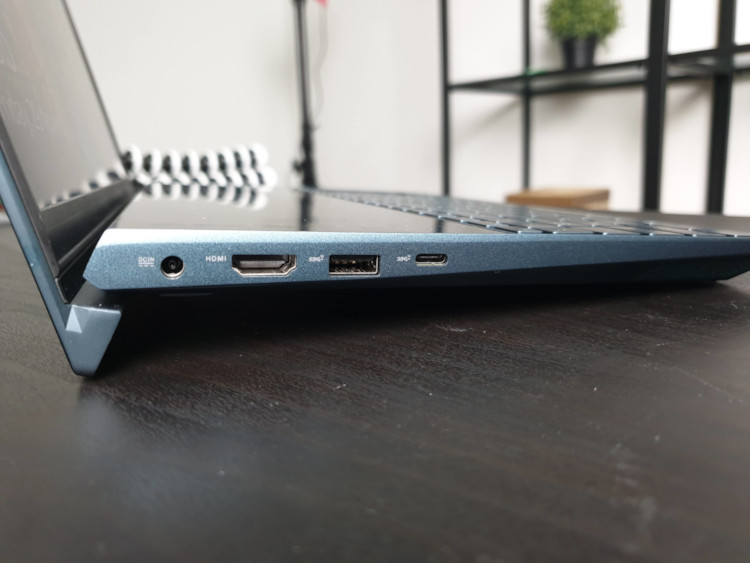 USB Type-C, Type-A, HDMI port as well as the charging port located on the lft
As for the performance, the laptop is really in its element when it comes to production workloads and content creation. This is largely due to the fact that you have an additional screen real estate, which can be utilized to further streamline your workflow. Since the display is 100% sRGB compliant as well as Pantone Validated, doing work on Adobe Photoshop as well as Illustrator on it was a breeze.
However, one major flaw with the secondary screen that I've noticed so far was that it was very hard to see what was on it while working under the sun due to the glare it produces. Not only that, the placement of the touchscreen display was a little awkward due to the fact that my arm would sometimes hit the keyboard by accident.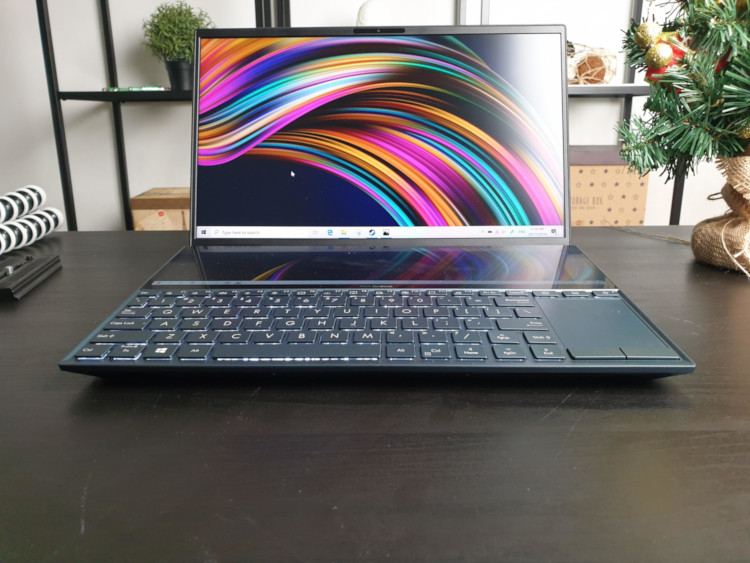 The ScreenPad Plus can be quite hard to see at a steep angle
However, when it comes to video editing, our unit struggled a little due to the fact that it is running on a 10th generation Intel Core i5 processor instead of an i7. In terms of gaming performance, the laptop did well when it comes to generic esports titles such as Counter-Strike: Global Offensive, Dota 2 and League of Legends due to the low tech spec requirements. Higher-end games like Fallout 4, Monster Hunter: World, and Nier: Automata will cause the laptop to lag up even when the graphic settings are turned all the way down due to the fact that it is running on an Nvidia MX250 graphics card.
Battery-wise, the laptop was able to last me around 5 hours or even more depending on what I was using it for. There is also an option to turn off the ScreenPad Plus secondary display, which can substantially increase the battery life to about a few hours longer. If you're the kind of person to bring around your power adapter wherever you go, you'll be thankful to know that the 65W power adapter is pretty light, making it rather easy to carry around.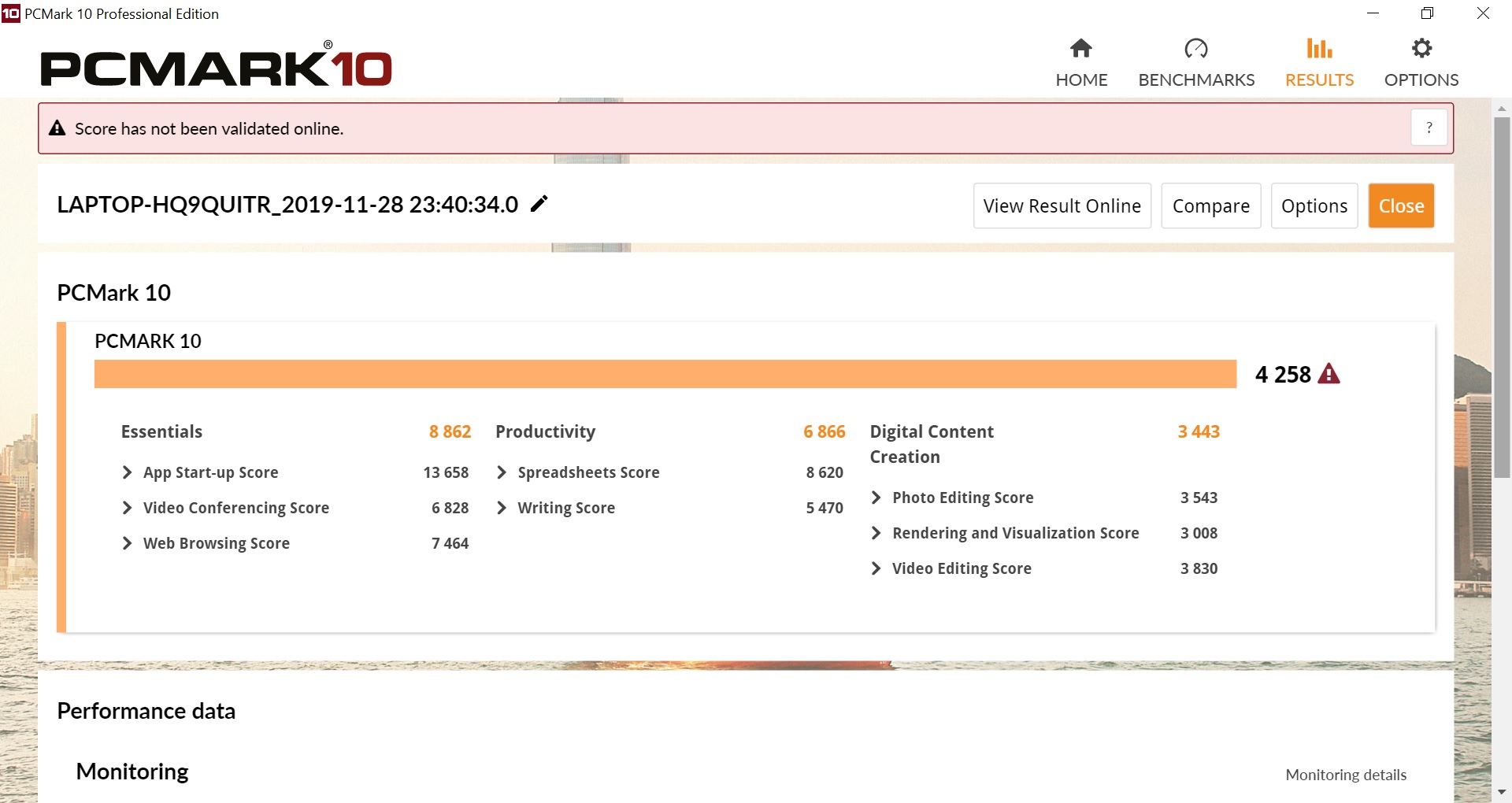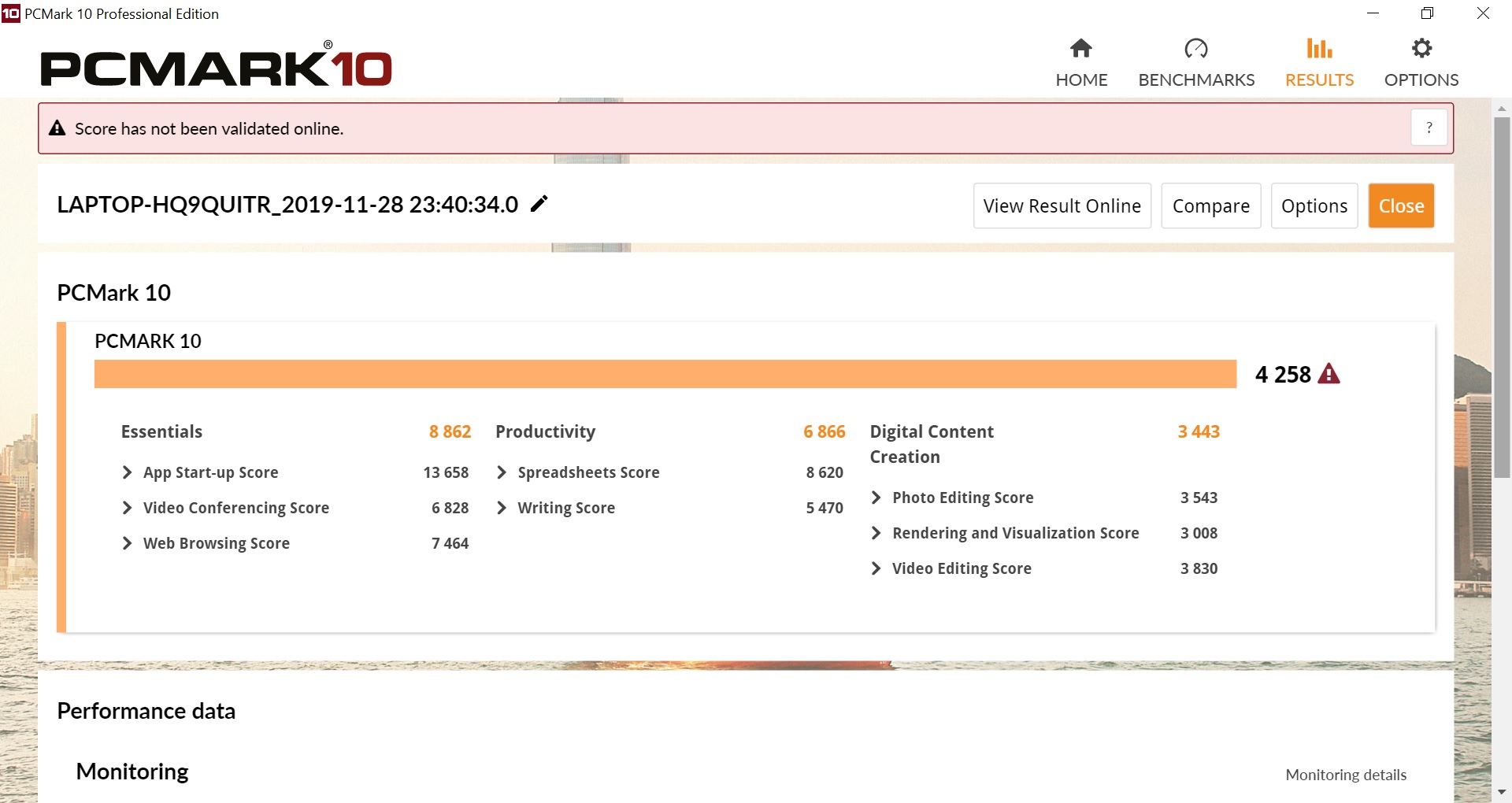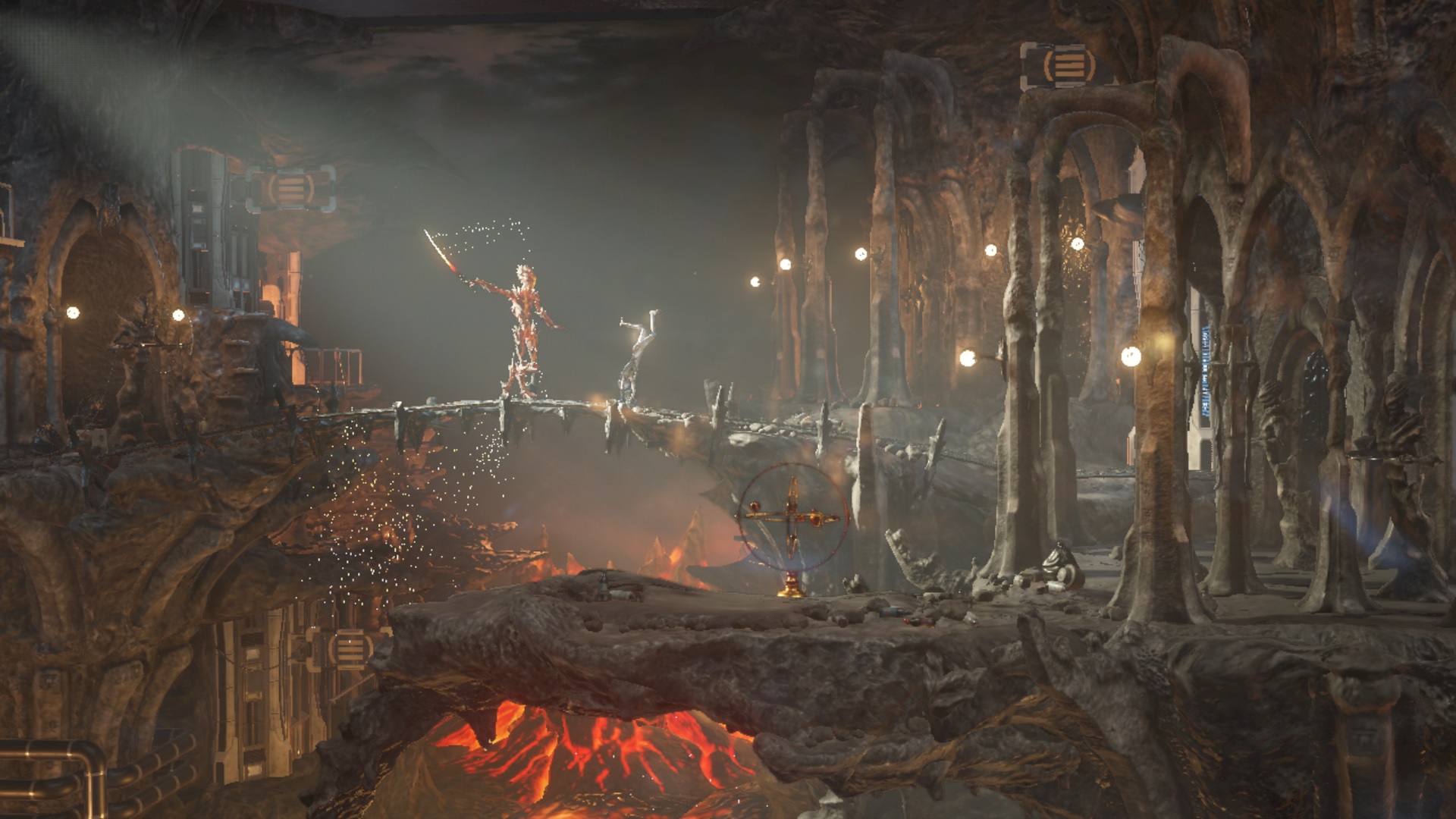 3DMark TimeSpy benchmark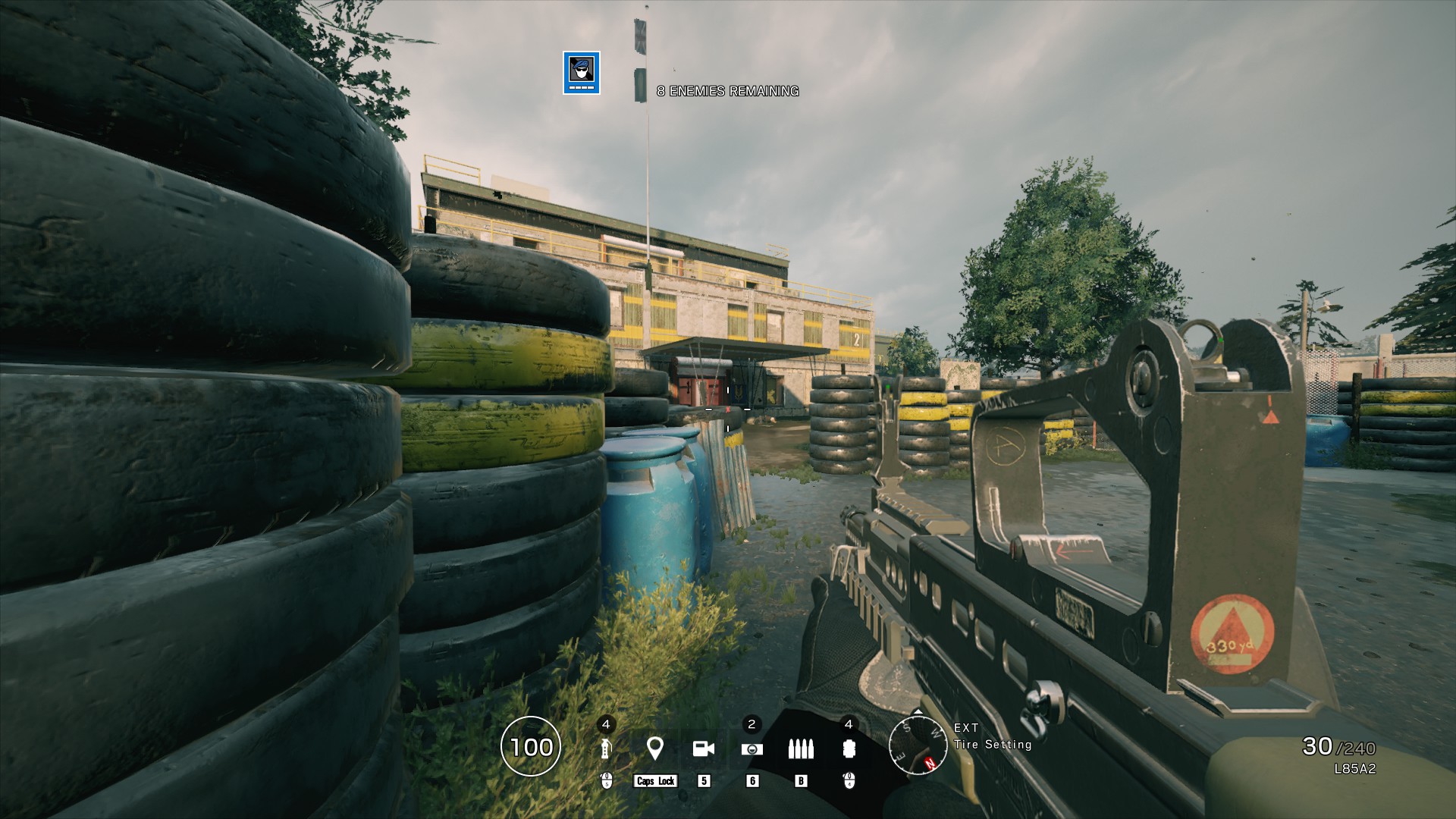 Rainbow Six: Siege was quite laggy while playing on the laptop
In conclusion, the ZenBook Duo with its ScreenPad Plus is quite a capable laptop if you're the kind of person who frequently works with two screens. Not only that, if you're handling colour accurate projects from applications such as Adobe Photoshop, Illustrator, or even light video editing, the Pantone validated and 100% sRGB display is definitely a must-have to ensure that the colours are not messed up. Gaming performance isn't that bad as well, as long as you stick to titles with low system requirements.
With all that said, the ZenBook Duo is far from perfect due to the fact that the secondary screen becomes very hard to see especially while using it under a bright light or when you view it at a steep angle. Other than that, I also didn't like that it came with a MicroSD card slot instead of a full-sized SD card slot because most production equipment such as video and audio recording equipment, as well as DSLRs usually save into a full-sized card.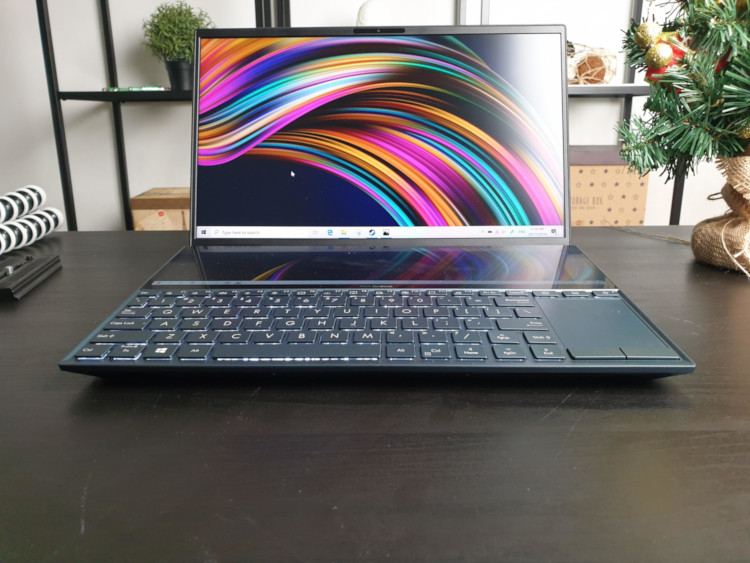 At launch, the ZenBook Duo's price starts from RM4699 which is not too bad if you take into consideration the fact that you're getting two displays on one laptop. However, if you don't particularly like the layout of the ZenBook Duo, you could opt for the MSI PS63 Modern which comes equipped with an 8th Generation Intel Core i7 processor as well as an Nvidia GTX 1050 Max-Q GPU from RM4799 onwards.
If you want more power, there is also the Acer ConceptD 3 Pro which features an industrial-grade Nvidia Quadro T1000 graphics processor. However, the price is quite steep at RM5999 and you'll lose out on the ScreenPad Plus. as there are still no other laptops to offer a built-in secondary touchscreen display like the ZenBook Duo series.
Check out our hands-on first impression video of the ASUS ZenBook Duo!
If you're still keen on getting the ASUS ZenBook Duo for slightly heavier workloads such as video editing, you might want to consider getting the i7 variant instead which is priced at RM5699. If money is no object, why not get the ASUS ZenBook Pro Duo which comes equipped with up to a 9th generation i9 processor, Nvidia RTX 2060 graphics card as well as up to 1TB of primary storage starting from the price of RM12999.
Pros and Cons
Pros - Sleek design. 100% sRGB and Pantone Validated. ScreenPad Plus works well as a secondary screen.
Cons - ScreenPad Plus becomes virtually unusable under bright sunlight. The addition of a MicroSD card reader instead of a full-sized SD card reader is questionable, due to the fact that most professional recording equipment utilizes a full-sized SD card.
Summary - The laptop is a good step forward in terms of innovation with designers and productivity in mind.