ASUS ZenBook UX305F review - Thin and light ultrabook on-the-go
If there is one thing ASUS is good at, there is without a doubt the fact that they really know how to design aesthetically pleasing yet quality-built ultrabooks. The ASUS ZenBook UX305F is no exception and it is one of the most elegant notebook PCs I have ever laid my hands and eyes on.
Standing frontal view
Design - Functional and elegant
You will notice straight away at first look, that the ZenBook UX305F is entirely cased with brushed aluminium and with first touch, feels very smooth with just a bit of that roughness for a good grip. The overall design is as minimalistic as can be with just an ASUS logo right in the middle. On the sides, three USB 3.0 slots, an SD card reader and a Micro HDMI port with clearly no fan port due to a silent, fanless design.
Side view (right). A compact 13mm thickness with 2x USB 3.0 ports with SD card reader

Side view (left). Single 3.5mm Audio/Mic jack, Micro HDMI, USB 3.0 and power port
Tech Specs and Features - Not exactly a powerhouse but not quite a featherweight either
As an Ultrabook, it has to be relatively thin as well as light. The ZenBook UX305F definitely impresses in this aspect as it only weighs 1.2kg with a thickness of only 13mm. To put things into perspective, the Macbook Air 11 is around 16.8mm.
As far as specs go, this ZenBook UX305F comes with the following:
3-inch (1920 x 1080) 166 ppi AHVA matt anti-glare display
800 MHz Intel Core M-5Y10c (2 GHz Turbo) 2C, 4T
Intel HD Graphics 5300
8 GB 1600 MHz LPDDR3 RAM
128 GB SanDisk M.2 SSD
11a/b/g/n/ac 2x2 MIMO (Intel Wireless-AC 7265)
Bluetooth 4.0
3x USB 3.0
Micro HDMI
SD card
stereo speakers
9 Mp webcam
built-in mic
5 mm headset jack
UK tiled keyboard
105 x 73 mm buttonless trackpad
45 Wh lithium polymer battery
45 W wall adaptor
324 x 225 x 12.3–12.8 mm
1197 g
Performance - Portability over all else
For the sake of ease, I will split the performance review into 3 categories, home entertainment, work use and lastly gaming.
Home Entertainment
13.3-inch FHD display boasts excellent pictures
The first thing I would like to point out would be how beautiful the screen looks, the colours are vivid and the contrast is just right on the 13.3–inch full HD display. Watching my Netflix and browsing the internet has been a real pleasure to the eyes because of the dazzling colours the display provides. The stereo speakers though are not something to jump up and down about. Yes, the speakers are by ICEpower by Bang & Olufsen but the loudness is very much lacking. I find myself using earphones most of the time when watching my series. Oh, and the speakers are bizarrely positioned under the ZenBook UX305F, which further reduces the sound volume. Other than that though, everything else is perfectly fine.
General bottom view.
Bottom view. Position of stereo speaker (Right).
The Intel Core M holds up to most of my videos and minimal lag can be observed during normal use. However, noticeable moments of lag can be seen during heavy browsing. Like watching some YouTube while browsing online merchants and reading blogs. It also gets a bit hotter than what I'd like but this is mostly because of its fanless setup.
Benchmark comparison on PCMark 8, Home Conventional
According to the benchmarks though, the score is not very impressive but it is consistent with the performances I've seen thus far. The Core M somewhat lacks in processing power when handling large loads and thusly falls just short of some standard work PCs in the market. But hey, for the price of around RM2999, it's not the end of the world.
Work Use
Comfortable, integrated keyboard
A large touchpad
I have been using this thing for work for as long as I have worked here and I must say, the keyboard feels really good. It kind of reminds me of how the Macbook feels if I type long enough. All peripheral control buttons such as on/off button or the volume controls are all integrated on the keyboard layout. The touchpad is also of a good generous size and it really feels good to the touch to help with that pesky report that needs finishing.
This device was also designed for those working on-the-go, the lightweight and small build makes it a blessing to bring around. I can carry this thing anywhere without even feeling that its there. The impressive 45Whrs battery life also allows me to work in a Starbucks for hours without a charger.
The three USB 3.0 ports are a pleasure to have especially when I tend to transfer documents to and fro handheld to PC. Coupled with the built in 256GB SSD, I won't have to wait long for any transfers and lengthy boots. Using Word or Excel to do some work seems to be fine with no noticeable performance drops but try not to conference call while doing so; you will definitely see a lot of lag. Same goes for some light image editing (the beautiful screen really helps with image editing).
Gaming
Gaming benchmark comparison on 3DMark, Sky Diver
Here comes the tricky part. Clearly, this device was not manufactured with gaming in mind. The Intel® HD graphics 5300 was not known for its raw rendering power so I only ran it through the 3DMark Sky Diver benchmark. True enough, it could barely hold 7 FPS at a time. All in all, not a very impressive score but still acceptable.
Knowing this, I took the liberty of avoiding testing with some big name games such as Overwatch or Dota2. Instead, I tested with a more casual game; Minecraft.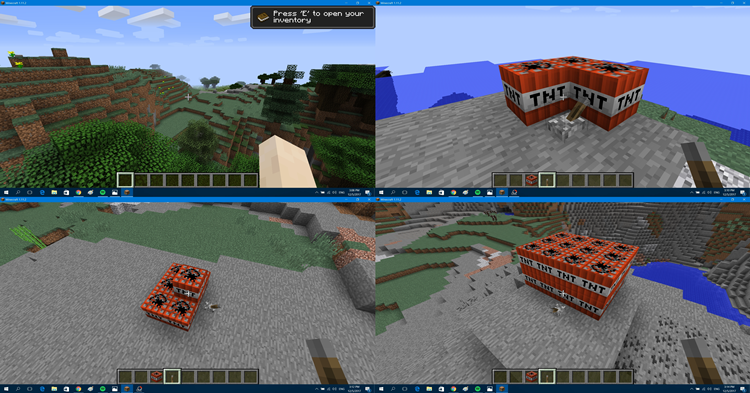 Performance testing with dynamite blocks on Minecraft
Walking around and mining was seemingly okay and I was able to hold up a good 60 FPS the whole time. Blocks tend to render considerably slower than I'd like but still very playable. So, I took it one step further by creating complex redstone circuits and blowing up different numbers of dynamites. The circuits managed to hold up pretty well but a drop of performance can be seen when blowing up large numbers of dynamite. Impressively, the game did not crash even after a detonation of around thirty blocks of dynamite. The PC temperature did rise up considerably though, might want to keep an eye on that.
Oh and those with gaming headsets with a microphone jack, you might want to consider getting an external soundcard or a USB mic adapter because this device only has one integrated 3.5mm Audio port for both audio and microphone.
Conclusion
I will be honest, when I first laid my hands on this device I thought it would be around RM3600 because of how great it looks in terms of finishing and build quality. So for around RM2999 this is quite a bargain, but for a home/work environment of course. I wouldn't recommend pro-gaming on this laptop anytime soon.
Pros: Highly portable, solid build, beautiful screen, decent performance
Cons: Gets a bit hot, soft sound system, lags at high loads
All in all, the ASUS ZenBook UX305F ultrabook is clearly built for individuals who like to have their laptops on the go with its lightweight portability and its great battery life. The beautiful screen and luxurious design also adds to aesthetic value and can also brighten up any room you decide to use it in.