ASUS ZenFone 5 LTE Review - A more premium ASUS ZenFone 5 with 4G LTE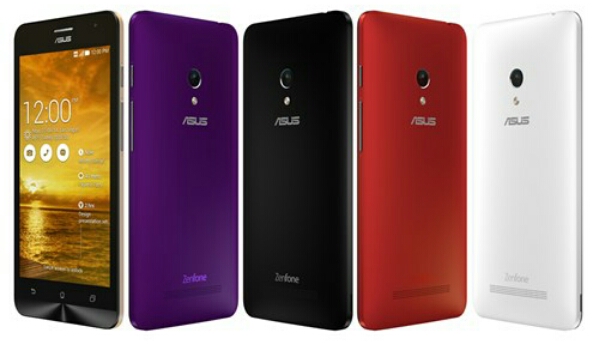 Versatile, powerful and affordably priced, the ASUS ZenFone 5 (A501CG) is currently one of the most well-balanced and versatile smartphones in the Malaysian market. So, what more could you ask from ASUS? 4G LTE? A non-Intel processor? This is exactly what ASUS hope to answer with the release of the ASUS ZenFone 5 LTE smartphone. While the ZenFone 5 LTE bears practically the same design how does it perform compared to it's 3G Intel powered smartphone sibling? To find out the answer to this and other questions, do check out our review of the ASUS ZenFone 5 LTE (A500KL) below.
Design - Nearly exactly the same
In our earlier review we remarked that the ASUS ZenFone 5 carries the most balanced design of the ZenFone smartphones because with a 5-inch display it isn't too big nor too small. The ASUS ZenFone 5 LTE doesn't change anything in this winning design apart from providing a very cool purple with a metallic sheen back cover. The well-balanced design remains the same, right down to the metallic concentric circle panel on the lower front part along with a thin side and rounded back cover. The purple coloured back cover is rubberized and fits nicely into the palm of your hand while the 8MP rear camera does not stick out like some other cameraphones.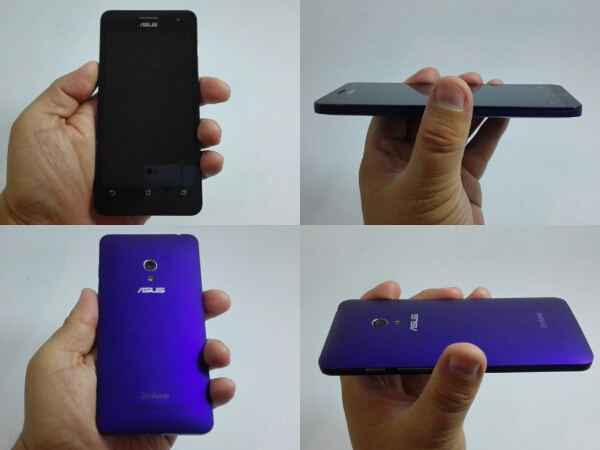 Asides from the metallic purple backside, everything else looks more or less the same, which isn't a bad thing since it still looks good
Physically, there are very little differences in terms of measurements with both smartphones weighin in at 145g. The 5-inch display still offers great 1280 x 720 pixel resolution covered by tough Corning Gorilla Glass 3, a feature shared by all ZenFones but not very many smartphones in this class. Both look very good and identical but the purple coloured back cover on our review unit really makes it stand out compared to the usual black, gold, red and white available on the standard ZenFone 5 (all of which are also available for the ZenFone 5 LTE).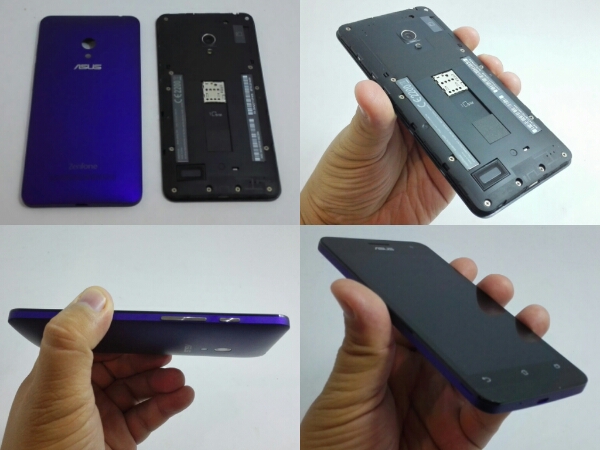 The ASUS ZenFone 5 LTE retains the same look and feel
Tech specs and Features - Decidedly more upscale with 4G LTE and a Qualcomm processor
Our recent unboxing video reveals that the ASUS ZenFone 5 LTE (A500KL) comes with a more premium looking pair of in-ear headphones compared to the standard headphones that come with the ZenFone 5. However, asides from some extra earbuds, nothing else is different in terms of packaging or included accessories. That being said, the ZenFone 5 LTE is powered by a Qualcomm Snapdragon 400 (MSM8926) processor and Adreno 305 graphics. This means that it also supports 4G LTE Cat4, but unlike the 3G-only ZenFone 5, the ZenFone 5 LTE only supports single-SIM. Everything else is practically the same, right down to the 2GB of RAM, 16GB of storage, GPS, 8MP PixelMaster rear camera, 2MP front camera and 2110 mAh battery. Granted, the ZenFone 5 LTE does come with Android 4.4 KitKat right out of the box, but the update for the ZenFone 5 is already available.
1.2GHz quad-core Qualcomm Snapdragon 400 (MSM8926) processor
2GB RAM
16GB storage + up to 64GB microSD
5-inch display (IPS, 720 x 1280 pixel resolution, Corning Gorilla Glass 3)
8MP rear camera (Sony BSI sensor, f/2.0, LED flash, 5-element lens) + 2MP front camera
Supports 4G LTE Cat4, single-SIM, 3G, WiFi, GPS, ASUS ZenUI
2110 mAh battery
Android 4.4 KitKat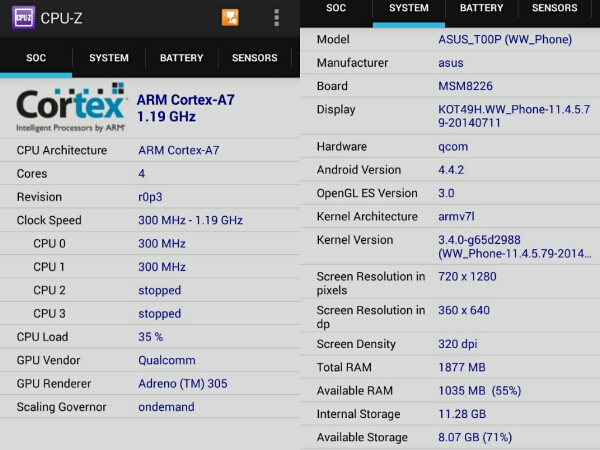 The tech specs clearly show the Qualcomm Snapdragon 400 processor in the ASUS ZenFone 5 LTE
Check out what comes bundled with the ASUS ZenFone 5 LTE with our unboxing video

As in previous ASUS ZenFone smartphones, quite a lot of the 16GB of storage is taken up by the ASUS ZenUI and all it's various features. At best, you only get about 11GB of the listed 16GB storage. As before, we found the UI to be better integrated than most, with smart features and a very robust camera. We did notice that the ZenFone 5 LTE does get a time-lapse video recording mode for it's 8MP rear camera but this update should be available for download if it isn't already in the system. We're still waiting for a slow-motion mode, but new updates should provide for it soon. The efficient power saver energy management tool remains our favourite but there are some other interesting features like Omlet Chat, SuperNote, Easy Mode and so forth. For the full tech spec comparison, check out our ASUS ZenFone 5 vs ZenFone 5 LTE tech spec comparison tool.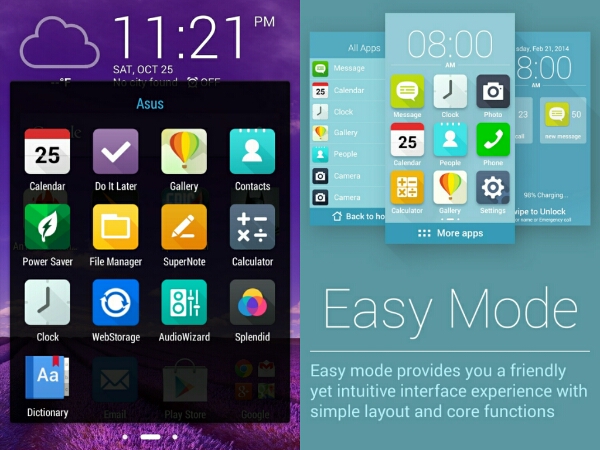 The bright purple theme and other ZenUI features are all there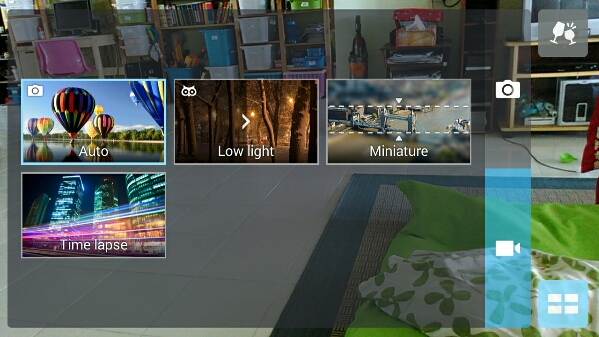 There is a new Time lapse feature for video recording

Performance - Better connectivity and battery, lower performing graphics
Performance-wise, the Qualcomm Snapdragon 400 processor on the ASUS ZenFone 5 LTE (A500KL) is a bit less powerful than the Intel Atom Z2560 on the standard ZenFone 5. The Adreno 305 graphics are not nearly as good as the PowerVR SGX544MP2 graphics on the ZenFone 5 and this is reflected in both our benchmarks as well as our real-life testing. For AnTuTu, the ZenFone 5 LTE got 18302 compared to the 19978 on the ZenFone 5. While Epic Citadel returns more or less the same results, 3DMark shows a significant decrease in 3D performance for the Adreno 305 compared to the PowerVR SGX544MP2.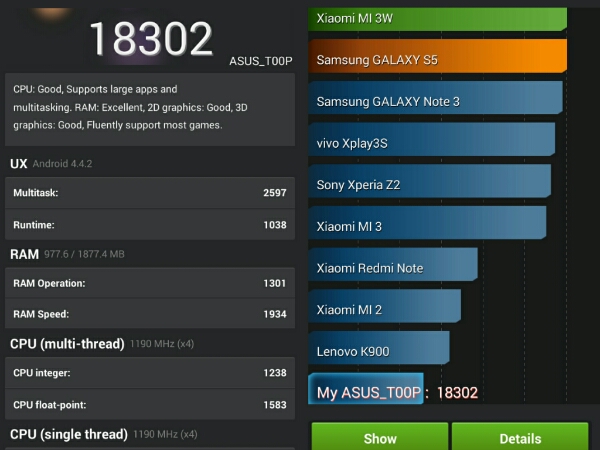 In AnTuTu the ASUS ZenFone 5 LTE scores a respectable 18302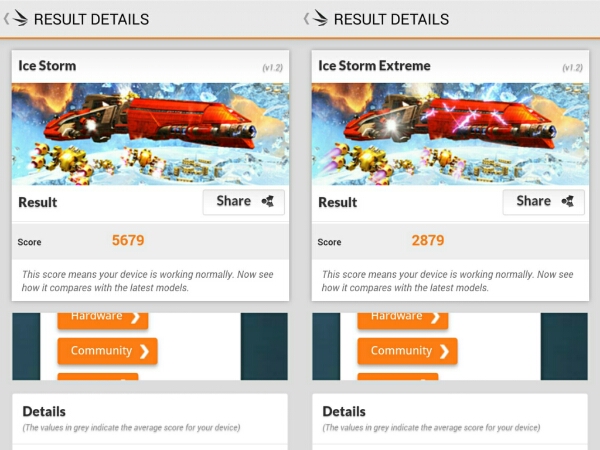 3DMark performance is lower than the standard ASUS ZenFone 5 but still respectable nonetheless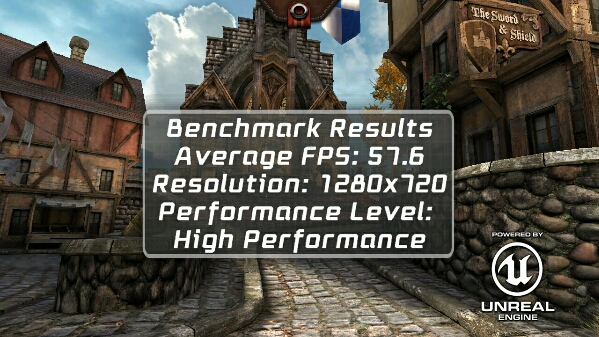 A score of 57.6 on Epic Citadel is still very good

This slightly lower graphics performance is shown in Asphalt 8: Airborne where there are no extra graphics effects like dust on the screen or a cracked and shattered screen when you wreck or crash your car. That is to say that the game works best on medium settings. This isn't to say that the Adreno 305 is bad at graphics though, as animation on Asphalt 8 is very smooth and lag free and we even got smooth performance on Batman Arkham Origins.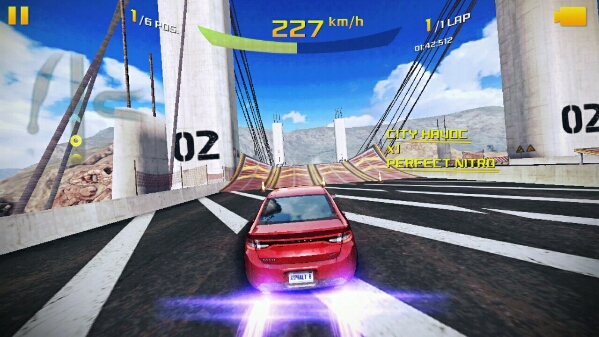 The performance on Asphalt 8 : Airborne is smooth and lag free on medium quality display settings
We found that the ZenFone 5 LTE does not get nearly as warm as the ZenFone 5 when running 3D graphics or playing long periods of time on a game. That being said, battery life for the ZenFone 5 LTE is a bit better than the original ZenFone 5, delivering about 7 to 10 hours on a single charge with heavy usage and more than a day on normal usage. Connectivity is also faster and more stable on the ZenFone 5 LTE as 4G LTE is certainly faster than 3G in the right location.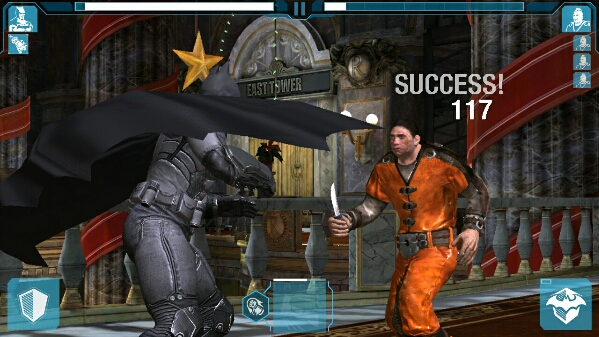 Even Batman Arkham Origins plays well, complete with swirling cape
As before, the 8MP PixelMaster rear camera is a very good high-end camera for the entry-level to midrange user. Thanks to the faster 8MP sensor, everything is caught well, even Time Rewind and the Low Light feature. There is still a difference in terms of resolution compared to the larger PixelMaster camera sensors but it should do well for the most part. As usual for the 8MP PixelMaster, while you can get a shot with the Low Light feature in the dark, the amount of noise in it makes everything rather blurry.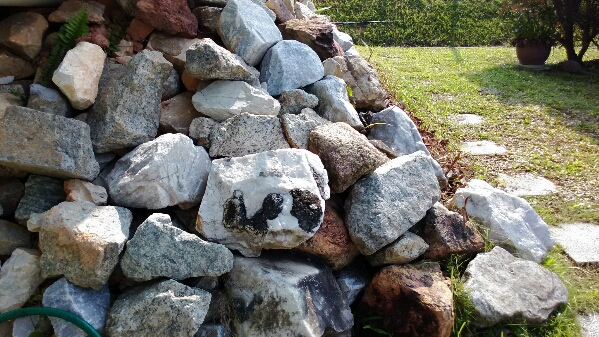 8MP, automatic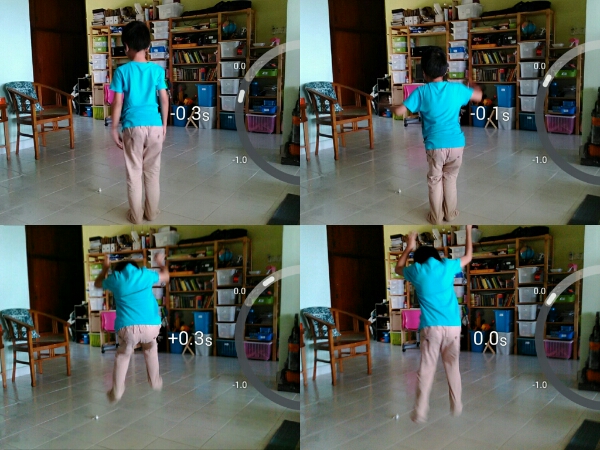 8MP, Time Rewind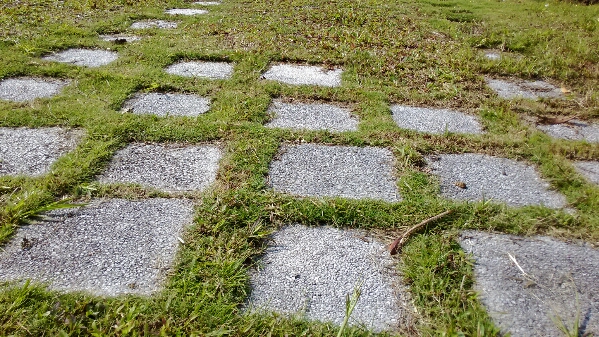 8MP, Automatic > HDR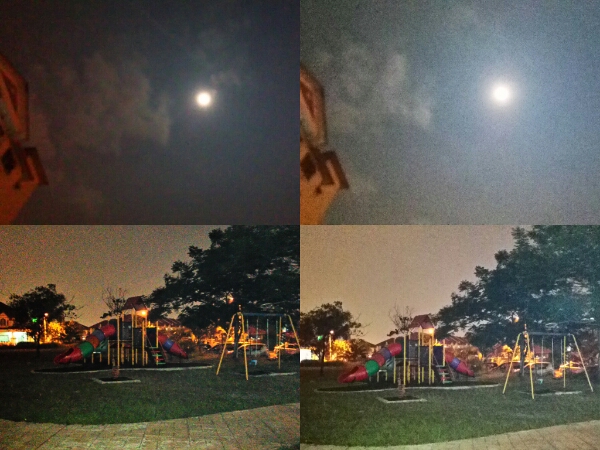 Normal and Low Light mode
Price - A bit higher than before
Initially, the ASUS ZenFone 5 LTE was priced at RM709, but already this pricing has been dropped down to as low as RM639 by certain third-party sellers. This pricing puts it in the RM600 range. Similar smartphones with 4G LTE include the Sony Xperia E3, Lenovo A916 and the OPPO Neo 5. Again, none of them offer the same number of premium features like Corning Gorilla Glass 3 or 2GB of RAM or 8MP PixelMaster rear camera, making the ZenFone 5 LTE a very good buy if you want an affordable but cool-looking 4G LTE smartphone. There isn't much difference in terms of pricing between the 3G version ZenFone 5 and the 4G LTE version ZenFone 5 and you also get a pair of better inner-ear earphones as well.
Conclusion - For those who want a 4G LTE ASUS ZenFone 5
Overall, the ASUS ZenFone 5 LTE (A500KL) is the ASUS ZenFone 5 smartphone you should get if you want 4G LTE and a little bit more battery life than the normal 3G version. There are drawbacks though, as performance-wise it doesn't perform as well as the normal ZenFone 5 smartphone especially when it comes to the graphics. Both ZenFone 5 smartphones still look great and the purple back cover of the ZenFone 5 LTE really looks striking compared to the other ZenFone 5 back covers. If you're looking for a capable 4G LTE smartphone with well rounded features and functions, then the ASUS ZenFone 5 LTE should definitely be on your consideration list.
Check out our hands-on video of the ASUS ZenFone 5 LTE
The ASUS ZenFone intro video
*TechNave.com would like to thank ASUS Malaysia for providing us with the ASUS ZenFone 5 LTE for this review. It allowed us to do a more in-depth review and highlight more features.