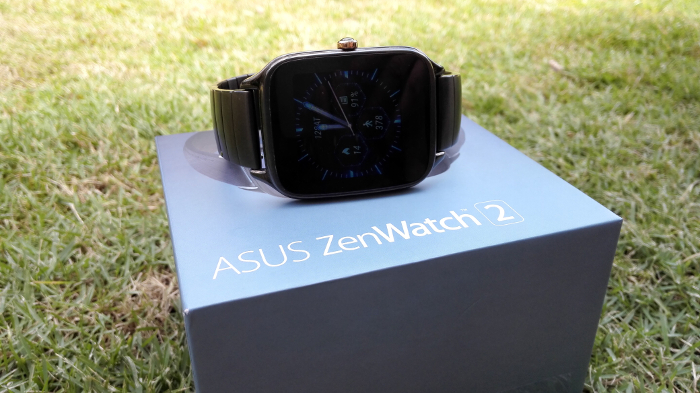 Most Android Wear smartwatches these days are round and don't do much more than what Android Wear allows you to do. Granted, you can do a lot more than before but if you've already tried out and Android Wear smartwatch, chances are the experience is more or less the same for most devices. Standing out from the growing crowd of round smartwatches is the ASUS ZenWatch 2, which retains its thin, slim and sleek rectangular body with a curved glass touchscreen. Filled with a whole bunch of new gesture driven commands and priced well below RM1000, is the ASUS ZenWatch 2 worth your while? Find out in our full review of the ASUS ZenWatch 2 below.
Design, Tech Specs and Features - Premium metal build with gestures
The first ASUS ZenWatch offered a rectangular build with a curved glass design and the ASUS ZenWatch 2 continues this with a slimmer and smaller look, while adding on a crown side home/power button which looks just like that of a more traditional premium watch. Our review unit was the larger gunmetal version for men (WI501Q) but there are also various other band options such as leather which can be swapped out without having to drop by the watch shop. The ZenWatch 2 feels very solid while the shiny bezels and slightly curved fingerprint-resistant screen adds a bit more class to the already sleek design.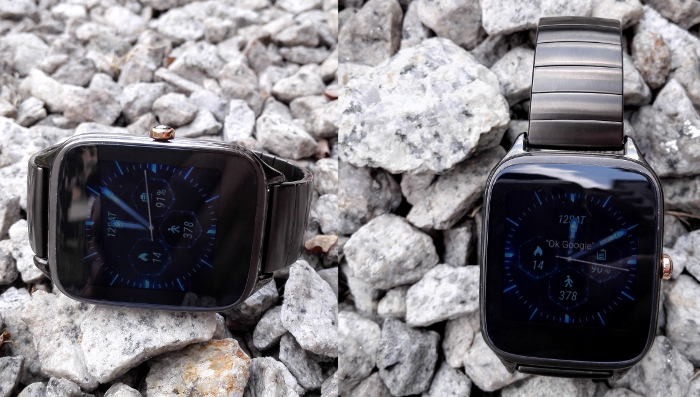 Premium looks and a clear screen even in sunlight for the ASUS ZenWatch 2
Here are the tech specs:
1.2GHz Qualcomm Snapdragon 400 processor
512MB RAM
4GB storage
1.64-inch 320x320 AMOLED display for WI501Q / 1.45-inch display for WI502Q
Features iP67 water resistant rating and 2.5D curved Corning Gorilla Glass 3
Supports 802.11 b/g WiFi, Bluetooth 4.1
400 mAh battery (non-removable)
49.6 x 40.7 x 10.9 mm
Android Wear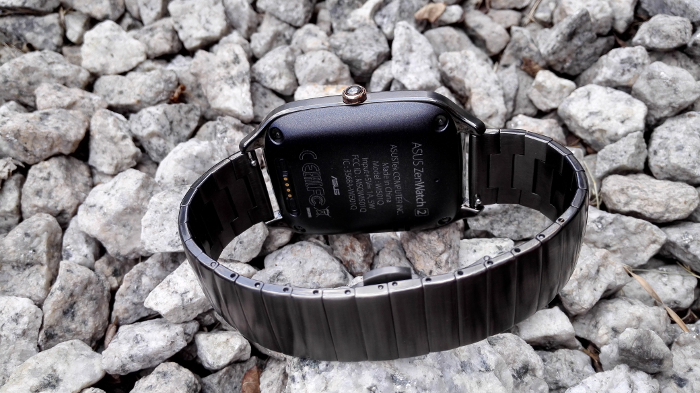 The ASUS ZenWatch 2 offers a premium stainless steel metal band with a new crown side button
Like the ZenWatch before it, the ZenWatch 2 is a companion device but this time around it tracks sleep and fitness stats on its own while displaying notifications. Thanks to recent events, it has a lot of different watch faces to choose from and you can even create your own or use your own photos. While it offers Android Wear functionality like using the Google Now feature to dictate or use voice commands, it also has an interesting gesture feature where you can scroll up or down, select an item or go back using the wrist gestures of just one hand, so you can basically control the ZenWatch 2 one-handed.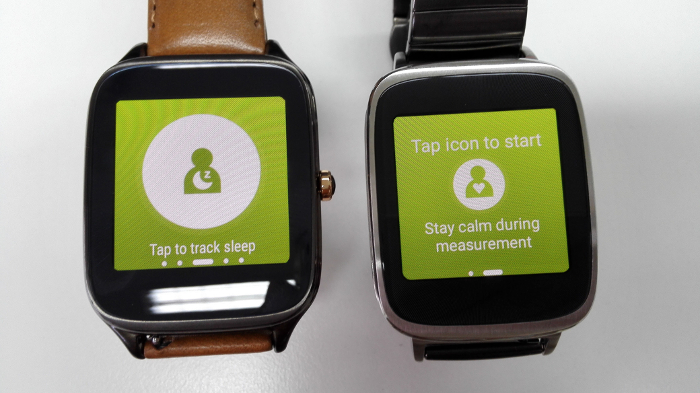 Straps are interchangeable between the ASUS ZenWatch and ASUS ZenWatch 2
WiFi is the biggest additional tech spec but this can turn off automatically to conserve battery life. If you got the ZenWatch leather version before this, you can swap out the ZenWatch 2 straps on your own. The new crown side button is useful as you can put the watch into cinema mode with a double push, wake it with a press or go back to the home screen. Covering the watch dims the backlight while silencing and hanging up on calls. This time around, the ZenWatch 2 has a magnetic cradle charger for easy and fast charging, unfortunately, it also means that it can get loose rather easily. The iP67 dust and water resistant rating means you can bring it in the rain or for a quick dunk or rinse without any issues.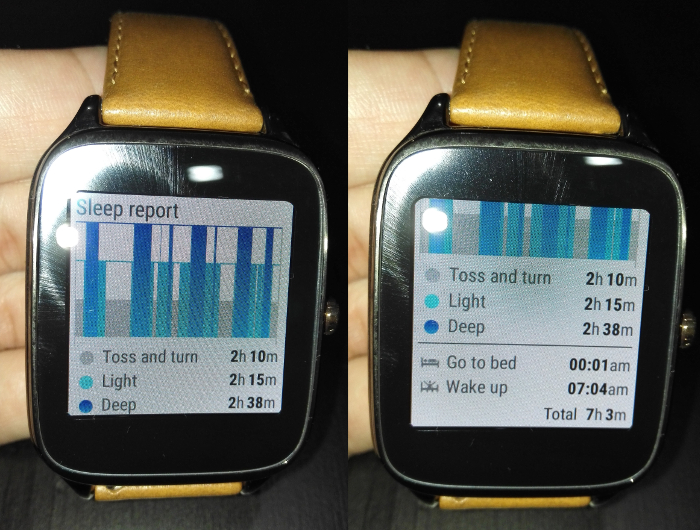 The ASUS ZenWatch 2 can track your sleep patterns
Performance - Feels like a premium watch, lasts more than a day
In terms of look and feel, the ASUS ZenWatch 2 feels as premium as a more traditional metal timepiece. It does not feel like a toy at all and looks like it should fit with any business suit or casual dress with no problems. Battery life has been improved somewhat and you can get about 13 to 15 hours on a single charge with the ZenWatch 2 Always-on feature activated. Turning this off gives you about 30 hours worth of battery life. Vibration is markedly stronger on the ZenWatch 2 but unfortunately (or fortunately for you guys) it doesn't fit my oversized wrist. Guys without hams for hands should find the ZenWatch 2 a perfect fit and the screen is clear and great to view even in sunlight.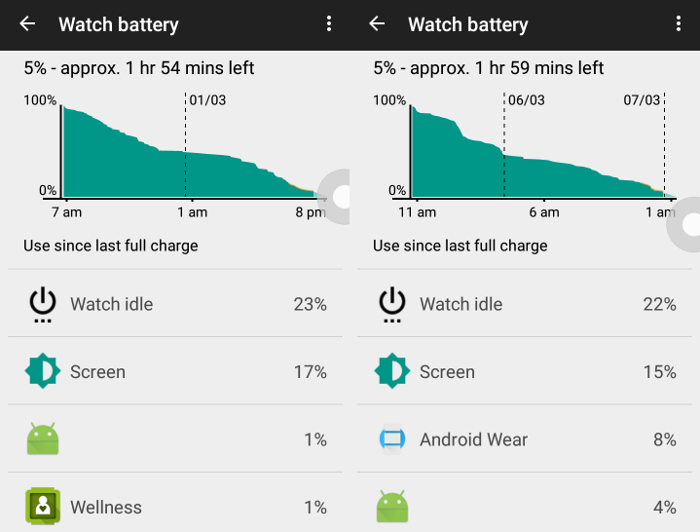 Improved battery life lets the ASUS ZenWatch 2 last longer than a day
Conclusion - Full metal splash proof Android Wear smartwatch with premium design and features but value pricing
Priced officially at RM899, there are few competitors that can match the sleek premium full metal looks and features of the ASUS ZenWatch 2 WI501Q and it should be perfect for your tech-savvy guy who wants a premium smartwatch. Battery life has been improved while the gesture driven features add on a bit more to this device than your normal smartwatch. The slim rectangular design should prove to be an awesome alternative for those who don't want a round smartwatch while the various customization options should make it great for those who want more options in their smart wearable devices.
*TechNave.com would like to thank ASUS Malaysia for providing us with the ASUS ZenWatch 2 WI501Q smartwatch for this review. It allowed us to do a more in-depth review and highlight more features.