ASUS Zenbook Pro review - A powerful & convenient laptop for working adults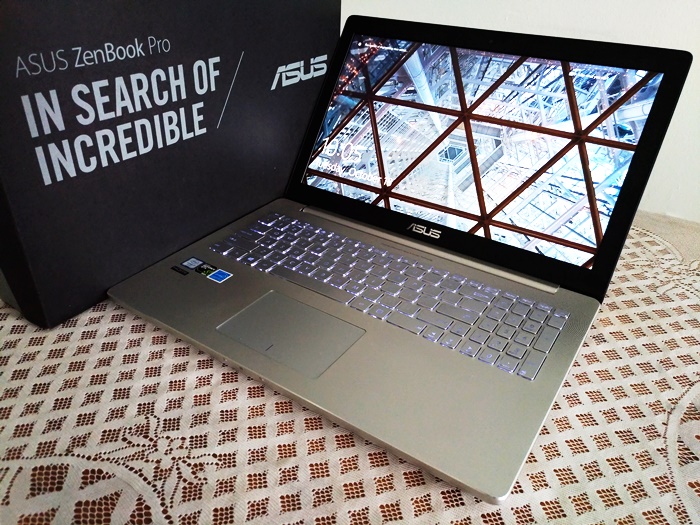 While smartphones nowadays are the popular devices in the market now, that doesn't mean the laptops and notebooks have gone away. Today in this review article, we have the ASUS Zenbook Pro (UX501V, not the UX501VW model, more on that later in the Features section) notebook with us and this magnificent lightweight beast costs a hefty RM6599 according to their ASUS Product Guide magazine. Expensive? Indeed, but why? Well, that's what we're going to find out.
Design - Portable and polished
Coming in with a large 15.6-inch display, the Zenbook Pro has a very nice and polished look. Made in all-metal with chamfered edges, the overall design looks simple and although it's not one of the lightest laptops around, it still feels light nonetheless at 2.06kg, making it quite a compact device to bring around to game or work and edit videos when travelling.
The design on top
(L-R) The audio jack, SD card slot, and two USB 3.0 ports
(L-R) Power port, USB 3.0, HDMI port and a USB Type-C port
(L-R) The RG 45 cable inside the plastic package, a strap, the battery cable, manual book, screen wiper and the battery adapter
Soft package for the laptop
On the keyboard layout, it has a wide layout for your palms to rest and also comes with a numerical keypad which many laptops don't have. But for me, it's kind of redundant because I don't use it a lot, however, for those who works on Excel or Google Sheet will definitely find it useful. Moreover, the keyboard has backlighting for you to type if you happen to use it in a dark place, like on the move in a train or plane.
Keyboard highlight
Trying to lower the volume with one hand (the struggle is real)
One of the things I don't like about the keyboard layout is having to press Fn for controlling the brightness, keyboard lighting and volume. Like, it's kind of a hassle to use two fingers to control, especially the volume button that's placed so far away, you could argue I can just use two hands, but why use two fingers when I can just use one finger on my Lenovo laptop? Just saying.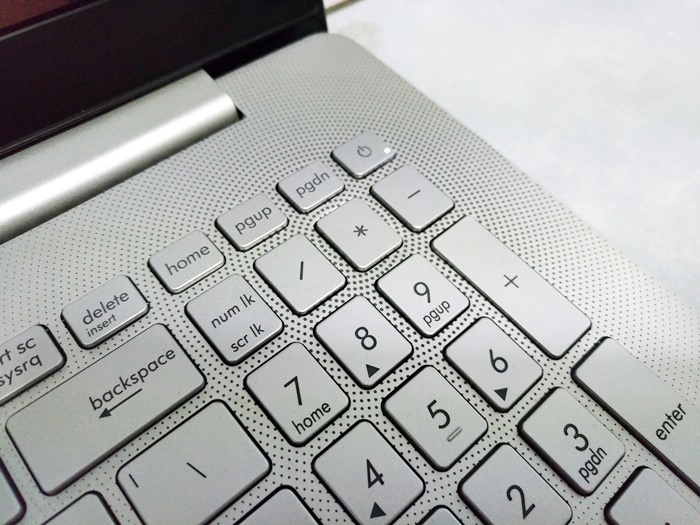 The speaker located on the numerical keypad, there's another one at the other end too
Moving on, another thing I'd like to point out is the audio speaker. I'm sure you noticed the nice design on top of the keyboard thinking that it's the only Bangs and Olufsen speakers, but that's not really the main speaker (#gasp).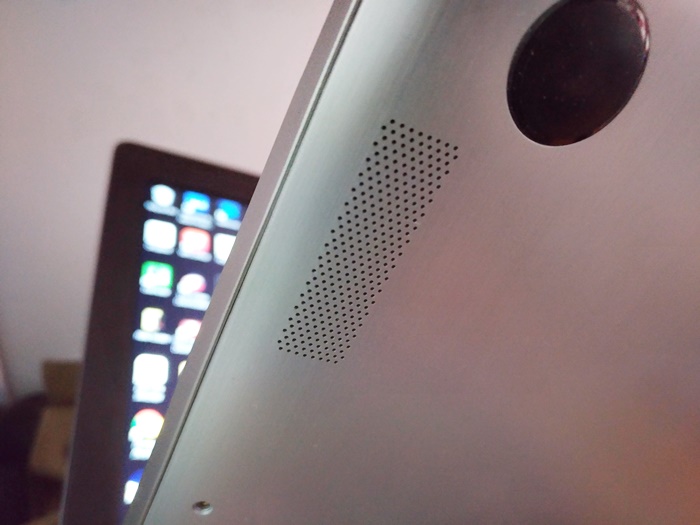 These are the main ones (there's another one on the other end)
To add on to that, the volume output is uneven. For example, watching YouTube videos with it sounds good, but when it comes to watching movies (the downloaded ones), the volume is quite low for some reason. This forces the user to use earphones or headset to listen, also, if you're the type that watches a lot of videos on the bed or cushion, it won't be loud enough for you because of the way the speakers are positioned, even if the volume is maximized.
Tech Specs and Features - High performing but lacking features
Here are the ASUS Zenbook Pro specifications
Processor - Intel Core i7 6700HQ Processor
Operating System - Windows 10 Home, Windows 10 Pro
Chipset - Intel HM170 Chipset
Memory - DDR4 2133 MHz SDRAM, up to 16GB, OnBoard Memory 8 GB , 1x DIMM socket
Display - 15.6-inch 16:9 IPS FHD (1920x1080) Asus Splendid Video Intelligent Technology, Zero Bright Dot
Graphic - NVIDIA GeForce GTX 960M with 2G/4G GDDR5 VRAM
Storage - 2.5-inch 7mm SATA3 (1TB HDD 5400 RPM / 128GB SSD / 256GB SSD / PCIE x 4 512G)
Card Reader - 2 -in-1 card reader ( SD/ SDXC/ MMC)
Camera - HD Web Camera
Networking - Integrated 802.11 b/g/n or 802.11 ac, Built-in Bluetooth, V4.0, 10/100 Base T
Interface - 1 x Microphone-in/Headphone-out jack, 1 x USB 3.1 TYPE C port(s), 3 x USB 3.0 port(s), 1 x HDMI, 1 x Thunderbolt port
Audio - Built-in Stereo W Speakers And Array Microphone, Bang & Olufsen, Support Windows 10 Cortana with Voice
Battery - 96 Whrs, 60 Whrs
Power Adapter
Output : 19 V DC, 6.32 A,
Input : 100 -240 V AC, 50/60 Hz universal
Dimensions ~ 383 x 255 x 20.6 ~21.3 mm (WxDxH)
Weight ~ 2.06 kg with Battery
Certificates ~ UL, TUV, FCC Compliance, BSMI, Australia C-TICK / NZ A-Tick Compliance, CCC, CB, Energy star, RoHS, JATE
In the features corner, there isn't much to talk about, but I guess we can start with the ASUS Webstorage. As the name implies, it works exactly like Apple's iCloud system, allowing you to store your important data there. There's also an Eye Care Switcher which is designed to protect your eye from the display, so that's nice.
ASUS Webstorage
Also, since this model is the UX501X and not the UX501XW, it's lacking a touch screen feature. So no touch screen experience for me, but even if there is one, I don't think I'd be using it as much. Other than that, other features belong to the Windows 10 which most of you are already familiar by now, such as Cortana which was efficient.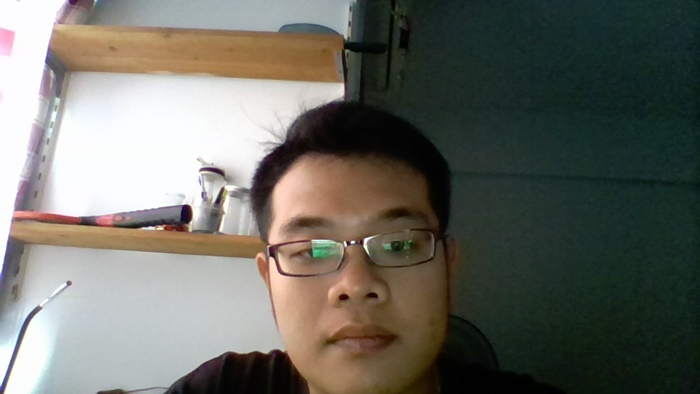 Oh yeah, there's a camera at the front too. Quality is quite grainy, but at least it's good enough for webcam and making conference calls.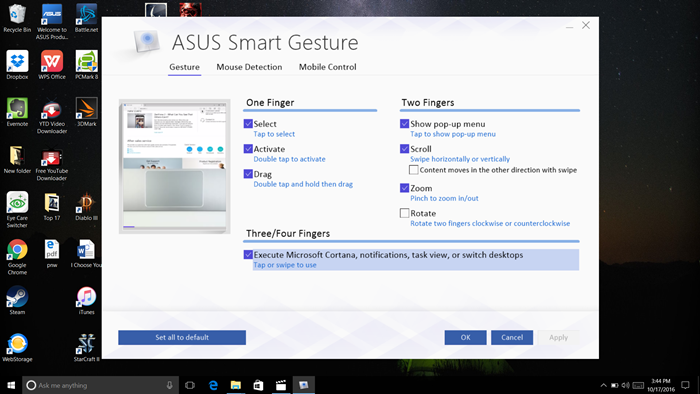 Smart Gesture setup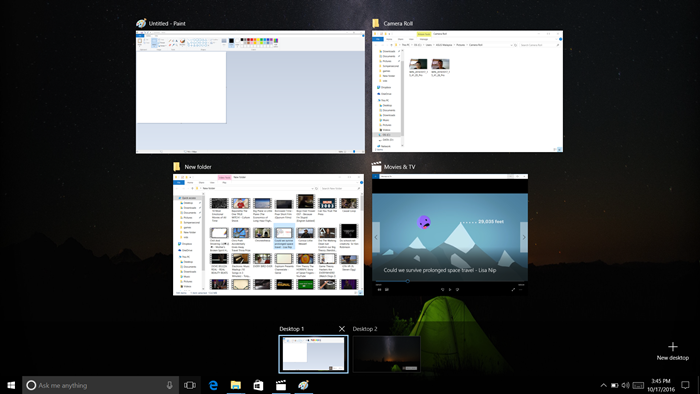 Dual desktop setup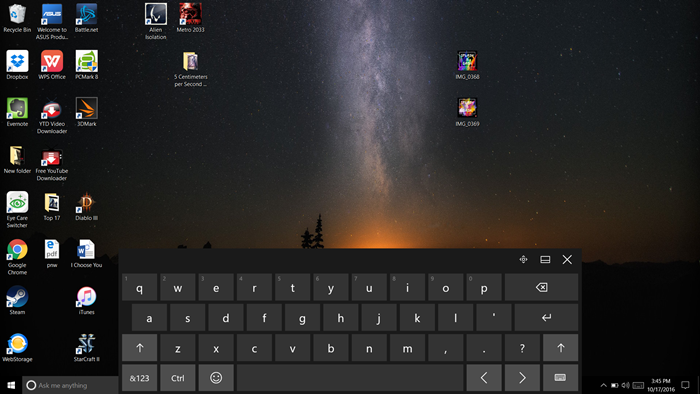 Virtual keyboard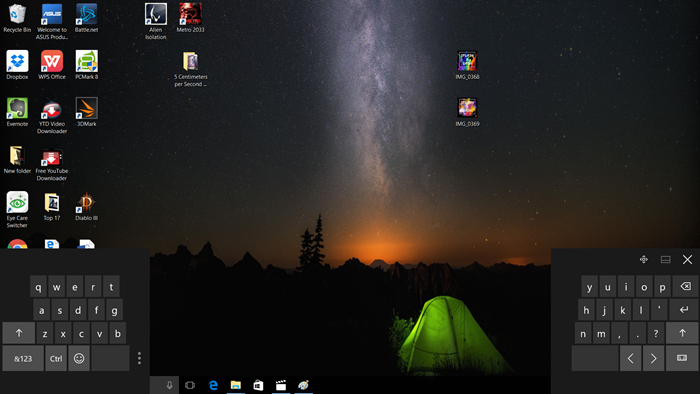 Virtual keyboard version 2
Mic recording!
Performance - A consumer laptop that exceeds gaming performance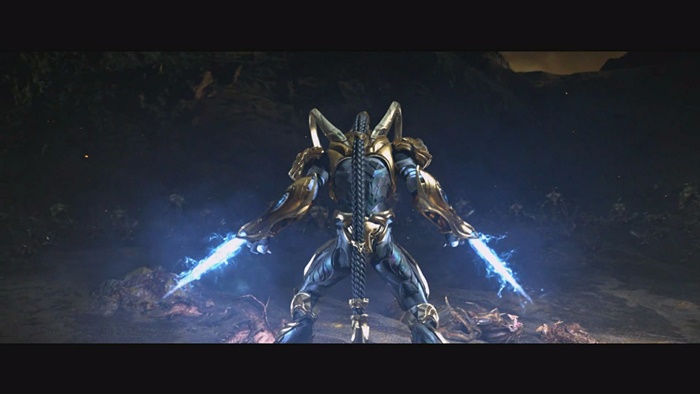 Ah, now onto the performance section. Packing with Intel Core i7 6700HQ Processor and GeForce GTX 960M, this laptop is capable of playing high-end games easily such as Metro 2033 on the highest setting. So if it can play that game, you'd be sure that it can play other games in the same class without much worries.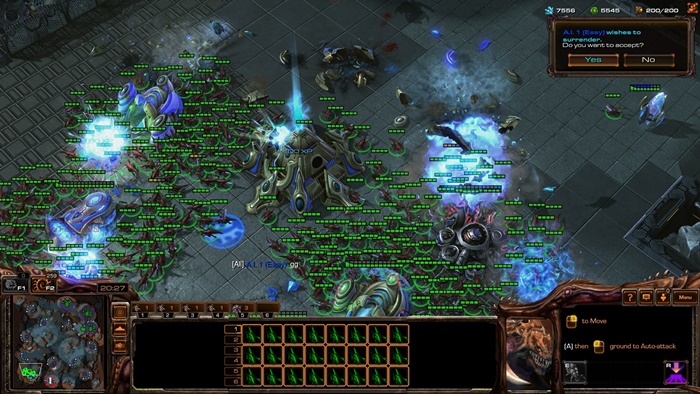 No lagging problems even commanding 259 Zerglings on screen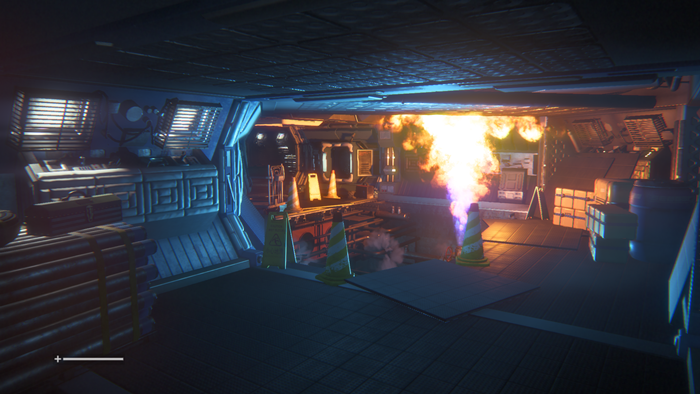 Screenshot of Alien: Isolation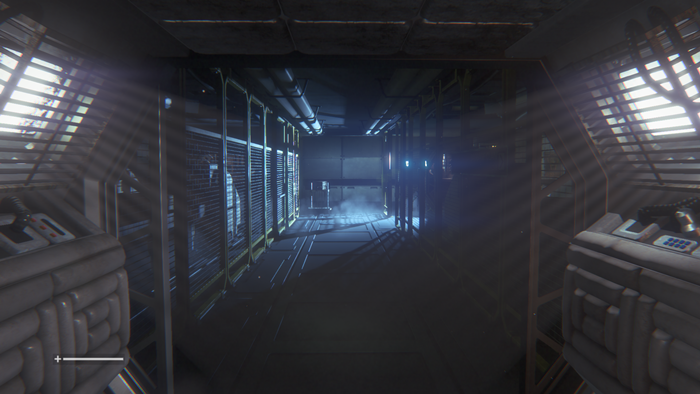 Screenshot no.2 of Alien: Isolation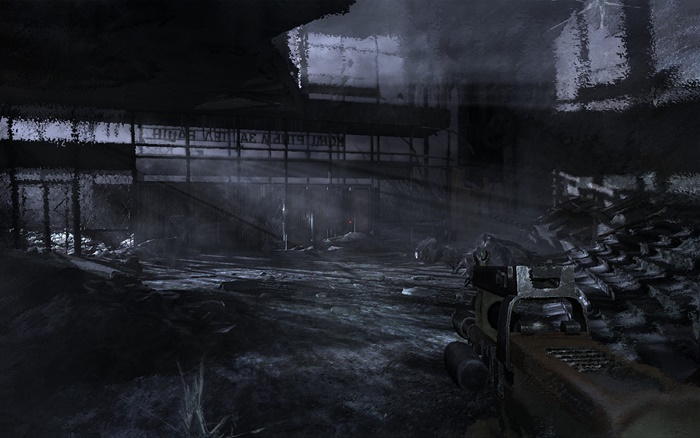 Metro 2033 screenshot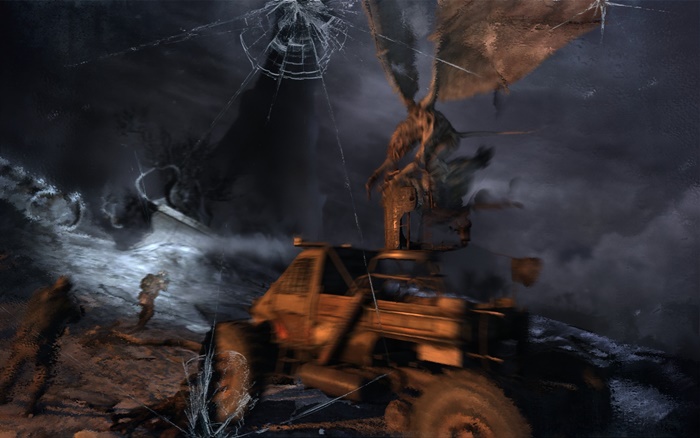 Metro 2033 cutscene screenshot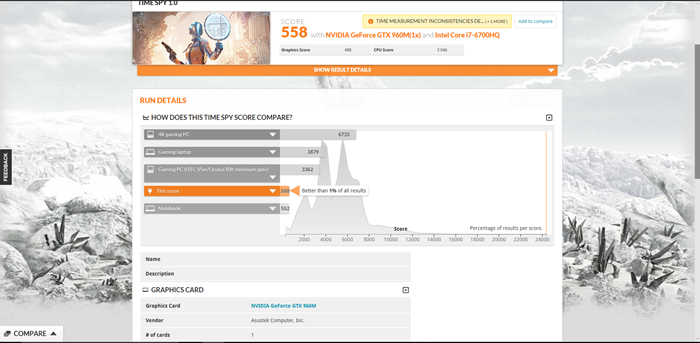 3DMark 2 score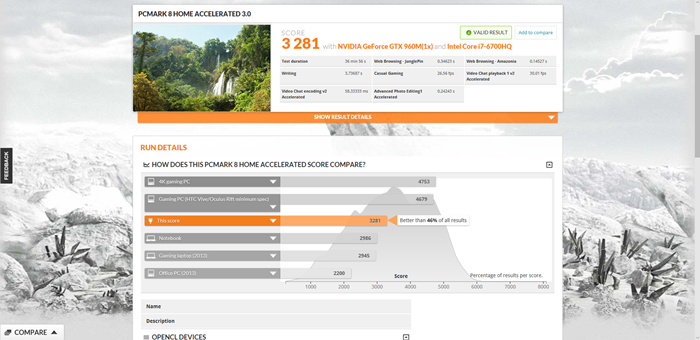 PCMark 8 score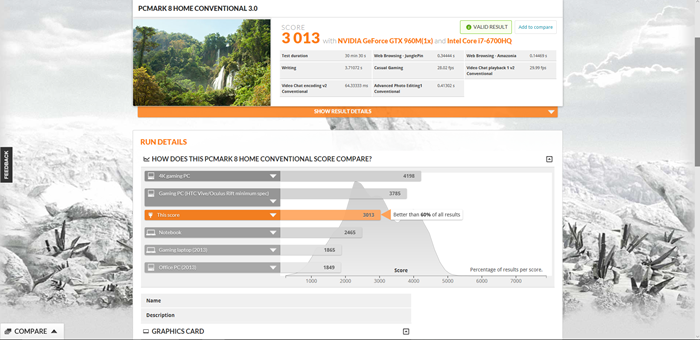 PCMark 8 score 2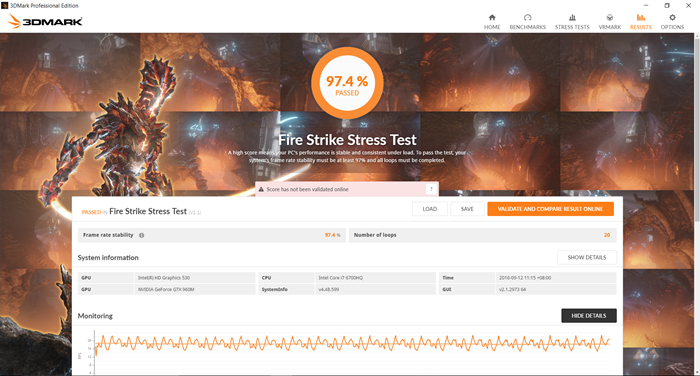 Stress Test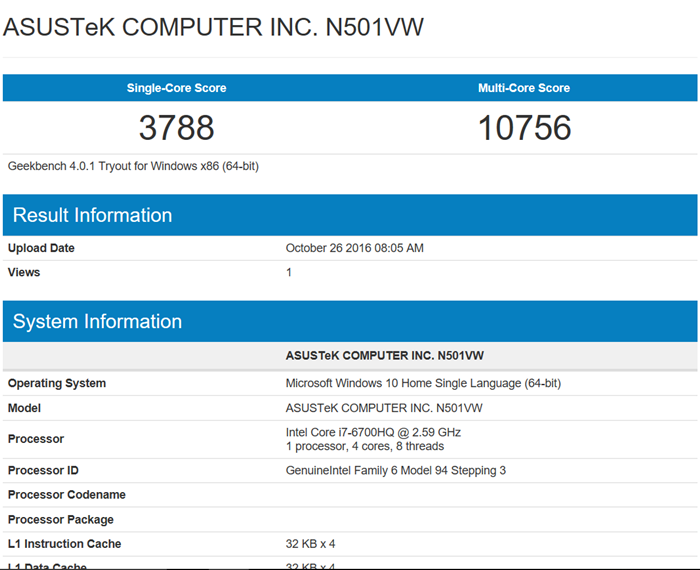 Geekbench score for single-core and multi-core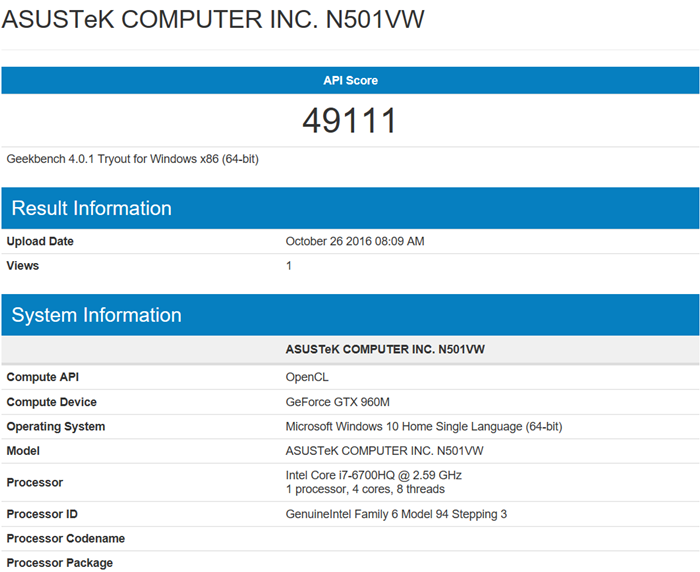 Geekbench score for API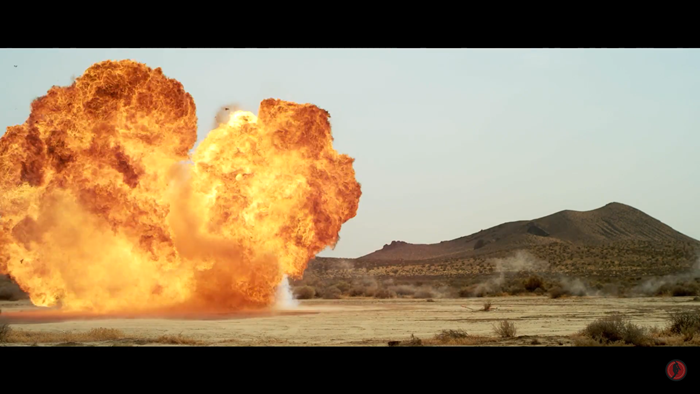 Of course, it won't be complete without watching some explosion on YouTube (1080p)
In addition, battery life is quite spot on as well, being able to last around 6 hours or more if you're just doing everyday-tasks, but drains quickly when playing intensely. In just one hour without the power plugged in, 70% of battery energy can easily disappear, which is expected. The cooling fan can get a little bit noisy when you're in quiet room as well, but you probably won't be bothered by it much when gaming with your earphones or gaming headgear for the immersion; playing games with the surround sound in the open just doesn't cut it.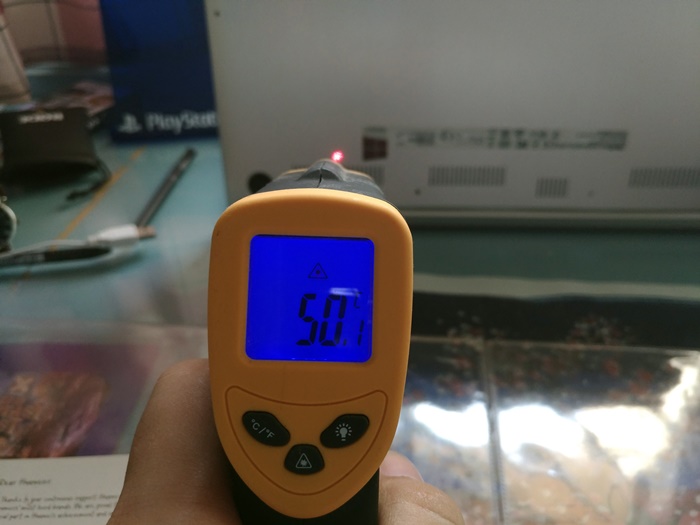 This heat reading is just the beginning when you start gaming for a few minutes
A bit off topic here, I think it's also worth mentioning that the Zenbook Pro UX501VW (not the UX501V that we have) model can also handle 4K video editing quite well according to other online sources (for example, this video editor's review). With the given specifications and hardware (featuring IPS UHD in 3840 x 2160 resolution), I think it shouldn't come as a surprise and this also proves that it's convenient for video editors to edit their videos on-the-go, which should prove useful for wedding crews in Malaysia.
Conclusion - Best suited for users who travel and work a lot
So, what do we think of the Zenbook Pro overall? Well after taking into all of the considerations mentioned above (high-end specifications, extra numerical keypads, lightweight and solid design). We think that it's best served for customers who travels often and wants a balance between work and play (and video editing), which is why the Zenbook Pro is perfect for them.
By all means, it's not up on par with those pure gaming laptops like the ROG lineup, but it's still good enough to play several games on ultra settings. However, we do ponder a bit about the design of the volume button position on the keyboard, the not-so-consistent volume speaker range, as well as the usage of the tablet mode if they get the UX501VW model.
Anyway, for its price of RM6599, it's safe to say that the price is justified, but only if you fit into our description of a user who needs to work and play hard.
Know anyone else using a Zenbook Pro? Thanks for reading and as always, stay tuned for more reviews at Technave.com.