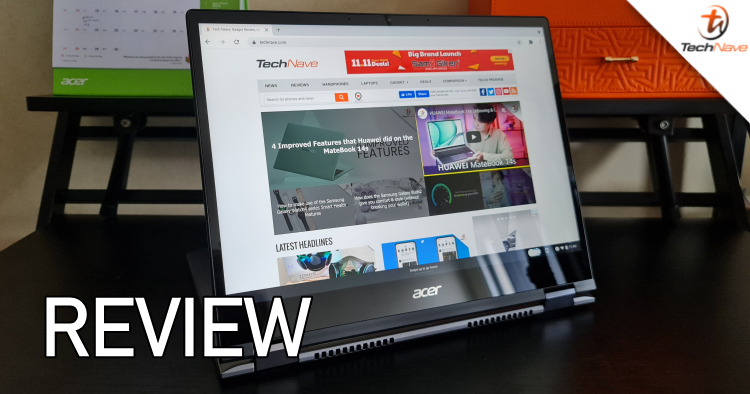 As Internet speeds are becoming more stable and everyone is getting online, Chromebook laptops are coming back in a big way, especially for Malaysia. If you've been looking for a tough but powerful Chromebook laptop convertible then you should probably give the Acer Chromebook Spin 713 a spin as well. See if it's the one for you in our review below.
In terms of design, the Acer Chromebook Spin 713 doesn't differ much from most thin and light convertibles. At 1.37kg it is quite lightweight for a laptop but the body feels surprisingly tough and solid, testament perhaps to the MIL-STD 810H shock and drop resistance certification that it has. Like most Acer Spin laptops, the hinge allows you to flip the display to the other side, allowing you to make it into a tablet, a display only mode, tent mode and so forth. The slim power button and volume rocker are placed on the side but there doesn't seem to be any fingerprint sensor.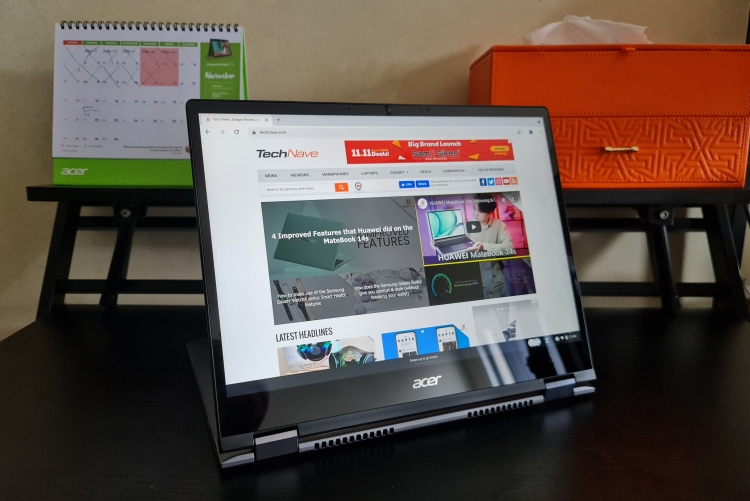 The Acer Chromebook Spin 713 can be flipped into various modes
The top surface of the Acer Chromebook Spin 713 is matte, so it won't collect any pesky fingerprints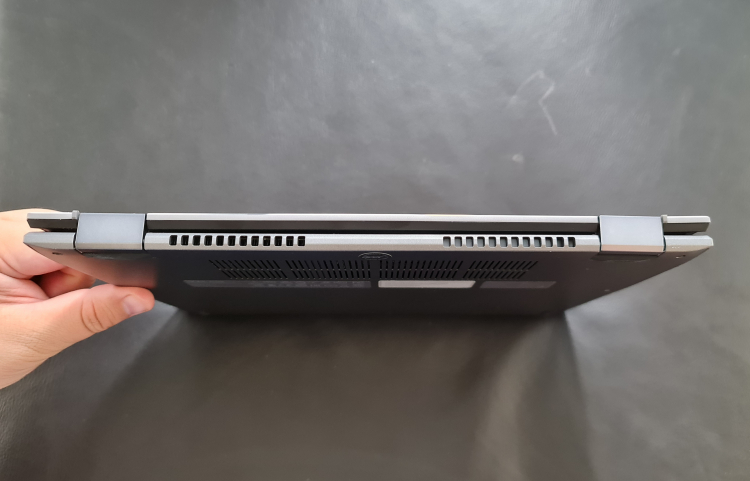 The rear has plenty of exhaust vents, so the laptop stays cool and silent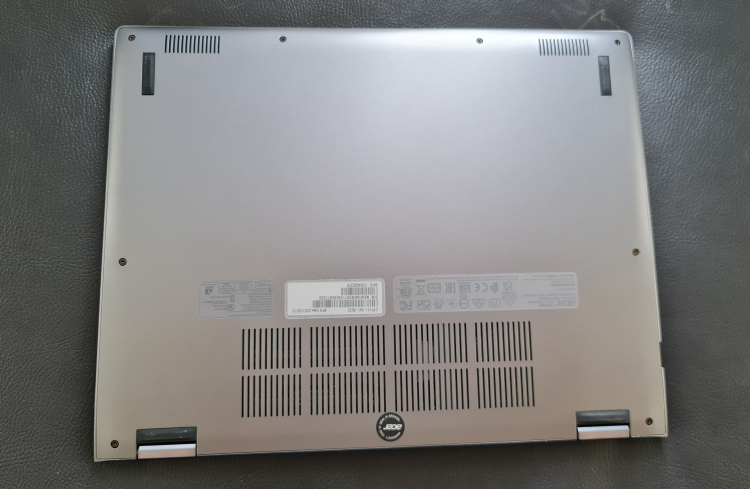 The underside of the laptop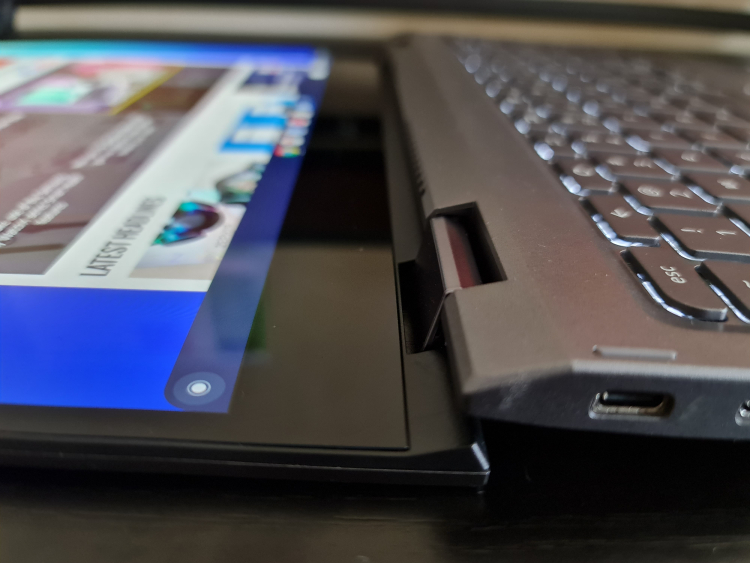 The hinge is what allows the laptop to become a convertible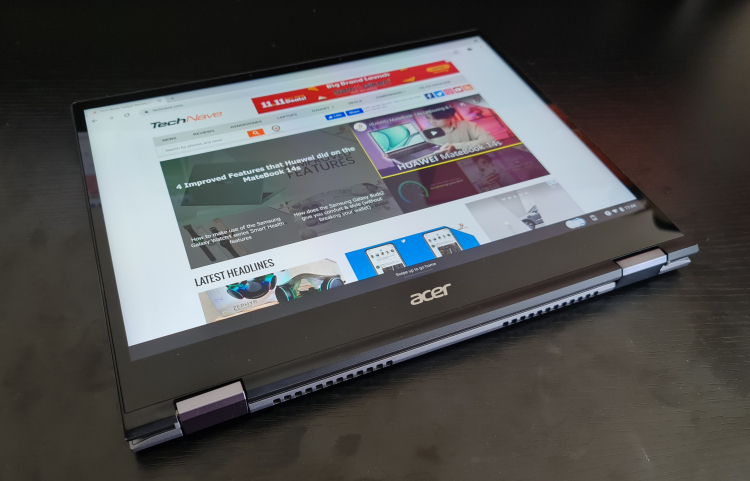 Is this the Acer Chromebook Spin 713's final form ~ a tablet?
Featuring a 13.5-inch IPS VertiView Display, the 3:2 aspect ratio does make it easier to scroll down and see more on the screen, despite the fact that the chassis is actually slightly smaller than a normal 14-inch laptop. The side bezels for the display are surprisingly thin considering how big the chin and forehead are but it feels like a much bigger display than most 15-inch widescreens.
The tenkeyless keyboard lights-up when needed and there are no fn or function keys. Instead, dedicated keys for functions like the Chrome App drawer, screenshot, brightness, volume, fullscreen, back and recent apps are available. This results in slightly bigger chiclet keys (particularly for ctrl and shift) that are fairly comfortable to type with but do feel a bit shallow compared to say a normal keyboard.
There's a large touchpad that ensures enough space for the wrists when typing, and the dedicated Chrome OS keys are wider than usual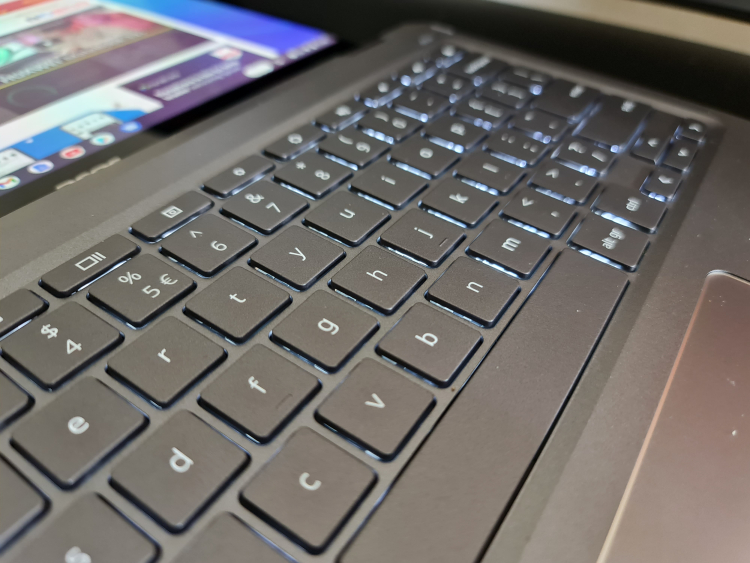 The chiclet keys are backlit for when you need some light near your fingertips
The touchpad is very large, which is one feature that I do like a lot, not only because there's more space for gestures and the like, but also because this means there's more space for the wrists. Due to this there's also less likelihood of accidentally pressing the touchpad, so it is a very nice design feature from a productivity standpoint. The dts audio performance is just above average but at least it's not tinny. It's good enough for one person listening in front of the laptop and maybe a small meeting room which is certainly better than most laptops.
The Spin 713 is powered by 11th Gen Intel Core processors and ours was the Core i5 with 2x Thunderbolt 4 / USB Type C ports, 1x USB Type A 3.0 port, 1x HDMI port, 1x 3.5mm audio jack and a 1x microSD flash memory card reader. The 1280 x 720 pixel HDR webcam needs a good deal of natural light though. Without it, you may end up with rather dark pictures or videos. However, provided there's enough light it should be clear enough for most online meetings.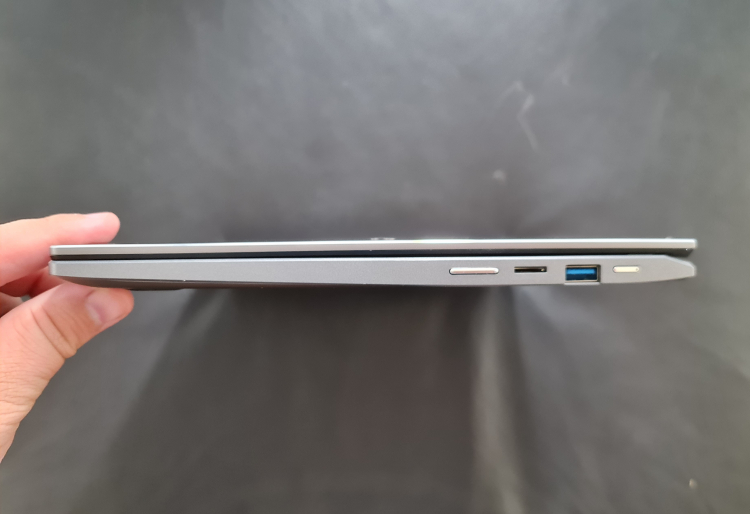 The laptop is quite thin. On this side, there's the power button, volume rocker, microSD card reader and a USB 3.0 Type A port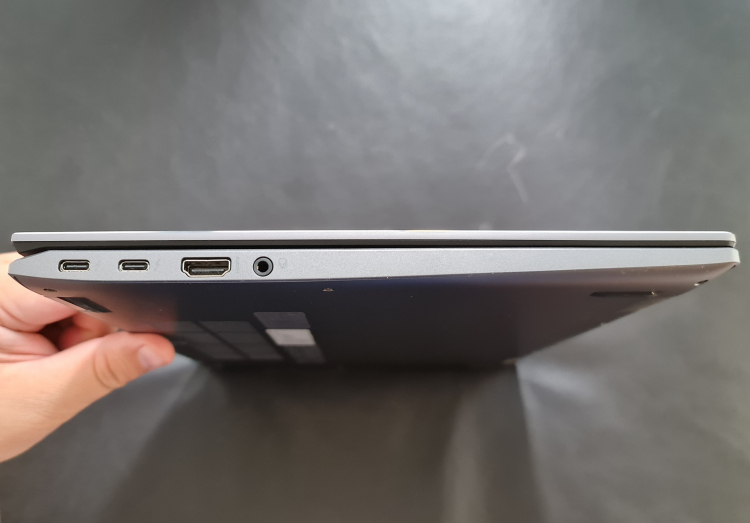 On this side, there's 2x Thunderbolt 4 / USB Type C ports, a HDMI port and a 3.5mm audio jack
Performance-wise, the Spin 713 is satisfying for a Chromebook laptop with pretty good scores in our usual benchmarks. Trying it out on Asphalt 9, graphics were smooth and detailed but there was some flickering instability in the loading scenes, perhaps due to the Chrome OS. Call of Duty Mobile didn't run at all though, but for games that don't have keyboard support or mouse support, playing it on the Spin 713 means having to use it on the 13.5-inch display as a 1.37kg tablet (your arms will get tired very fast).
Battery life for the Spin 713 is just awesome. Despite Chrome OS saying it would last 4 hours or so on a full charge, I found the laptop lasting well over 1 day and a bit more or so on normal to heavy usage and a week or more on intermittent usage. WiFi connectivity was strong and stable while the display was clear, vibrant and detailed. We did not do any drop tests to try out the MIL-STD 810H certification, but it should be a good alternative for users who have butterfingers or work in tougher environments.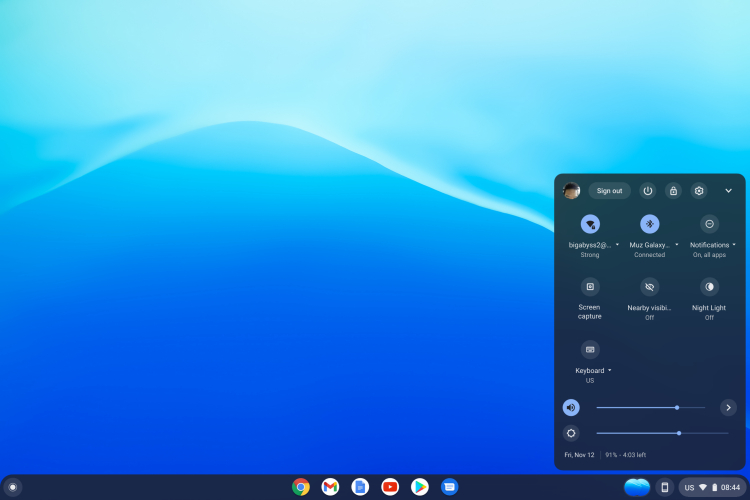 The Acer Chromebook Spin 713 runs on Chrome OS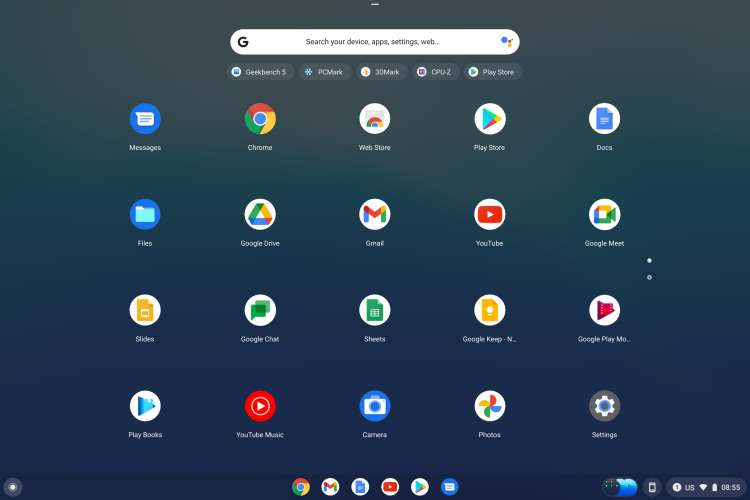 There's almost no bloatware at all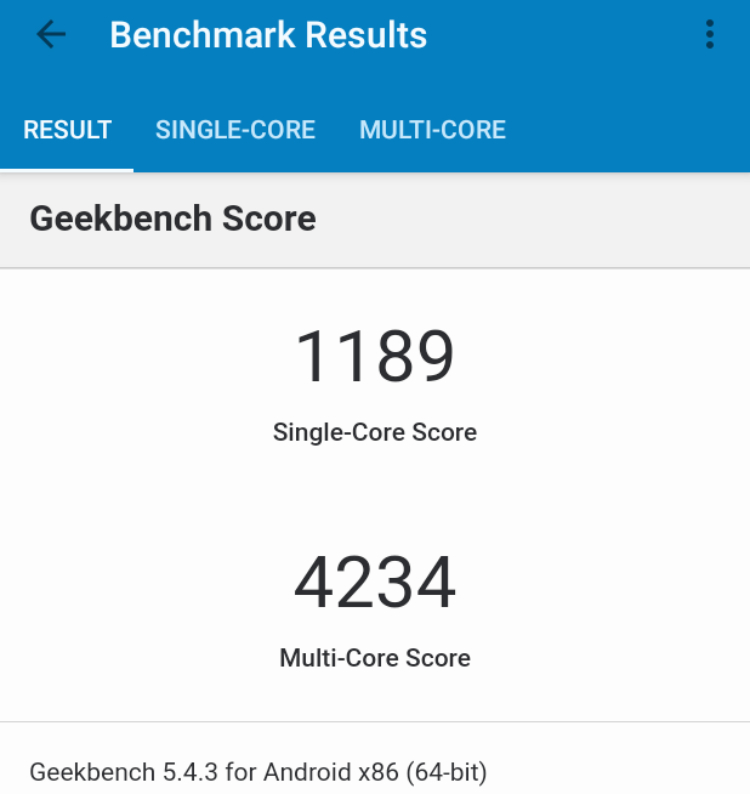 Geekbench 5.0 scores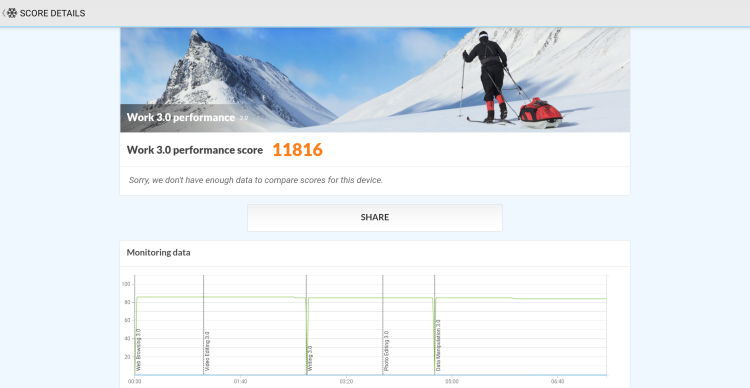 PCMark scores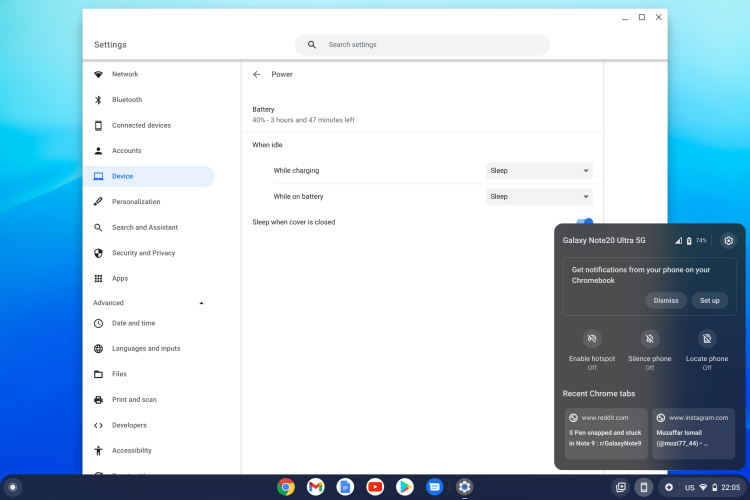 You can link your phone to the Acer Chromebook Spin 713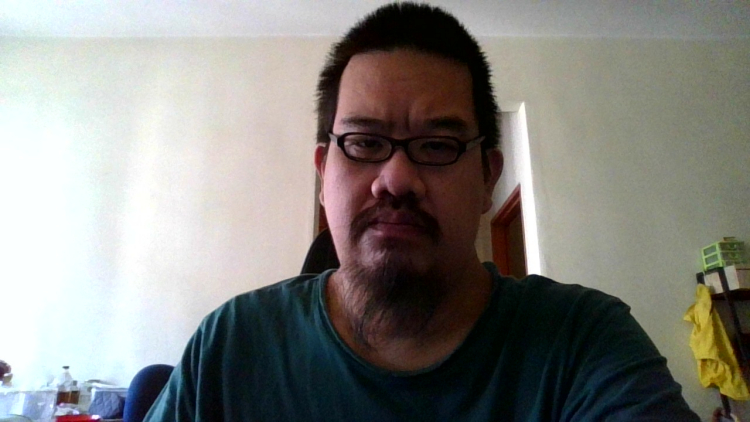 The Webcam needs a bit more light but it's enough for most online meetings ~ this is my resting face
You can still game pretty well on Asphalt 9 and the Acer Chromebook Spin 713
Overall, the Acer Chromebook Spin 713 (CP713-3W-503Z) offers excellent performance for a Chromebook laptop. While some apps and games won't run, the laptop delivers in both productivity and entertainment very well. However, with its price tag from RM3799, it is in direct contention with other entry-level to midrange laptops so this laptop is probably only for you if you have good all-round Internet connectivity and like to work with Google's Chrome OS. If you're a Windows user, the learning curve may be a bit too demanding or your usual apps may not work the way they used to, even if the Spin 713's tech specs beat out the hardware of most Windows or Chromebook laptops in this price range.
Like most Chromebooks and other Android run devices, how well you work depends a lot more on the apps you're using than the actual hardware. While the hardware on the Spin 713 does ensure smooth performance, you're still going to lose out on certain features, for example for Photo and video editing or other applications that traditionally run on a PC. While most games will also run fairly smoothly, the lack of keyboard support also means that even though you might be able to run Genshin Impact smoothly on the Spin 713's tablet mode, it's not easy or comfortable to do so.
The Acer Chromebook Spin 713 is thin, light and tough but a bit generic looking
That being said, the Spin 713 should be a good productivity machine for people who are using Google Docs and other Google apps, especially working executives and students. I found that it could handle everything I threw at it, including writing this review, editing images and online meetings, so it should be just as good for those using Google Classroom to learn or play.
So, would you be interested in a tough but powerful Chromebook laptop? Are you planning to buy the Acer Chromebook Spin 713 or know anyone who has? Let us know your experience on our Facebook page and stay tuned to TechNave.com
Tech Specs and features
Here are the tech specs and features for the Acer Chromebook Spin 713 (CP713-3W-503Z):
11th Gen Intel Core i5-1135G7 processor

8GB RAM

256GB PCIe NVMe SSD + microSD slot

13.5-inch IPS VertiView Display (2256 x 1504 pixel resolution)

Intel Iris Xe Graphics

Google Chrome Operating System

Supports up to WiFi 6, Bluetooth

Features MIL-STD 810H dust and shock resistance rating, 2x Thunderbolt 4 / USB Type C ports, 1x USB Type A 3.0 port, 1x HDMI port, 1x 3.5mm audio jack, 1x microSD flash memory card reader

300.6 x 235 x 16.9mm | 1.37kg

Available in Steel Grey
Pros and Cons
Pros: Clear audio, fast reliable performance and good battery life. Large touchpad and 3:2 aspect ratio display.
Cons: Standard looks. No fingerprint sensor.
Summary: A good, tougher than usual performance Chromebook laptop convertible