These days, gaming laptops can be pretty expensive because they're usually fitted with higher-performing components compared to general use laptops. With that in mind, Acer released the Acer Nitro 5, which is priced from RM3699, aiming to make gaming laptops more accessible to those on a budget.
In this review, we'll take a closer look at the Acer Nitro 5 to see whether it's whether the laptop is able to hold its own when playing demanding games. So let's have a closer look, shall we?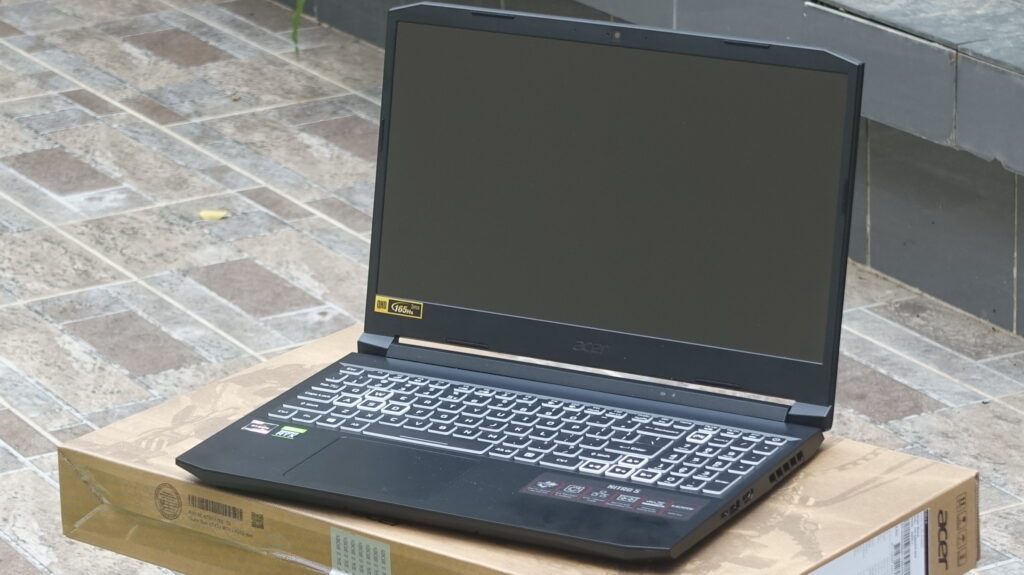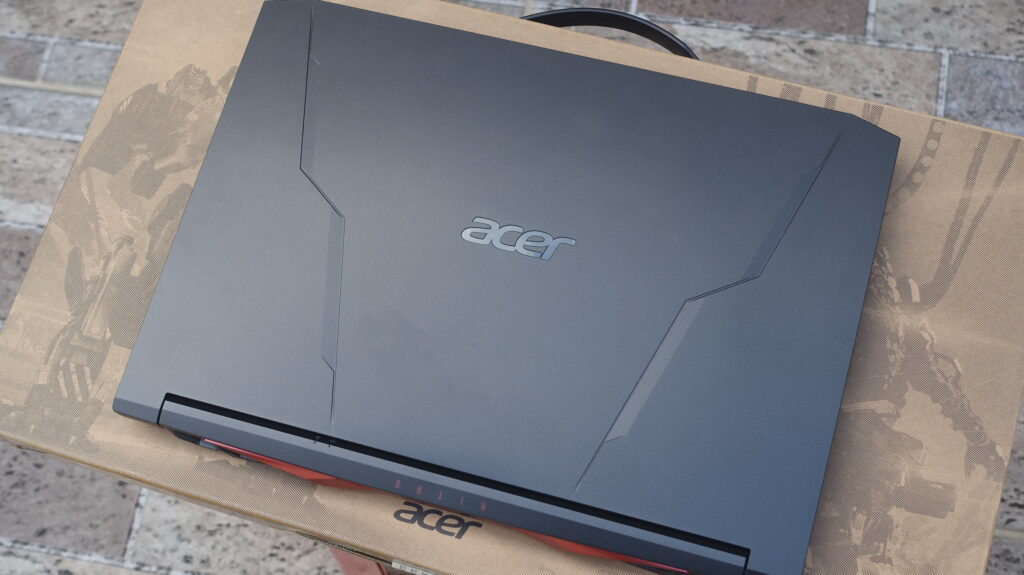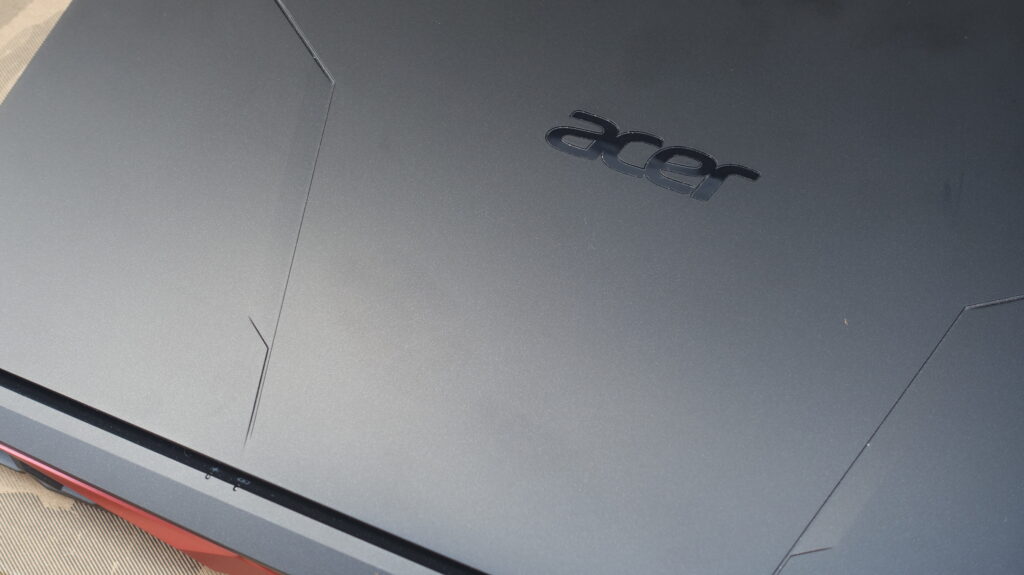 Matte finish on the Chassis of the Nitro 5
Like last year's Nitro 5, this year's model has a plastic chassis with a matte finish, making it look like a premium gaming laptop. At the back, you'll find the exhaust port with red accents and aggressive angles that makes the laptop stand out from the competition.
In terms of size and weight, the laptop weighs in at 2.30Kg, which isn't too heavy, but it might strain your back if you're carrying it for too long. The laptop is quite solid, but there's a little flex on the laptop's lid, which is expected because of its plastic construction.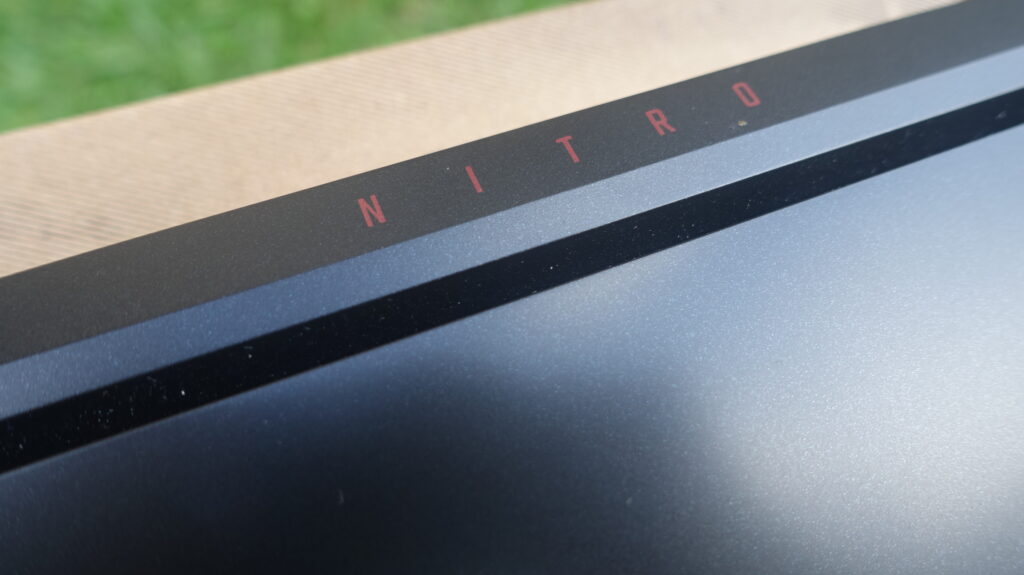 Nitro branding on the hinge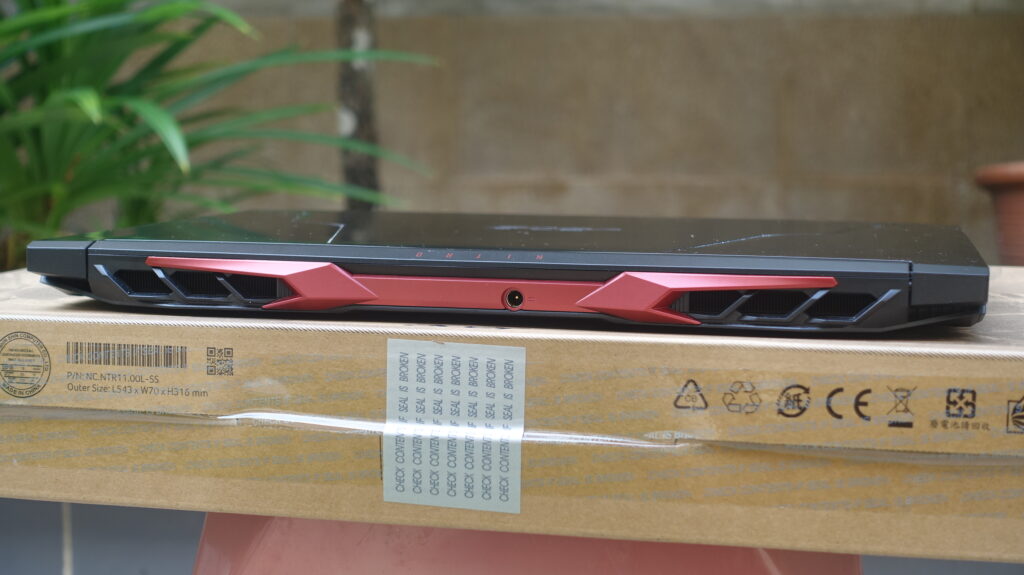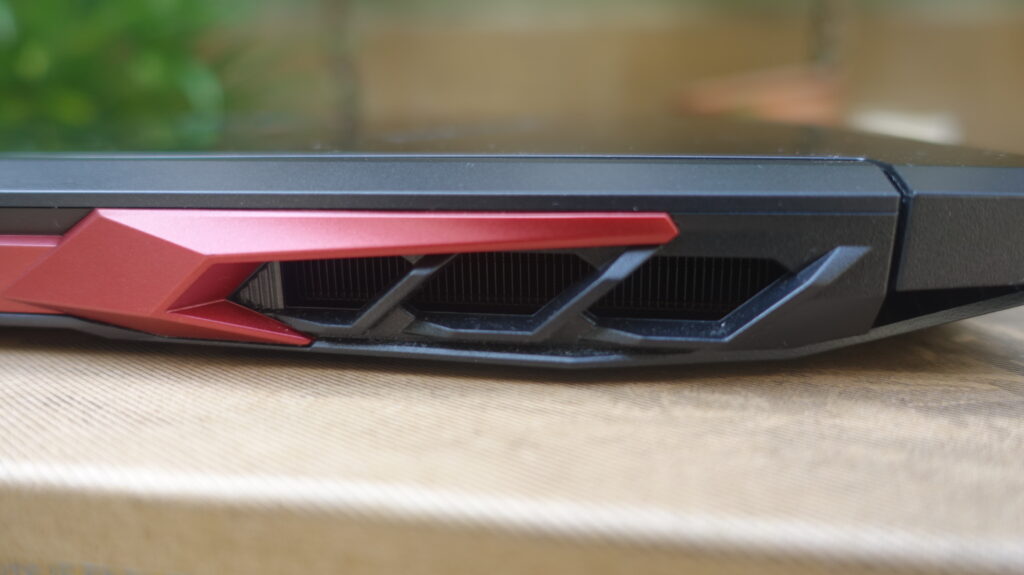 Red accent at the back of the laptop
As for the I/O, the Nitro 5 comes equipped with 2x USB-A 3.2 Gen 1 ports, an ethernet port, 3.5mm audio jack and a Kensington lock on the left side. On the right, it has an HDMI port, USB-A 3.2 Gen 2 port, as well as a USB-C 3.2 Gen 2 port.
Unlike most laptops, the charging port is located at the rear of the laptop, which helps with cable management. Also, if you're looking for a laptop for content creation, you might need to get an external SD card reader because the laptop does not come with a built-in SD card reader.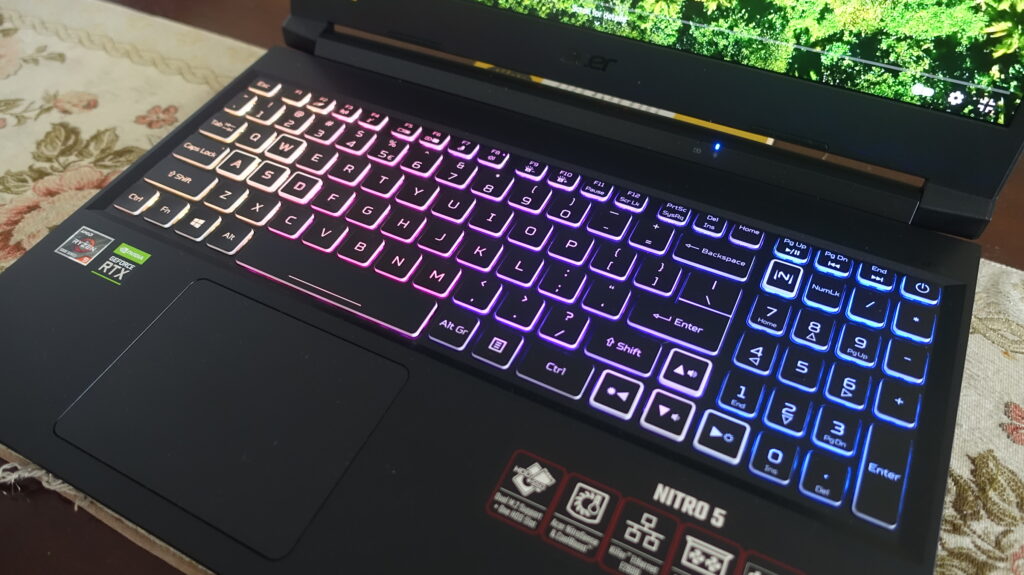 RGB keyboard helps you see what you're typing in the dark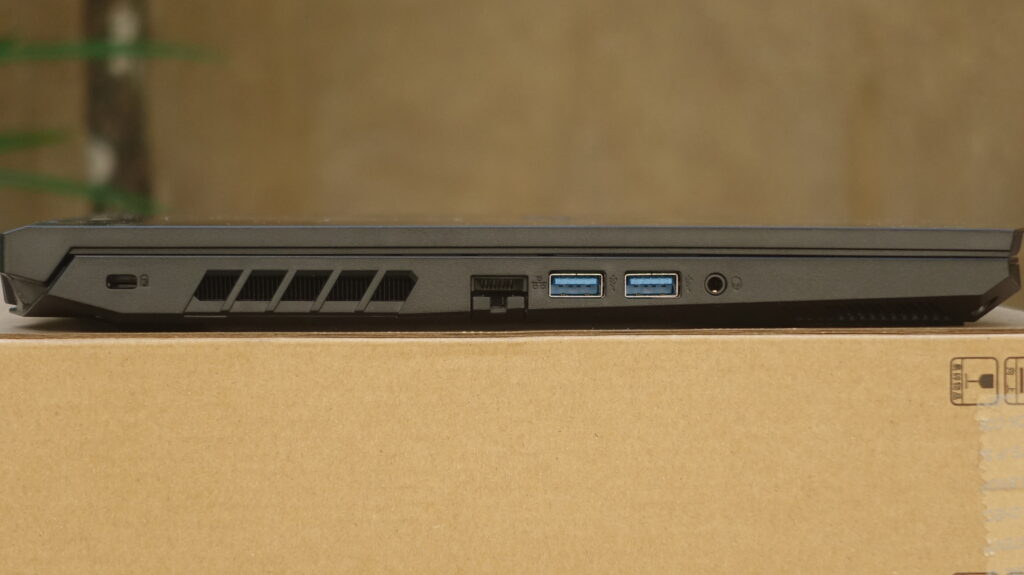 Ethernet, USB-A, and 3.5mm jack on the left.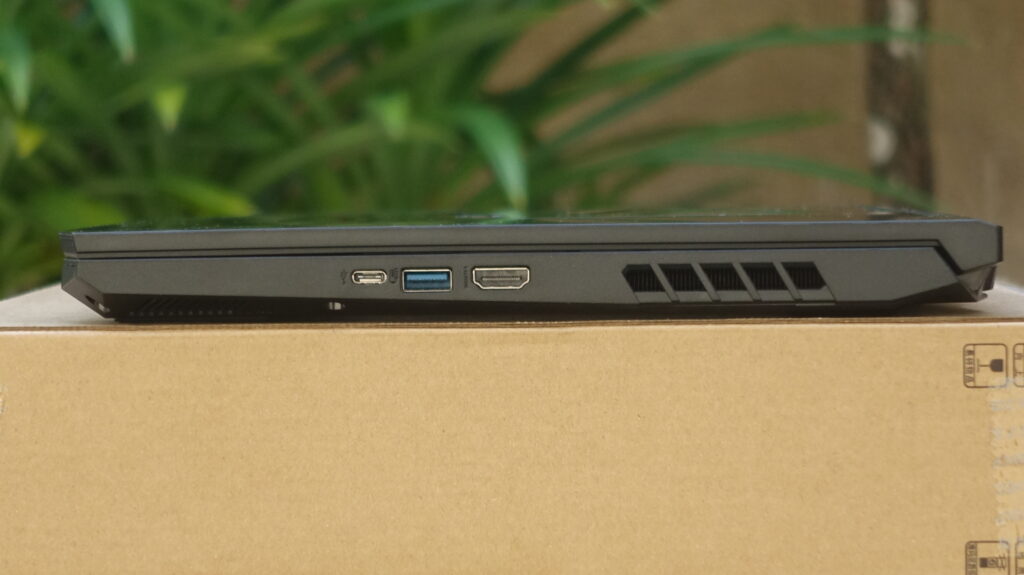 HDMI, Type-C and Type-A connector on the right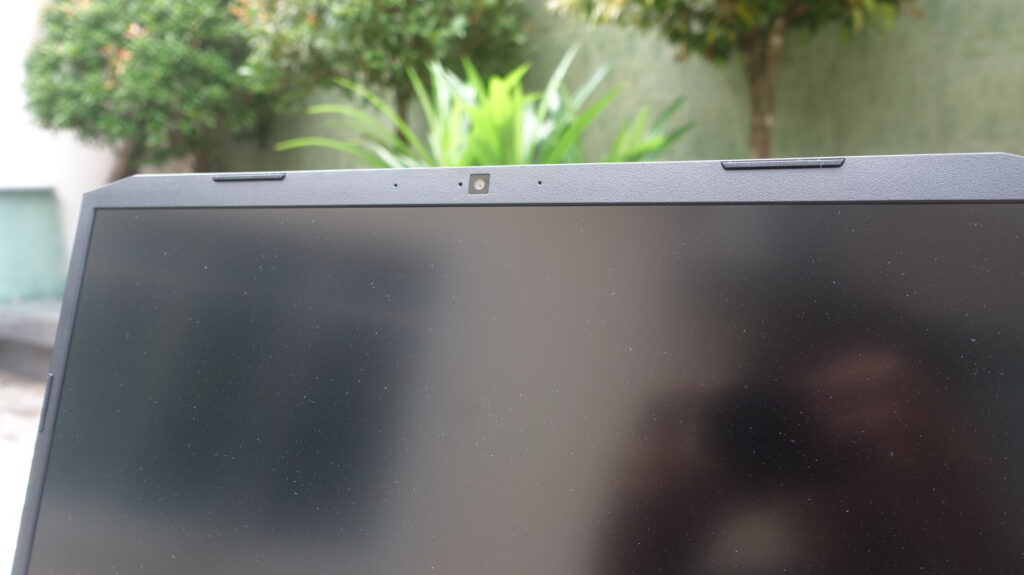 White outline on the WASD and Arrow keys
Acer NitroSense utility lets you tweak the keyboard RGB colours and laptop performance mode
Other than that, the laptop is equipped with a full-sized RGB backlit keyboard controlled by Acer's NitroSense software. If you look closely at the WASD and arrow keys, you'll see that it has a thick white outline, making it stand out a lot more in the dark.
Other than controlling RGB on the keyboard, the NitroSense software also lets you monitor the temperature for both the CPU and GPU and control the performance mode of the laptop. It also enables you to increase the fan speed for better cooling performance at the expense of fan noise.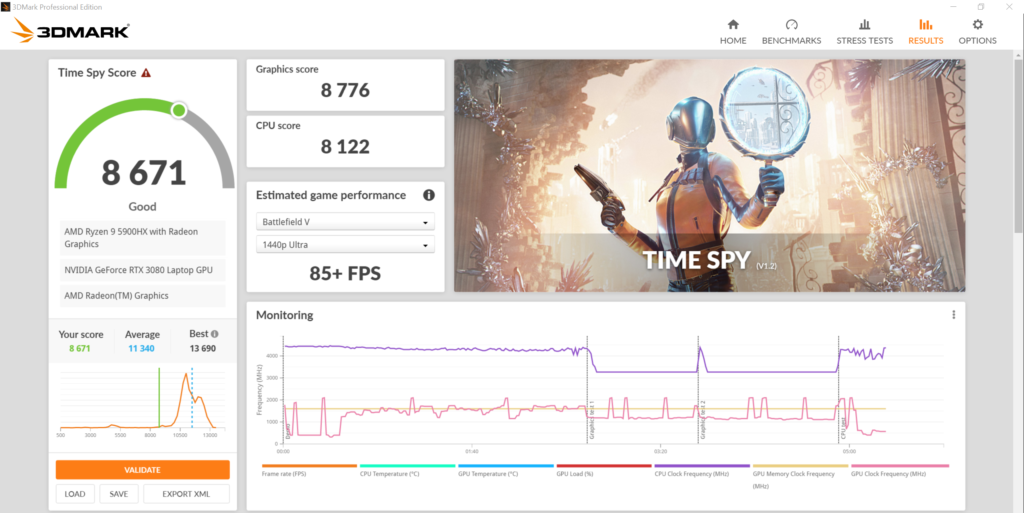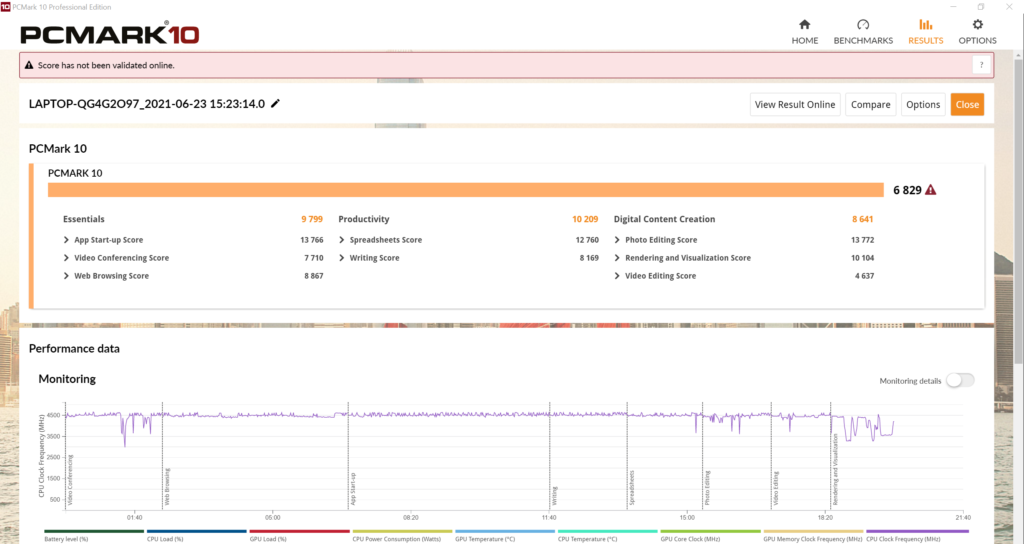 Onto the tech specs, the laptop comes equipped with notable tech specs such as an AMD Ryzen 5900HX, RTX 3080 graphics card powering a 100% sRGB 165Hz QHD display, 16GB RAM, and a 1TB SSD. With that in mind, the laptop is more than capable of running any AAA games and esport games currently available.
Running the laptop through some synthetic benchmarks, it managed to score 8671 points and 6829 points on 3DMark and PCMark 10, respectively. Interestingly, the score did not improve much when setting the power plan to High Performance.
Games run smoothly on the Nitro 5!
In terms of battery performance, the Acer Nitro 5 only lasts about 4 hours of regular use with Power Saver mode turned on, which is not surprising given the laptop at this tech specs and price point. When it comes to charging, it takes about 2 hours to charge the laptop entirely.
With all that being said, there are some drawbacks. First of all, the battery doesn't last as long even while on Power Saver mode. The speakers are not as well built because it starts to sound like it is being blasted out of a tin can at max volume. Furthermore, I had to tweak some settings in the Realtek Audio Console just to get my headphones to work.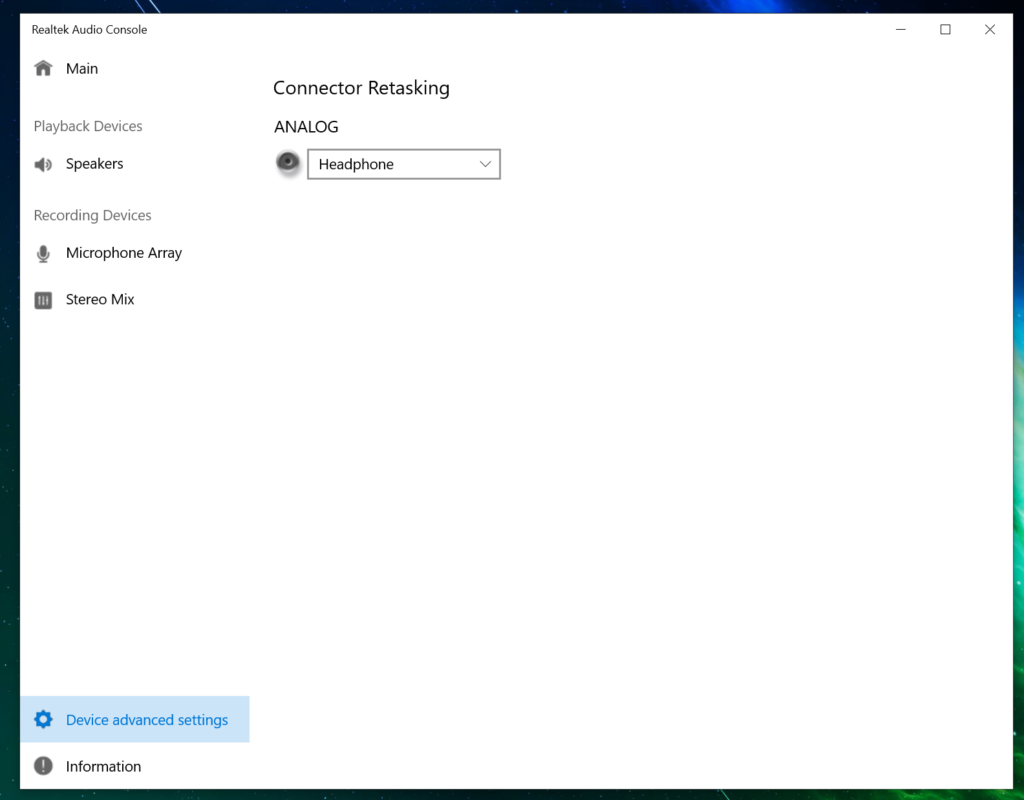 Had to tweak some settings in the Realtek Audio Console just to get my headphones to work
All in all, the Acer Nitro 5 is an excellent laptop for those who want a gaming laptop without breaking the bank. The only drawback of this laptop would be the lack of an SD card reader, plastic chassis, and poor battery performance.
The variant in our review is the Acer Nitro 5 with model number AN515-45-R49W that's priced at RM8999. If you're interested in getting a much cheaper variant, you can check out all the variants of the Nitro 5 on Acer's official website.
With all that said, would you be interested in getting the Acer Nitro 5? Let us know on our Facebook page and for more updates like this, stay tuned to TechNave.com.
Tech Specs
CPU AMD Ryzen 9 5900HX

NVIDIA GeForce RTX 3080 Laptop GPU with 8GB VRAM

3200MHz 16GB DDR4 RAM (can be expanded with two 16GB RAM)

NVMe 1TB PCIe SSD storage

15.6 -inch 165Hz Quad HD (2560 x 1440) IPS screen, 100% sRGB

57Wh battery, 180W charger

Two USB-A 3.2 Gen 1 ports, one USB-A 3.2 Gen 2 port, one USB-C 3.2 Gen 2 port, HDMI 2.1, gigabit ethernet and a 3.5mm audio jack

Webcam 720p

Dimensions: Thickness 23.9mm, width 363.4mm, height 255mm

Weight 2.2kg
Pros and Cons
Pros: Great performance for the price
Cons: Plastic chassis, short battery life, and poor speakers.
Conclusion: Good option for those who are looking for a gaming laptop while on a budget.