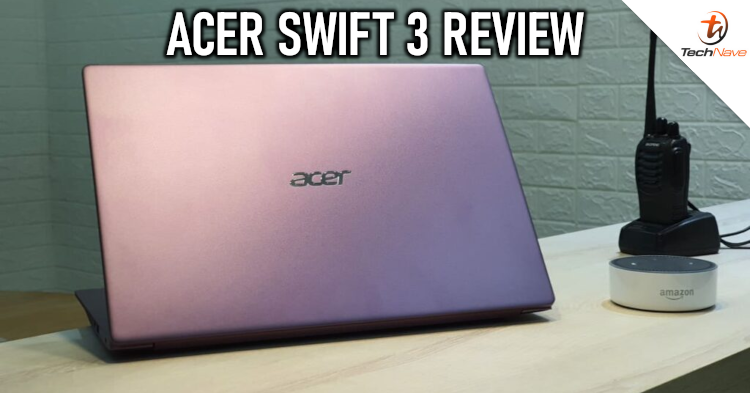 If you were keen on getting a laptop that has good performance and battery efficiency, you'd have to go for laptops that typically cost more than RM3000. But thanks to AMD and their recently released Ryzen 4000 series processors, they've managed to drive down the price of laptops to a much more affordable level while maintaining adequate performance and battery life.
With that said, Acer recently unveiled the Swift 3 that is equipped with an AMD Ryzen 4500U processor with Radeon Graphics, 8GB of RAM, and a 512GB SSD for the price of only RM2599. Let's have a closer look at the performance of the Swift 3 and see what kind of workloads this laptop is suitable for.
We have the purple Swift 3!
You can lay the laptop down flat!
Such a sleek looking laptop
The underside of the laptop where you can see the speaker grills along the sides and the exhaust grill towards the centre
Starting off with the design, the Swift 3 exhibited a familiar lightweight and elegant look that's suitable for all kinds of people, ranging from students to executives at a Fortune 500 company. While our unit came with a purple coloured scheme, we do know that the laptop is also available in silver and blue. Of course, it really depends on the stock availability.
In terms of the dimensions and weight, it weighs in at only 1.2Kg and has a thickness of 1.5cm, which is about the thickness of a hardback notebook. That being said, this makes the laptop extremely portable as it can fit in most backpacks or even a large handbag.
DC charging port, USB Type-C port with charging capabilities, HDMI port, and powered USB Type-A port
Kensington Lock, USB Type-A, Combo Audio Jack slot on the right
You might want to consider getting a camera cover if you value your privacy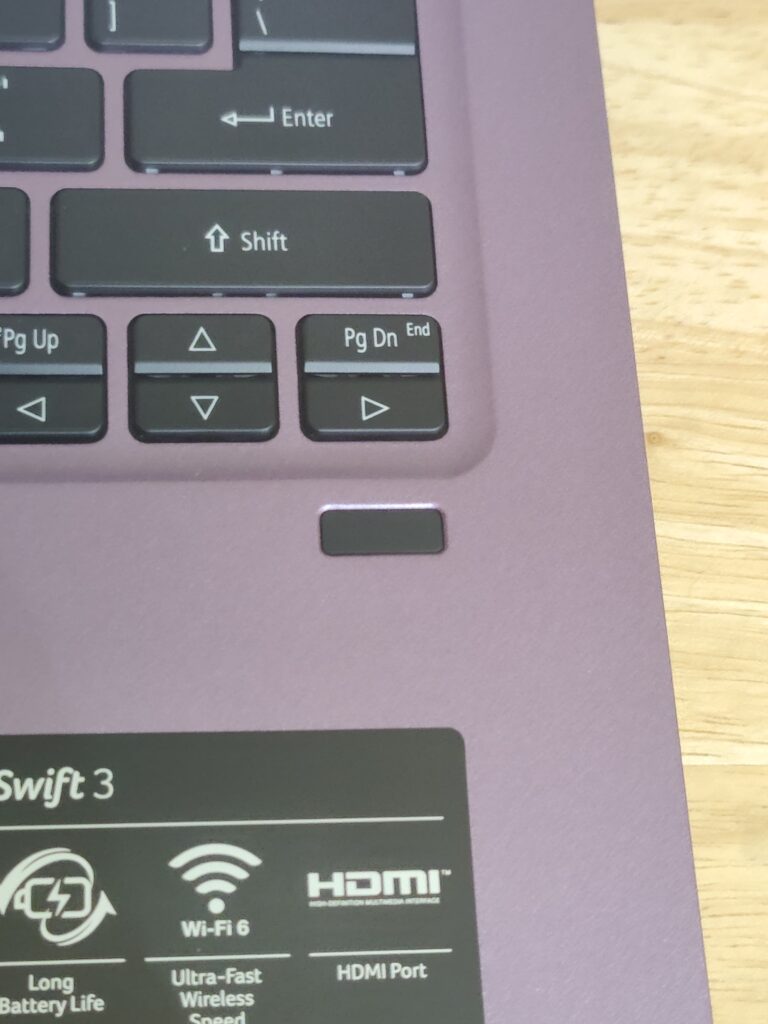 The fingerprint sensor on the bottom right of the keyboard
Even though it is thin, the Swift 3 comes with a respectable amount of I/O ports such as a combo audio jack slot, USB Type-A port and Kensington Lock on the right and a charging port, USB Type-C port, HDMI port, and powered USB Type-A port on the left. On that basis, the number of ports is more than enough to support an external monitor, external keyboard, mouse, and headset, turning the laptop into a more productivity-focused machine.
To reiterate what was mentioned above, it comes equipped with a Ryzen 4500U processor with Radeon Graphics, 8GB RAM, 512GB of SSD, 14-inch 60Hz FHD display and a battery that's capable of lasting around 6 hours or longer. Other than that, there are other features such as a capacitive fingerprint sensor located at the bottom right of the keyboard that supports Windows Hello and a 480P webcam at the top of the display.
Here are the tech specs of the Acer Swift 3 with Ryzen 5
No lag even when scrolling through Facebook, while Youtube is playing in the background
4415 points on PCMark 10. Not bad!
No surprises here. It's not meant for gaming, after all
Putting the laptop through its paces using PCMark 10, the laptop managed to score 4415 points, which is not bad for a product at that price. As for real-world performance, you'll be pleased to know that the laptop is able to handle multiple Youtube tabs that were playing videos in the background without exhibiting any form of lag, all while I was scrolling through Facebook.
With that in mind, the Acer Swift 3 is a surprisingly good laptop for those who frequently multitask on their computer. But that's not all! It can also handle image manipulation software pretty well, though it tends to struggle a little when editing complex videos on a non-linear video editing application because it doesn't have a dedicated graphics card to give it the additional power needed to operate smoothly.
Here's a closer look at the keyboard
Onto the keyboard, other than the fact that it comes equipped with an LED backlight and that the typing experience feels smooth and comfortable, there's not much else to highlight, which isn't necessarily a bad thing. I really like the position of the fingerprint sensor, but it can be quite finicky if it's trying to detect your fingerprint while your finger is wet.
Gaming-wise, the laptop is able to hold its own when playing games that are not too graphically intensive. However, when playing the latest triple-A games, you'll start to see the laptop struggle. This is because computers need far more processing power to run those titles.
Halo left on default settings. The game isn't as graphically intensive compared to modern games
The game ran pretty smooth, surprisingly.
Triple-A game from 10 years ago? The laptop can run it without a hitch!
Therefore, I highly suggest reducing the graphical settings down to medium or low if you want to at least have a playable experience. Surprisingly, the laptop was able to last around 5 hours while playing games on a single charge, or even much longer when I'm doing nothing more than just surfing the web.
The 14-inch FHD LCD display was nothing to write home about. We noticed moments where the LCD wasn't bright enough to make out details clearly, especially under bright light. Throughout my test, the surface of the laptop did not heat up to the point of becoming uncomfortable to use. But I recommend not having it on your thigh while gaming because the laptop expels hot air directly under it.
Movie watching experience is kind of average
With the Acer Swift 3's price starting from only RM2599, I was quite surprised to see how well the laptop performed when it comes to general workloads. It does have a few drawbacks in the gaming and video editing department but then again, the laptop isn't made for those kinds of tasks if you think about it.
Head over to Acer's official website if you want to find out more about the Swift 3 that's equipped with a Ryzen processor. For more news and reviews like this, stay tuned to TechNave.com.
Acer Swift 3 Ryzen 5 tech specs and features
AMD Ryzen 5 4500U processor with integrated Radeon Graphics
8GB LPDDR4 RAM
512GB SSD
14-inch LCD display (FHD 1920 x 1080)
17.95 x 323.4 x 218.9mm, 1.20kg
USB 2.0, USB 3.2 Gen 2 (up to 10 Gbps), USB Type-C DisplayPort, USB charging 5V / 3A
Supports Windows Hello
WiFi 802.11 ax, Bluetooth 5.0
DC-in port 19V / 65W fast charge
Pros and Cons
Pros: Lightweight, sleek design, and a long battery life that's more than enough to last an entire day. Great performance even for its affordable price tag.
Cons: Speakers doesn't sound that great. The display is average and not bright enough to make out details under bright light.
Summary: A great laptop for those who are looking for performance and affordability in a single package.