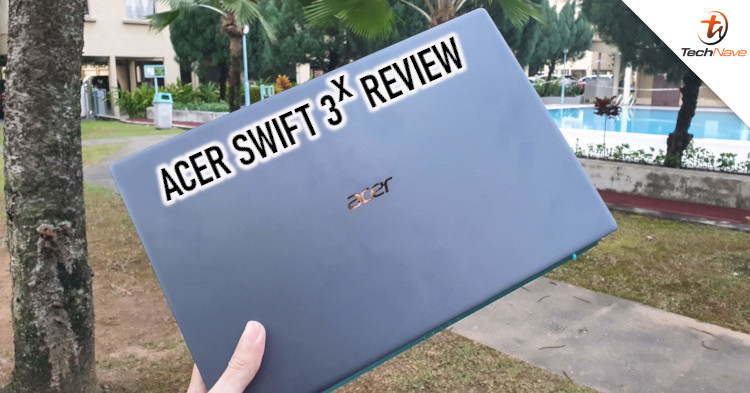 When it comes to Acer's Swift series laptops, they're known for being lightweight and productivity-focused that's geared towards individuals who are constantly on the go. With that in mind, Acer recently released the Acer Swift 3x not too long ago during the [email protected] press conference which is priced at RM3799 in Malaysia.
This laptop also one of the first laptops to come equipped with an 11th generation Intel Core processor i7 CPU and Intel Iris Xe Max graphics, which promises high performance and battery efficiency. With all these technology and hardware crammed inside a small package, how exactly does it perform in a real-world environment? Come get a closer look with our review below.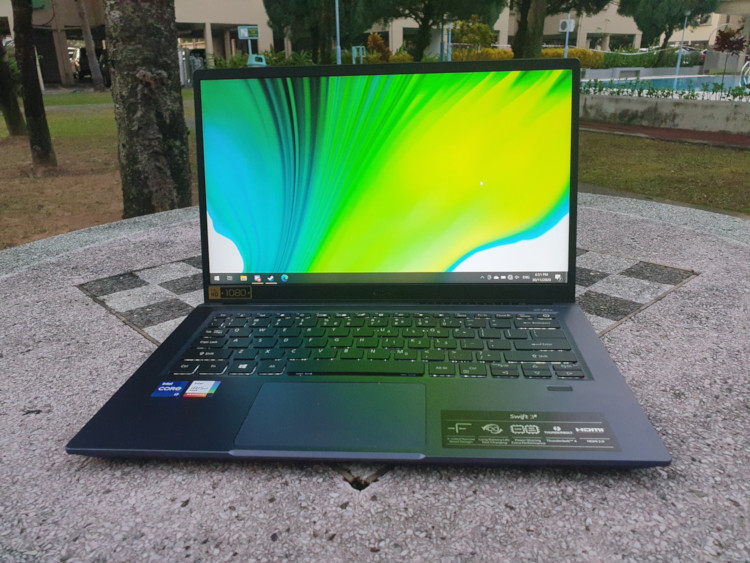 Acer Swift 3x in the flesh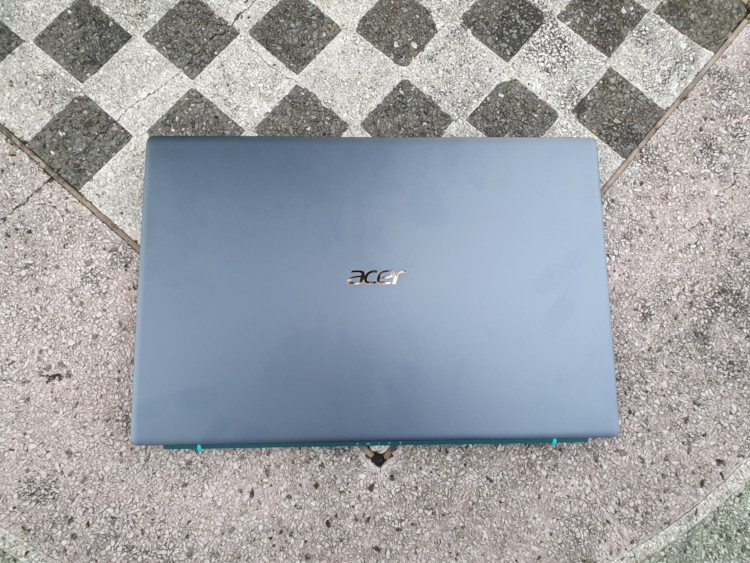 Minimalistic design with a matte finish
In terms of design, the laptop has a minimalistic look plus a matte finish. It feels smooth when you glide your fingers on the chassis. Interestingly, the hinge of the laptop has a cyan tinge that helps the laptop stand out a little, as compared to having the entire thing in the same colour.
As for the dimensions, the Swift 3x is around 322.8mm x 212.2mm (slightly little wider than an A4 paper). It also has a thickness of 17.95mm and weighs 1.37Kg. With that said, the laptop and the power adapter can fit into most bags, without weighing it down to the point it becomes uncomfortable to carry around.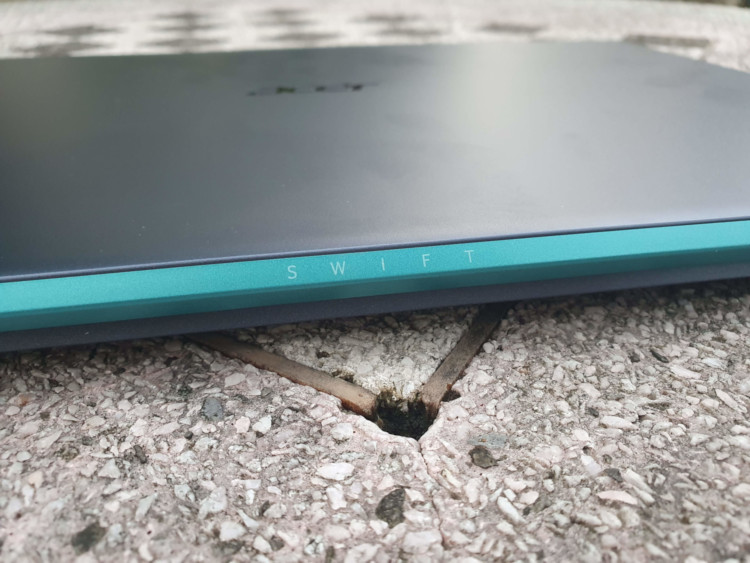 You can see the Swift branding on the hinge of the laptop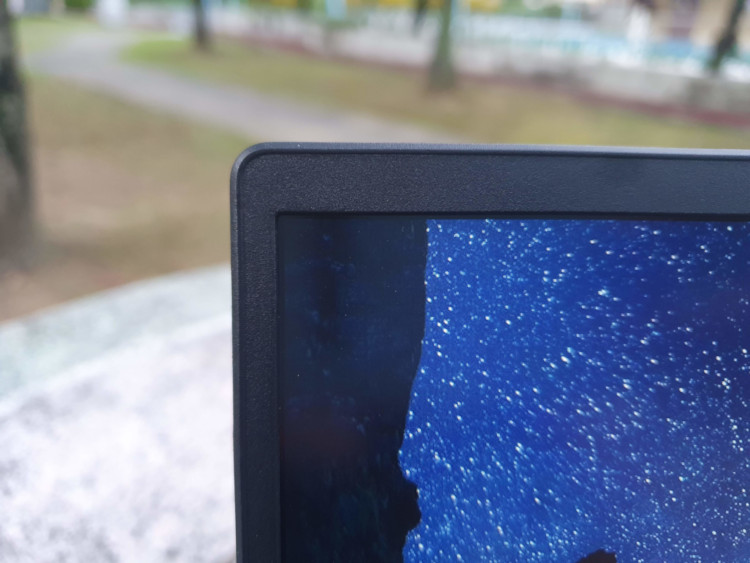 Thin bezels all around the display!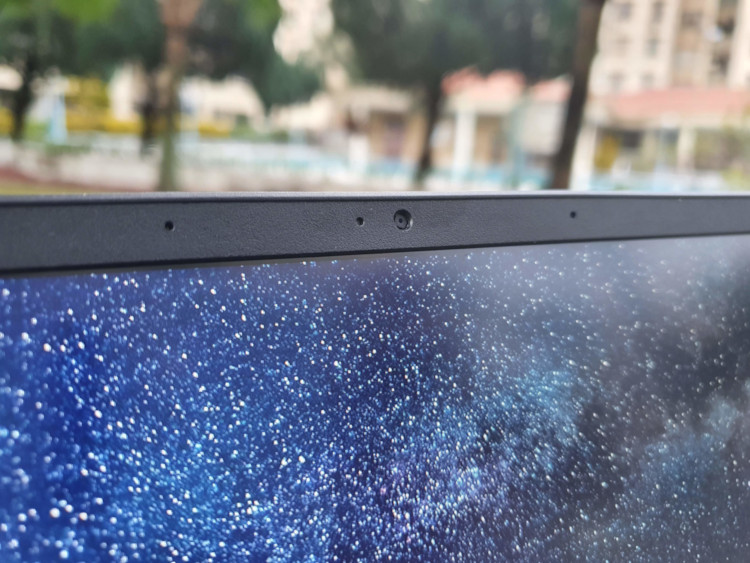 A small HD camera above the display
While the hinge feels sturdy enough to give you the confidence that it won't break after extensive use, it lacks the ability to unfold up to 180 degrees, which makes it a little awkward to use when placed on your lap, especially if you're a much taller person. When unfolded, the first thing you'll notice is the thin bezels along the sides of the display, as well as a small webcam located above the display.
The keyboard comes equipped with white LED backlighting, which can be useful if you frequently do work in the dark. However, it lacks a dedicated number pad. Instead, Acer turned the right-half of the keyboard into a num pad that you can toggle on by tapping on the F12 key.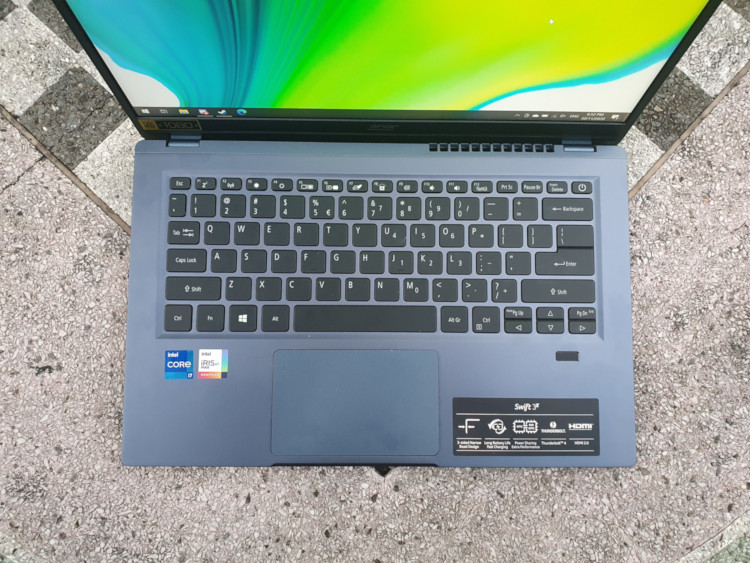 The keyboard has no dedicated number pad!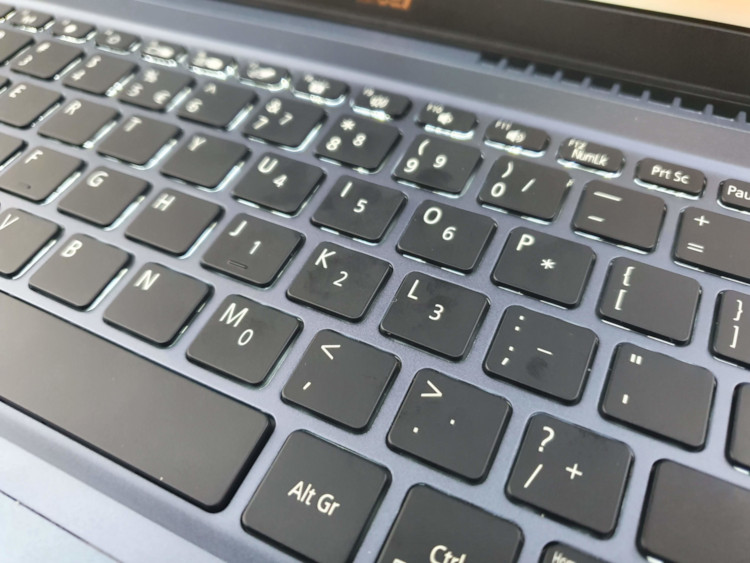 The integrated number pad is located on the right-half of the keyboard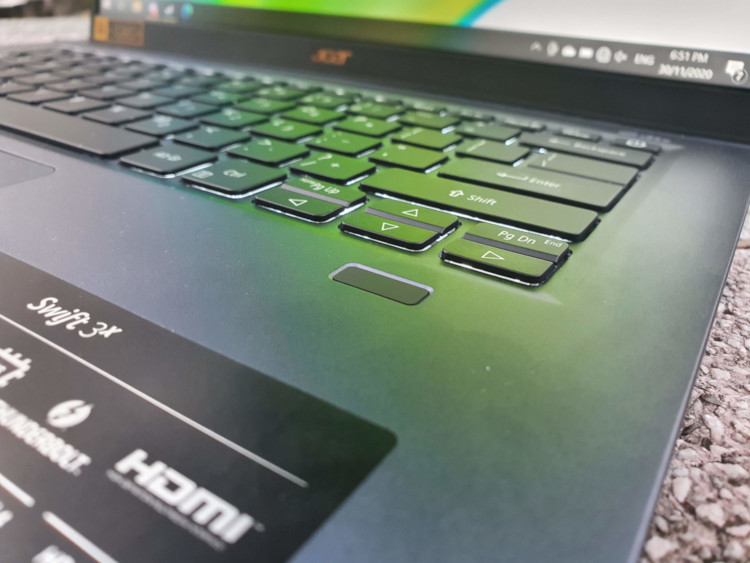 Capacitive fingerprint sensor slightly below the arrow keys
Other than that, the laptop comes equipped with a capacitive fingerprint sensor that's integrated with Windows Hello, which means you can easily log into Windows with a tap of a finger. In terms of the I/O options, it comes equipped with a single HDMI port, two USB 3.2 Gen 1 Type-A port, a USB 3.2 Gen 2 Type-C port, and a combo audio jack.
With that many ports, the Swift 3X can hook up an external keyboard, mouse, a pair of headphones, as well as an external monitor to exponentially increase your productivity. However, if you require even more ports, you might want to consider getting a USB Hub, so that you can plug in more devices to the laptop.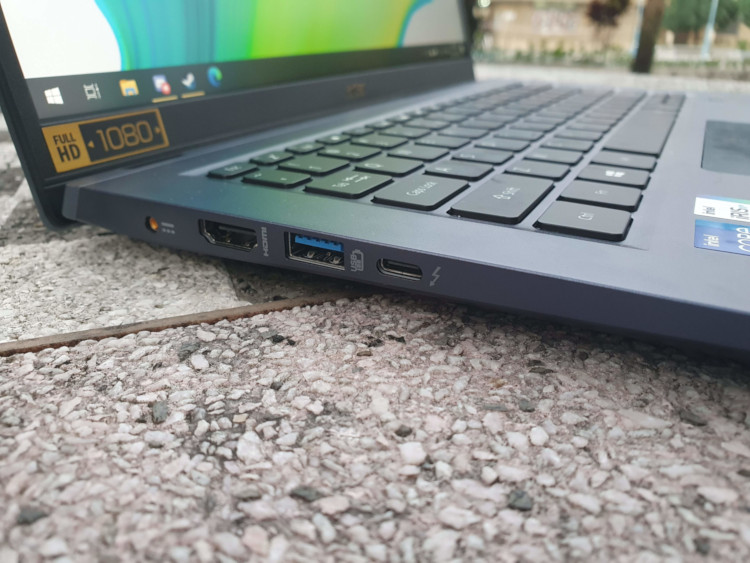 On the left, you'll find a charging port, HDMI slot, USB Type-A, and a USB Type-C port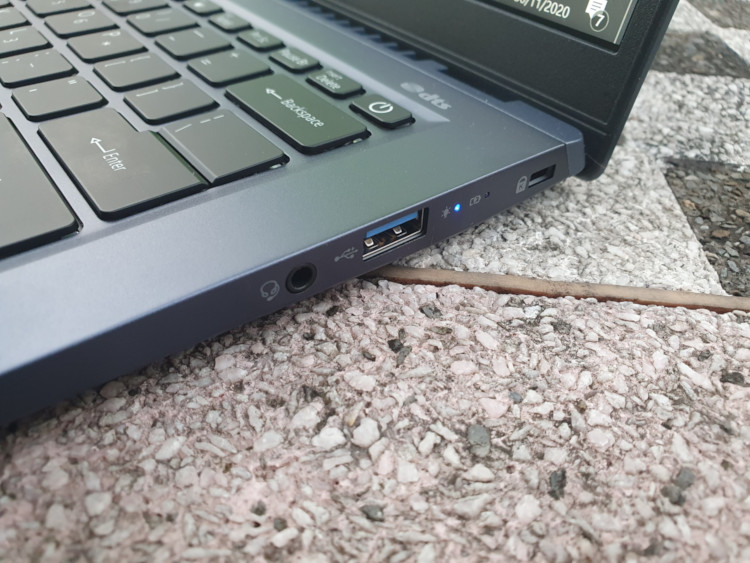 On the right, you'll find a combo audio jack port, USB Type-A port, and the Kensington lock
Moving to tech specs, the Acer Swift 3x comes equipped with up to an 11th gen Intel Core i7-1165G7, Intel Iris Xe graphics, up to 16GB RAM, and up to a 512GB SSD primary storage. It also has a 14-inch ComfyView IPS display with 72% NTSC colour gamut, as well as a 3815mAh battery that's capable of delivering up to 14 hours of runtime (on paper) before needing to recharge.
If you opt for the highest variant of the Swift 3x, which is what we have on hand right now, you'll need to fork out around RM5499. However, if you don't need these kinds of tech specs, you can get the cheaper variant that has most of the specs mentioned above, except it comes with an 11th gen Intel Core i5 CPU and just 8GB of RAM.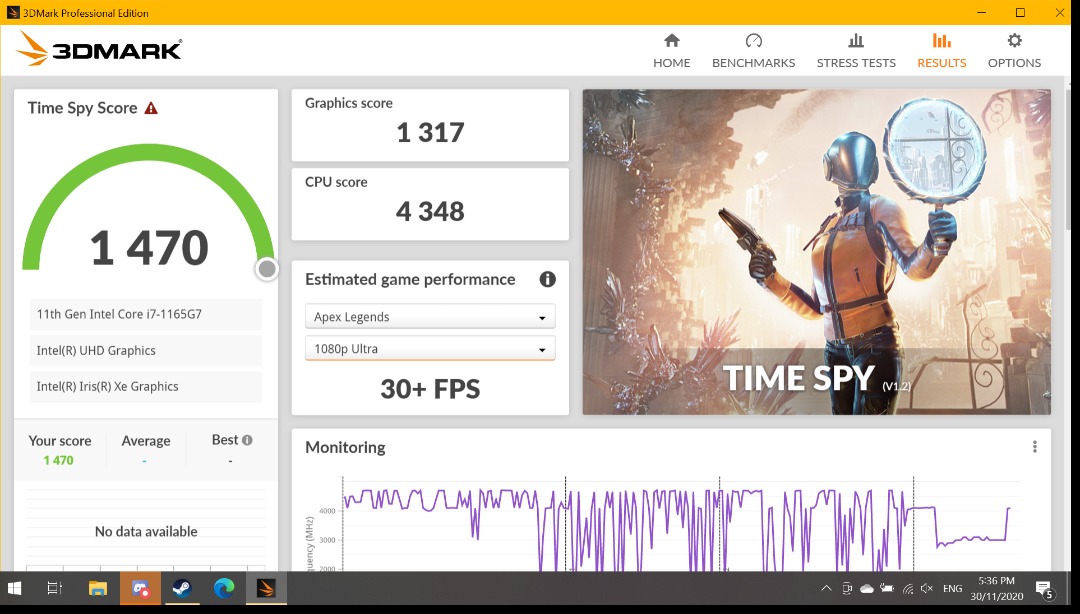 It managed to score 1470 points on 3DMark!
Onto the performance aspect, the laptop equipped with the Intel Iris Xe integrated graphics managed to score around 1470 on 3DMark, which is not exactly ideal but is enough to run some games decently. To put things into perspective, the Swift 3x was able to run Dota 2 at slightly over 60FPS at the highest setting. Pretty good, considering that the laptop is running on an integrated graphics processing unit.
Valorant was pretty much the same here, as it had an average FPS of around 60 with all the settings cranked to the max. However, do note that you will experience a dip in frame rates in some scenarios, such as when agent's (characters in Valorant) abilities start flying around on your screen. As for Genshin Impact, I noticed that it ran much choppier at maximum graphic settings when you're fighting monsters because of the visual effects.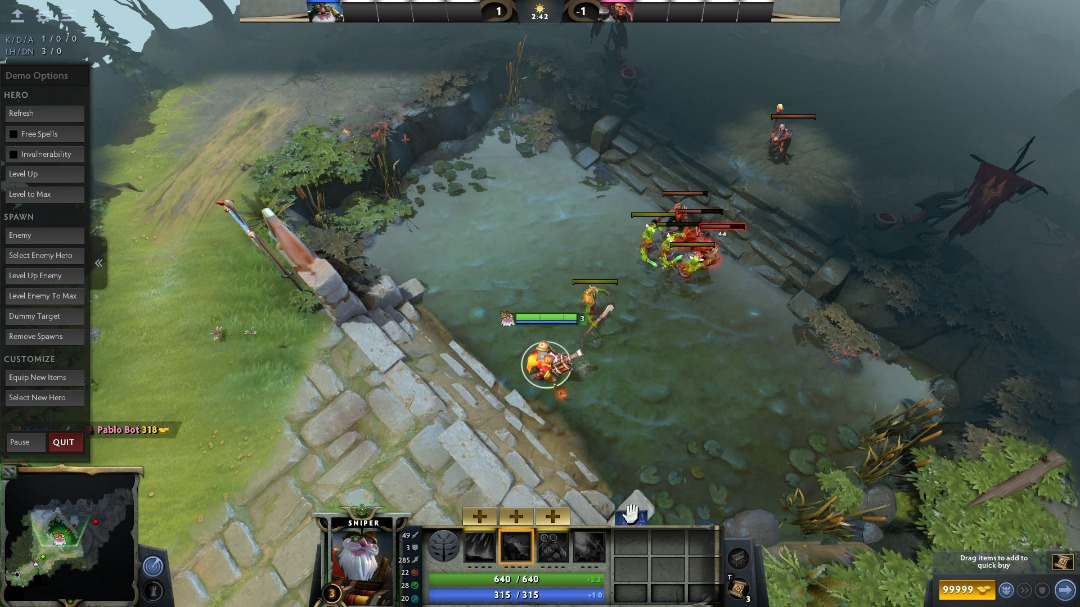 Dota 2 ran surprisingly well at around 65FPS on maximum settings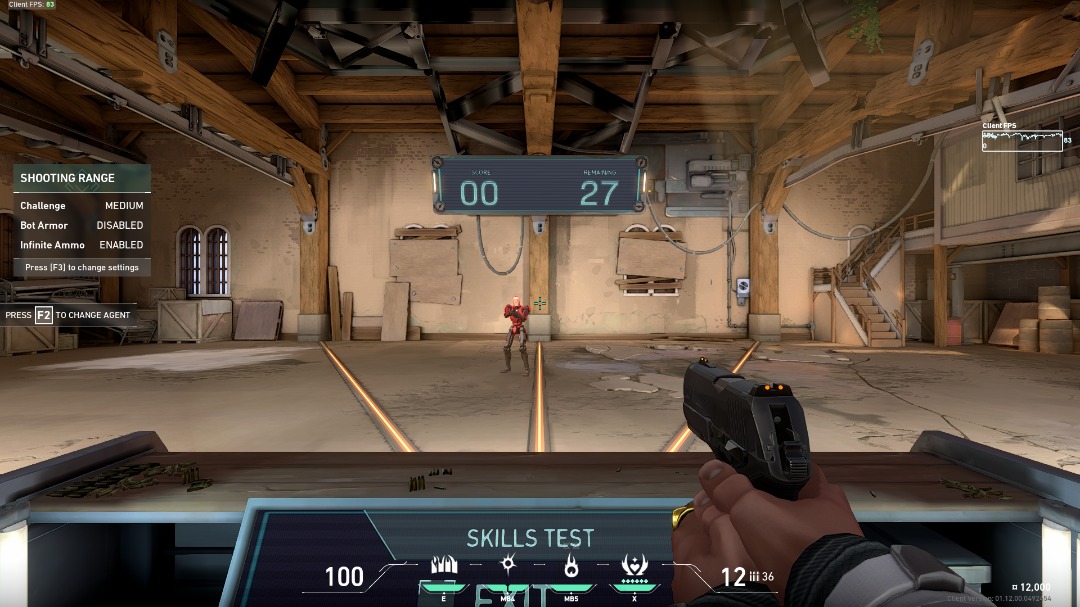 Valorant ran at about 60FPS on average at maximum settings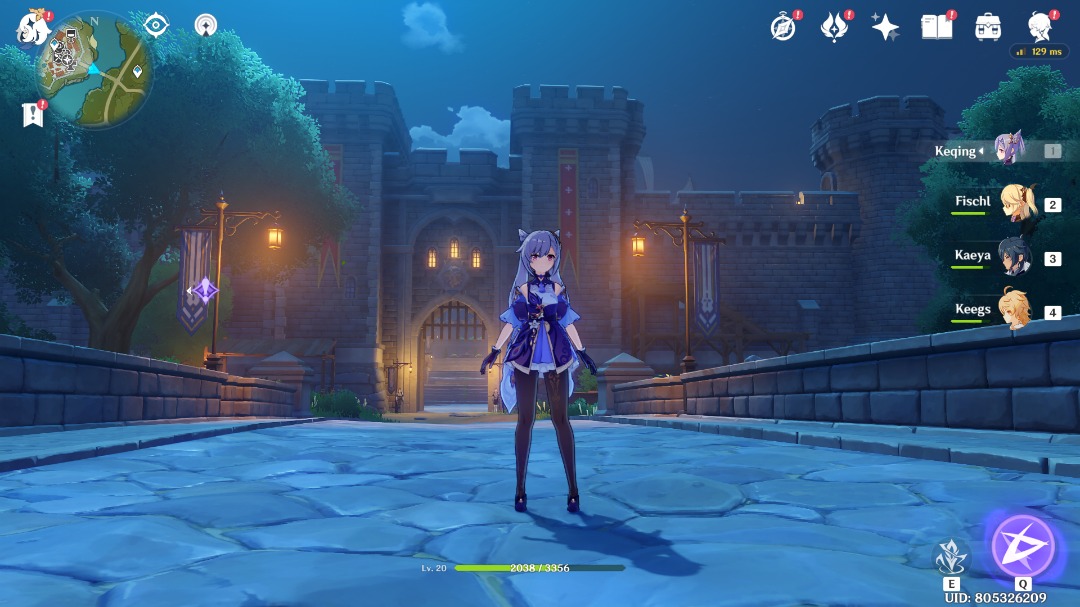 Genshin Impact felt slightly choppier, especially during large battles against monsters
A weakness of this laptop is how it heats up to the point of becoming uncomfortable during resource-intensive tasks, such as gaming or editing videos. In particular, you will feel it around the wrist rest section right below the keyboard on the bottom right. Other than gaming, the laptop performed well in most productivity workloads such as word processing, photo editing, and when producing music on a digital audio workstation.
We do like the keyboard's smooth feel and tactile feedback, as it's great for typing. In particular, the white LED backlight helps tremendously, especially while doing work in the dark. On to battery life, Acer's official website claims that the Acer Swift 3x can run for about 14 hours before needing to recharge. However, the battery runtime heavily depends on what application you run on the laptop.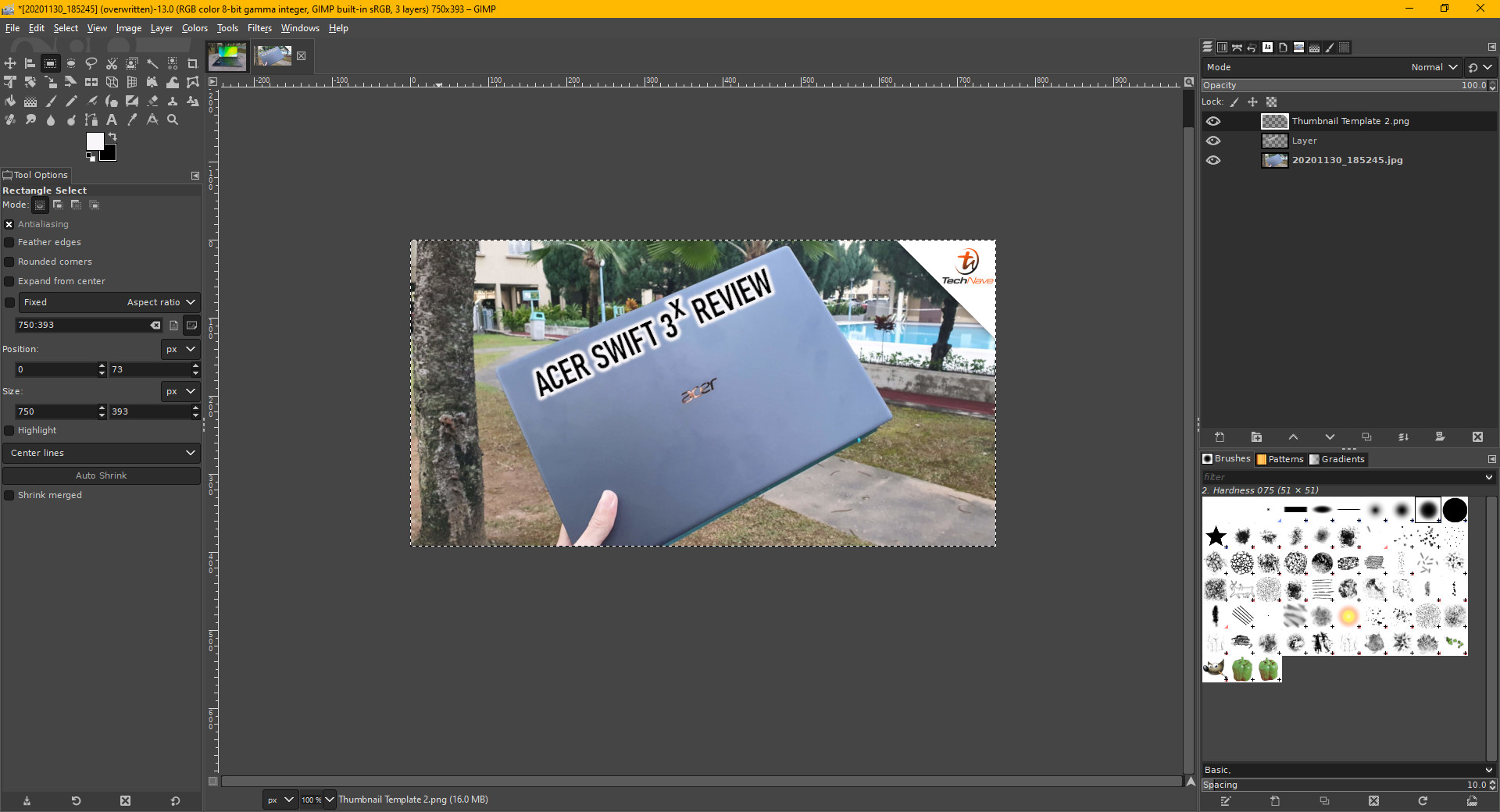 It may be decent for photo manipulation, but not for colour-accurate work because the display only covers 72% of the NTSC colour gamut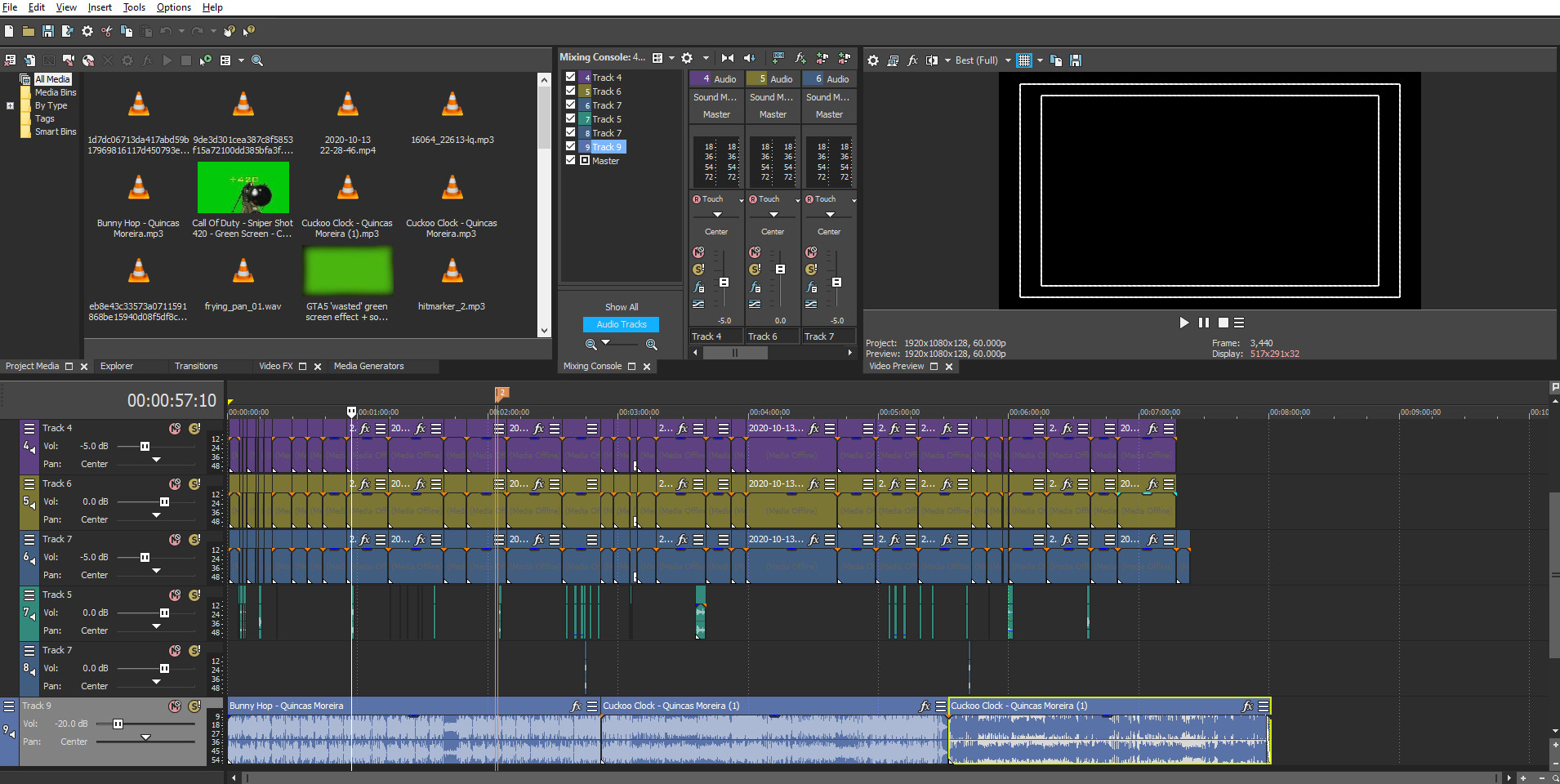 Can edit 1080p 60FPS video files with ease but lags a little when dealing with raw 4K footages.
Content creation workloads such as video editing are where the Intel Iris Xe really shines. I was able to smoothly scrub through the timeline of a 1080p 60FPS project with close to minimal lag on the Magix Vegas Pro 15 video editor. I did notice a slight dip in performance when editing raw 4K 60FPS video files. But transcoding the raw file to a proxy format such as CineForm or ProRes 422 made the editing process faster and smoother.
After installing most of the application I frequently use, such as Discord, Google Chrome, and Spotify, I started to test how long the battery would last. However, the laptop only managed to run for around 5 hours before it began prompting me to charge it. Thankfully, I can charge it by using the power adapter that came with the laptop, or via a power bank with the help of a USB Type-C cable.
In conclusion, if you're keen on getting a lightweight laptop that's productivity-focused, you might want to consider getting the cheaper Intel Core-i5 variant of the Acer Swift 3x that is priced at RM3799. However, if you need more performance then we suggest one of the Intel Core-i7 variants, which cost as low as RM4599.
For those who want some alternatives, the ASUS ZenBook 13 and ZenBook 14 series are great options (price from RM3999). The Lenovo Yoga Duet 7i (RM4299) is also a great pick if you want a much lighter machine that supports a stylus.
Tech Specs
Up to 11th Gen Intel Core i7 with Iris Xe Graphics
Up to 16GB RAM, 512GB SSD
14-inch IPS ComfyView IPS FHD display
Weighs 1.37Kg
Dimensions: 322.8mm x 212.2mm x 17.95mm
1x HDMI, 2x USB 3.2 Gen1 Type-A, 1x USB 3.2 Gen 2 Type-C, Combo audio jack slot, Kensington lock
Capacitive fingerprint sensor integrated with Windows Hello
Pros and Cons
Pros - Sleek and lightweight productivity laptop with great battery life
Cons - It only covers 72% of the NTSC colour gamut, which makes it less ideal for workloads that require accurate colour reproduction
Conclusion - Great for students and professionals that are always on the move