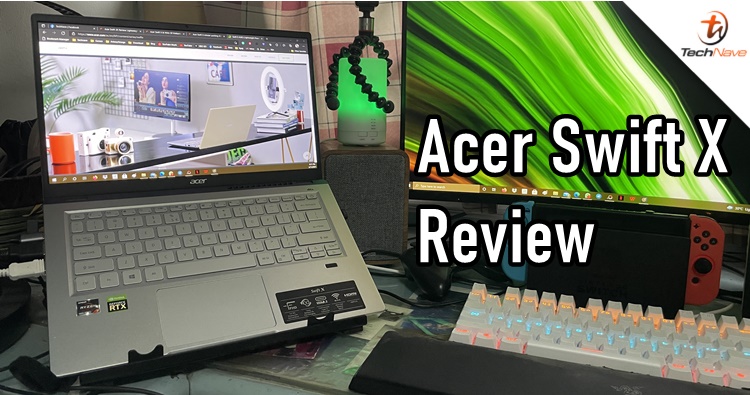 When it comes to lightweight laptops, one would assume that brands would compromise some performance for balance. That used to be the case for the Acer Swift series. But as technology improved over the years, the Swift series evolved into the latest Acer Swift X.
Initially announced at the end of May, the Swift X only made its way into the Malaysian market in October. Our review unit costs RM4999, which is unusually higher than its predecessors but for a good reason due to its pumped tech specs from AMD and NVIDIA. With such high-end tech specs, who is the target audience? Read on below for our Acer Swift X review with the pros and cons.
Like all Acer Swift laptops, the Swift X is just as lightweight at 1.39kg. From a technical point of view, it's most impressive that Acer managed to insert high-end tech specs without compromising on size. Although the IPS display is just 14-inches, it supports 100% sRGB, so that's great for people who work on a lot of visual editing.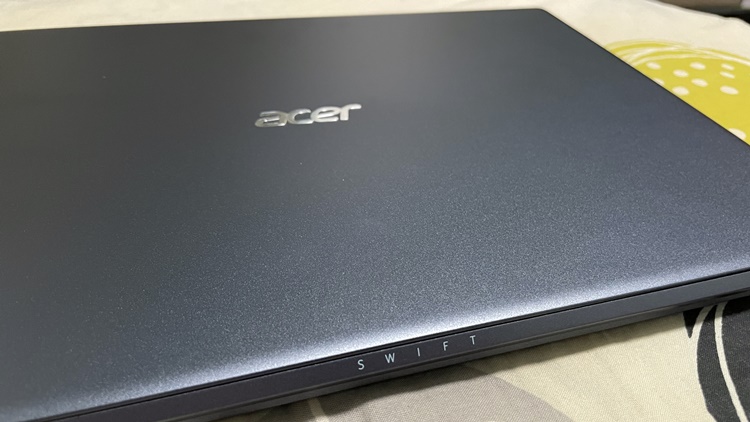 It's Steam Blue, but it can look black depending on the lighting
Typical keyboard layout, the design is the same as the Swift 3x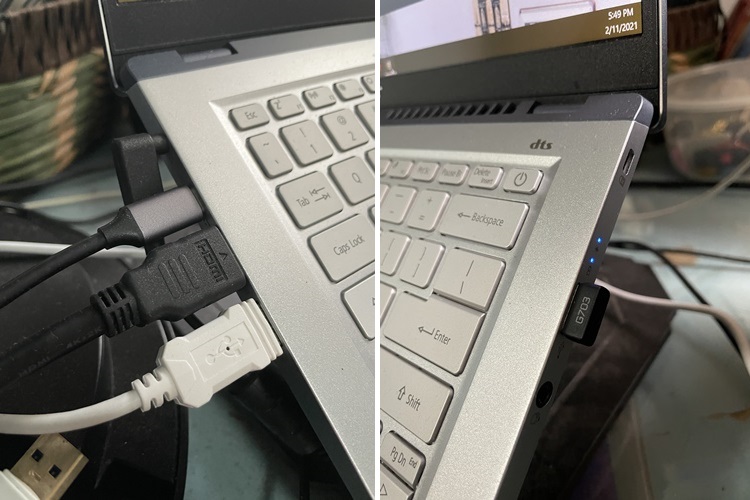 The I/O ports also include a USB-C and Kensington lock slot
The Swift X's design is exactly the same as the Acer Swift 3x. Instead of the bottom, its vents are located just between the display and the keyboard on the right. Depending on what kind of work you do, sometimes the vents can hiss at a low volume but is not too annoying. Also, since it's just 17.9mm in thickness, it's great to see Acer putting in an HDMI port, 2x USB-A ports and even a 3.5mm audio jack port.
During our review, I had no chance to bring the laptop out to a public space to work. However, I can tell you that it's still a compact device. If you're feeling bored from working inside your room, just take the laptop out and go on the sofa or bed to continue working. I'm also glad to report that you won't be experiencing much heat with it.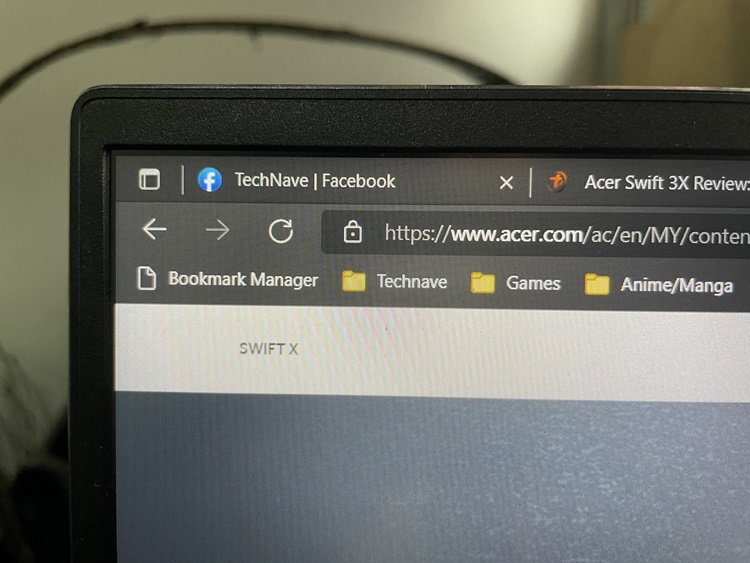 The Swift X has an 85.7% screen-to-body ratio as well as 300 nits of brightness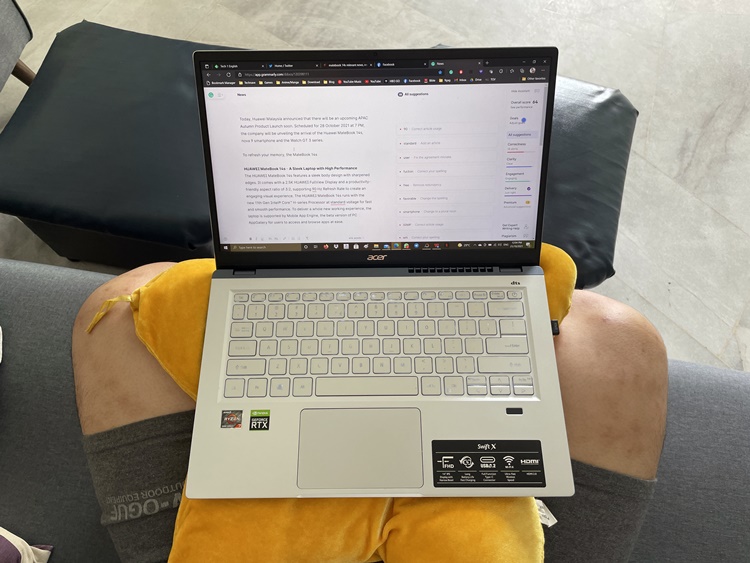 Working casually in the living room like this is nice
As for the specs, the Swift X laptop features a powerful CPU from AMD of up to Ryzen 7 5800U and an NVIDIA GeForce RTX 3050 Ti with 3rd Generation Max-Q technology. On paper, these specs are more than enough to let you play some Triple-A video games. And you can! However, I wouldn't recommend it because it's not designed for that.
On this laptop, games like Horizon Zero Dawn: Complete Edition would look great, but not so much for Far Cry 5 (sorry, too poor to afford Far Cry 6). Overall, I would say the video game graphics performance isn't very consistent. To add on, my Horizon Zero Dawn actually crashed while playing, so it has problems handling it. Of course, you can still technically play some indie games that aren't graphics intensive.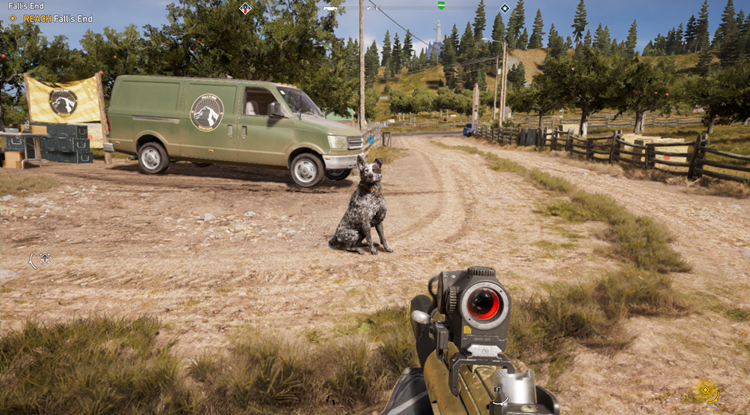 A screenshot from Far Cry 5. At close range, animated objects look crisp, but the trees from afar seem quite "choppy"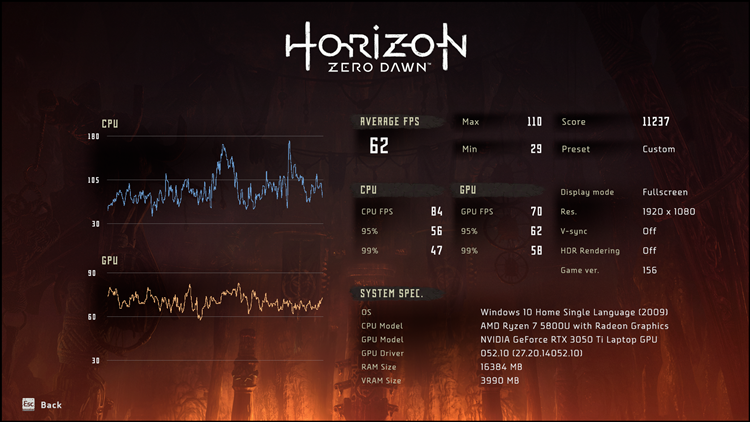 Benchmark in Horizon Zero Dawn - Complete Edition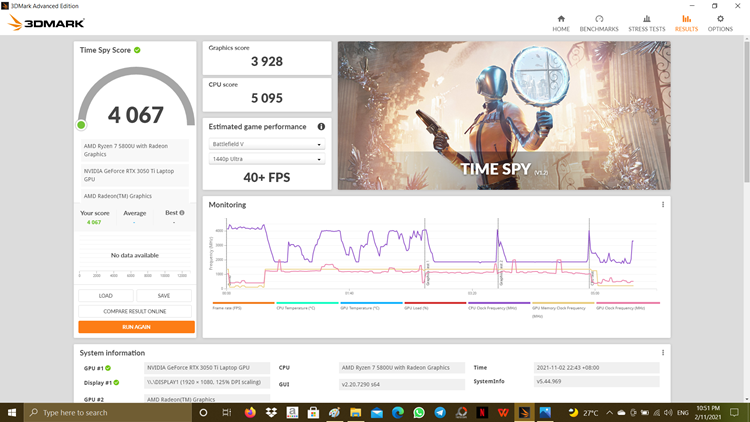 3DMark score is excellent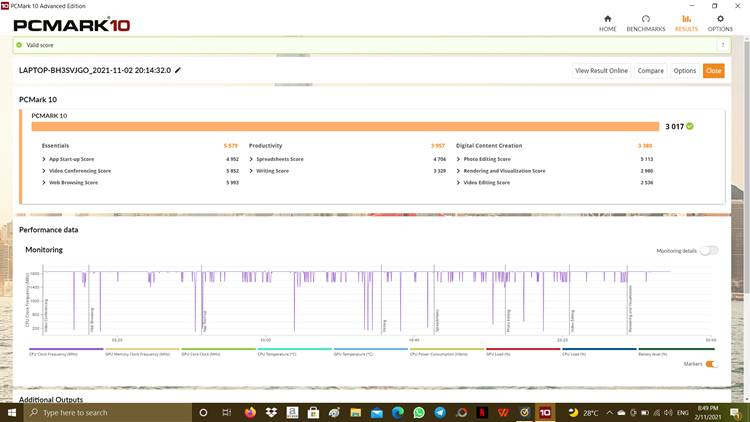 PCMark 10 score of 3017 points
Now that we know that this laptop isn't meant for gaming. Instead, it was designed for people who do a lot of video and image editing. There is a ton of memory in this laptop. Specifically, it comes with 16GB of LPDDR4X RAM and 512GB PCIe NVMe SSD. Sorry, there's no up to 2TB of SSD storage because this is the local set, but I believe it's more than enough. So far, the Swift X can handle most of my video rendering tasks, other working-related programs, and multiple browser tabs opened simultaneously.
In terms of battery life, the Swift X offers up to 17 hours of usage. This depends on what you're doing with it. But from experience, it can last up to five hours on average with my regular work routine. This included writing news, editing some images, browsing multiple tabs on Microsoft Edge, chatting on WhatsApp, and listening to YouTube Music. To fully recharge, you don't have to wait long as it just takes an hour or so.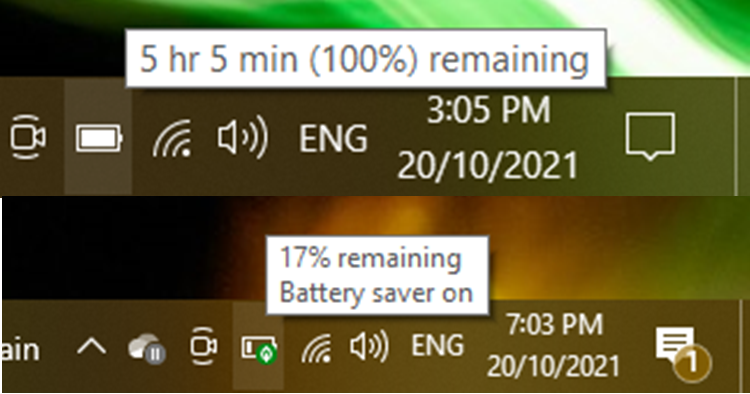 Battery drained 83% in nearly 4 hours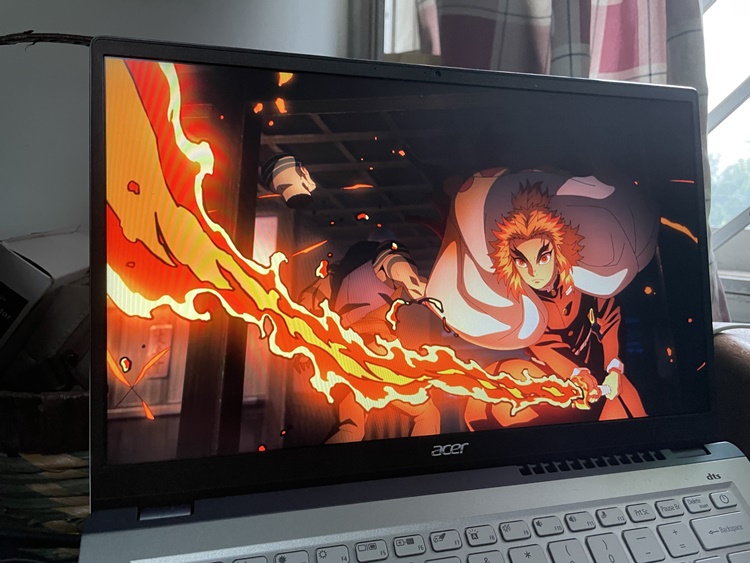 The Colour and contrast is good
This 6 minutes plus video render took 16 minutes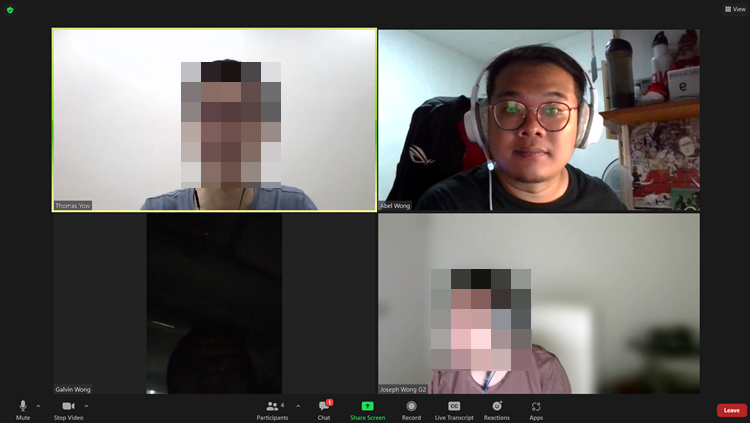 No performance issue for online meetings
All in all, the Swift X's performance does resemble the Swift 3X in some ways, albeit with more power due to the AMD Ryzen 5000 mobile CPU and Nvidia GeForce RTX GPU. It's very much a productivity laptop designed for content creators who are on the go. Honestly, I can't really nitpick as there isn't anything bad about it. It works well, the battery's life is quite durable, and it can handle a decent media workload.
If the RM4999 price tag is a bit too much for you, you can always go for the AMD Ryzen 5 + 8GB RAM variant at RM4299. That said, the price is probably the only downside, but you get what you pay. For its value, I say the Swift X could be worth getting if you happen to be a content creator who needs a compact laptop. Otherwise, you can also go for the less powerful Swift 3X (i5) that's priced at RM3799.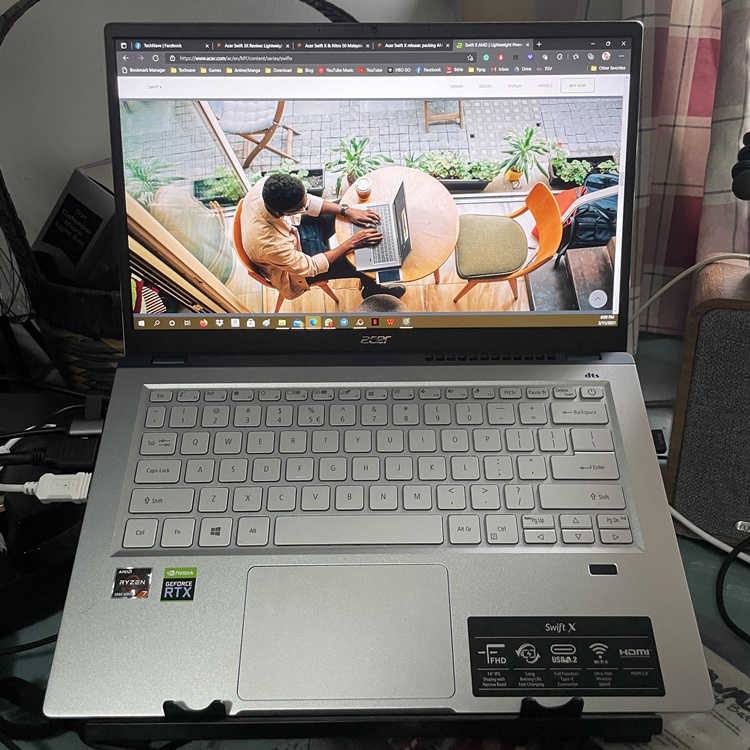 For content creators
Tech Specs and features of the Acer Swift X
Up to AMD Ryzen 7 5800U processor Octa-core 1.90 GHz
NVIDIA GeForce RTX 3050Ti with 4 GB dedicated memory
3rd Generation Max-Q Technology
16GB of LPDDR4X RAM
512GB PCIe NVMe SSD
Measures 322.8 x 212.2 x 17.9mm, weighs 1.39kg
14-inch FHD IPS display (16:9 aspect ratio)
I/O Ports - 1x HDMI, 2x USB 3.2 Gen1 Type-A, 1x USB 3.2 Gen 2 Type-C, Combo audio jack slot, Kensington lock
720p HD webcam, Acer TrueHarmony sound technology, Acer Purified voice technology, Acer Bio-Protection fingerprint, Windows Hello
Supports WiFi 6 802.11a/b/g/n+ax wireless LAN, Dual Band (2.4 GHz and 5 GHz), MU-MIMO RX, Bluetooth 5.2
59 Wh 4-cell Li-ion battery
Windows 10 Home (upgradable to Windows 11)
Pros - High-end tech specs (AMD Ryzen 5000 series, GeForce RTX and memory), compact design, good colour representation, and a durable battery life
Cons - The top variant's RM5000 price tag can be a bit pricey
Conclusion - Useful for content creators who need a lightweight and powerful laptop
What do you think of the laptop? Let us know in the comments below, and stay tuned for more trending tech gadget news at TechNave.com.