Acer's New Spin series offers extreme portability and versatility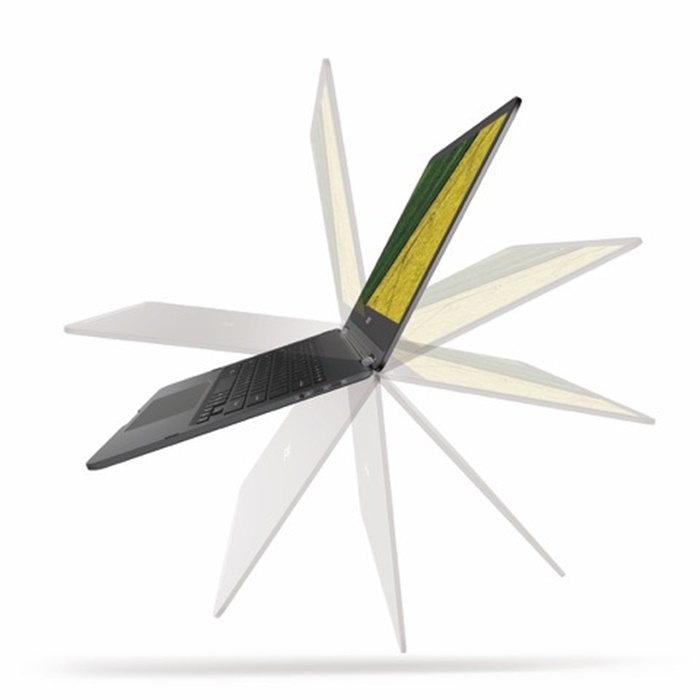 A new series by Acer today was introduced in Berlin, Germany, called the Spin series, it's a new line of convertible notebook that runs on Windows 10 along with Continuum, and has 360-degree hinges that enable them to be used in various ways: as a notebook or tablet, in a space-saving display mode, or in tent mode for sharing presentations or watching movies.
Like the Swift series, the Spin 7 is debuting as the premiere line. The Spin 5 and Spin 3 offer solid performance combined with compelling technologies such as Full HD IPS1 displays and speedy solid state drives, while the Spin 1 is ideal for students or as a second computer.
Depending on model, they offer fast and reliable wireless connectivity with 802.11ac MU-MIMO wireless technology, providing up to 3 times faster2 downloads. They also feature Acer BluelightShield which minimizes eye strain, Acer Color Intelligence which maximizes color saturation for bright and clear visuals, and Acer TrueHarmony for crisp and clear audio.
"With our new Spin series, Acer has a wide range of convertible notebooks for each and every need," said James Lin, General Manager, Commercial & Detachable Notebooks, IT Products Business, Acer Inc. "Our top-of-the-line Spin 7 allows consumers to enjoy extreme portability without compromising on performance or versatility."

"Acer's Spin series convertible notebooks really highlight the variety of Windows 10 devices that are available for different customers' distinct needs," said Peter Han, Vice President of Worldwide OEM Marketing, Microsoft Corp. "Within the Spin series, customers can choose from a number of different Windows 10 PCs, good for a variety of uses, at a range of price points, and the convertible form factor offers additional flexibility on whichever device they choose."

"The new 7th Generation Intel Core Processors are perfectly suited for the Acer Spin series, prime examples of why the 2 in 1 category, including convertibles, continue to grow at a rapid rate" said Chris Walker, Vice President of the Client Computing Group and General Manager of Mobility Client Platforms, Intel Corp. "Our leading 14nm+ process technology enables 7th Generation Intel Core to maximize performance while being extremely power efficient to help enable these thin and light 2 in 1 designs."
Acer Spin 7 – Extreme Portability and Flexibility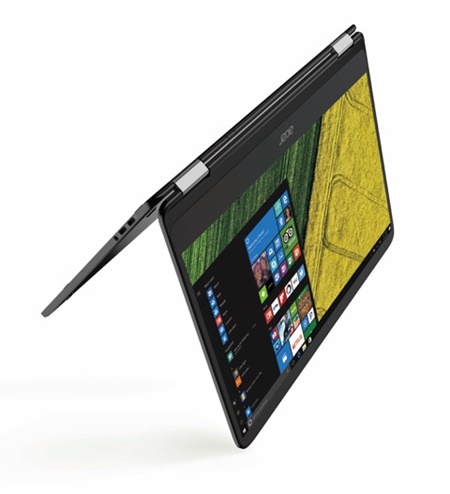 The leading premium Spin series, it sports a 14-inch Full HD IPS Corning Gorilla Glass touchscreen display with a narrow bezel. Offering up to 8 hours of battery life, 7th Generation Intel Core i7 processor, up to 8GB of memory and a speedy 256GB SSD. Dual USB 3.1 Type-C ports are included for quick data transfers, connection to an external display, and to charge the notebook.
Acer Spin 5 – Small and Compact With 13.3-Inch Display and Optional Pen Input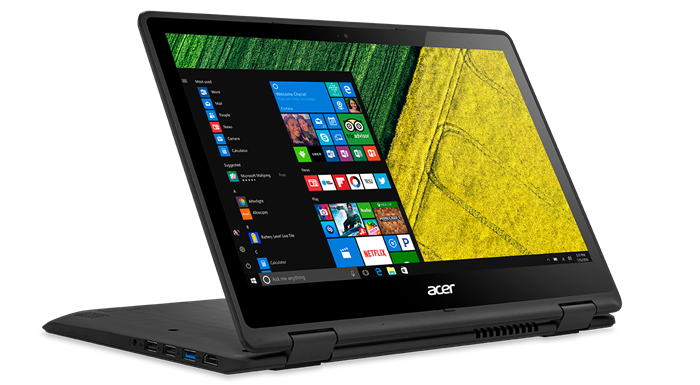 The Spin 5 is powered by up to 7th Generation Intel Core processors for incredible performance, up to 16GB of fast DDR4 memory and up to 512GB of SSD storage for fast boot up and data transfer. It also delivers up to 10 hours of battery life for all-day productivity, and the bright 13.3-inch Full HD IPS touchscreen display can be used with an optional Acer Active Pen with Windows Ink. An HD webcam with HDR (High Dynamic Range) imaging support provides clear, bright and detailed images.
Acer Spin 3 – Larger 15.6-Inch Display and Dual Storage Support Make It Ideal for Work or Play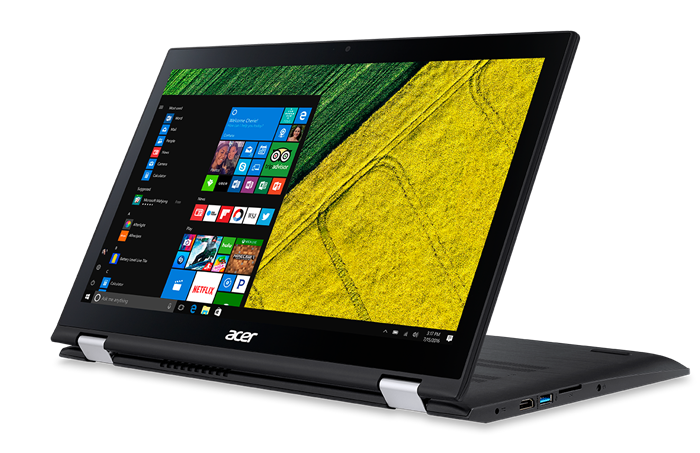 Moving on, the Spin 3 features a 15.6-inch HD or Full HD IPS display and comes with a sporty brushed-hairline finish. Solid performance is delivered with 6th Generation Intel Core processors and up to 12GB of fast DDR4 memory. It also features dual storage support, and comes with both solid state drives (up to 256GB) and hard drives (up to 1TB), providing fast boot up times and ample storage for documents and media. A backlit ergonomic keyboard with a 1.6 mm keystroke provides for comfortable typing. It also includes an HD webcam with HDR imaging and delivers all-day productivity with up to 9.5 hours of battery life.
Acer Spin 1 – Perfect for the Classroom or as a Second Computer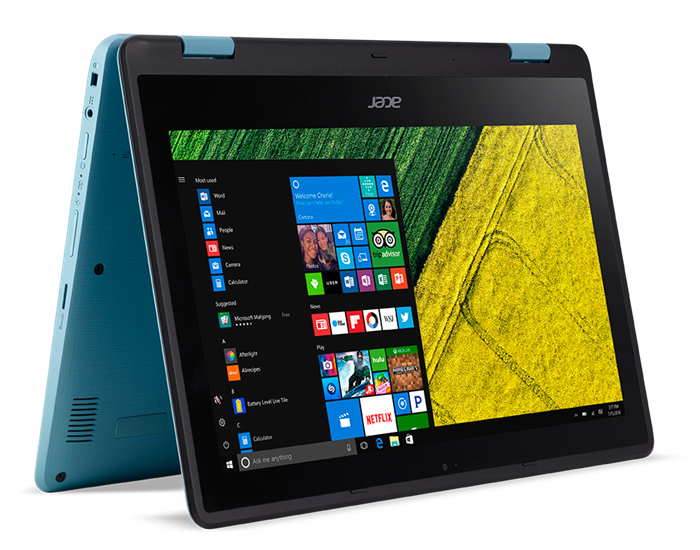 The Spin 1 is ideal for students or for use as a second computer, able to last up to 9 hours of battery life. It comes in either 13-inch or 11.6-inch Full HD IPS displays, and include configurations with all new Intel Pentium or Celeron processors. Designed with the classroom in mind, the Spin 1 (SP111-31) supports an Acer Active Pen with Windows Ink.
As for the price and availability, all four Swift laptops' exact specifications, prices, and availability will vary by region. To learn more about availability, product specifications and prices in specific markets, please contact your nearest Acer office via www.acer.com.