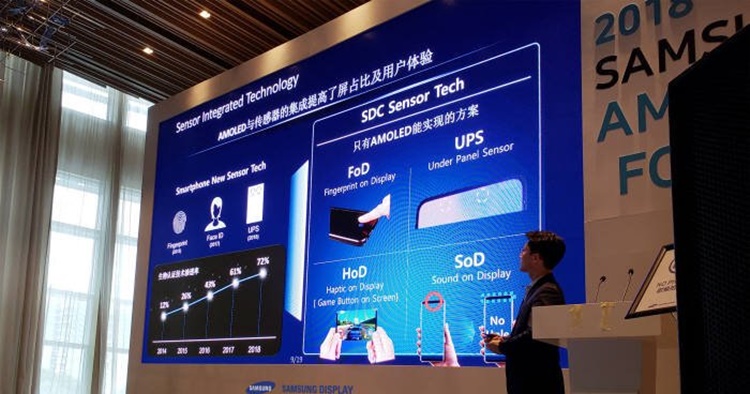 So you probably have heard of an in-display fingerprint sensor, but have you heard of an in-display front camera? That's what the latest news says and it seems that Samsung could be the first one to do so. As more Android manufacturers continue to adopt the notch, Samsung is refusing to join the club and is currently finding their own way on how to integrate a front camera without a notch.
The Twitter shoutout taken below was during the 2018 Samsung OLED forum held in China. During the presentation, the new technology was briefly mentioned, as the Korean giant also mentioned having an in-display fingerprint sensor, touch-sensitive technology and screen sound technology with its under-screen sensor (UPS). At the moment, only some Samsung devices are in the test lab and we honestly think that we won't be seeing it that soon, even for the upcoming Galaxy S10 which will come in the first quarter of 2019.
Great news! Samsung established the direction of mobile phone design in 2019!
On October 18th, Samsung Display invited about 20 customers to hold the "2018 Samsung OLED Forum" at the Shenzhen Marriott Hotel in China. At the meeting, Samsung showed a PPT pic.twitter.com/sYu0ORTd6V

— Ice universe (@UniverseIce) October 19, 2018
#Samsung is working on a new technology trying to hide the front camera underneath the display. My sources told me that there are just a hand full of prototypes using this technology. I don't think we'll see this feature in retail phones until 2020, but who knows

— SamsungMobile.News | Max (@Samsung_News_) October 18, 2018
Samsung is also currently looking into other OLED related technologies, which should include TV's but what do you think of having an in-display front camera? How will it look like? Stay tuned for more Samsung news at TechNave.com.