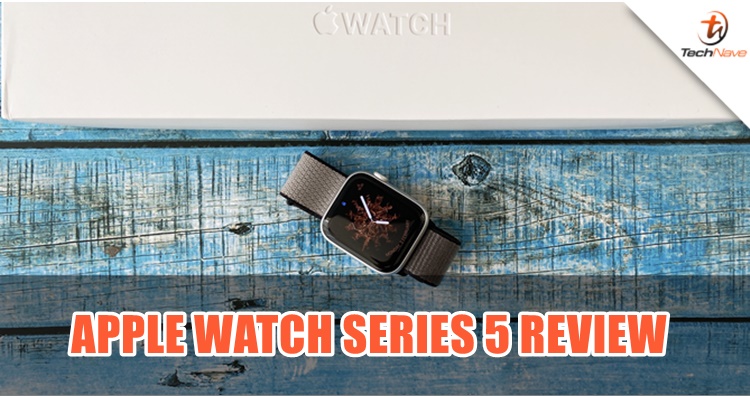 It's post-Chinese New Year and now you have no excuses about not to go to the gym or at least doing a walk outdoors. And if you're serious about getting your fitness+ back on track, you ought to have a smartwatch with you as a virtual assistant. Sure, most smartwatches are kind of expensive but it's for a long term investment.
That said, Maxis was the latest player to bring in the Apple Watch Series 5 into Malaysia just last December in 2019. The fact that they brought in the wearable this late (as it was first unveiled in September) is due to market demands, which Celcom and Digi are also doing. I've been using the Apple Watch Series 5 for about three months now so here's the review below.
As most people's reactions would go about Apple product designs, the Apple Watch Series 5 is rather identical to the predecessor and that's fine because it preserves the identity. It's still square with rounded corners featuring a retina display, the same side button and digital crown/home button are still there too and comparing with the predecessor, the Watch Series 5 is actually flatter and wider this time.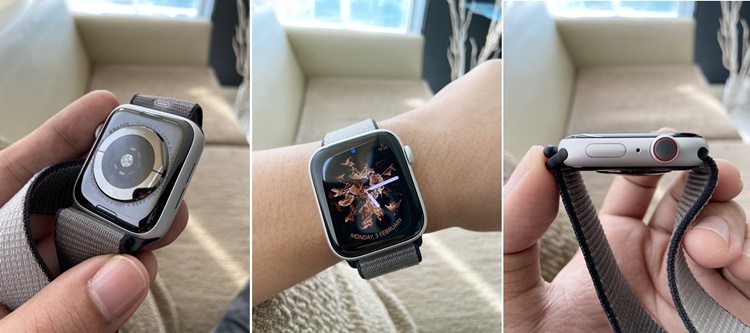 Same thing, but enticing

The Watch Series 5 comes in two kinds of body material too - Stainless Steel and Aluminium. The latter uses a 7000 series aerospace-grade aluminium which is usually recycled from old iPhones so it's pretty strong and lightweight. However, if you want an even higher quality then the Stainless Steel can do as it has resistance against corrosion.
If you visit the Apple website on the Apple Watch Series 5 page, you will find that there are a wide variety of options for you. You can go for either the 40mm or 44mm, aluminium or stainless steel, and many, many, many strap choices from sports to leather in different colours. Do note that the body material can determine the outcome of the cost.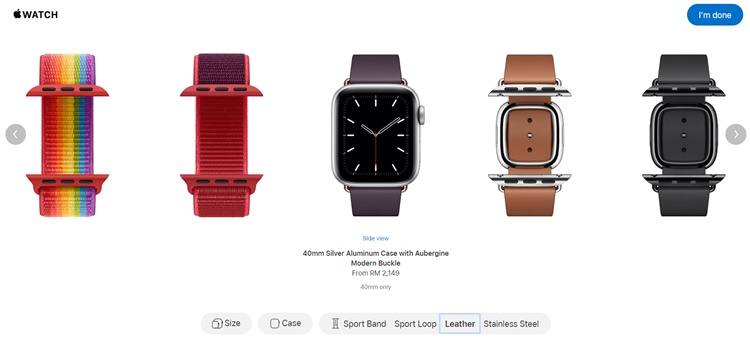 Straps selection is nearly endless on the website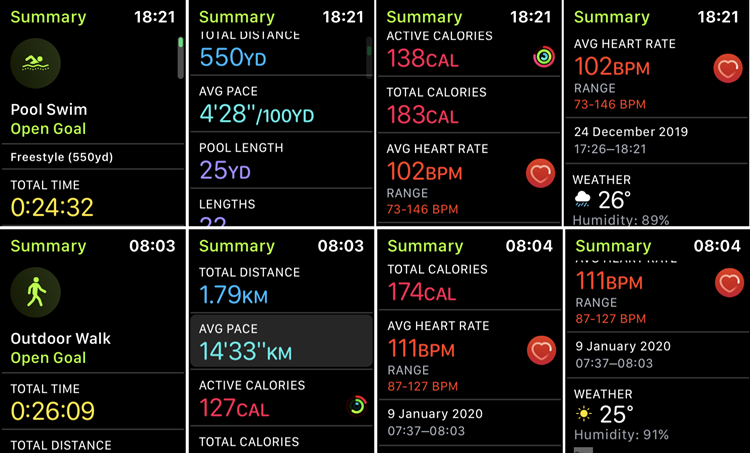 The reports after doing a certain activity, the phone will also display the same thing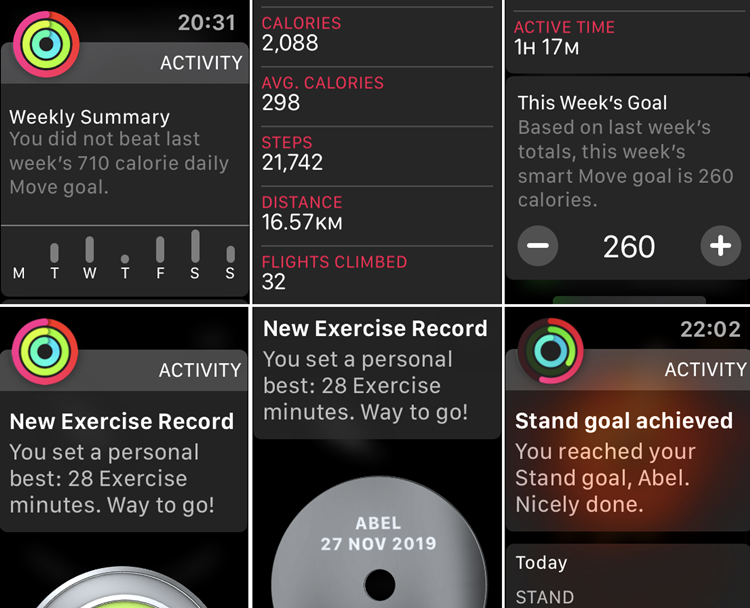 The Activity app will also nudge you to do some exercising daily and will encourage you with new records, reports and next week's goals
Essentially, the Apple Watch Series 5 is best used for people who are into exercising. You want swimming? You got it (it is water-resistant up to 50 metres!). Cycle tracking? No problem. Yoga, yup it has that too. Most of the necessary sports mode you need can be easily found like most smartwatches, syncing with your iPhone will also provide the same health report on your activity. Other than that, you can also set reports on your menstrual cycle, letting you know if the environment is too noisy, and even reminds you to Breathe for a minute if it detects your stress level (it really works) via the Activity app.
That said, you can also set Heart Rate notifications on your iPhone to alert you if you have high or low heart rates and irregular heart rhythms. This is an important tool particularly for people who have a stressful job or are just growing old. So if you happen to have an Apple Watch Series model (starting from the 3rd-gen), do yourself a favour and turn on this notification.
The Emergency SOS (left) and the Heart Health page can be found on the iPhone's Watch app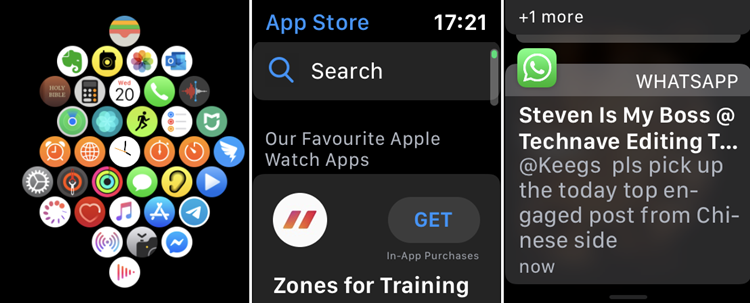 Default Apple Watch menu (left), App Store which you can download independently (centre), and the notifications that appear (right)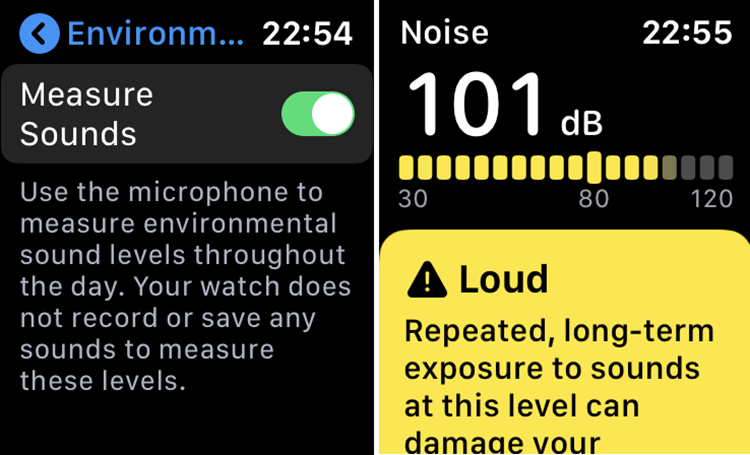 The Noise app that detects if the environment is too loud or not
To add on, there are also the Fall detection and International emergency calling features. While these aren't exactly new, but both are still very useful features nonetheless and as I recall, no other smartwatches have these yet so that's one of the advantages that the Apple Watch Series has over others.
Perhaps one of the other reasons why Malaysians should consider a smartwatch like this is also its built-in cellular feature. This means that it fully supports an eSIM with your mobile number and lets you talk through the smartwatch like a spy in the movies, even without your iPhone turned on. Of course, for the best experience, you will need an Airpod (or any other earphone) for that because it's not really practical to talk to your Apple Watch in public.
While the Apple Watch Series 5 sounds pretty good so far, there is just one problem - the battery life is still pretty dull even if it has been slightly improved. From my experience, I still need to charge it every one and a half days and I'm not even considered an active sportsperson. A full recharge takes one and a half hours and that's kinda slow, in my opinion.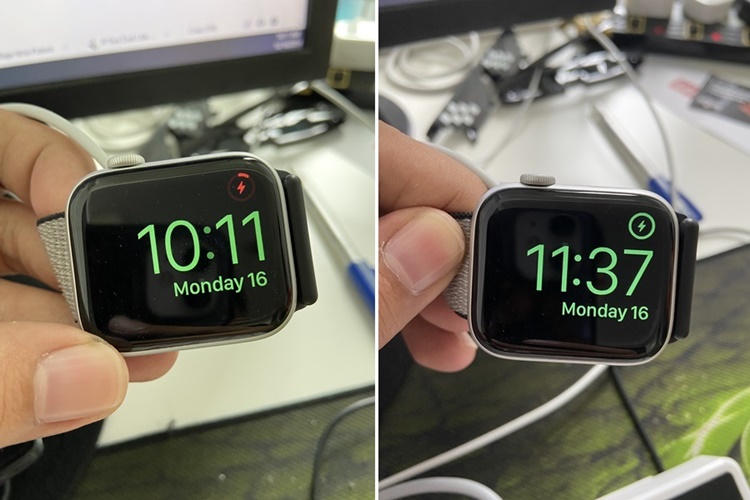 A pretty long charge for the Apple Watch Series 5
So all in all, the Apple Watch Series 5 does what it is expected to do. It's a great accessory to get your fitness lifestyle seriously in shape (should you be determined), a wide variety of design options for your preference, as well as having an in-built cellular feature for calling and looking out for you via heart monitoring, falling or with emergency SOS call. The battery life is a bit of a letdown, though, but so is the price.
Just so you know, the starting price of the Apple Watch Series 5 is RM1749. That's a pretty steep price but it doesn't stop there, remember what I said about customizing your design? It can go all the way up to RM3499 which is almost the same price as an iPhone 11. For comparison, the Samsung Galaxy Watch Active 2 and Huawei GT 2 start from RM1099 and RM799 respectively. It's worth mentioning that the latter has a 2-week battery life as well, so that's quite something.
So if you think price is an issue, you can always rely on our local telcos for a better pricing. The Apple Watch Series 5 is now available across Malaysia at every authorized Apple resellers as well as the official online website. That's our take on the Apple Watch Series 5, what do you think? Are you willing to spend that much for your fitness goals? Let us know in the comments and stay tuned for more tech reviews at TechNave.com.
Tech Specs and Features - A very premium smartwatch
Here are the Apple Watch Series 5 tech specs and features:
S5 with 64-bit dual-core processor

W3 Apple wireless chip

Always-On Retina display with Force Touch

Measures 40 x 34 x 10.74mm or 44 x 38 x 10.74mm, weighs 40.6g or 47.8g

32GB storage

Features water-resistant up to 50 meters, optical and electrical heart sensor, a built-in compass, fall detector, SOS emergency call, various sports modes, cellular call, speaker

Supports Wi-Fi (802.11b/g/n 2.4GHz), Bluetooth 5.0, LTE and UMTS, GPS

watchOS 6

Up to 18 hours of battery life
Pros and Cons
Pros - A smartwatch that does its job well, particularly in the area of heart rate monitoring, network calls, and of course, an assistant for your fitness goals
Cons - A rather short battery life and a steep starting price
Summary - If you're serious about having a healthy lifestyle and an iOS experience altogether, then you should opt for the Apple Watch Series 5.