Apple Watch smartwatch officially announced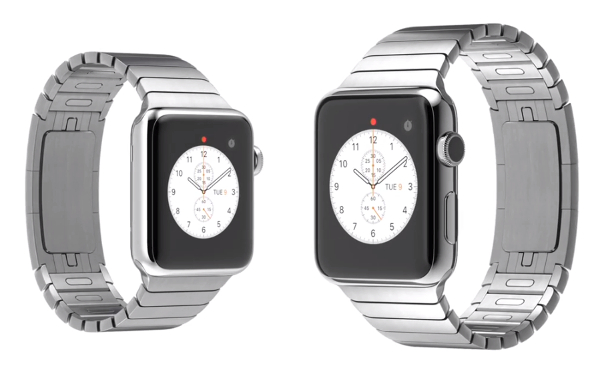 The Apple Watch comes in His and Her sizes
The Apple Watch is probably the most anticipated smartwatch around. Going for a thick slab of touchscreen look with rounded corners and a Retina screen it will come in two sizes, one smaller 38mm sized case and another larger 42mm sized case, making it good for both men and women or at least those with small and large sized wrists. Like other normal smartwatches, it is a companion device, meant to work with your Apple iPhone but it is also a fitness tracker. Detailed tech specs are not available yet, but we do know that it has a battery life of about one day, uses an Apple S1 system-on-chip, has a Retina Display and NFC. It is compatible with Apple iPhones from the Apple iPhone 5 and above. Notable features include:

Customizable cases and straps ~ There are 3 cases, one in 18K gold called the Watch Edition that comes with a sapphire crystal glass cover, one in anodized aluminum called the Watch Sport with a ionized glass like Corning Gorilla Glass (but still not mentioned specifically) and one in stainless steel going by the standard Watch. Straps can be removed and attached easily through a slide-in insert system that clicks open with a safety catch on the underside of the watch. Watch straps include metal links, magnetized leather, magnetized metal mesh, rubberized silicon, pure leather with a metal clasp and more.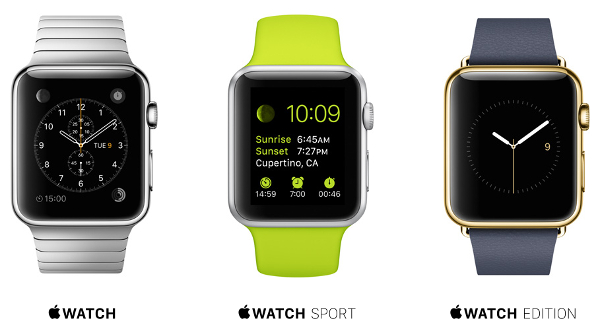 There are 3 types of casing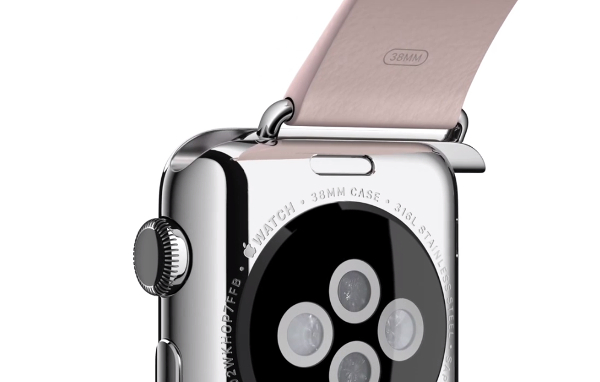 The straps slide out easily
Digital Crown (The Home button) ~ This is the large clickable dial on the side, which allows for zooming in and out or going back to the Home screen. This allows for zooming without having to pinch the screen, which is difficult for such a small touchscreen.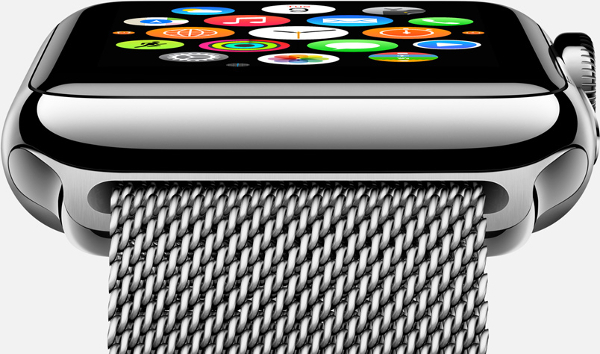 The big dial on the side is the digital crown providing precision control without having to use the touchscreen
Touch Sensitive display and Taptic Engine ~ The taptic engine provides haptic feedback while electrodes around the screen lets it detect how much force you use for each touch. A light tap or a hard push can do different things, providing more levels of interface with a smaller screen space.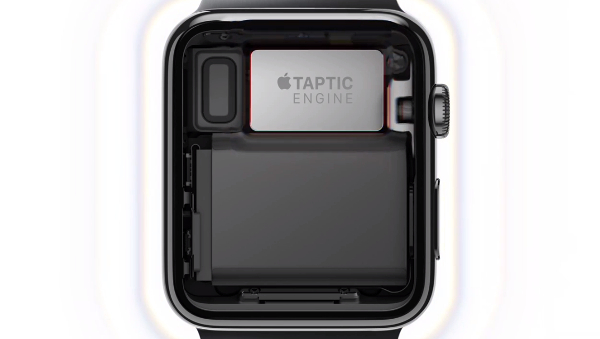 The Taptic Engine provides haptic feedback
Magnetic Wireless charging ~ The magnetic wireless charger snaps on with no need for special alignment or any external ports.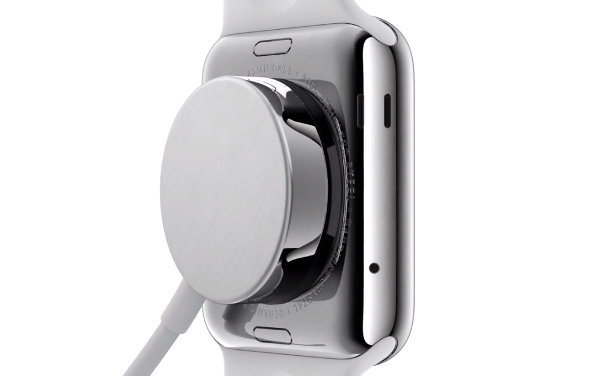 Easy to do magnetic wireless charger snaps on with no special alignment necessary
Heart rate sensor ~ four sapphire crystal lens covered sensors on the underside of the Apple Watch detects your heart rate, so you're constantly tracked even if you're on the move.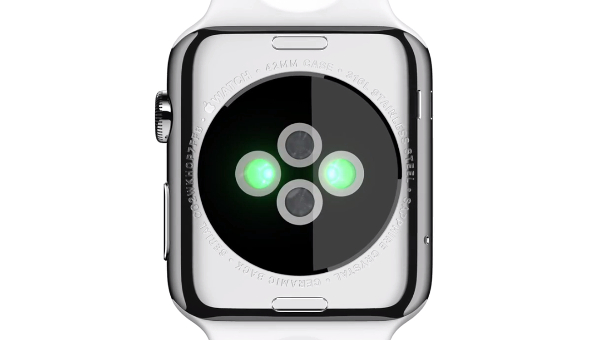 Four sapphire crystal covered sensors provide accurate heart rate readings
The above features are just the tip of the iceberg for all the features and apps available on the Apple Watch as this includes a calendar, maps, passbook, music control, Apple TV or iTunes control, remote camera control and viewfinder, stopwatch, timer, alarm, world clock, stocks, weather, photos, Siri and much more. More can be expected soon as Apple have already made the Apple WatchKit available to developers. There are still no Malaysia release dates or pricing detais yet, but we expect the Apple Watch to come to Malaysia in 2015, so we'll probably see it in Q1 of 2015. Pricing is expected to start from $349 (RM1117). While the sapphire crystal glass may offer a good amount of scratch proofing, there is no mention about water or dust proofing, so we'll assume that it can take a drop or two of water but not much more.

Introducing the Apple Watch


The Apple Watch highlight video


Check out the Apple Watch for health and fitness
[Source]
Apple Watch Sport 38mm Specs & Price >