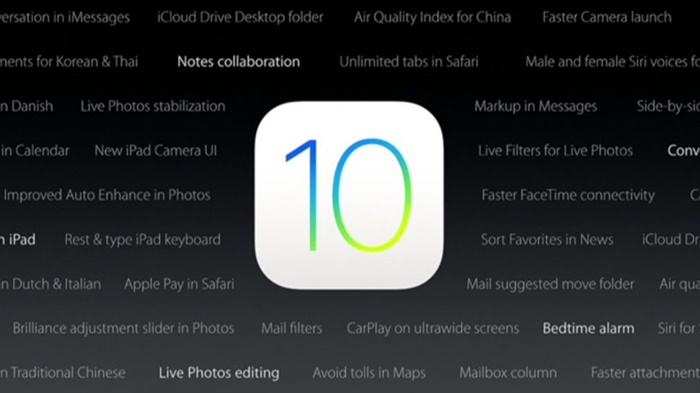 While we Malaysians are still waiting for the arrival of the Apple iPhone 7 series, Apple has decided to drop their latest iOS 10 globally yesterday morning. iOS 10 is indeed a huge upgrade as there were no less than 5 changes according to their changelog. Without further ado, here's our first impression hands-on on the latest iOS (also, I'm an iPhone 5 user, so some extra features will be missing here).
Right off the bat, after you've upgraded to iOS then, you will notice the message display look has been changed. While that's to be expected, the big change is instead of allowing you to "slide to unlock", you have to press "Home" now to get into your home page. Personally, I'm not really a big fan of this, but for iPhone 6s (and above) users, you will have a new feature called "Raise to Wake" which activates the phone by just putting your finger on top of the home button, so to speak, you can unlock your iPhone without having to press a single button.
To activate "Raise to Wake", simply
Go to the Settings app
General section
Accessibility
Scroll down to Home button and tap the option
Toggle on "Rest Finger to Open"
Apart from having an easier access to your camera now by swiping your screen from the right instead of bottom right, and the new widget view page can also be accessed by swiping from the left, this also works in the home page and you're allowed to change whichever widgets you wish to see.
There's a subtle change in the Control Centre, the only changes it has now is the addition of the Home app (which we will get to later), and Music has its own space on the second page.
Speaking of music...
The interface for the Music retains the same theme but this is how it looks like now, not really sure whhy they needed to enlarge the fonts but at least the arrangement for Playlist, Artists and others are more simplified now. I also find it easier to choose my next songs in arrangement by swiping up from the bottom (left screenshot) instead of having to tap previously in iOS 9.
Now as for the new Home app, the Home app is a place for your iPhone to set up Bluetooth devices such as lightning, the TV and many other electronic devices that supports it. I guess it's nice to have that feature but it's practically no use for me, not to mention it will drain up the battery faster as well.
The notification centre has also changed slightly, you can now view profiles from Instagram/Facebook, reply messages from social apps, and some apps (like the Clock on the right screenshot) can allow you to execute some actions without having to go into the app. Clearing multiple notifications is also instantaneous.
I've been waiting to do this for years! However, it doesn't really delete the apps as it only removes the icon. Oh well, it's something
Perhaps one of the biggest changes is the iMessage, from the screenshot above, you can clearly see that Apple has integrated this new form of messaging, called the Digital Touch. You can draw stuff in various shapes to your desire and even set off animated images (very right). The Digital Touch has a wide variety of colours for you to be your own artist, so that can be to your advantage if you want to impress your crush with your artistic skills.
There are also plenty of stickers for iMessage, but not really my cup of tea.
You can also give a small emoticon on selected messages, not really sure what's the use of this but it's a good way to show approval or something else that you feel if you're too lazy to type it out.
There's even a caligraphy mode for you to do it, to access into it, simply hold your iPhone horizontally, and you will notice a new icon at the very bottom right. Tap on that and then you will have this option, so not only can you write out Mandarin words, but other launguages too like Tamil even Korean at will.
You can also do Mark Up on your photos, simply tap a photo you wish to Mark Up, tap on the editing button (centre right, the one that has three lines with three circles on each of them), then look for the Mark Up icon (which is made of three small dots in line inside a small circle)
In the photos section, albums viewing has slightly changed and there are two new tabs which are "Places" and "Memories". In "Places", you can actually trace back to the place in a map that you've taken the photo which is nice.
And as for "Memories", it's said that it will appear right when you enter the Photo app (not appearing on mine though, probably because I don't have many pictures in my library), but what it does is it collects various photos and videos you took and it will be kept in a specific memory collection. With Memories at your disposal, you can have an automatic homemade video of the adventures you've taken, some editing tools are also available for you to edit.
Lastly, there's a new feature inside the Clock app which is called "Bedtime". As the name implies, this feature is sort of like a sleeping assistant as it helps you to set up your waking hours and sleeping time. It even has a sleeping analysis and history to check how well you've been sleeping, talk about an overly attached iPhone lol.
A reminder setting
(left to right) Setting up an alarm tone, a sleep history and actual "Bedtime" page with the Sleep Analysis chart just below the clock
So far, iOS 10 seems like a great upgrade, but the upgrade seems best for iPhone 6s users and of course, the latest iPhone 7 series because of the new way of unlocking your iPhone aforementioned above. However, I do feel like it drains the battery a bit faster than usual even for iPhone 6s according to my friend, charging up takes longer than usual too but that could be just my iPhone 5.
There you have it, which upgrade is your favourite? Is there any more features that I'm missing? Let us know in the comments below, thanks for reading and stay tuned for more first impression hands-on updates at TechNave.com!