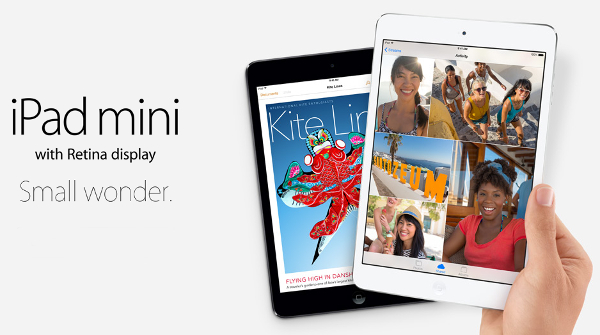 The 2nd generation Apple iPad Mini also was recently announced but unlike the iPad Air, only gets the standard Apple name of Apple iPad Mini with Retina Display. Yep, finally, Apple has refreshed the iPad Mini with a Retina Display, fulfilling the demands of Apple iPad Mini tablet users around the world. But guess what, they've also added in a little surprise in the form of a brand new 64-bit Apple A7 processor with the M7 motion coprocessor. Again, no Touch ID fingerprint scanner under the Home button. Rather than talk about the thinner and lighter iPad Mini, Apple have instead chosen to talk about the obvious specs of the Retina Display. This is perhaps because the new iPad Mini with Retina Display is actually thicker at 7.5mm (the previous version was 7.2mm) and heavier at 331g (the previous version was 308g). This isn't so obvious when held in the hand, but if you line the two versions up together and look closely, you'll see the difference. Tech specs and features for the Apple iPad Mini with Retina Display include:
64-bit A7 chip with M7 motion coprocessor
16GB / 32GB / 64GB / 128GB storage
7.9-inch Retina Display (2048 x 1536 pixels, 326 ppi pixel density, LED-backlit, IPS, Multi-touch, Fingerprint-resistant oleophobic coating)
5MP rear camera (autofocus, face detection, backside illumination, f/2.4 aperture) + 1.2MP FaceTime front camera
Supports WiFi + Bluetooth + (4G LTE + GPS (Cellular version))
Supports dual microphones + dual antennas
134.7 x 200 x 7.5mm | 331g / 341g (Celluar version)
10 hour battery
Apple iOS 7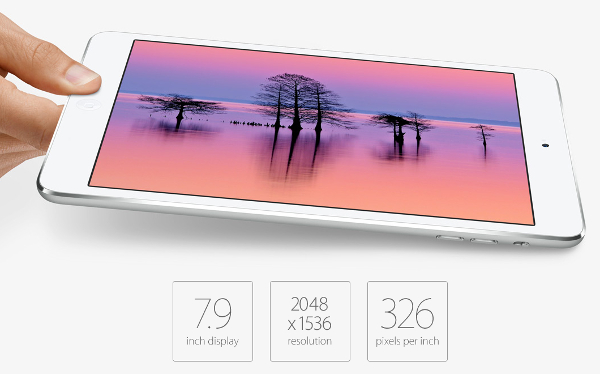 In terms of availability, the Apple iPad Mini with Retina Display is expected to arrive in November 2013 but there are no Malaysia release dates or specific release dates for any country just yet. The US Pricing has the 16GB WiFi version at $399 (RM1260) while the 16GB cellular version is priced at $529 (RM1671). While we think the addition of the Retina Display to the Apple iPad Mini is awesome, the addition of the 64-bit A7 processor may be a mistake for Apple as the two tablets are now practically identical apart from screen size. With a choice between something that will do the exact same thing (but looks much nicer with the higher pixel density), has more or less the same battery life but is lighter, smaller and easier to carry about, the Apple iPad Mini seems like the obvious choice. We also expect there to be supply problems for the Apple iPad Mini with Retina Display as well in the not so far future so if you're keen on it, get it quick when it comes out.