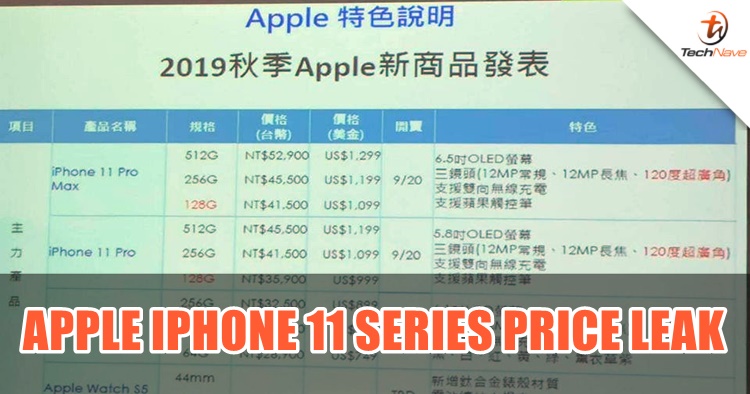 As per tradition, Apple will be hosting its annual Apple event and there will be a livestream at 1 AM (GMT), 11 September 2019. We have already covered most of the speculated tech specs and features, but the most popular one is of course, the price tag which got leaked online.
According to the leaked photo shot of a presentation, the iPhone 11 series is expected to go on sale from 19 until 21 September with several memory variants, colour models, as well as some tech specs that we already know of. There seem to be nine different models in total, which are:
iPhone 11 Pro Max (512GB) - $1299 (~RM5421)
iPhone 11 Pro Max (256GB) - $1199 (~RM5004)
iPhone 11 Pro Max (128GB) - $1099 (~RM4586)
iPhone 11 Pro (512GB) - $1199 (~RM5004)
iPhone 11 Pro (256GB) - $1099 (~RM4586)
iPhone 11 Pro (128GB) - $999 (~RM4169)
iPhone 11 (256GB) - $899 (~RM3751)
iPhone 11 (128GB) - $799 (~RM3334)
iPhone 11 (64GB) - $749 (~RM3125)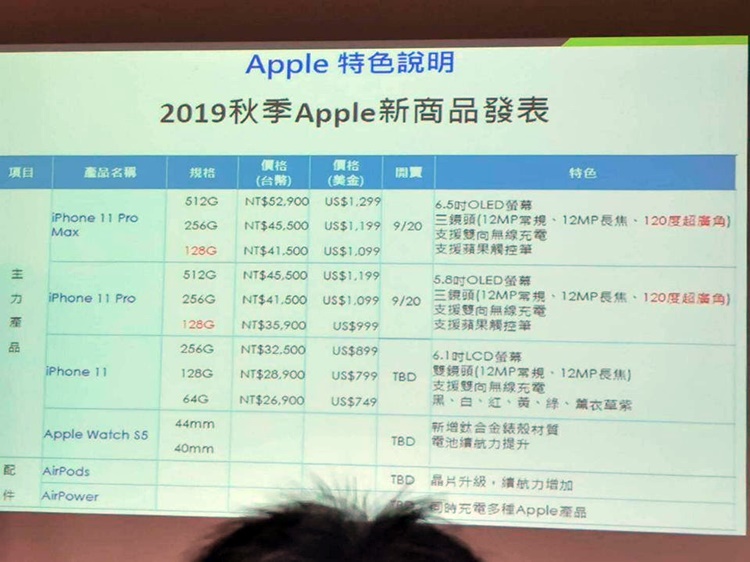 On the left side of the USD price tags, that will be the New Taiwan dollar (NT$) currency which is quite close. 26,900 NT$ is roughly around ~RM3597, which is not that far off from the USD currency for ~RM3125. In fact, this is actually the same price tag as last year's iPhone XS series and XR.
The netizens on the Taiwan forum also expressed their thought. Some responded "Wow", some thought it was rather aggressive (for their market), and expensive which is a common thing to say. Although that's the case, most of them are still looking forward to the conference.
It's also interesting to note that there are other Apple products listed there, such as the new Apple Watch S5, AirPods and a new AirPower which is probably the wireless charger. But rumours have it that Apple may have ditched it because it doesn't meet their standard.
So what do you think of the price? For us, it's the same old, same old. Stay tuned for the new Apple iPhone 11 series news coverage tomorrow!