Apple iPhone 5 Showdown: iPhone 5S vs iPhone 5C vs iPhone 5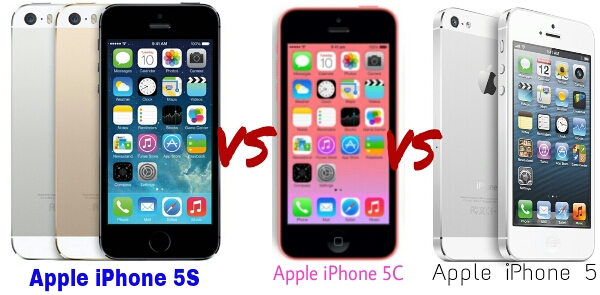 The Apple iPhone 5S and Apple iPhone 5C were just recently revealed as Apple's latest smartphone devices. While it is customary that the previous version gets a price drop, this time the Apple iPhone 5 will get replaced by the Apple iPhone 5C. This decision has left many wondering, should they buy the Apple iPhone 5S or iPhone 5C? We uncover all the reasons why you should or should not do so in this Apple iPhone 5 showdown between the Apple iPhone 5S, Apple iPhone 5C and Apple iPhone 5. Check out the Apple iPhone 5 tech specs and features showdown below:
Tech Specs comparison
Check out the tech specs between all the Apple iPhone 5 models below:
Apple iPhone 5 Models
Apple iPhone 5S
Apple iPhone 5C
Apple iPhone 5
Operating System
iOS 7
iOS 7
iOS 6
Processor / Chipset
Apple A7 + M7

1.3GHz dual-core

Apple A6

1.3GHz dual-core

Apple A6

Memory
N/A
1GB RAM
1GB RAM
Storage
16GB / 32GB / 64GB
16GB / 32GB
16GB / 32GB / 64GB
Display
4-inch TFT (IPS, 1136 x 640 pixel, 326 ppi)
4-inch TFT (IPS, 1136 x 640 pixel, 326 ppi)
4-inch TFT (IPS, 1136 x 640 pixel, 326 ppi)
Rear (Main) Camera
8MP (f/2.2 aperture, autofocus, True Tone dual-LED flash, 1.5 micron sensor)
8MP (f/2.4 aperture, autofocus, LED flash, 1.4 micron sensor)
8MP (f/2.4 aperture, autofocus, LED flash, 1.4 micron sensor)
Front (Secondary) Camera
1.2MP iSight, FaceTime, 720p video recording
1.2MP iSight, FaceTime, 720p video recording
1.2MP, 720p video recording
Battery
1440 mAh
N/A
1440 mAh
Measurements
123.8 x 58.6 x 7.6mm
124.4 x 59.2 x 9mm
123.8 x 58.6 x 7.6mm
Weight
112g
132g
112g
Siri
Yes
Yes
Yes
Availability
No, Semptember 2013
No, September 2013
Yes, third-party sellers
For a more comprehensive tech spec comparison check out our Apple iPhone 5 Comparison tool.
New Apple iPhone 5S features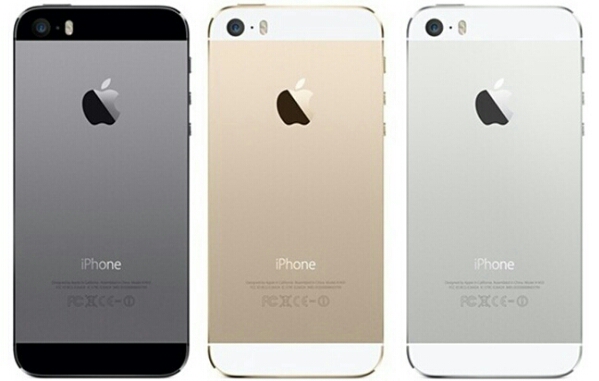 The Apple iPhone 5S brings several technological upgrades and features to the table which include:
A7 + M7 chips

- A new 64-bit A7 processor ensures 2 times the CPU and graphics performance than the A6 predecessor. While the 64-bit architecture won't really show much improvements yet because of all the still 32-bit apps, it provides future-proofing of sorts. The A7 graphics processor also supports OpenGL ES 3.0 so games and graphics on the iPhone 5S can look more realistic and more detailed (again, not many apps with OpenGL ES 3.0 support just yet). The M7 motion sensing coprocessor tracks motion data from the accelerometer, compass and gyroscope letting your iPhone 5S be more sensitive and power efficient.
Larger Pixel Camera

- While it is still 8MP the sensor itself has been enlarged to 1.5 micron with f/2.2 aperture lens for better light sensitivity. This is more or less what the UltraPixel camera does in that it takes in more image information for each pixel, improving shots and videos in low light conditions and making shots where light is involved pop more. Other camera features include a True Tone flash or dual coloured LED flash, Slow motion mode, continuous burst mode, zoom during video and a digital auto image stabilization (not to be mistaken with OIS which is hardware based).
Touch ID Home button

- the Home button on the iPhone 5S has a built-in capacitive fingerprint scanner protected by sapphire crystal (tougher material than Corning Gorilla Glass). It adds a faster and more secure password, and has been built into transactions involving your iPhone such as iTunes. This is also future-proofing for other transactions direct through your iPhone.
New Apple iPhone 5C features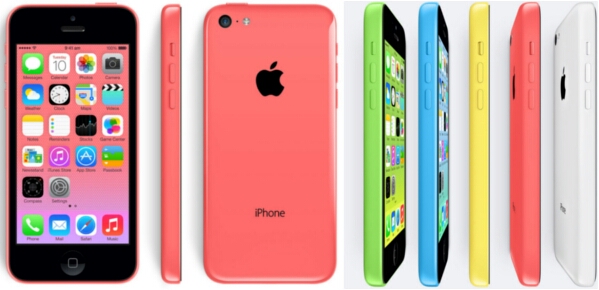 While most of the hardware on the Apple iPhone 5C is nearly identical to the iPhone 5, it does have some new features which include:
Polycarbonate backplate

- while previous iPhones were made of metal, the iPhone 5C has many colourful plastic interchangeable backplates. The plastic itself is hard-coated polycarbonate with a steel-reinforced frame, so it should be just as tough while doubling as an internal antenna. As a result the iPhone 5C is longer, wider, thicker and heavier than the iPhone 5 and iPhone 5S.
Some small hardware changes

- The iPhone 5C does pack in a better 1.2MP FaceTime front camera, a bigger battery and larger 1.9 micron pixel size backside illumination camera sensor. None of which affect the iPhone 5C that much unless you're a big FaceTime user.
The most LTE bands

- According to Apple the iPhone 5C has support for the most LTE bands than any other smartphone currently available. This means you can get LTE connectivity with the Apple iPhone 5C globally, which is also a form of future proofing since most countries like Malaysia still don't have widespread LTE just yet.
Conclusion and Pricing
It is clear that the Apple iPhone 5S is targeted at the tech user with all of it's future-thinking features. If you're one of these people, the rather high expected price of RM2550 or higher won't matter. If you already have the Apple iPhone 5 though, the upgrades are somewhat incremental, so if you're not a tech geek or iPhone photographer, then there isn't much reason for you to get the iPhone 5S. Wait next year for a bigger jump with the Apple iPhone 6. If you don't have the iPhone 5 then the iPhone 5S sounds like a good deal, especially since the iPhone 5C is more or less a rebadged version of the iPhone 5.
However, for some people having a colourful iPhone is their main reason for buying a smartphone, this is the market who will probably be most thrilled by the iPhone 5C, which may be priced around RM2189. While you probably won't be able to find the Apple iPhone 5 here in the Apple Malaysia store, there are always some sellers with old stock or the refurbished iPhone market, but you're probably better off just getting the iPhone 5C. The hardware is more or less the same and you can get 4G LTE anywhere in the world. In addition, both the Apple iPhone 5S and iPhone 5C will be getting the new and improved iOS 7 which you won't get if you buy an iPhone 5 now. For the sake of clarity we've put down the estimated prices for the Apple iPhone 5S and Apple iPhone 5C in the table below:
| | | | |
| --- | --- | --- | --- |
| Apple iPhone 5S / 5C Pricing off contract* | 16GB storage | 32GB storage | 64GB storage |
| Apple iPhone 5S | RM2554 | RM2968 | RM3329 |
| Apple iPhone 5C | RM2192 | RM2554 | N/A |
* Pricing is based on prices in other regions. Local pricing in Malaysia may yet change either higher or lower.
Apple iPhone 5S Specs & Price >