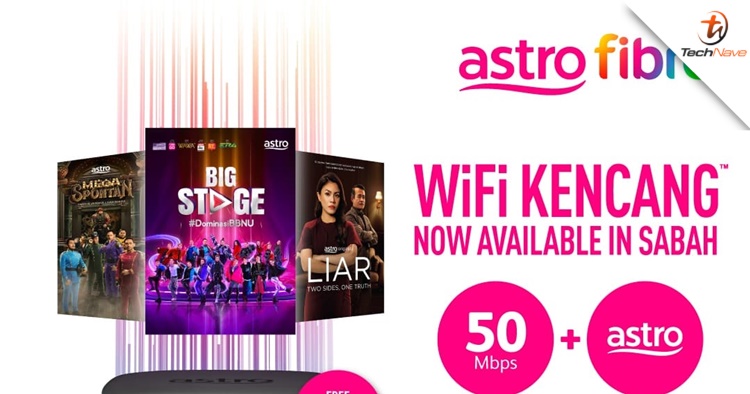 Today, Astro Malaysia has joined hands with Celcom Timur (Sabah) Sdn. Bhd. ("CT Sabah") to launch a new high-speed broadband service in Sabah. The partnership aims to bring fast and reliable internet connectivity to approximately 118,000 households across various towns including Kota Kinabalu, Tawau, Semporna, Sandakan, and more.
Starting today, Sabahans in these towns can avail themselves of the introductory offer of the Primary Pack with Astro Fibre 50Mbps plan for only RM129.99/month* (RRP: RM158.99). The Primary Pack offers an extensive range of over 80 channels, featuring popular shows such as the melodrama "Hijrah Jannah," the reality singing competition "Big Stage 5," the travel show "SHARP Travel with Mommy," and the widely-loved game show "Family Feud Malaysia Tamil."
| TV Pack + Astro Fibre Bundle | Ori Price | Promo Price | Savings |
| --- | --- | --- | --- |
| Primary Pack + 50 Mbps | RM158.99/month | RM129.99/month | RM29/month |
| Sports Pack + 50 Mbps | RM198.99/month | RM159.99/month | RM39/month |
| Movies Pack + 50 Mbps | RM193.99/month | RM154.99/month | RM39/month |
With the Astro Fibre 50 Mbps plan, customers can also enjoy browsing, gaming, and streaming activities. Moreover, the bundle package includes two complimentary apps, enhancing the Astro experience for customers:
Astro GO: This companion app allows Astro customers to access an extensive Video-On-Demand content portfolio on their smartphones, tablets, or laptops, offering binge-watching opportunities anytime and anywhere.

Astro Fibre app: Exclusive to new Astro Fibre customers, this app enables remote control, monitoring, and security features for their home network, providing an unparalleled WiFi experience.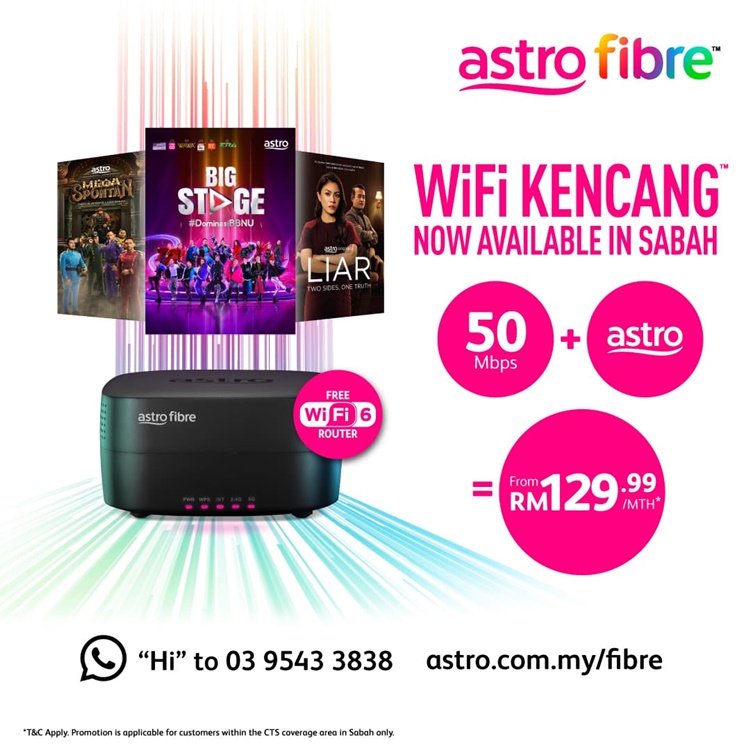 Moreover, the Movies or Sports Pack with Astro Fibre 50 Mbps come with live sports events such as Liga Malaysia, Formula 1, BWF Tournaments, ATP Tours, MotoGP, UFC, and more. Customers can also enjoy popular movies like the highly-anticipated science fiction film "Avatar: The Way of Water" and the thrilling series "The Zone: Survival Mission S2" on Disney+ Hotstar, along with the political drama "White House Plumbers" and action-packed series "Warrior S3" on HBO GO.
Astro's partnership with Celcom Timur (Sabah) Sdn. Bhd. and the launch of the Astro Fibre 50Mbps plan is set to provide residents with an all-in-one entertainment package at an affordable price. Interested customers may visit www.astro.com.my to subscribe to our Primary, Sports or Movies Pack + Astro Fibre 50 Mbps bundles.