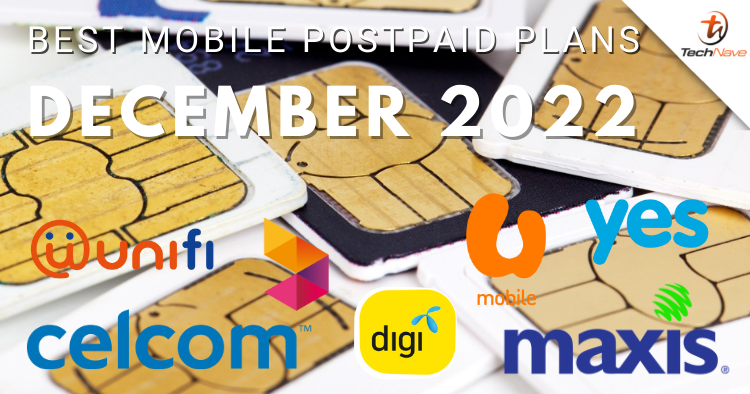 Earlier, it was announced that the cabinet will decide on the direction of 5G implementation. That suggests that the current implementation could see some changes. As such, local telcos might have to change plans for their 5G networks. Of course, that's just speculation so far.
Regardless, you might be looking to get a new mobile postpaid plan or upgrade your current one. In that case, it's best to review what's currently available in Malaysia, so you can choose a suitable one. Without further ado, below are the best mobile postpaid plans available in Malaysia.
Fastest download speed - Digi

At a glance, Digi postpaid plans don't seem all that special. They offer decent data caps and unlimited calls, as well as side benefits like rebates for Digi Broadband/Fibre. In terms of pricing, you'll get close to RM1 for 1GB of data, which is a solid value.
However, Digi reportedly has the best user experience in multiple areas. A few months back, OpenSignal reported that Digi provided the fastest download speeds. In fact, Digi's 4G network can deliver download speeds of up to 20.5Mbps, which is faster than competing networks. If that's what you want, Digi postpaid plans are your best option. Our recommendation here is the RM60/month plan, as it's affordable enough and gives plenty of data. For more data, the RM105/month plan can be considered as it offers a data ratio of RM1/GB.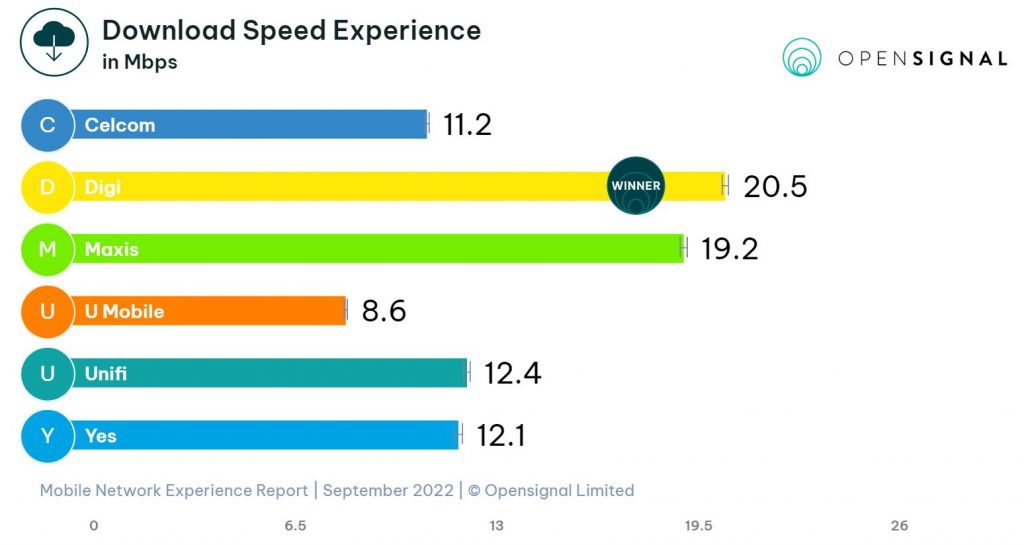 Best value add-ons - Maxis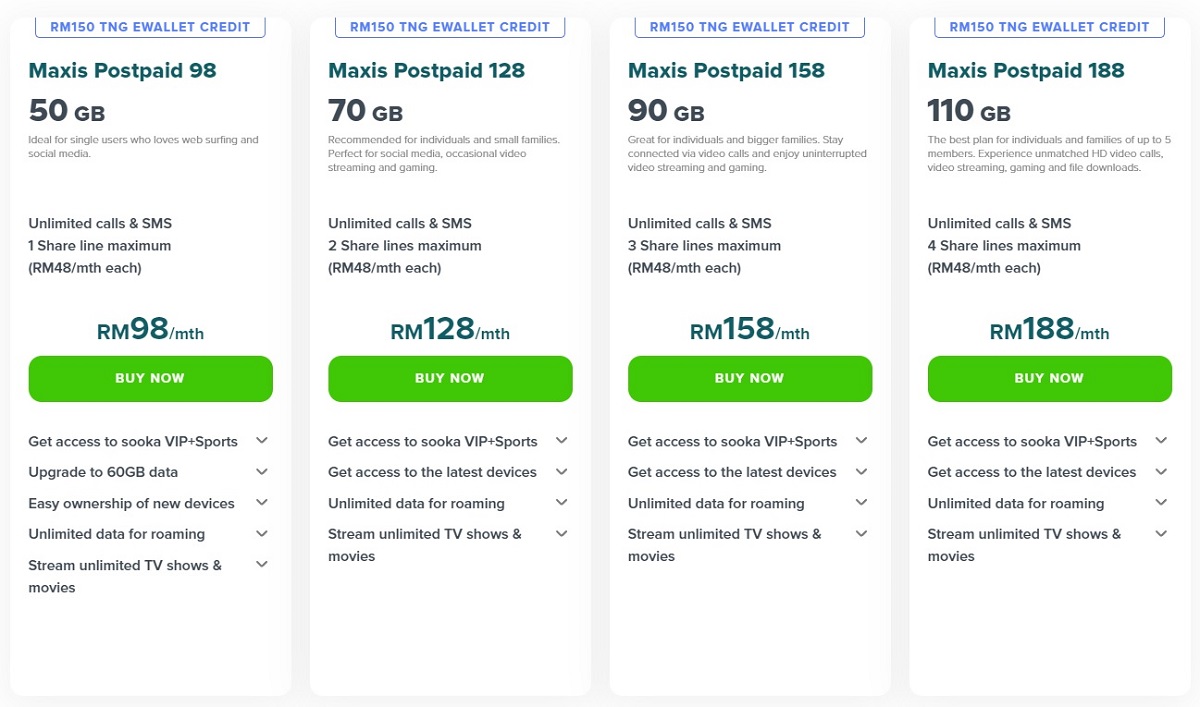 For Maxis, you get four postpaid plans that offer high data caps. and several nice extras. For instance, you'll get VIP+Sports access to Sooka, which allows you to watch premium sports content on your mobile device. You'll also get unlimited data for roaming (from RM3.30/day), unlimited calls, unlimited SMS, and RM150 worth of TnG E-wallet credit (limited time).
Maxis also provides the best user experience for people who love playing mobile games, based on factors like latency, packet loss and jitter. In the OpenSignal report, it's reported that scored the highest, meaning that it has fewer problems in these three aspects. So if you play plenty of online mobile games, you might want to check out Maxis. For Maxis postpaid, we suggest going for the RM98/month plan since it's enough to access the value-added options available.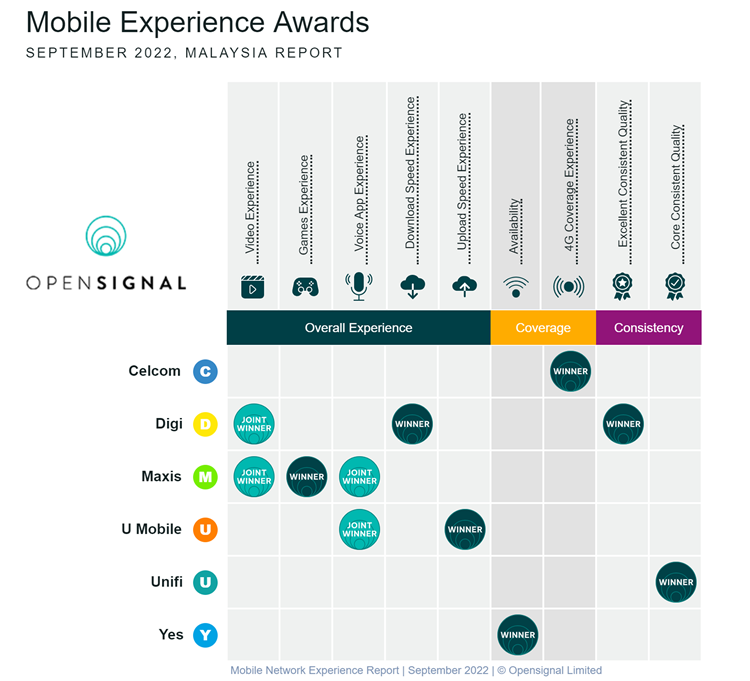 Best ringgit/data ratio - U Mobile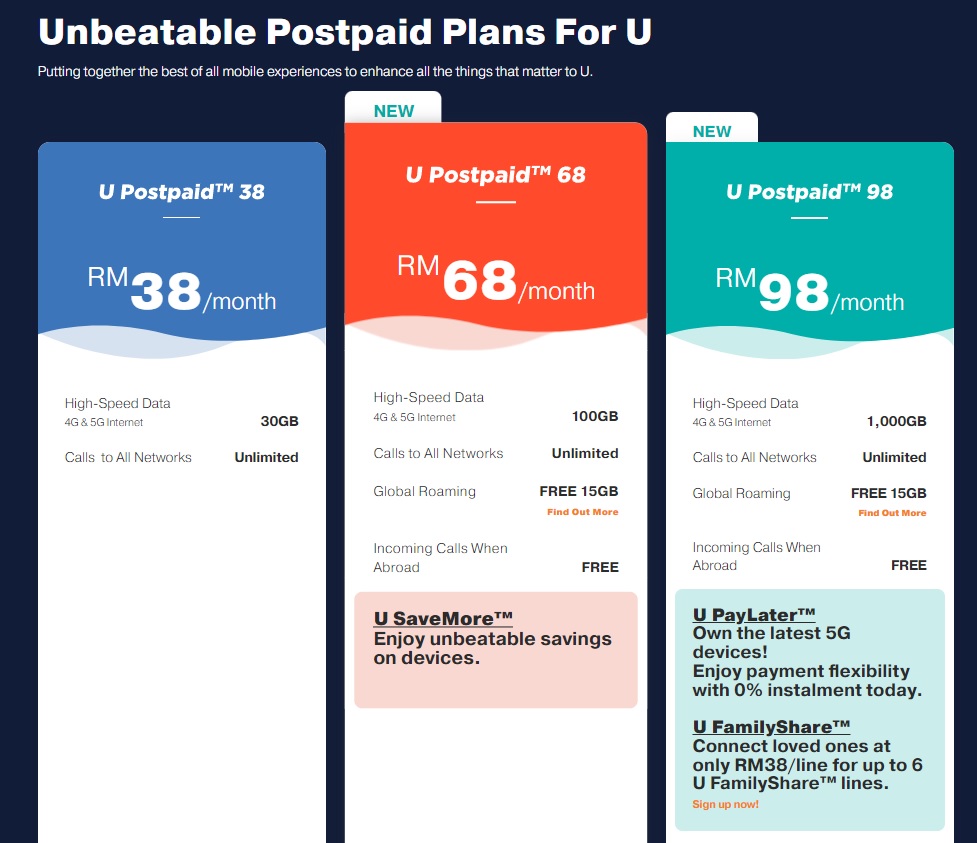 Are you planning to binge Netflix or YouTube on your mobile devices? If that's the case, U Mobile might be the telco for you. Currently, the U Postpaid 98 offers the second-highest data cap of any telco at 1000GB. That's equivalent to 1 terabyte of data, which is A LOT.
Mind you, U Mobile's network coverage isn't the best in Malaysia, especially when it comes to 5G. But if you find yourself constantly binging videos on your phone or tablet, you can't go wrong with U Mobile's postpaid plans. In this case, the RM38/month U Postpaid 38 plan is the best choice, especially since it has the best value out of the many postpaid plans here in Malaysia.
Most high-speed data cap - Celcom


Celcom postpaid plans are divided into two categories: Lightning and Unlimited. The former offers high-speed mobile Internet, while the latter is more about unlimited data for videos, music, and online mobile gaming. Celcom also has plans to provide 5G access via its Lightning postpaid plans, but possibly for an extra fee.
On the topic of payment, the monthly fees for Celcom's plans range from RM80 to RM188. Of course, the company offers enough for the pricing to be worth considering. For instance, the Celcom MEGA Lightning 188 plan is enough for the heaviest user, thanks to its whopping 2TB of high-speed data. Also, Celcom is known to have the widest 4G network coverage here in Malaysia. With Celcom, you can go for the MEGA Lightning 80 plan if it's the high-speed Internet you need. But if you love streaming videos or playing mobile games, go for the MEGA Unlimited 98.
Best for 5G - Yes

Yes is relatively new to the mobile space, but there's no denying that it's now a top option to consider for 5G. The company has four postpaid plans: Infinite Basic, Infinite Standard, Infinite Premium, and Infinite Ultra. All four plans offer unlimited 5G and 4G access, no cap on the speed, unlimited calls, and wireless hotspot data.
Interestingly, it seems that the last bit is how Yes Infinite postpaid plans differ. The monthly wireless hotspot data cap customers get ranges from 10GB (RM58/month plan) to 100GB (RM178/month plan). This setup is ideal for those who work on the go, or small startups that don't have a permanent office. Want to get mobile 5G access now? Then you should definitely check out the entry-level RM58/month plan, which already gives you unlimited data and uncapped Internet speeds.
Lowest entry price - Unifi
If you're not a heavy mobile Internet user, prepaid plans are usually more suitable. But if you prefer postpaid, Unifi could be the option for you. The company is another relatively recent player in the mobile industry, with its postpaid plans first launching in 2018.
Anyway, Unifi has four postpaid plans available. Its entry-level plan costs only RM19/month for 2GB of data, 5 minutes of call time, and 25 SMS. That makes it the most affordable mobile postpaid plan currently available. Sure, it doesn't offer much or provides interesting value-added services. But Unifi doesn't tie you down to a 24-month contract like many telcos do, making these plans good for secondary devices. If you're not a heavy user, dislike telco contracts or just want a super affordable postpaid plan, grab the RM19/month Unifi postpaid plan.
So, that's our take on the postpaid plans currently available in Malaysia. The overall experience probably doesn't feel all too different for most people. But coverage and speed can vary depending on where you live or work. Hopefully, this write-up can give you a decent overview of what could work for you.
But with that said, what do you think about the mobile postpaid plans we have here in Malaysia? How should local telco companies improve their offerings for 2023? Please share your thoughts in the comments on our Facebook page, and stay tuned to TechNave for the latest tech news and trends!