BlackBerry PlayBook Review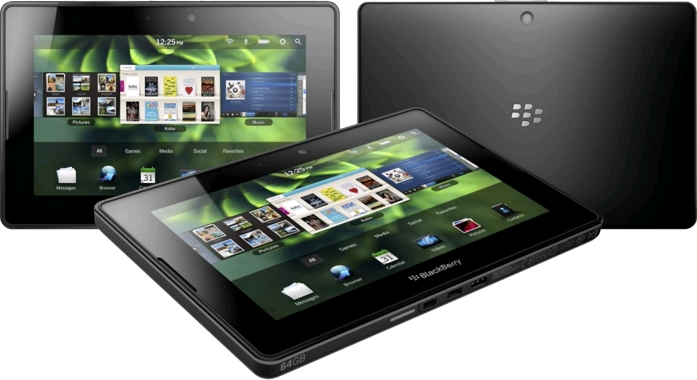 The BlackBerry PlayBook isn't just the third major tablet platform to launch, or the first one to deeply poke at figuring out why 7-inch tablets should exist—it's literally the future of BlackBerry, since the QNX-based OS is going to be the gooey software heart of BlackBerry phones in the next year or so. This is not a bad thing.
BlackBerry Playbook - Design & Build:
The BlackBerry PlayBook feels good in your hands, thanks to a soft-touch backside. RIM's slate is a hair thinner than the original Samsung Galaxy Tab but is an ounce and a half heavier (14.9 vs 13.4 ounces). Still, you can easily slip the PlayBook in a purse or jacket pocket, something you can't do with the iPad 2.

BlackBerry Playbook - Display:
Sporting one of the better screens we've seen on a tablet, the 7-inch LCD on the PlayBook has a resolution of 1024 x 600 pixels. Colors really popped, text looked sharp, and viewing angles are wider than the muddier Motorola Xoom.

BlackBerry Playbook - Speakers:
Don't let the small speaker grilles on the front of the PlayBook fool you. This tablet produced booming audio when we streamed Florence + The Machine's "Dog Days Are Over" with the Slacker app. At least for smaller rooms, you won't need a speaker dock.
BlackBerry Playbook - UI:
The home screen of the PlayBook looks a lot like HP's webOS, but we're not complaining. The center of the home screen gets populated with thumbnail views of apps as they're opened. You can then swipe through this carousel and tap on the app you want, or press the little X below the thumbnail to close it.
The front side of the PlayBook has an enlarged bezel that surrounds the 7-inch display, which is there for performing various gestures. For example, you can get back to the home screen at any time by swiping up from the bottom of the frame. You can also swipe sideways to switch between open apps. The software is even smart enough to automatically pause video playback.

BlackBerry Playbook - Wireless file sharing:
When connected to your PC via USB, you can either drag and drop files to the PlayBook or use RIM's BlackBerry Desktop Software. You can also wirelessly sync files by turning on the PlayBook's Wi-Fi Sharing feature under options. We got this to work, but only after enabling the Network Sharing feature on our Windows laptop. Also keep in mind that the PlayBook doesn't sync automatically over Wi-Fi (like doubleTwist for Android). You have to manually transfer files in this mode.

BlackBerry Playbook - Keyboard:
As you might expect, the keyboard on the PlayBook is fast and accurate. We could really fly with our thumbs when using the device in portrait mode. We also like the reassuring clicking sound, whose volume you can adjust. You don't get haptic feedback, but we can live without it.
BlackBerry Playbook - Multitasking power:
With a 1-GHz dual-core processor from TI (the OMAP4430) and 1GB of RAM under the hood, the PlayBook certainly has the specs to stand toe-to-toe with the iPad 2 and other tablets. We streamed a 1080p video to a 32-inch TV while surfing the Web on the PlayBook at the same time without seeing any lag. Swiping from app to app was also fairly smooth, though the accelerometer took longer than we'd like to switch the display's orientation when flipping the device around.

BlackBerry Playbook - Web browser does Flash:
While the PlayBook's browser lagged behind the iPad 2 when loading pages, the Web surfing experience is more robust because RIM's slate supports tabs and Flash. Even Hulu works, at least for now. We first watched The Daily Show on Hulu, and playback looked smooth at full screen. However, Flash-heavy pages often mistook swipes for taps, which made navigation difficult.

BlackBerry Playbook - Cameras & Video:
We don't expect a lot out of tablet cameras, but the PlayBook captured some of the best-looking videos we've seen yet. Using the rear-facing camera (5-MP), we recorded a detailed and stutter-free 1080p clip of New York City traffic. The footage looked crisp both on the PlayBook's screen and on a 32-inch HDTV.

Still shots we took with the back camera looked fine, but the PlayBook was slow to fire, and the camera lacks a flash. In either mode photo or video mode, you can switch from the back to the front (3-megapixel) camera, which can also handle 1080p video. It's too bad the PlayBook doesn't feature video chat software yet, because it delivered a very bright picture.

BlackBerry Playbook - Buggy software:
Unfortunately, we found the PlayBook to be flaky, with some applications randomly closing (like the browser). More than a few times we had to reset the PlayBook because it froze up, and at one point it refused to connect to different Wi-Fi networks. We hope and assume the device will get more stable as software updates roll out.

BlackBerry Playbook - Requires BlackBerry phone to get BlackBerry Mail:
Imagine if you had to thether your iPhone to your iPad to use the email app. That sums up BlackBerry Bridge, which allows BlackBerry phone owners (OS 5.0 and up) to connect via Bluetooth to access BlackBerry email, calendar, contacts, tasks, memos, and BlackBerry Messenger. When your BlackBerry phone isn't tethered to the tablet, all of these apps — and the data they contain — disappear. Security-minded IT types might appreciate this approach, but most consumers will be left scratching their heads.

BlackBerry Playbook - Lackluster apps:
RIM says that more than 3,000 apps have been submitted so far to BlackBerry App World, and there are some pretty heavy hitting developers and publishers backing the platform. We had a blast playing the bundled EA's "Need for Speed Undercover," using the PlayBook as a steering wheel to tear around city streets. We also like the included Documents to Go for viewing and editing Word, Excel and PowerPoint files. Other "apps," however, are just shortcuts to Web pages, such as Twitter and Facebook. The third-party apps we tried fell flat. Take "iRok2," a "Rock Band" clone that's just a repackaged version of the browser-based game.
BlackBerry Playbook - Battery life:
RIM's phone lineup isn't exactly known for its long battery life. I'm happy to report that this isn't the case with the PlayBook. In fact, I actually got through an entire three days without plugging it into the wall even once. And it's not like I left the thing alone during those three days. I actually used it an awful lot, with intense sessions of Tetris included. Unfortunately, this fantastic battery life comes at a cost: the PlayBook charges incredibly slowly. Again, this is unfortunate, because that magnetic charger isn't included with the PlayBook. A simple microUSB charger is, though, which makes the process even slower than it needs to be.
Conclusion:
In a lot of ways, the PlayBook is more polished and usable in its beta state than the Motorola Xoom, and it's straight-up the best seven-inch tablet out there (though in the tango between between portability and size, I think 10 inches is still the best). At the same time, I don't think anyone should buy it right now—BlackBerry user or otherwise—for at least a few months, to see if the platform has enough legs to carry itself to where it needs to be. If the apps do arrive to fill in the gaps, then the PlayBook is totally going to be a tablet to check out. The foundation is solid—I can't wait to see the first phones running this software—it just needs some stuff built on top of it before you can decide whether or not you should move in.
BlackBerry PlayBook Specs & Price >