BlackBerry Torch 9850 Review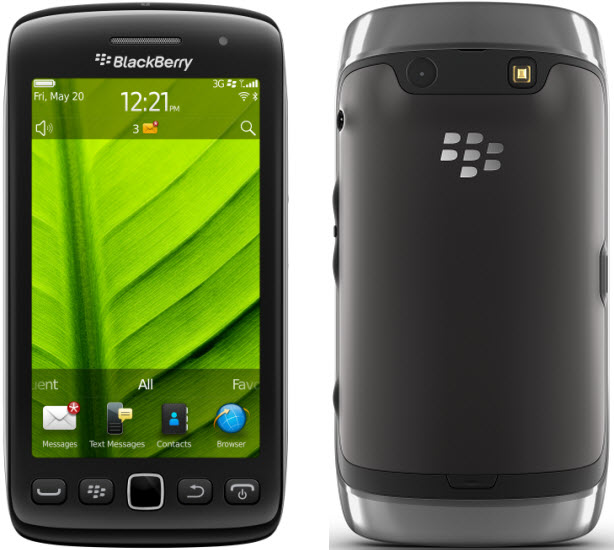 RIM has launched five new BlackBerry smartphones but the BlackBerry Torch 9850 is the only one that is a new design for RIM.
BlackBerry Torch 9850: Features
The Torch 9850 (launching in the US as a CDMA model known as the 9860) is a pure touchscreen device with a 3.7in (480x800-pixel) screen – the largest on a BlackBerry device to date. The 253dpi display, 5Mp camera and 720p video camera are powered by a 1.2GHz processor and 768MB of RAM. Primed with 4GB of internal memory, the Torch 9850's memory will be expandable by up to 32GB via a microSD card. The handset has Wi-Fi and HSPA+ connectivity and runs BB7 – the brand-new version of the BlackBerry smartphone OS. It also comes with a digital compass, Bluetooth and GPRS connectivity.

BlackBerry Torch 9850: Design & Build

First impressions are good. We like the slimline looks of this phone which, unlike the new Bold, is compact and fits easily in the hand. It weighs a fairly average 135g and, while it inevitably looks like almost any other black-clad touchscreen phone, it's also an unusually slim 11.5mm thick and a relatively narrow 62mm.
BlackBerry Torch 9850: Display
The bright 3.7in screen supports 16.7 million colours but, as with so many touchscreens, is rather prone to glare. We were pleasantly surprised by the responsiveness of the Torch 9850's screen. Previous touchscreens handsets that RIM have not been especially receptive. Apps were fast to load and we encountered no problems having several running at once. We also like the fact that you can resume where you left off, whether that's a tweet, a Facebook update or a certain point in a game.

BlackBerry Torch 9850: OS & Web

Ever since the introduction of BB6, web browsing has been a smooth experience on BlackBerry handsets. On BB7 it looks set to be better still. This, says RIM, provides 40 percent faster browsing and page loads than BB6.

BlackBerry Torch 9850: Navigation

As with other current BlackBerry smartphones, the Torch 9850 has a tiny optical trackpad for speedy navigation. We were pleased to find RIM hadn't forsaken this in favour of all the buttons being embedded touchscreen ones. The BlackBerry menu button, call, back and power buttons are also all present. Onscreen, you can have a taskbar menu at the bottom showing your most-frequently accessed apps. These Favourites can be easily customised.

BlackBerry Torch 9850: Software

New features to the BlackBerry line-up include NFC (near field communications) and augmented reality. The augmented reality function is provided by Wikitude – the same service as is found on the LG Optimus 3D. Launch the Wikitude app on the Torch 9850 and you'll see a screen full of location-based apps such as Gowalla, Twitter, Flickr and Panoramio. Choose which of these you wish to deliver details to your handset in order to build up a picture of the activities, images and services in the immediate vicinity. Unsurprisingly, BBM Chat is one of the suggested options to include.

BlackBerry Torch 9850: Performance

With a fast, HTML5-based browser, plenty of processor power and a highly responsive touchscreen, this the first BlackBerry touch-phone that really looks like delivering. While it's good to see new, more powerful versions of the Qwerty and touchscreen Torch and the Bold, the Torch 9850 looks like becoming the best of the new BlackBerry brigade.

BlackBerry Torch 9850 Specs & Price >