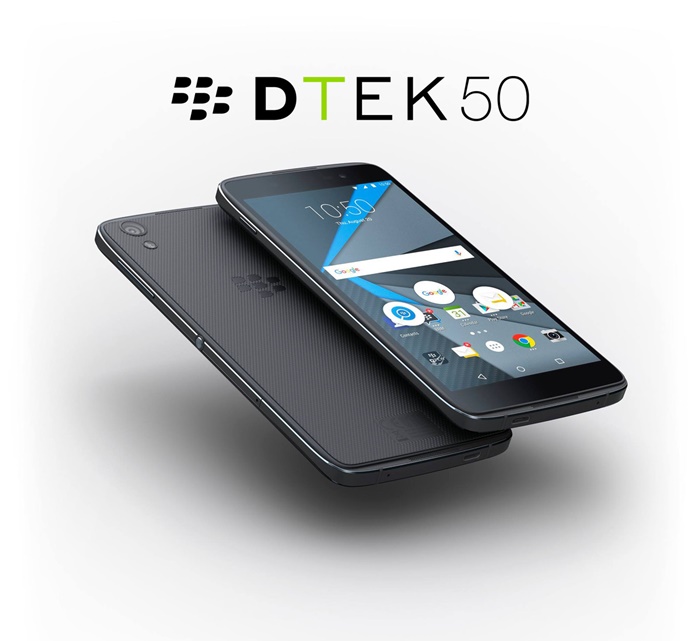 BlackBerry Limited, has announced Blackberry DTEK50 is now available in Malaysia shore for RM1339 (inclusive of GST) through all leading retail store partners of BrightStar Malaysia. One special highlight of the phone is that it combines all unique security, privacy and productivity with the full Android experience in an all-touch design, below is the official specifications.
Snapdragon 617 Octa-Core, 64 bit
3GB RAM
16GB storage (expandable memory available up to 2TB)
5.2-inch display with 1080p resolution
Measures 147 mm x 72.5 mm x 7.4 mm, weighs 135g
13MP auto-focus rear camera (Phase Detection Auto Focus and a dual-tone LED flash) + 8MP front facing camera
Features Intelligent BlackBerry Keyboard, Convenience Key, BlackBerry Security, USB 2.0,
Supports LTE Advanced, WiFi, Bluetooth 4.2, NFC connectivity
Android 6.0 Marshmallow
2610 mAh battery
"With an increase in cybercrime on smartphones, people need to recognize that the private details of their lives – where they live, their bank info, pictures of their kids – are at risk on their personal device. You wouldn't leave the doors of your house unlocked at night. Having a smartphone that doesn't take your privacy seriously is the equivalent," said David Kleidermacher, Chief Security Officer, BlackBerry. "It's equally important for businesses to protect their sensitive data from cyberattacks at all points of their mobile environment – from the device to the network and servers."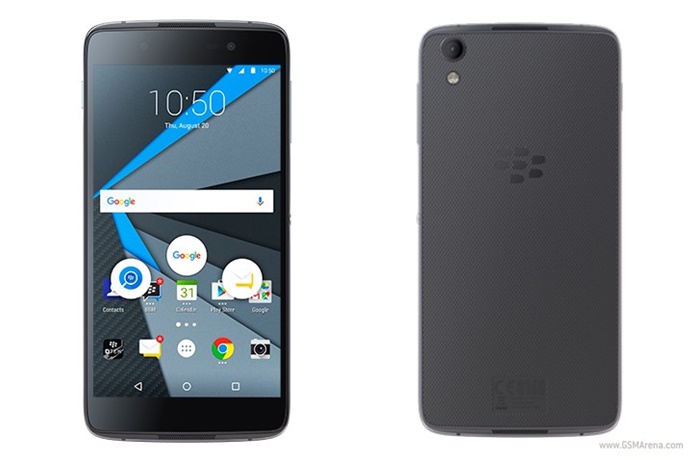 DTEK50 was designed to address the security and privacy needs of today's uncompromising Android users. With BlackBerry's unique built-in hardware security, DTEK50 encrypts all users' information, including business critical data and personal data such as pictures, videos and contacts. Malware protection is also built-in along with back-up, wipe and restore capabilities.
Here are some of the security features:
Rapid Security Patching: Quick to deliver security patches for incident response and patch management to protect your device from malicious threats.
DTEK by BlackBerry App: Enables users to automatically monitor their OS and apps to know when their privacy could be at risk and to take action to improve it, also to track applications and notifies you when someone is: taking pictures or videos without your knowledge, turning your microphone on, sending a text message, or accessing your contacts or location.
Hardware Root of Trust: Allows user to check tracking, verification and provisioning of DTEK50.
Secure Boot Process: Verifying the next component is fully intact before proceeding, ensuring your device has not been tampered with since the last restart.
Android OS hardening: Additional security patches, zygote ASLR and pathtrust to make it more difficult for attackers to target a device by scrambling application/system memory.
FIPS 140-2 Compliant Full Disk Encryption: Protects your private information, like pictures or bank information, from being stolen if you were to lose your phone.
"We take our customers' privacy seriously. That's why we're proud to have all the security and privacy functionality that is built in our newest Android smartphone. DTEK50 merges the unique security and connectivity features BlackBerry is known for with the rich Android ecosystem," said Ralph Pini, Chief Operating Officer and General Manager, Mobility Solutions, BlackBerry. "DTEK50 adds to BlackBerry's lineup of secure smartphones, providing choices to our customers with different price points on both BlackBerry 10 and Android platforms."
For more information on the DTEK50, visit either of the links below to get started: