Can you use the Samsung Galaxy S10 series to replace your laptop?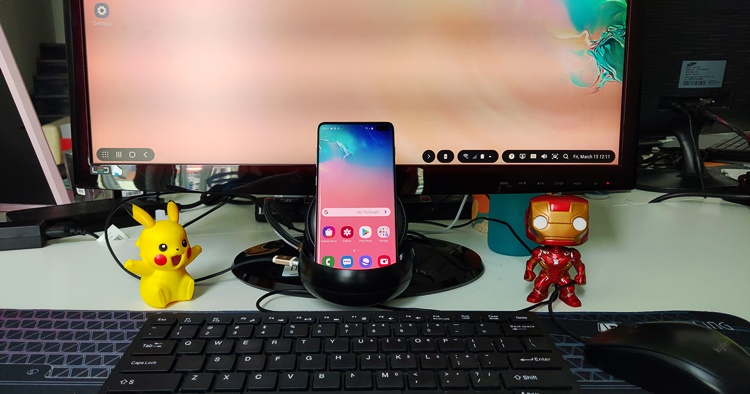 As cliche as it may sound, it doesn't take a scientist to notice that smartphones are now a huge part of our lives. In fact, it can be said that some smartphones are capable of replacing our laptops in the workplace. It all started when Samsung introduced the Samsung DeX or Desktop Experience in 2017, allowing the user to have a desktop-like experience by connecting the phone to a PC monitor.
Fun fact - our writer, Jim usually does his work on his smartphone during a launching event, but when he's in the office, he works on his laptop. So in this article, he decided to use the Samsung Galaxy S10+ for one day to answer the question, can you use the Samsung Galaxy S10 series to replace your laptop?
Getting started
If you have always wanted to try out DeX Mode, all you need is a HDMI to USB-C cable or a Samsung DeX dock (or DeX Pad) and a monitor to get it started. Once connected, you can control the mouse or keyboard on the phone's display but for a much better desktop experience, just get yourself an actual mouse and keyboard and turn the Galaxy S10+ into a "fully working PC"!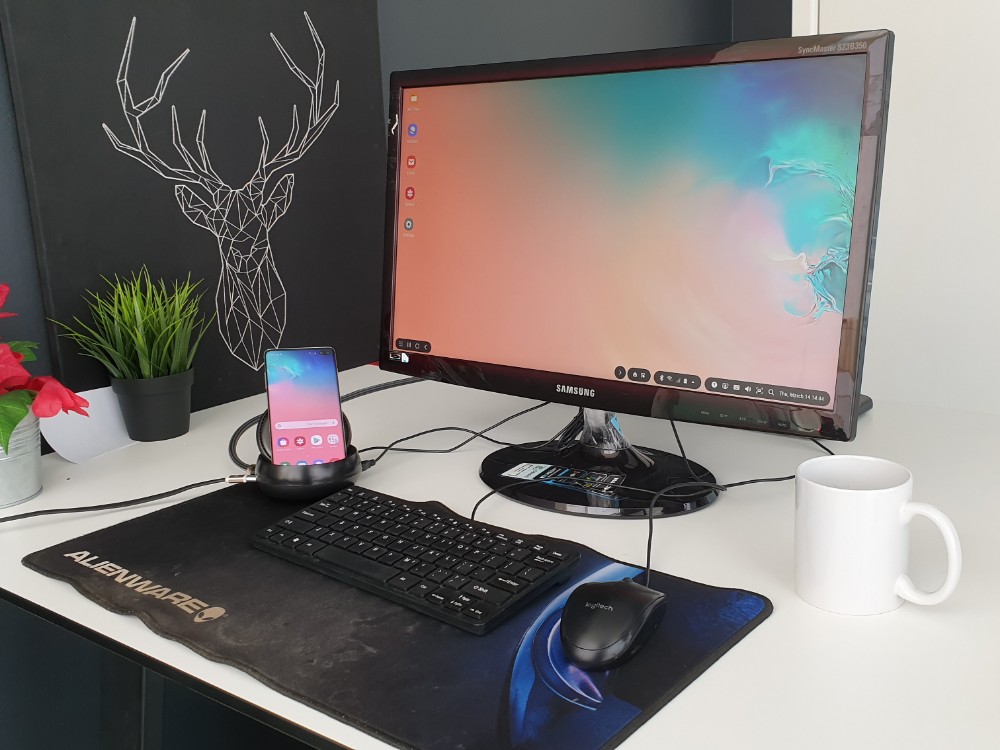 Here's how a complete Samsung DeX setup looks like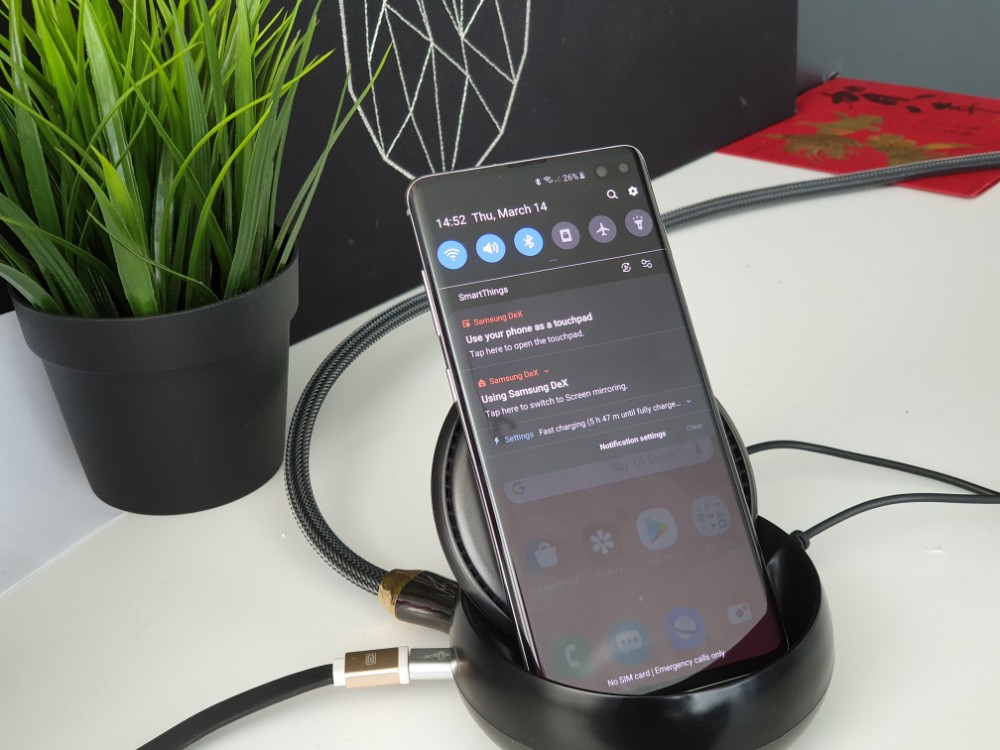 If you want, you can use the phone as a mouse or keyboard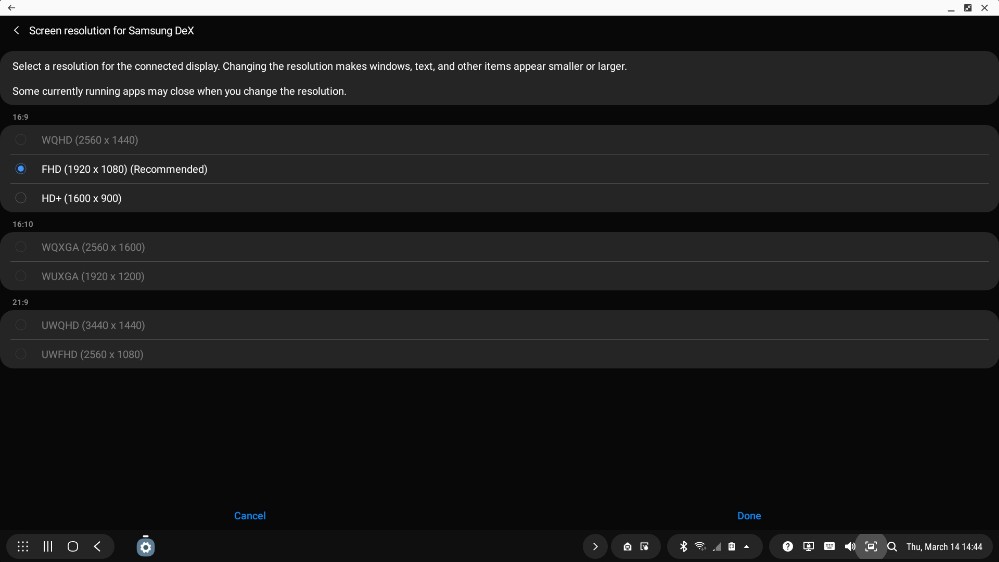 Look at all the different resolutions you can choose from!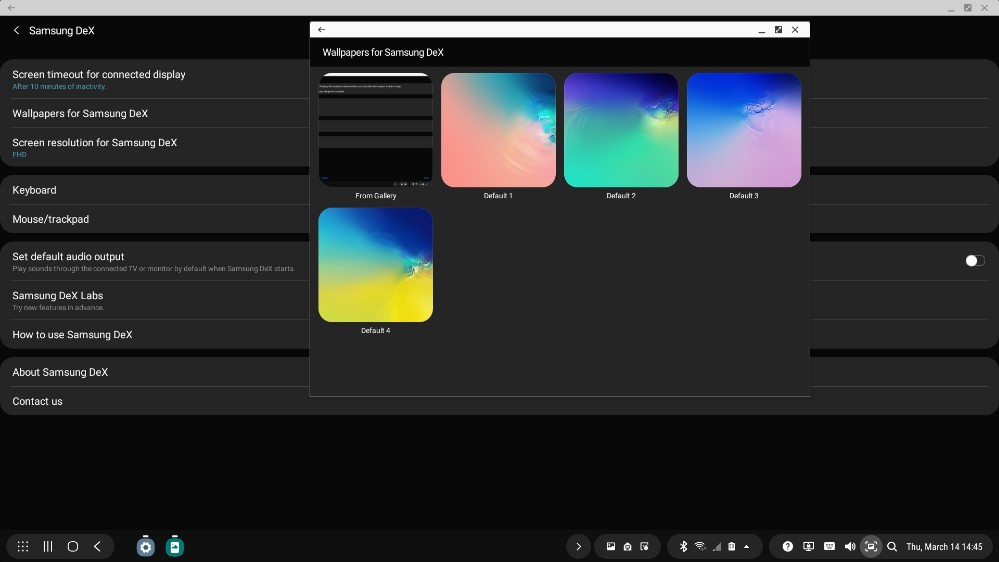 Choosing different wallpapers
Work, work
Depending on your monitor's configuration, the resolution can be adjusted up to 3440 x 1440 and you can even customize your favourite wallpaper in DeX mode. Similarly to a laptop connected to a monitor, the Galaxy S10+ can also be used as the second monitor and multitasking is not a problem at all. You can open different social apps and chat with your friends and family, open working apps such as Microsoft Office or WPS on the monitor, as well as running Facebook in the background and others. From Jim's experience and us as witnesses, this is the definition of convenience.
Just for your information, apps such as Gmail, Word, Excel and others operate a little differently from your traditional laptop and you probably need some time to get used to it. However, do be assured that all the apps do run quite smoothly and one of the best things about this is if you want to transfer a photo or other files from the phone, you don't need a USB flash drive anymore because you're already in DeX mode! Just do it straight away lah.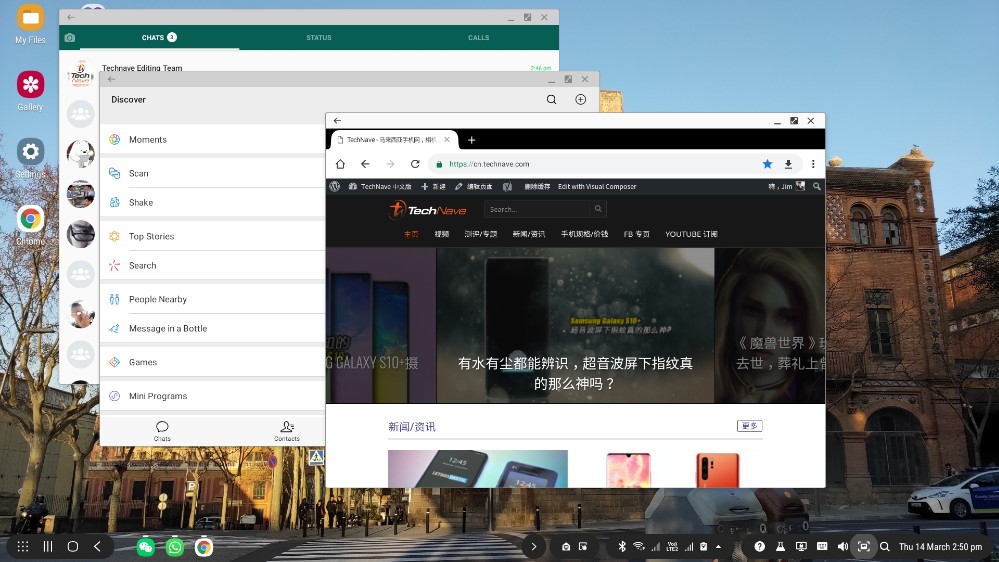 Opening three apps at the same time with Whatsapp, WeChat and Internet browsing
Just like a desktop/laptop, you can adjust the volumes and other informations on the bottom right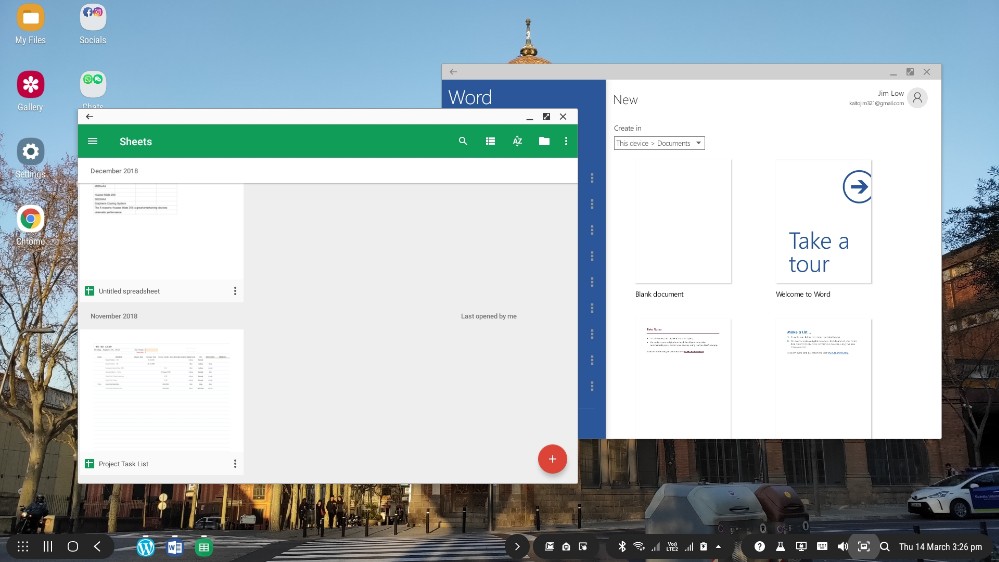 Word and Excel are optimized well for DeX mode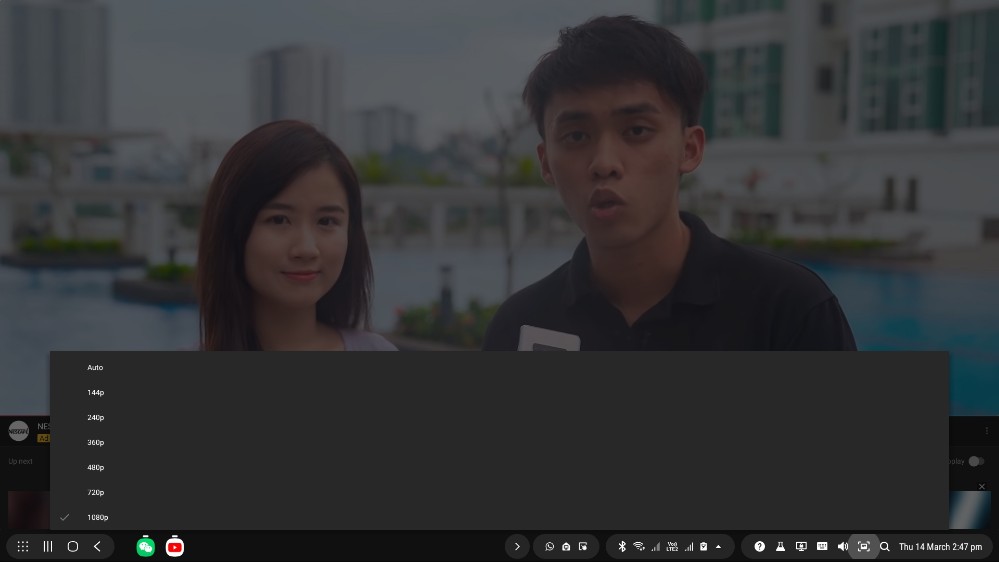 You can also watch YouTube up to 1080p in DeX mode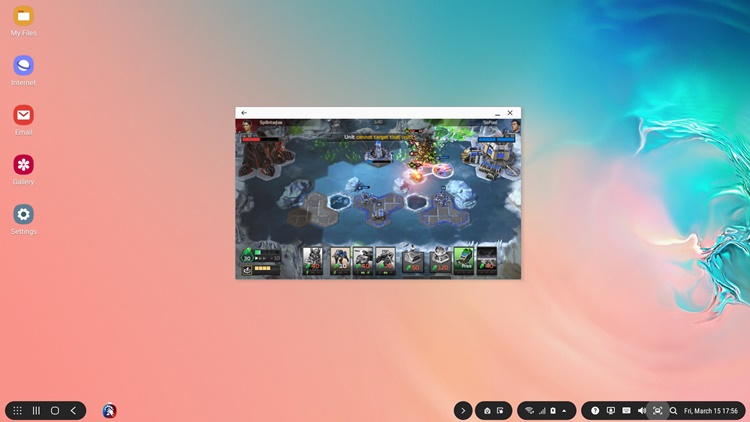 This is how gaming on DeX mode looks like
So far, working on the Galaxy S10+ like a working PC is quite a wonder. But what about playing some games? Well, gaming is still doable but still just for certain types of games. These include Game apps that need to be tapped or clicked like Candy Crush, which is then opened up in windows.
Even games like Command and Conquer: Rivals can be played in DeX mode, as well as the 5v5 MOBA game, Vainglory that's already optimized with a mouse and keyboard. Unfortunately, PUGB Mobile fans won't be able to play this in DeX mode yet, while games that utilize motion-controls like Asphalt 9 are also not playable. Despite that, you can always opt out of DeX mode easily and play on the phone anyway.
Conclusion - I want one too
So the working experience is quite comparable with working on a laptop, but what about the performance? Well, since it's sporting an Exynos 9820 processor (Malaysia version), 8GB of RAM and up to 512GB ROM, it has already surpassed most of the laptop's configuration in the market and it's more than enough for smooth working experience.
On the battery side, plugging the Galaxy S10+ on the DeX Station while working will always keep it charged up, but this cannot be said the same for using a HDMI to USB Type-C cable for DeX mode. Nonetheless, the phone can be charged up quickly thanks to the fast charging technology and this also surpassed most of the laptops as well. Enough said.
After a day of using the Galaxy S10+ with DeX mode in the office, we can conclude that using the flagship for work (and some games) is actually quite viable and this is great for people who often work on their mobile phones on-the-go. Personally, I think this is also great for vloggers and influencers to do their work faster without using a cable to transfer those 4K footages after their social events, fully taking advantage of the Galaxy S10 series's awesome video recording capabilities, so that's another bonus point there. In fact, this experience got me tempted to have one too after seeing my colleague doing it!
If this is what you've been looking for, the latest Samsung Galaxy S10 flagship series is now available in every Samsung store across Malaysia, as well as its official online store here. That's all for now, folks. Stay tuned for more tech articles only at TechNave.com!
Samsung Galaxy S10 Plus Specs & Price >