Canon EOS-1Ds Mark III Camera Review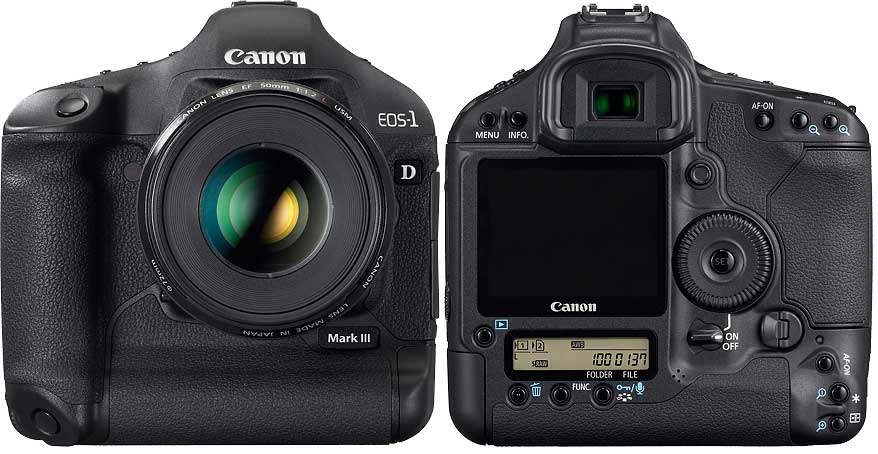 Anticipation for 1D Mark III was great and when the word finally came out we saw a camera that was completely redesigned, with new features like improved AF, sensor cleaning, Live View, AF micro adjustment, new user interface, bigger LCD, internal Speedlite control, lighter weight, 14 bit A/D conversion, less noise, more metering sensors... in short, expectations were met and in many parts exceeded. Before the camera was shipped its AF was praised by PR documentation and videos, we got videos showing 10fps in action and how Live View looked.
Canon EOS 1Ds Mark III - Design & Build:

Mark III weight (with battery) has dropped 295 grams which is just what was needed to make a difference. Main weight reduction came from smaller and lighter battery, some internals were done with magnesium instead of aluminum die cast. The body feels as durable and well constructed as all 1D's have felt.

Buttons have been relocated, some removed and some added. The whole layout is simpler for daily use. There is a new AF/ON button which starts AF, but I really like to use the old * button for that function. AF/ON is located somewhat "behind corner" and I found using it disturbed my shooting balance a bit. A great thing is that 580 EX II and Mark III create a weather sealed combination.
Canon EOS 1Ds Mark III - Speed:

I value operational speed more than high fps. Menus are fast, formatting is lightning fast, preview browsing is instant. My only complain is slow panning inside zoomed preview image. They probably intended to make this smooth (thus slow), but there should really be a custom function to set a pixel jump scroll value to make it faster. 10fps is of course great to have for sports and wildlife.

Canon EOS 1Ds Mark III - Viewfinder:

Mark III viewfinder is brilliant, literally. You can see manual focusing easier, markings are less distractive, image is bigger and brigther in low light. My only problem with it is that it is still not exactly 100% view. In my Mark III viewfinder top and sides are accurate, but bottom is not which means when I compose something out very closely from bottom, I get a stripe of it in files. I'll see if Canon can adjust viewfinder to at least be symmetrically "close to 100%".

Canon EOS 1Ds Mark III - LCD:

The new 3 inch LCD is a good thing to have when you get older and start to have trouble reading close, in my case glasses on. Menus are big and clear, easy to navigate with new mini joystick, preview is large enough for showing photos to clients. Couple of complaints, though. First one is color. When this kind of machine is obviously used in color-critical applications and by people who can see a difference between orange and orangutan, it is strange that the color calibration is so off, especially in yellows.

Canon EOS 1Ds Mark III - Life View:

Soon all DSLR's will have Live View, but Mark III was the first Canon to do it. It is not just a marketing gimmick, but a useful tool in many occasions. With wide angle you can shoot over heads. With product and macro photography you can manual focus easier. Production team can see what you shoot. When you focus far you can zoom 10X to verify accuracy. I have often used it as focusing aid, and then shoot normally. You can change perspective without need to lie down in the dirt.

Canon EOS 1Ds Mark III - Battery:

I just love the new battery. It is durable, lightweight, charges fast and contacts are protected. It also shows its charge in %, how many shots you have taken etc. A big improvement over Mark II's bulky dummy brick. Dual Charger has better monitoring lights, it is smaller and faster.
Canon EOS 1Ds Mark III - Sensor Cleaning:

Well, it seems to work. What I would really need now is automatic viewfinder cleaning. It's amazing how you can get dust in the viewfinder in camera like this, with weather sealing and all.
Canon EOS 1Ds Mark III - AF:

The new auto focus system stands out a bit on the Canon 1Ds Mark III. It's very quick and likes to lock onto the first thing it sees. AI Servo tracks fast and accurately and One Shot is extremely reliable. I didn't have any auto focus issues really. Even in extremely low light. The camera seems to be able to lock focus better than the 1Ds Mark II in low light, but I'll need to do more testing to really say. Canon's new AF design on the 1Ds Mark III uses 19 high precision cross-type AF points and 26 assist AF points. They are selectable in a circular pattern, which takes a bit of getting used to. When using an individual AF point you can only select one of the 19 cross-type AF points. The new AF layout of the 1Ds Mark III hasn't limited my shooting. But, the points are spaced out and there are gaps in between those magical red squares that I'd love to focus on.

Canon EOS 1Ds Mark III - Acoustical Noise:

I was happy to see Canon has included new Silent Mode which is an improved version of Personal Function 21 we have in Mark II. The Silent Mode is not totally silent but let's say "adequate". Noticeable difference in any case.

Apart from shutter noise, the thumb wheel and top wheel are quieter than in Mark II which gave annoying click-click-click sound when you rolled them, especially the top wheel. Battery cover can also be opened and closed silently more easily than with Mark II. Overall the direction acoustical noise is going to is correct one, but it will need more work from the engineers - a nearly silent digital camera must be possible when you put your mind to it!
Canon EOS 1Ds Mark III - Metering:

With Canon this has not been always the case in digital era, tendency to underexposure has plaqued most EOS's so far. With Mark III metering is so good you really do not think about it any more. Not perfect, though. Of course you can link spot metering to selected AF point or lock metering and recompose but still, evaluative should be even more distinctively different from other metering modes, in my opinion. So, metering is a definite improvement over Mark II, but could use some more "AI".

Canon EOS 1Ds Mark III - White Balance:

A marked improvement over Mark II when in natural light and in most mixed and artificial light situations. In very low light WB is off, the familiar Mark II orange color cast is still there. I guess we'll need to wait for Mark IV for perfect WB. Kelvins save my day often. You can have several custom WB presets which is great feature for JPEG shooters.
Canon EOS 1Ds Mark III - Image Quality:

After Mark II, which is not at all incompetent in IQ area, Mark III images showed immediately their more "natural" and "non digital" quality: deeper but realistic colors, great skin colors, smoother gradations especially in dark areas, less noise and finer grade detail in all ISO's, lack of jaggies in thin lines is remarkable. You get a little bit of Moiré, though, which is always the price to pay for crisper detail. Mark III really likes my fisheye and 17-40L, Mark III draws lines so cleanly wide angles look really good.

Overexposed and underexposed areas benefit a lot of 14-bit processing. It can be seen in lack of cyan/magenta halos in overexposed areas, and lack of posterization in dark gradients. The images can handle plenty of curve torture and they still retain their integrity. Bokeh seems slightly smoother compared to Mark II, must be because of smoother gradations and bigger enlargement.

Conclusion:

This time the upgrade was really worth the money. I'm very happy with this camera as it makes me more productive, it makes shooting more fun and relaxed. Beware the feeling, though. Feel of ease of shooting, fast AF and good looking LCD has fooled me a few times to get lazy and nonchalant in the way I shoot, thus ending up with tons of crap photos. A good reminder that no matter how good the camera is, photographer must take the photo, photographer must think on behalf of the tool. Mark III is an excellent professional tool and in that it excels, obeying commands with ease.

Canon EOS-1Ds Mark III Specs & Price >