Canon EOS 5D Mark II Camera Review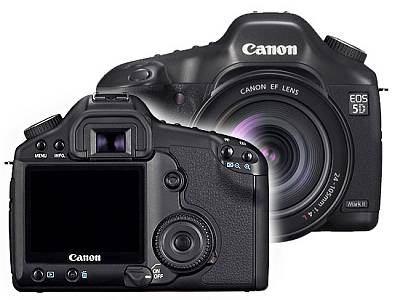 The Canon EOS 5D Mark II Escalates Full-Frame Digital SLR Photography to the Next Level with HD Movie Recording Capabilities, DIGIC 4 Imaging Processor, and 21.1 Megapixel Resolution

Canon EOS 5D Mark II - Performance:
Canon, the first company to introduce a full-frame digital camera, has improved the EOS 5D Mark II Digital SLR camera's newly developed full-frame CMOS image sensor. Utilizing proprietary Canon technology, the Company has reduced noise and expanded the sensitivity of the CMOS sensor up to ISO 25600, which is three full stops higher than the ISO 3200 limit of the original EOS 5D camera. Although the individual pixel dimensions of the EOS 5D Mark II camera are the same as the 21.1-megapixel CMOS sensor used in the EOS-1Ds Mark III digital SLR, the new sensor incorporates an improved output amplifier and a more advanced color filter that improves light transmission while retaining excellent color reproduction. By applying the same kind of advancements in sensor design and image processing technology as the recently introduced EOS 50D camera, but at higher resolution and with larger pixels, the EOS 5D Mark II achieves the highest level of image quality of any EOS Digital SLR released to date.

Canon EOS 5D Mark II - HD and SD Video Capture:
The EOS 5D Mark II features 16:9 Full HD video capture at 1920 x 1080 pixels and 30 fps as well as 4:3 standard TV quality (SD) video capture at 640 x 480 pixels and 30 fps, both capabilities appearing for the first time in a Canon SLR camera. Video capture is part of the camera's Live View function, using the Picture Style that has been set for Live View still image shooting. This allows skilled photographers and cinematographers to adjust image sharpness, contrast, color saturation and white balance, and have those settings apply to the movie image. When recording video, the camera's rear LCD screen can be letter-boxed by a semi-transparent border to match the aspect ratio of the movie recording size.

The EOS 5D Mark II will record video up to 4GB per clip or a maximum continuous movie capture time of 29 minutes and 59 seconds, whichever comes first. Depending on the level of detail in the scene, a 4GB memory card can record approximately 12 minutes of video at full HD resolution or approximately 24 minutes in standard definition.i Video clips are recorded in .MOV format using an MPEG-4 video compression and sound is recorded using linear PCMii without compression. The new camera features an input terminal for external stereo microphones as well as a built-in monaural microphone for convenience. To help show off those fantastic movies as well as still photos, the EOS 5D Mark II camera includes an HDMI (High-Definition Multimedia Interface) output to display crisp, clear images on a High-Definition TV.
Canon EOS 5D Mark II - Image Quality & ISO:
As expected, the 5D Mark II produces great images-even on its default settings. If you don't like the image, simple adjustments to one or more of the camera's many options will do the trick. It was no surprise that auto white balance produced a very warm image under incandescent lighting. Colors are accurately and naturally rendered and, for the most part, exposures are spot on. Dynamic range is quite good as well but when faced with high contrast situations, try turning on the Auto Lighting Optimizer to maintain details in highlights. It doesn't work miracles and, in some cases, you may not be able to detect a huge difference, but it's worth using.

With an expanded light sensitivity range from 50-25,600, the 5D Mark II does an excellent job of keeping noise levels (and noise reduction softening) to a minimum. Although you can see a slight softening of the image above ISO 1600 (be sure to dial down the noise reduction), details are well maintained and, even at 25,600, the 5D Mark II produces cleaner images than you can get out of most any other DSLR on the market today.
Canon EOS 5D Mark II - Live View Shooting:
For both still images and video, the Canon EOS 5D Mark II camera features Live View, one of the most sought after features in digital SLRs today. The 5D Mark II features three Live View AF modes - Quick, Live and Face Detection Live mode - for capturing either still photos or video, each with its own attributes. Quick mode automatically sets One-Shot AF using the camera's phase detection AF system. It also allows users to select the AF point, even while the Live View image is displayed. Although the camera's reflex mirror must be lowered briefly to take an AF measurement in Quick mode, it is the fastest way to set focus automatically when the 5D Mark II camera is set for Live View.

Live mode uses contrast-detection AF with the image sensor and here, as with Quick mode, users can change the AF point using the Multi-controller. Face Detection Live mode uses contrast AF to recognize human faces. When multiple faces are detected, the largest face closest to the center of the frame is targeted as the AF point. While Live View is engaged users can still change settings including the AF mode (Quick, Live, Face Detection Live mode), drive mode, ISO speed, Picture style, White Balance, and more.
Canon EOS 5D Mark II - Peripheral Illumination Correction:
The Canon EOS 5D Mark II Digital SLR camera automatically conducts peripheral illumination correction when shooting JPEG images, a function that previously could only be accomplished through post-image processing using software such as Canon's Digital Photo Professional, which Canon supplies at no extra charge. Peripheral illumination correction evens brightness across the image field, making an image of a blue sky even toned throughout and reducing light fall-off at image edges. This new feature essentially eliminates one of the limitations of previous full-frame digital SLRs.

Canon EOS 5D Mark II - Auto Lighting Optimizer:
Canon's enhanced Auto Lighting Optimizer technology helps ensure each picture's subject is clearly visible by analyzing image brightness and automatically adjusting dark areas in images so that they appear brighter. This function is ideal in high-contrast situations such as urban landscapes captured on sunny days, where the tops of buildings are brightly lit while street level details are obscured by heavy shadows. In this type of scene, the 5D Mark II camera's Auto Lighting Optimizer technology preserves accurate exposure of the highlights while opening up the shadow areas for a more pleasing tonal rendition.

Canon EOS 5D Mark II - New Creative Auto Mode:
Recently introduced with the new EOS 50D, Canon's "CA" Creative Full Auto setting can also be found on the EOS 5D Mark II Digital SLR camera's mode dial. This setting allows users to make image adjustments such as aperture or shutter speed through an easy-to-understand navigation screen on the camera's LCD menu, allowing them to "blur the background" or "lighten or darken the image." These easy-to-understand image options allow photographers to experiment with image options while still shooting in an automatic mode.

Canon EOS 5D Mark II - Two Small RAW Formats:
For photographers seeking the flexibility and creative possibilities of shooting RAW format images, without the large file size, the Canon EOS 5D Mark II Digital SLR camera offers two more manageable file size options with sRAW1 and sRAW2 recording formats. At the sRAW1 setting, resolution is 10.0-megapixels with a file size that is approximately 25 percent smaller than a standard 21.1-megapixel RAW image. With the sRAW2 setting, resolution is 5.2 megapixels at less than half the file size of a standard RAW image, retaining all of the flexibility and creative possibilities associated with full-size, conventional RAW images. Wedding and portrait photographers, in particular, will appreciate the options of variable resolution and file size which allow them to fine-tune the 5D Mark II's operation for their specific needs.

Canon EOS 5D Mark II - Silent Shooting in Live View:
Canon has equipped the EOS 5D Mark II with two Silent Shooting modes in Live View which will prove particularly helpful to law enforcement officials, and for behind-the-scenes shooting on movie sets. In Mode 1, the camera will shoot with the mechanical shutter open at the beginning of the exposure, using the electronic 1st-curtain function of the CMOS sensor and a reduced shutter-cocking noise, allowing multiple shots to be taken with minimal noise. In Mode 2, to minimize shutter noise during single frame photography, shutter cocking does not occur until the shutter button returns to the half-way position after shooting.

Canon EOS 5D Mark II - EOS Integrated Cleaning System:
With the introduction of the EOS 5D Mark II camera, the entire Canon EOS system is now equipped with the highly acclaimed EOS Integrated Cleaning System. The Self-Cleaning Sensor Unit for the Canon EOS 5D Mark II has been upgraded with a fluorine coating on the low-pass filter for better dust resistance.

Conclusion:
When the original 5D was introduced, Canon made it possible for photographers with relatively modest budgets to purchase a full-frame DSLR. Now, for about the same price, photographers can easily put their hands on a full-frame, high resolution camera with HD video.
As appealing as the camera's HD video feature is (especially for wedding photographers, photojournalists, and underwater shooters), the 5D Mark II is, first and foremost, a digital still camera. Excellent image quality and a full feature set are the camera's two biggest selling points; HD video is the icing on the cake. Whether you're stepping up from another Canon DSLR or want a back-up for a higher Canon model, the 5D Mark II is certain to appeal to the most discerning photographer-even those who will never (or almost never) utilize the video feature.

Canon EOS 5D Mark II Specs & Price >