Canon EOS 7D Camera Review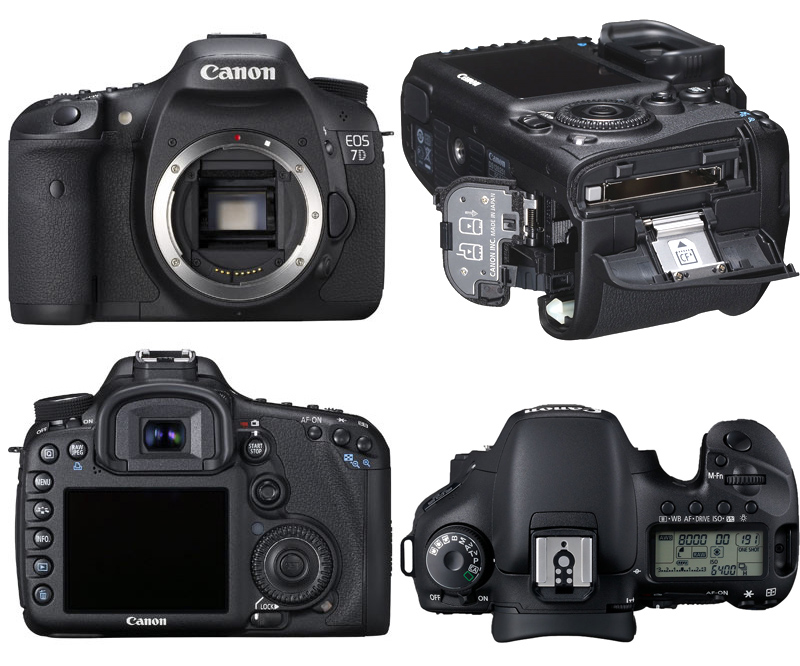 With a budget to spend on a top-end Canon DSLR body you are spoilt for choice. You may decide to go full-frame and invest all of your budget in the 21-megapixel EOS 5D mkII and shoot big files for the ultimate image quality. Or you may sacrifice a few megapixels and go for pure shooting speed and the latest focusing and exposure technologies by investing in the 18-megapixel, cropped sensor EOS 7D.
Canon EOS 7D - Features:
Feature-rich is a term that definitely applies to the EOS 7D and there are several new technologies that are making their first appearance on a Canon DSLR camera. Because Canon have made plenty of noise about it, let us kick off with the 63-zone metering system called iFCL. This stands for Focus, Colour and Luminance and that is a clue to how the system works. It assesses the colour of light and its intensity but also takes into account information from the focusing sensors. Working in conjunction with the iFCL system is a dual layer sensor, one layer sensitive to red/green light and the other to blue/green light.

Canon EOS 7D - Speed:
The 7D is the first EOS with a 19 point cross-type AF sensor with Zone AF using a separate AF processor to enable autofocus which is quick enough to keep up with the camera's eight frames-per-second shooting speed. Like most DSLRs, the central sensor has enhanced sensitivity particularly with lenses of f/2.8 or faster.

Canon EOS 7D - Video:
More and more DSLRs are coming out with movie modes so it is no surprise to see that the 7D has one too. The 7D gives the option of using manual or autoexposure and the choice of three resolutions including 1920x1080 Full HD. You can also shoot at 30fps, 25fps or 24 fps depending on your needs. At the lower resolutions you can record at 60 or 50fps.

Canon EOS 7D - Handling:
If you prefer solidly built cameras, you will like the EOS 7D. The magnesium alloy body has no 'give' and a heft that inspires confidence. Its controls are typically Canon, ie positive, large and clearly marked, and there is the big command dial on the back that Canon users will be familiar with. In fact, existing Canon users will have no problem at all navigating their way around this camera's controls.

Canon EOS 7D - Exposure:
I was expecting too much from the 7D and that the iFCL would be an infallible exposure system. In this regard, I was disappointed. To be fair, the system is highly capable and as good as anything else on the market but still manages to get tripped up, sometimes by extreme lighting, sometimes by scenes that you would expect the camera to handle. Predominately light and predominately dark subjects were also the cause of problems – the former caused slight underexposure and the latter minor overexposure.

In sum, the EOS 7D is as good as any capable metering system but probably not exceptional and gives great exposures in the majority of instances. The exceptions are those that would probably fool any camera so generally it is a thumbs-up for Canon's latest innovation.

Canon EOS 7D - Focusing:
Canon are renowned for the accuracy, sensitivity and responsiveness of its autofocusing systems and the EOS 7D is as good as any I have tried. With the supplied lens, the AF simply zipped into sharpness almost regardless of which focusing sensor or sensor pattern was selected.

Using a high-spec USM 24-70mm f/2.8 lens that we were supplied with obviously helped, but I did find that when using all zones active the camera locked into the subject really quickly. Off-centre subjects, so often the bane of autofocus systems, did not present too much of a problem – and the system proved impressively accurate and responsive.

Continuous autofocusing – at least with the 24-70mm zoom – seemed good too. This was with cars on a dual carriageway on a sunny day. Time did not allow the acid test of using a long telephoto lens on fast action, but I would be optimistic of a good performance in such situations.

Canon EOS 7D - Colour and sharpness:

JPEG quality is very good and it is only in areas of really fine detail where Raw had the edge. For example, the eyebrows of our model, Elin, were finely resolved in Raw mode but were less distinct with the JPEG - this was when viewed at 100% and 200% on-screen so we are talking serious magnification here.

Colour reproduction with standard settings in JPEG was impressive and punchy. Shots taken on a dull grey certainly had some life in them and the camera's tendency towards rich colour saturation is definitely a benefit. However, this tendency to vivid colour reproduction can be a problem if you want subtle hues, especially when the sun's shining, but the colour controls within the menu system allow you to fine-tune reproduction to how you prefer it.

Canon EOS 7D - Noise:
The 7D's base ISO is 100 and the top setting is 6400. Turn on ISO expansion and you have the option of shooting at an equivalent of ISO 12,800. Noise performance is very good and competitive with rivals. There is no noise of real note at speeds up to ISO 1600 and even here images are very clean and colour saturation remained impressive.

By the time you get to ISO 3200 noise and detail loss was more evident, but the noise at least was neutral and not too obtrusive. It is probably only at the highest official ISOs of 5000 and 6400 that noise got to the point of being obvious. The H option, giving the equivalent of 12,800, shows detail loss and blotchy, colourful noise so this is best reserved for those dire conditions when you truly need such sensitivity.

Canon EOS 7D - White-balance:
I left the camera in auto white-balance for most outdoor shots while in the studio with mains flash I started with the flash preset. AWB has an operating range of 3000-7000K and it did perform very well in typical daylight conditions. In shade, where the colour temperature might be outside AWB's operating range, using the preset is advised if you want less cool results.

I did some shooting indoors with tungsten lighting and in candlelight. You would not expect the camera's AWB system to cope with such situations, but even using the incandescent preset did little to minimize any colour cast. Again, the custom white-balance feature was called into action - at least it is easy to use.

Canon EOS 7D - Buffer/write time:
Shooting Large JPEG format only I got 164 shots in 23 seconds before the camera showed any sign of slowing down from its top speed, and then the buffer cleared in 12 seconds. Shooting Raw, the 7D whizzed through 24 shots in four seconds before slowing down and the buffer took around 24 seconds to clear without any further shots taken.

The EOS 7D is surely quick enough and has a sufficiently large buffer for the huge majority of users. Pro sports shooters will probably the only photographers needing any more.

Canon EOS 7D - Battery life:
Excellent. From one full charge, the battery lasted for two days of picture taking, reviewing etc and the battery state icon still had three of its four bars showing. I probably did in excess of 400 shots plus lots of playing around with features, checking images and so on.

Conclusion:
It is a expensive DSLR so you would be perfectly entitled to expect a great deal for your money. The good news, in the most part, is that you get it. This is a classy feature-rich DSLR that has a reassuringly robust body so should easily withstand even severe knocks and bumps. Overall, performance is of a very high order and the pictures I got in my short time with the camera I was perfectly happy with, so it is undoubtedly worthy of recommendation.

Canon EOS 7D Specs & Price >