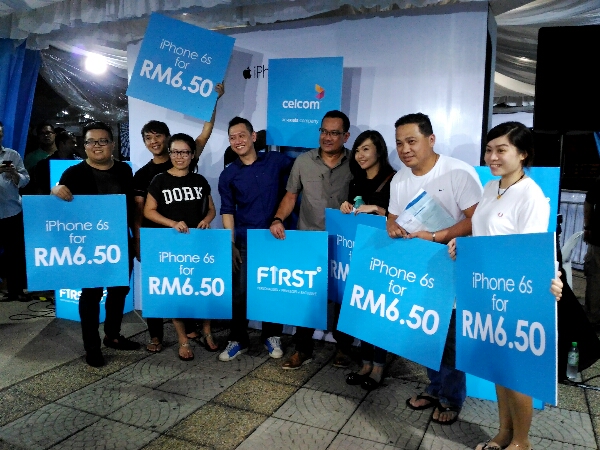 Zalman Aefendy Zainal Abidin, Chief Marketing and Sales Officer, Celcom Axiata Berhad and Tuan Syed Md Najib Syed Md Noor, Chief Customer Service and Retail officer, Celcom Axiata Berhad with the first 6 lucky subscribers to get the Apple iPhone 6s for just RM6.50
Celcom's midnight grand launch for the Apple iPhone 6s and Apple iPhone 6s Plus has gone off with a bang with the first 6 to line up for the launch allowed to buy their smartphone of choice at just RM6.50. Featuring the iPhone 6s, iPhone 6s Plus and iPhone 5s, subscribers can get the smartphones by signing with FIRST by Celcom plans with the iPhone 6s from RM1058 and the iPhone 6s Plus from RM1478. In addition to the existing Internet and Celcom Wifi data, Celcom will also be offering 12GB of complimentary data at 1GB per month for the next 12 months. Subscribers can also trade-in their current Apple iPhones for discounts of up to RM1900. Currently, the Apple iPhone 6s with 16GB storage is going for RM3199, making this a fairly good deal, especially if you like Celcom's faster network. The official sale began at 12am on 16 October 2015 with special delivery by celebrities such as Ella, but those who want their new iPhone on a FIRST by Celcom plan should go check out the Blue [email protected] Pyramid, Blue Cube Publika, Celcom Centre Taman Molek, Johor Bahru and Blue Cube Elit Avenue Bayan Baru, Penang or go online at www.bluecube.com.my. For more details check out the pics and table below or go to the Celcom site.
Celcom Apple iPhone 6s / 6s Plus (24 months contract)

FIRST™ Basic 85
FIRST™ Basic 85 with Max up All
FIRST™ Elite (2 SIMS)
5+1* GB
6+1* GB
8+1* GB
8+1* GB
ADDITIONAL COMPLIMENTARY 12GB INTERNET (1GB x 12 months)
N/A
Monthly
RM85
RM135
RM235
Upfront payment
RM650
RM1000
RM1700
Rebate
RM65 x 10 months
RM100 x 10 months
RM170 x 10 months
Apple iPhone 6s 16GB
RM2138
RM1768
RM1058
Apple iPhone 6s 64GB
RM2568
RM2198
RM1478
Apple iPhone 6s 128GB
RM2988
RM2628
RM1908
Apple iPhone 6s Plus 16GB
RM2568
RM2198
RM1478
Apple iPhone 6s Plus 64GB
RM2988
RM2628
RM1908
Apple iPhone 6s Plus 128GB
RM3418
RM3048
RM2338
Celcom also announced that 2300 more Celcom LTE sites are being planned by the end of the year within the capex guidance of RM1billion. There will also be offers of up to 90% in savings for their ongoing Celcom 4G LTE Phone Fair until 31 December 2015, available at all Blue Cube stores, selected Celcom Xclusive Partners and key dealers.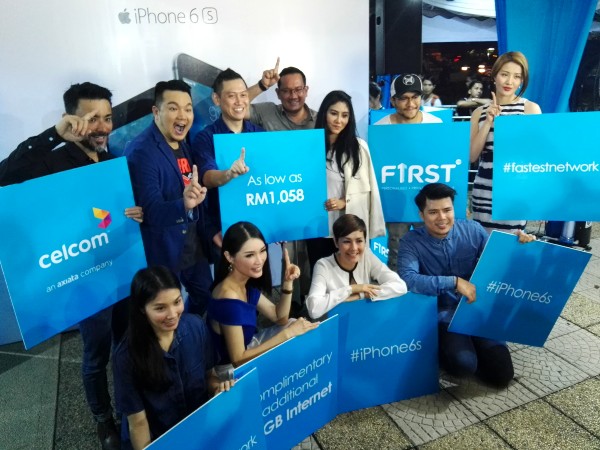 Zalman Aefendy Zainal Abidin, Chief Marketing and Sales Officer, Celcom Axiata Berhad and Tuan Syed Md Najib Syed Md Noor, Chief Customer Service and Retail officer, Celcom Axiata Berhad with the 8 celebrities due to deliver the Apple iPhone 6s or 6s Plus right to the doorstep of selected pre-order subscribers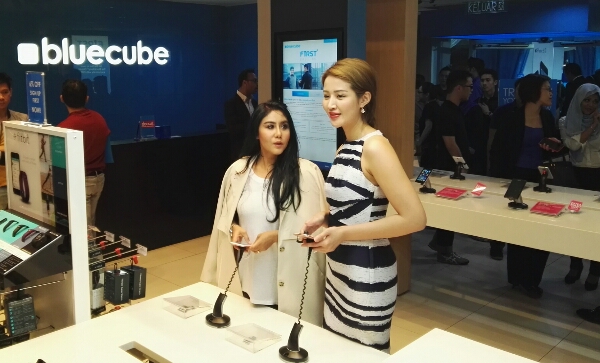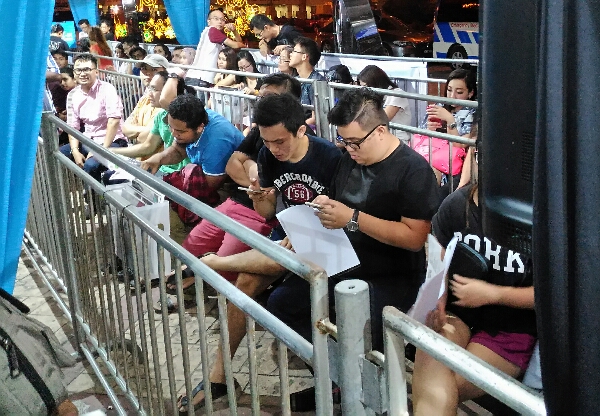 This year Celcom have really thought of the consumer with benches, comfort packages of food and drink and even someone to stand-in the queue for toilet breaks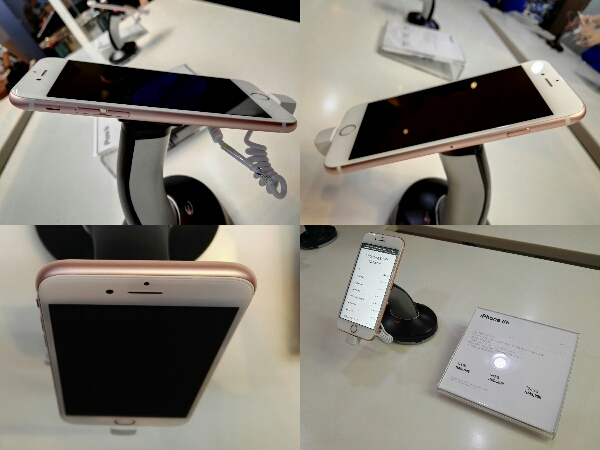 The Rose Gold Apple iPhone 6s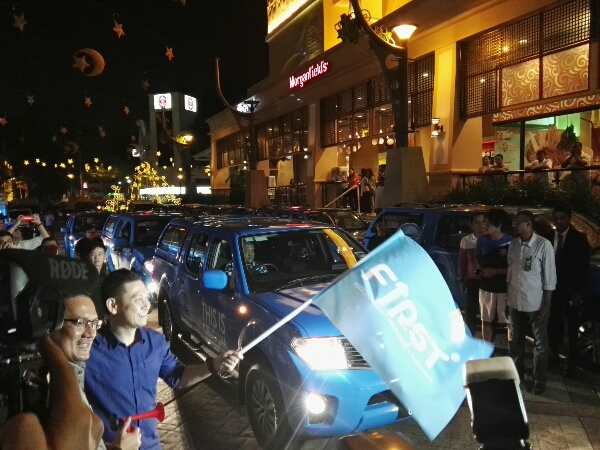 Flagging off the first deliveries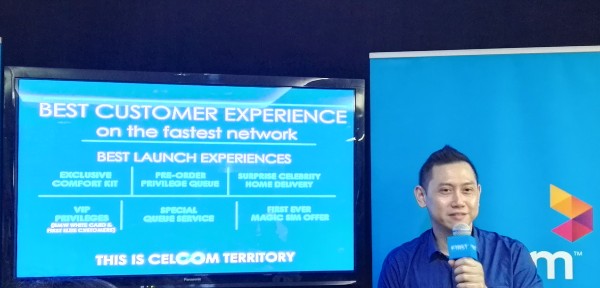 Zalman Aefendy Zainal Abidin, Chief Marketing and Sales Officer, Celcom Axiata Berhad explaining more details on the Apple iPhone 6s launch