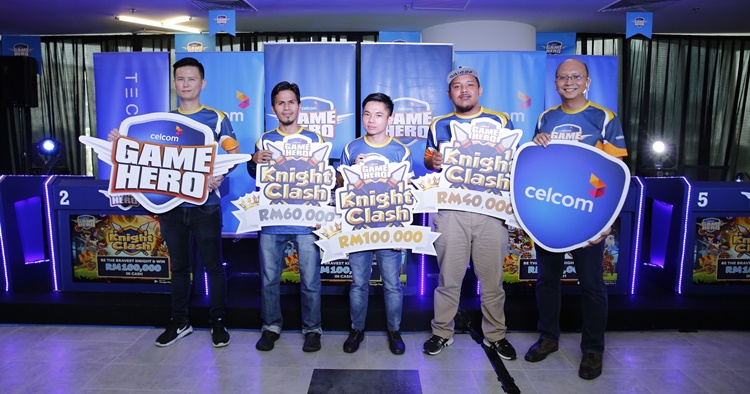 Alan Pei, Chief Technology Officer of Techninier (left), and Zuwairi Zakaria, Head of Consumer Marketing and Analytics of Celcom Axiata Berhad (right) celebrate together with the top three winners during the prize giving ceremony for Celcom Game Hero – Knight Clash!
It's been a while since we last heard of Celcom Game Hero. Well, it's still ongoing and the blue telco has just recently finished its fifth instalment game, Knight Clash with winner Teoh Khay Shen with RM100,000 grand cash prize for scoring 281,100 points.
If that name sounds familiar, that's because it's the same person who also claimed the championship at Celcom's previous Game Hero tournament, Kill Shot Legacy back in April 2018. This makes the Teoh as the first seasoned champion for Celcom. The first runner-up, Muhammad Zairaih B Mohd from Kelantan scored 280,160 points and won RM60,000, followed by Amir Hadi Bin Abdul from Sabah taking the third spot with 271,620 points with RM40,00 cash prize. Finalists coming in at 4th- 6th place was awarded the RM 10,000 cash prize and 7th-9th place finalists with RM 5,000 cash prize.
Of course, Celcom is still going to continue the Game Hero tournament with a new game called Space Rider. As usual, players can battle each other and score the highest points on the top leaderboards to win another round of cash prizes once more.
For more information on Celcom Game Hero's sixth mobile tournament – 'Space Rider, visit www.gamehero.my.