Celcom Xpax is offering prepaid customers FREE unlimited Internet every day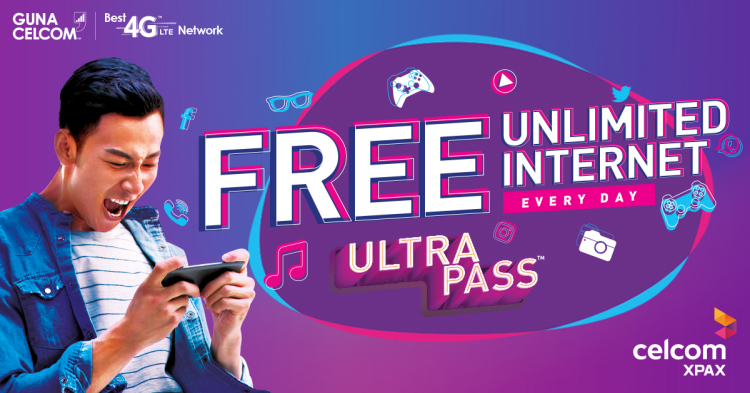 Everyone loves free Internet data, you love it, I love it, but what if I told you that Celcom Xpax not only has that in unlimited quantities and still more to offer you? Say, FREE unlimited Internet every day when you subscribe with Ultra Pass™ from as low as RM10 only with Celcom Xpax? If this sounds good to you, stay awhile and listen!
Celcom Xpax's new free Unlimited Internet for consumers who need all the Internet data they can get at an affordable price. Consumers who subscribe to Ultra Pass™ will be able to experience the best 4G LTE network anytime!
How does Unlimited Internet Every Day work?
What exactly do you have to do to get the Celcom Xpax Ultra Pass™? Well, there is a wide range of packages that can cater to your preference. Whether you want 7 or 30 days, you got it! But which one is more suited for you?
In the Ultra Pass™ package, the Unlimited Internet is in the weekly and monthly package, where you can subscribe to it from RM10 with the same late-night YouTube but with something extra:
Free Unlimited Internet (1-hour every day)
iflix VIP Access
Carry Forward unused base data with Data Rollover
A viable choice for the night owls, and if you subscribe for the highest package - you will get an extra FREE 15GB Video Walla which is compatible with YouTube, iflix, AstroGo, TonTon, Viu, Netflix and many more!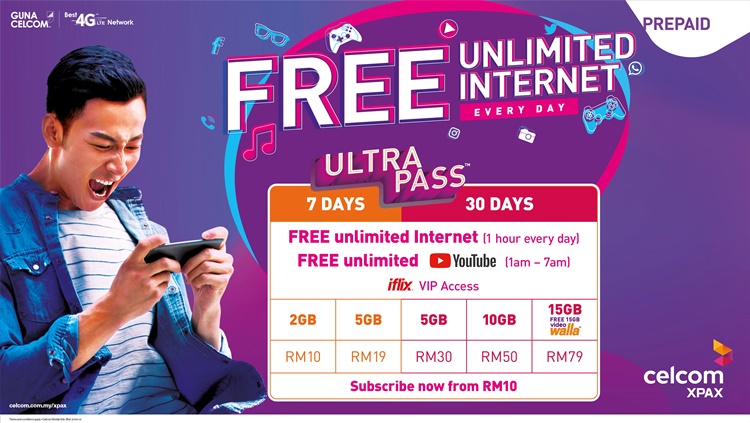 And that's it! With Celcom Xpax Ultra Pass™, you don't need to worry about spending your Internet data from streaming your favourite songs, or playing games with your friends at a mamak store! Now this is an offer for prepaid users that no one should miss out on, so sign up now at Celcom.com.my or subscribe to Ultra Hour Pass from RM10 via Celcom Life App or dial *118#!
Stay tuned for more local tech deals at TechNave.com.